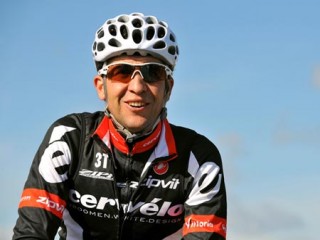 Carlos Sastre biography
Date of birth : 1975-04-22
Date of death : -
Birthplace : Leganés, Madrid
Nationality : Spanish
Category : Sports
Last modified : 2010-07-20
Credited as : Cyclist for Cervélo Test Team, participating on Tour de France,
Carlos Sastre Candil
, born 22 April 1975 in Leganés, Madrid is a Spanish professional road bicycle racer and champion of the 2008 Tour de France.
Sastre rides for UCI Professional Continental team
Cervélo Test Team
. Through his consistently improved top 10 results in the Vuelta a España and good showings in the Tour de France, Sastre established himself as a strong and stable climbing specialist, and after working to improve his individual time trial skills, he has become a contender for the top GC spots in the Grand Tours.
My story:
I started riding bicycles in 1982, at the age of eight, the year that Ángel Arroyo won the Tour of Spain "Vuelta España". At first, cycling was only a pastime for me, for I also enjoyed other physical activities such as gymnastics and soccer. Soon I realized that I was good at cycling, and this in turn increased my dedication to it. I began to love and enjoy it more than all my other activities and I began to set my eyes on the future as a cyclist.
In retrospect, I was fortunate to be influenced by a chain of accomplished cyclists, beginning with Ángel Arroyo, and followed by Francisco Ignacio San Román, who actually lived at my parents' house during his military service, and for whom I have a great affection and personal regard. At the beginning of my professional career José Mª Jiménez "El Chava" also helped me a lot. Eventually, through their influences and my dedication I was able to break out on my own and become a part of the difficult and complicated world of professional cycling.
In addition to the great cyclists above, in whose footsteps I aspired to follow, there were other important people in my personal and professional life who influenced and helped me to understand the necessary standards of work and sacrifice to become what I am today. First and foremost, I must mention my father Víctor Sastre. It was my father who introduced me to the sport of cycling and taught me that it was a means to my mental and physical development.
My father established the Cycling School of the Barraco "Escuela de Ciclismo de El Barraco" in Ávila, Spain, to provide a positive influence to the children of Avila who were sometimes beset by the negative influences of drugs and violence.
His advice, support, and guidance inspired me and others to commence to practice this sport. This I did until I had reached the rank of amateur.
My ability discovered; my father eventually guided me to one of the best cyclist trainers in Spain, José Luis Pascua. I trained under Jose for three years and refined my cycling skills so much that in a period of three years I was able to reach the rank of professional cyclist.
My transition from an amateur to a professional cyclist wasn't easy in the beginning, for I had to adapt and learn the hard task of being an assistant "gregario" to the leader of the bicycle team.
I had great team leaders such as, Laurent Jalabert, Abraham Olano and Joseba Beloki. In time I learned the strategies that the leaders needed from their team members during the race and at the end of each race. The understanding that I too would someday become a leader drove me. I want to thank the leaders and team members for helping me to understand the elements of being a team member. On a more personal level I want to thank my wife Piedi who was able to understand the sacrifice and necessity of training to a professional athlete.
She has always been patient and supportive of my efforts and desire to compete. So, my father, and my family, to Francisco Ignacio San Román, to Jose Pascua, my former team leaders Laurent Jalabert, Abraham Olano and Joseba Beloki: I must thank you for your support in my bid to become and continue as a professional cyclist.
In time I signed up with Bjarne Riis, former winner of a Tour de France, and manager of CSC Tiscali team. At times I had to forgo for my friend and teammate Tyler Hamilton, however I had much more freedom to accomplish my own objectives. This change in team has brought a different perspective of my career, so that I can continue pursuing my childhood dreams.
The shaping of a cyclist:
From the kid that began cycling in the Cycling Group Angel Arroyo "Peña Ciclista Ángel Arroyo" (Caja Salamanca y Soria), to the hardened professional he is today, Carlos Sastre has tallied twenty years of effort and dedication a the spirit of achievement
To this day, Carlos Sastre continues on a long road that is hard to follow. Before being able to debut as a UCI elite, he had already attained many victories. In childhood, in a race with his own brother, Miguel who won, Carlos had felt the drive to win and give only his very best in competition. He would become a winner on schools teams, a fighter in the cadet category (in the Elvor team), and a leader for the junior category (Yuste Electricidad).
These first steps under the wise guardianship and direction of his own father were the similar steps that all professionals have had to make, but it had taught him to be organized, methodical, and extremely cautious. He particularly learned these qualities from the Navarre talent, Miguel Indurain, and other prerequisites needed to succeed as a professional cyclist such as working for others and overcoming adversity to win.
In 1997, after overcoming several injuries that prevented him from winning, including a hiatus hernia, Carlos resolved that he would remove all doubts about his place in the cycling world as one of it's best. He had always been a cyclist with a clear understanding and goal that he would make a living through cycling, something he loved. Due to the hesitation of the Banesto directors, who didn't guarantee his place in the professional team, he decided to accept an offer from the opposite rival team, ONCE-Deutsche Bank.
There he began another learning phase. His excellent talent began to flourish as a professional cyclist. He thoroughly showed that his rings wouldn't fall from working for others.
During the Vuelta 2000, he won the general for the mountain classification. His first victory as a professional was during the Burgos Tour when he won in a mountain stage. After four years on the rise next to Manolo Saiz, it was time to win, which was nearly impossible with the ONCE-Deutsche Bank Team.
Carlos' switch to CSC was motivated by his need to confront higher challenges. He would not conform to anything less than a team with aspirations to win overall in a big race, and in this commitment he found a superb accomplice: Bjarne Riis. His tenth place finish in the overall classification in the 2002 Tour de France, where he was the only one that endured in Armstrong's pace (in the La plagne stage), and his award for his courageous and offensive cycling earned him a renewed trust with the CSC in 2003.
Carlos' progression from that point has been steady and rising in the long distance races. In 2003, he finished 9th in the Tour after a brilliant performance in the 13th stage. In 2004, he went up another rung and finished in 8th place in the Tour despite having a fractured rib, and in 6th place in the Vuelta a España.
In the 2005 Tour, he acted as prop to colleague Ivan Basso, who finished in second after Armstrong. Despite the intense work he had carried out, he came in twenty-first in Paris. A month later, he took part in the Vuelta and brought home prizes for his team, finishing up on the third level of the podium.
The 2006 season marked his best record in the Tour in which, after his exceptional work for colleague Basso in the Giro, he had to unexpectedly act as team leader. He finished fourth in Paris, having skirted the possibility of winning in the decisive stage of the race. Then surprising everyone with his ability to recuperate, he even dared to give the Vuelta a shot, in which he was also fought the top positions out, coming in a very honourable and deserving fourth place.
The following year, with more confidence and experience in leading his team, he achieved another fourth place in the Tour and improved in the Vuelta, where he finished in second place, winning the heart of supporters through his competitive and fighting spirit, being the only rider in the whole race to challenge Denis Menchov.
And if the 2007 season confirmed his quality as a big-race cyclist, 2008 went to prove it further still, with his victory of the Tour de France. At the height of his maturity as a sportsman and person, he made his life-long dream come true. His performance in the Tour was impeccable. Backed by a great team, Carlos Sastre pulled off a perfect combination of strategy, tactics, intelligence and strength that resulted in the most sought after victory of any cyclist. The culmination of his best season would come a month later, when hardly having rested from the tribute ceremonies and events, he decided to set off in the Vuelta a España, taking the third place on the podium in Madrid. His generosity and dedication was seen by his fans and the media alike.
Major results:
2000
8th Overall Vuelta a España
1st Jersey red.svg Winner Mountains Classification
2001
1st Stage 3, Vuelta a Burgos
2002
10th Overall, Tour de France
2003
9th Overall, Tour de France
1st Stage 13
2004
5th Overall, Vuelta a España
8th Overall, Tour de France
2005
1st Stage 1, Escalada a Montjuïc
2nd Overall, Vuelta a España
2006
1st Stage 5 TTT Giro d'Italia
1st Klasika Primavera
3rd Overall, Tour de France
1st Stage 17
4th Overall, Vuelta a España
1st Stage 1 TTT
Held Jersey gold.svg Gold jersey from Prologue - Stage 1
Held Jersey white.svg White jersey Combination Classification leader From Stages 8-16
2007
2nd Overall, Vuelta a España
4th Overall, Tour de France
2008
1st Overall Jersey yellow.svg Winner Overall Classification Tour de France
1st Jersey polkadot.svg King of the Mountains Classification
1st Stage 17
3rd Overall, Vuelta a España
2009
4th Overall, Giro d'Italia
1st Stage 16
1st Stage 19
2010
8th Overall, Giro d'Italia
Read more
Latest headlines