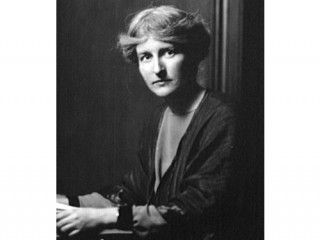 Malvina Hoffman biography
Date of birth : 1885-06-15
Date of death : 1966-07-19
Birthplace : New York City, New York, U.S.
Nationality : American
Category : Famous Figures
Last modified : 2011-11-04
Credited as : sculptor, The Races of Mankind,
One of America's foremost sculptors, Malvina Cornell Hoffman studied with the great French sculptor Auguste Rodin from 1910 until his death in 1917 and is recognized by some as "America's Rodin." Hoffman is perhaps best known for her monumental bronze series, "The Races of Mankind," commissioned in 1930 by Chicago's Field Museum of Natural History.
Hoffman's commission from the Field Museum sent the sculptor on a round-the-world odyssey that lasted for more than eight months. During her global journey, Hoffman photographed and sketched hundreds of people of different racial and ethnic groups and collected massive amounts of anthropological data. In the end she produced a total of 104 monumental bronze figures, which were first exhibited in 1932 in Paris. The sculptures were formally unveiled to the American public at the opening of the Field Museum's Hall of Man on June 6, 1933.
Hoffman was born in New York City on June 15, 1885, the youngest child of British-born pianist Richard Hoffman and Fidelia Lamson Hoffman. Her father, born in Manchester, England, came to the United States in 1847 at the age of 16. Shortly after his arrival he played for the New York Philharmonic Society. Three years later he was hired by P.T. Barnum as an accompanist for Jenny Lind, the so-called Swedish Nightingale, on her first American tour. When he was 22, he became soloist for the New York Philharmonic, a post he held for the next 30 years. During the Civil War, Hoffman organized a series of concerts for the benefit of wounded Union soldiers. Fidelia Hoffman was a native of Ipswich, Massachusetts, and the Hoffman family often spent summers on the New Hampshire seacoast nearby.
The Hoffmans' Manhattan home on West 43rd Street was a popular gathering place for the many artist and musician friends of her parents. Hoffman attended the prestigious Brearley School in Manhattan and at the age of 14 enrolled at the Art Students League. She later studied painting under John White Alexander. By the time she was 15, she had made up her mind that art would be her vocation. When she was 21, her father's health was failing, and Hoffman wanted desperately to memorialize his image. She first tried to paint his portrait in oils but was dissatisfied with the result and turned instead to clay, creating a three-dimensional likeness. The sculpture was eventually reproduced in marble. Shown the clay likeness, her father said, "My child, I'm afraid you are going to be an artist." He died two weeks later.
In 1910, a year after the death of Hoffman's father, she and her mother left New York to move to Paris, where the budding sculptor hoped to study with Auguste Rodin, the foremost sculptor of the 20th century. Desperate to gain an audience with Rodin, Hoffman was turned away from his studio five times. Unwilling to take no for an answer, she resolved that on her sixth attempt she would refuse to leave until he agreed to see her. In her 1936 memoir, Heads and Tales, Hoffman recalled her ultimatum to Rodin's concierge: "I shall not leave, he must admit me today." Her persistence paid off. Rodin agreed to grant her an audience and quickly recognized her talent, agreeing to take her under his wing.
Off and on over the next seven years, until Rodin's death in 1917, the French master helped Hoffman improve her technical knowledge and understanding of carving, modeling, and foundry techniques, as well as her artistic discipline and expressive abilities. Student and teacher developed a close friendship, and when World War I broke out in 1914, Hoffman helped Rodin store his sculptures before she returned to the United States. To help finance her studies while in Paris, she worked as a studio assistant to American-born sculptor Janet Scudder. After her return to New York, Hoffman improved her understanding of the human form by studying anatomy at the city's College of Physicians and Surgeons.
While in Paris, Hoffman produced her first dance sculpture, "Russian Dancers." Long an aficionado of the ballet, Hoffman was inspired to create the sculpture after attending a Ballet Russe production of Bacchanale in London, featuring prima ballerina Anna Pavlova. The sculpture later was awarded first prize in an international art exposition. It was the first in a series of ballet-inspired sculptures Hoffman created. She met Pavlova in New York in 1914, and the two remained close friends until the dancer's death in 1931. To perfect her knowledge of ballet and the basic movements of its performers, Hoffman took about 30 lessons from Pavlova's partner. Pavlova then convinced the sculptor to make her debut in a ballet recital. Pavlova loaned Hoffman the same costume which the Russian ballerina had worn in Bacchanale in London and tied bunches of grapes about Hoffman's brow. Suffering stage fright, Hoffman danced to center stage at New York's Century Theater as a full orchestra provided a musical backdrop. Hoffman, overcome with nervousness, collapsed in a dead faint. It was the end of her ballet career.
While in New York in the fall of 1914, Hoffman set up a residence and studio at Sniffen Court in Manhattan's Murray Hill neighborhood. During World War I, the sculptor was active in Red Cross relief efforts and also served as the American representative for Appui aux Artistes, a Paris-based organization she had helped to found. The organization was dedicated to providing assistance to artists and models who had lost their jobs because of the war. At the close of the war, Hoffman embarked on a seven-week inspection tour of hospitals and children's centers in the Balkans at the request of Herbert Hoover, who was then serving as director of the American Relief Administration.
Hoffman's first major sculpture after the war was "The Sacrifice," a massive memorial to Harvard University's war dead. The sculpture, carved in Caen stone, was commissioned by Mrs. Robert Bacon in memory of her late husband, the former U.S. ambassador to France and a hero of World War I, for display in Harvard's proposed War Memorial Chapel. While construction on the chapel continued, Hoffman's completed sculpture was exhibited at upper Manhattan's Cathedral of St. John the Divine from 1923 until 1932.
In 1925, Hoffman unveiled her most significant architectural sculpture, "To the Friendship of the English Speaking People," at Bush House in London. Consisting of two heroic stone figures and an altar for the entrance to the house, it was commissioned by American-born businessman Irving Bush. Staid Londoners were startled by the sight of Hoffman clambering over her massive statuary putting finishing touches on her work. That same year, the sculptor traveled to Zagreb, Yugoslavia, to study equestrian sculpture with Ivan Mestrovic. She also filmed Mestrovic at work on his "American Indian Groups" sculpture for Chicago's Grant Park.
In June 1924 Hoffman married violinist Samuel Grimson. Hoffman first met Grimson in 1908 when he came to the Hoffmans' Manhattan home to play chamber music with her father. A couple of years after they married, the couple moved to the Villa Asti in Paris.
By far the biggest commission of Hoffman's career came when she was approached by Stanley Field, who asked if she would be interested in participating in a massive undertaking planned by Chicago's Field Museum of Natural History. The museum hoped to put together a series of more than a hundred bronze and marble busts, heads, and life-sized figures representing all the peoples of the world. The museum wanted the sculptures completed before the 1933 opening of the Chicago World's Fair and planned to divide the work among three prominent sculptors. Hoffman wanted the whole job for herself, and she eventually persuaded Field to award the commission exclusively to her.
Once she had struck an agreement with Field and the museum's board of directors, Hoffman, with her husband in tow, embarked on an eight-month tour to find models for her statues of the world's many ethnic groups and races. On her travels, the sculptor photographed or sketched scores of models. In Singapore a Dyak headhunter modeled for Hoffman. Deep in the jungles of the Malay Peninsula, she drew a sketch of a Saka warrior, who would not allow her interpreter or white escorts to observe them while she modeled. On Hokkaido, the northernmost of Japan's islands, Hoffman spent several days among the Ainu, sketching, photographing, and observing members of that indigenous group.
With her research complete, Hoffman went to work on the sculptures in her Paris stuido. By early 1932 she had completed 97 bronze figures, casting many of them herself. The remaining statues were carved in marble. All were completed in time for a debut exhibition at the Musee d'Ethnographie in Paris's Palais du Trocadero. In all, Hoffman's "Races of Mankind" series included 105 sculptures—35 full figures, 1 half-size figure, 30 busts, and 39 heads. Almost from the start, the series provoked controversy. While prominent abstract artists of the early 1930s criticized Hoffman's sculptures as either too realistic or too romantic, social scientists argued that her work relied too heavily on physical rather than cultural characteristics. Despite the criticism, almost everyone agreed that it was a monumental work of art.
In 1936 Hoffman divorced Grimson and returned from Paris to her Sniffen Court residence and studio in New York. For the next three decades she continued to work out of her New York studio, producing a number of notable sculptures, including a World War II memorial for the Epinal Memorial Cemetery in France. In 1939 Hoffman published an instructional guide to sculpture entitled Sculpture Inside and Out. This was followed in 1943 by Heads and Tales, an account of her world travels on the "Races of Mankind" project, and in 1965 by her autobiography, Yesterday Is Tomorrow. On July 19, 1966, Hoffman died at her home in Manhattan.
Read more
Latest headlines