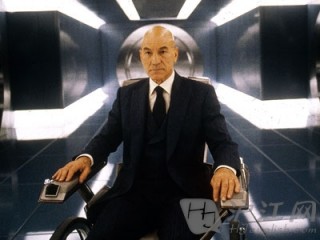 Patrick Stewart biography
Date of birth : 1940-07-13
Date of death : -
Birthplace : Mirfield, England, United Kingdom
Nationality : British
Category : Arts and Entertainment
Last modified : 2010-07-09
Credited as : Actor and playwright, role of Captain Jean Luc Picard, and Professor Charles Xavier
Sir Patrick Hewes Stewart
, born 13 July 1940 is an English film, television and stage actor, and university Chancellor. He has had a distinguished career in theatre and television for around half a century. He is most widely known for his television and film roles, as
Captain Jean-Luc Picard
in
Star Trek: The Next Generation
and as
Professor Charles Xavier
in the
X-Men films.
A compact performer with an urbane, patriarchal presence, Patrick Stewart spent many years in repertory theater before becoming a star player with the Royal Shakespeare Company. Ironically, the actor, who is so well versed in the works of the Bard, found his greatest fame bringing a Shakespearean grace to the role of Jean-Luc Picard, the serene, cerebral yet majestic captain of the Enterprise on the hit "sequel" series, "Star Trek: The Next Generation" (syndicated, 1987-94). Critics and fans alike were at once enthused and skeptical about the prospect of Gene Roddenberry revamping his cult series, but Stewart helped ease doubts by making comparisons with William Shatner's much-loved Captain Kirk largely irrelevant. Before long, "Trekkers" were looking forward to Picard's own romantic and personal travails, his requests for Earl Grey tea or his command to underlings to "Make it so". His solid build, strong features, attractively balding dome and sensitive brand of authority even led him to be dubbed "Sexiest Man on TV" in 1992.
Stewart had begun his stage career with such repertory companies as the Liverpool Playhouse and the Playhouse Theater in Sheffield. In 1961, he began a tour of Australia, New Zealand and South America with Vivien Leigh and the acting company of the Old Vic. Stewart's career really began to shift into high gear in mid-decade: he made his London debut in 1966, joined the RSC in 1967, and made his Broadway debut as Snout in Peter Brook's landmark production of "A Midsummer Night's Dream" in 1971. Work on television picked up soon afterwards; Stewart etched an especially memorable portrait of villainy as Sejanus on the acclaimed BBC series, "I, Claudius" (1976).
For years, Stewart's film roles were generally smaller and less colorful than his stage work, with the exception of his manic romantic Eilert Lovborg in "Hedda" (1975), an adaptation of Ibsen's "Hedda Gabler" in which he supported Glenda Jackson. Beginning to appear in US films in the early 80s, Stewart did his professional best in roles that foreshadowed his later fame in fantasy and science fiction. He played a small part in John Boorman's Arthurian fantasy "Excalibur" (1981) and appeared as one of the Duke's advisors and a fighting tutor to Kyle MacLachlan in the muddled but intriguing adaptation of Frank Herbert's "Dune" (1985). Stewart's fame from the "Star Trek" series changed all that. He spoofed his authoritative image in a prominent role as King Richard in Mel Brooks' "Robin Hood: Men in Tights" (1993), reprised the role of Picard with his customary brio for the features "Star Trek: Generations" (1995) and "Star Trek: Insurrection" (1998), and offered a hilarious, scene-stealing turn as a very effeminate gay decorator in "Jeffrey" (1995), an enjoyable adaptation of the off-Broadway smash. He made an excellent Scrooge in the 1999 TNT remake of "A Christmas Carol", and a year later turned in a terrific performance as Professor Xavier, the wheelchair-bound leader of a group of superhero mutants, in the eagerly awaited big-screen version of the Marvel Comic "X-Men". Before that film's release, however, he grabbed headlines by making a curtain speech, slamming the producers for failing to promote his new Broadway play, "The Ride Down Mt. Morgan". The show's backers complained about the stunt to Actors Equity and Stewart was reprimanded and forced to apologize.
In addition to his work in theater and film, Stewart has kept busy in other realms of show business as well. His rich, cultured, instantly recognizable voice and his beautiful but unforced diction have kept him much in demand as a voice-over artist for recordings, TV commercials and documentaries. Among the latter he has hosted, narrated or at least spoken on episodes of the PBS series "Nova", another science series, "Space Age" (1992), the inaccurate but enjoyable film history "MGM: When the Lion Roars" (1992), and the CBS study of Native Americans, "500 Nations" (1995). He also lent his rich voice to the character of Napoleon the pig on the TNT animated adaptation of the George Orwell classic "Animal Farm" (1999). Acting on US TV occasionally, he enjoyed himself immensely in the title role of an adaptation of "The Canterville Ghost" (ABC, 1996), which he also co-produced, and as Captain Ahab in yet another retelling of "Moby Dick" (USA Network, 1998). He also won a Grammy for speaking the accompanying story for a 1996 recording of Prokofiev's "Peter and the Wolf". A playwright as well, Stewart has adapted several literary works for the radio and stage and has enjoyed particular success in Los Angeles and New York with his one-man version of "A Christmas Carol", in which he played more than 30 roles.
Stewart returned to his two most popular and iconic roles, filming "Star Trek: Nemesis" (billed as the last voyage of the "Next Generation" crew, however unlikely) and "X-Men 2" nearly back-to-back in 2002. He also continued to use his mellifluous speaking voice to great advantage, lending his crisp stentorian tones to animated features including "The Prince of Egypt" (1998), "Jimmy Neutron: Boy Genius" (2001), "Chicken Little" (2005) and "Water Warriors" (due 2006). Meanwhile, the actor also kept a hand in the classics that remain close to his heart, teaming with his producer wife Wendy Neuss and TV movie producer Robert Halmi, Sr., to executive produce and star in TNT's "King of Texas" (2002), retelling Shakespeare's King Lear in the Old West, and a Showtime remake of "The Lion in Winter" with Glenn Close. In 2005 he gamely played the eccentric Captain Nemo for a Hallmark Channel miniseries adaptation of Jules Verne's "Mysterious Island" (2005). After making a comical appearance as himself on an episode of HBO's "Extras" (2005- ), Stewart revived the wheelchair-bound Professor Xavier for the third installment of the series, "X-Men: The Last Stand" (2006), directed by Brett Ratner. This time, the mutants face a peculiar choice after a cure for their mutations is found: retain their uniqueness and remain isolated from society or give up their strange powers and become human.
Education
* Bristol Old Vic Theatre School, London, England, 1957
Chronology
* 1952 Began acting in local theaters at age 12
* 1955 Worked as a reporter for the Dewsbury and District Reporter at age 15
* 1959 Member of the repertory company of the Playhouse Theatre in Sheffield
* 1959 Professional stage debut as Morgan in Treasure Island
* 1965 Spent a season with the Bristol Old Vic Theatre Company; parts played included the title role in Galileo
* 1966 London stage debut as the second witness in The Investigation
* 1967 Worked as an associate artist with the Royal Shakespeare Company
* 1971 Made Broadway debut as Snout in Peter Brook s landmark production of A Midsummer Night s Dream
* 1975 Feature debut as Tilner in Hennessy
* 1976 Played the villainous Sejanus on the acclaimed BBC (and later PBS s Masterpiece Theatre ) miniseries, I, Claudius
* 1981 Returned to the silver screen after six years to play a role in Excalibur
* 1985 Cast in David Lynch s film version of Dune
* 1987 Starred as Captain Jean-Luc Picard, commander of the Starship Enterprise, on the syndicated series, Star Trek: The Next Generation
* 1989 Performed (also co-adapted) all the roles in a storytelling of Dickens s A Christmas Carol
* 1991 Recreated stage performances of A Christmas Carol on Broadway
* 1992 Directorial debut with a benefit performance (for Amnesty International) of Every Good Boy Deserves Favour
* 1995 Enjoyed success as Prospero in New York Shakespeare Festival Central Park production of The Tempest
* 1996 American TV producing debut, The Canterville Ghost (ABC); also served as co-producer and played the title role
* 1996 Received star on the Hollywood Walk of Fame (December 16)
* 1997 Had villainous role in Masterminds
* 1997 Played the title role in DC production of Othello ; ground-breaking production had Stewart playing the Moor and black actors as the Venetians
* 1997 Signed a three-year, first-look deal with Paramount; reportedly as part of the agreement, Stewart would receive a $12 million salary to star in a third Star Trek feature as well as receive an associate producer credit
* 1998 Cast as Ahab in the USA Network miniseries Moby Dick
* 1998 Reprised role of Picard in Star Trek: Insurrection ; also served as an associate producer
* 1998 Starred in The Ride Down Mt. Morgan, a limited run of Arthur Miller s play at the Josph Papp Public Theater
* 1998 Voiced the character of Seti for the DreamWorks animated feature The Prince of Egypt
* 1999 Portrayed Scrooge in the TV-movie remake of A Christmas Carol (TNT)
* 2000 Returned to Broadway as star of The Ride Down Mt. Morgan ; caused a brief ruckus by delivering a curtain speech that claimed the producers (including the Shubert Organization) were not supportive of the production; failed to earn a Tony nomination; producers took matter to Actors Equity which ruled that Stewart had to apologize
* 2000 Starred as the wheelchair-bound Professor Xavier, leader of a group of superhero mutants in the big-screen version of the Marvel Comic X-Men
* 2001 Acted opposite Mercedes Ruehl in a stage production of Who s Afraid of Virginia Wolfe? at the Guthrie Theatre
* 2001 Voiced King Goobot for Paramount s animated feature Jimmy Neutron: Boy Genius
* 2002 Executive produced and starred in Old West King Lear retelling The King of Texas for Hallmark Entertainment and TNT
* 2002 Once again reprised role as Picard in Star Trek: Nemesis
* 2003 Reprised role of Prof. Xavier in X2
* 2004 Executive produced and starred as King Henry II in Showtime s remake of The Lion in Winter ; received a Golden Globe nomination for Best Lead Actor
* 2006 Earned an Emmy nomination for Best Guest Actor in a Comedy Series for his role on Extras (HBO)
* 2006 Reprised the role of Professor Xavier in X-Men: The Last Stand
* 2007 Appeared in the title role in Rupert Goold s acclaimed revival of Macbeth ; reprised role on Broadway in 2008; earned a Tony award nomination for Best Actor in a Play
* 2010 Knighted by Queen Elizabeth II on June 2, 2010 in a ceremony held at Buckingham Palace
Read more
Latest headlines