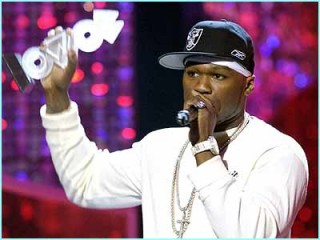 50 Cent biography
Date of birth : 1975-07-06
Date of death : -
Birthplace : South Jamaica, Queens, New York, United States
Nationality : American
Category : Arts and Entertainment
Last modified : 2010-07-07
Credited as : Hip hop and rap singer, actor, Get Rich or Die Tryin album 2003
Curtis James Jackson III
, born July 6, 1975, better known by his stage name
50 Cent
, is an American Grammy Award winning rapper and actor. He rose to fame with the release of his albums
Get Rich or Die Tryin' (2003)
and
The Massacre (2005)
. Get Rich or Die Tryin' has been certified 8 times platinum by the RIAA and has sold over 15 million copies worldwide. His album The Massacre has been certified 5 times platinum by the RIAA and has sold 11 million copies worldwide.
Though he would later struggle with the nature of his fame as well as market expectations, 50 Cent endured substantial obstacles throughout his young yet remarkably dramatic life before becoming the most discussed figure in rap, if not pop music in general, circa 2003. Following an unsuccessful late-'90s run at mainstream success (foiled by an attempt on his life in 2000) and a successful run on the New York mixtape circuit (driven by his early-2000s bout with Ja Rule), Eminem signed 50 Cent to a seven-figure contract in 2002 and helmed his quick rise toward crossover success in 2003. The product of a broken home in the rough Jamaica neighborhood of Queens and, in turn, the storied hood's hustling streets themselves, 50 Cent lived everything most rappers write rhymes about but not all actually experience: drugs, crimes, imprisonments, stabbings, and most infamously of all, shootings. Of course, such experiences became 50 Cent's rhetorical stock-in-trade. He reveled in his oft-told past, he called out wannabe gangstas, and he made headlines. He even looked like the ideal East Coast hardcore rapper: big-framed with oft-showcased biceps, abs, and tattoos as well as his trademark bulletproof vest, pistol, and iced crucifix. But all-importantly, 50 Cent may have fit the mold of a prototypical hardcore rapper, but he could also craft a catchy hook. As a result, his music crossed over to the pop market, appealing to both those who liked his roughneck posturing and rags-to-riches story as well as those who liked his knack for churning out naughty singalong club tracks. And too, 50 Cent didn't forget about his posse. He helped his G-Unit crew grow into a successful franchise, spawning platinum-selling solo albums for his group members, lucrative licensing deals for the brand name, and sell-out arena tours to promote the franchise internationally. By the time of his third album (Curtis, 2007), however, 50 Cent faced a formidable backlash, particularly among hip-hop purists, who were displeased by his turn toward crossover pop-rap and thus away from street-level credibility.
Born
Curtis James Jackson III
on July 6, 1975, and raised in Southside Jamaica, Queens, New York City,
50 Cent
grew up in a broken home. His hustler mother passed away when he was only eight, and his father departed soon after, leaving his grandmother to parent him. As a teen, he followed the lead of his mother and began hustling. The crack trade proved lucrative for 50 Cent, until he eventually encountered the law, that is, and got arrested repeatedly in 1994. It's around this point in time that he traded crime for hip-hop. His break came in 1996 when he met Run-D.M.C.'s Jam Master Jay, who gave him a tape of beats and asked him to rap over it. Impressed by what he heard, Jay signed the aspiring rapper to his JMJ Records label. Not much resulted from the deal, though, and 50 Cent affiliated himself with Trackmasters, a commercially successful New York-based production duo known for their work with such artists as Nas and Jay-Z. Trackmasters signed the rapper to their Columbia sublabel and began work on his debut album, Power of the Dollar. A trio of singles preceded the album's proposed release: "Your Life's on the Line," "Thug Love" (featuring Destiny's Child), and "How to Rob." The latter generated a significant buzz, attracting a lot of attention for its baiting lyrics, which detail how 50 Cent would rob specific big-name rappers. This willingness to rap openly and brashly and the attention it attracted came back to haunt him, however. His first post-success brush with death came shortly after the release of "How to Rob," when he was stabbed at the Hit Factory studio on West 54th Street in Manhattan. Shortly afterward came his most storied incident. On May 24, 2000, just before Columbia was set to release Power of the Dollar, an assassin attempted to take 50 Cent's life on 161st Street in Jamaica, Queens (near where Jam Master Jay would later be fatally shot two and half years later), shooting him nine times with a 9mm pistol while the rapper sat helpless in the passenger seat of a car. One shot pierced his cheek, another his hand, and the seven others his legs and thighs, yet he survived, barely. Even so, Columbia wanted nothing to do with 50 Cent when they heard the news, shelving Power of the Dollar and parting ways with the now-controversial rapper.
During the next two years, 50 Cent returned to the rap underground where he began. He formed a collective (G-Unit, which also featured Lloyd Banks and Tony Yayo), worked closely with producer Sha Money XL (who had also been signed to JMJ around the same time that 50 Cent had), and began churning out mixtapes (selections from which were later compiled on Guess Who's Back? in 2002). These mixtape recordings (many of which were hosted by DJ Whoo Kid on CDs such as No Mercy, No Fear and Automatic Gunfire), earned the rapper an esteemed reputation on the streets of New York. Some of them featured 50 Cent and his G-Unit companions rapping over popular beats, others mocked popular rappers (namely Ja Rule, who quickly became an arch-rival), and a few discussed his shooting. This constant mixtape presence throughout 2000-2002 garnered industry attention as well as street esteem, particularly when Eminem declared on a radio show his admiration for 50 Cent. A bidding war ensued, driving up the signing price into the million-plus figures in the process and slowly moving the rapper into the up-and-coming spotlight once again as word spread. Despite the bidding war, Eminem indeed got his man, signing 50 Cent to a joint deal with Shady/Aftermath -- the former label Em's, the latter Dr. Dre's. During the successive months, 50 Cent worked closely with Eminem and Dre, who were both credited as executive produced on his upcoming debut, Get Rich or Die Tryin', each of them producing a few tracks for the highly awaited album. Before Get Rich dropped, though, Eminem debuted 50 Cent on the 8 Mile soundtrack. The song "Wanksta," previously released on the No Mercy, No Fear mixtape, became a runaway hit in late 2002, setting the stage for "In da Club," the Dre-produced lead single from Get Rich. The two singles became sizable crossover hits -- the former peaking at number 13 on Billboard's Hot 100 chart, the latter at number one -- and Interscope (Shady/Aftermath's parent company) consequently had to move up Get Rich's release date to combat bootlegging.
Amid all this, 50 Cent made headlines repeatedly. Most notably, he was tied to Jam Master Jay's shooting in October 2002, the F.B.I.'s investigation of Murder Inc's relationship to former drug dealer Kenneth "Supreme" McGriff, and a shooting incident at the offices of Violator Management. Furthermore, he made more headlines when he was jailed on New Year's Eve 2002 for gun possession. The media recounted his life story ad nauseam, particularly his storied brush with death -- and not just the expected media outlets like MTV -- even such unlikely mainstream publications as The New York Times ran feature stories ("Amid Much Anticipation, a Rapper Makes a Debut"). By the time Get Rich finally streeted on February 6, 2003, 50 Cent had become the most discussed figure in the music industry, and bootlegged or not, his initial sales figures reflected this (a record-breaking 872,000 units moved in five days, the best-selling debut album since SoundScan started its tracking system in May 1991), as did his omnipresence in the media. Late in the year, following another round of popular hits, "21 Questions" (which charted number one on the Hot 100) and "P.I.M.P." (number three), 50 Cent made his group debut with G-Unit, Beg for Mercy. The album charted at number two and spawned a couple Top 15 hits, "Stunt 101" and "Wanna Get to Know You." In 2004, 50 Cent stayed on the sidelines for the most part as G-Unit affiliates Lloyd Banks and Young Buck released popular solo albums. Another G-Unit affiliate, the Game, released his debut in January 2005, and it proved the most successful among these solo spin-offs, in particular the singles "How We Do" and "Love It or Hate It," both Top Five hits that prominently featured 50 Cent. As these singles were riding high on the charts, however, 50 Cent and the Game were feuding, and the latter was acrimoniously booted out of G-Unit. There were also feuds with Fat Joe and Jadakiss (instigated by the song "Piggy Bank") during the run-up to the March 2005 release of The Massacre, 50 Cent's second album. Nearly as popular as Get Rich or Die Tryin', The Massacre debuted at number one, sold millions (over ten million worldwide), and spawned a series of smash hits ("Disco Inferno," "Candy Shop," "Just a Lil Bit").
By this point in time, 50 Cent's fame overshadowed his music, thereby predicating "street" credibility issues that would haunt him in the years to follow. For instance, the marketing rollout of The Massacre carried over into ventures such as the video game 50 Cent: Bulletproof, the semi-autobiographical film Get Rich or Die Tryin', and the soundtrack to that film -- all released in 2005, along with other product. The fallout from 50 Cent's overexposure was evident via the singles from the film soundtrack ("Hustler's Ambition," "Window Shopper," "Best Friend," "Have a Party"), which failed to gain much traction in the marketplace, charting modestly relative to past singles. The next round of G-Unit solo releases (Tony Yayo's Thoughts of a Predicate Felon, 2005; Mobb Deep's Blood Money, 2005; Lloyd Banks' Rotten Apple, 2006; Young Buck's Buck the World, 2007) didn't perform commercially well, either, and it's wasn't entirely surprising when plans for another, Olivia's Behind Closed Doors, were shelved. The grim outlook didn't bode well for 50 Cent's next album, which was pushed back repeatedly and retitled a couple times. The final title, Curtis, was inspired by yet another feud, this one with Cam'ron, who taunted 50 Cent, somewhat oddly, by addressing him by his born name. After a pair of lead singles, "Straight to the Bank" and "Amusement Park," failed to connect in the marketplace, Curtis was reworked one last time and pushed back from a summer release date to a fall one (i.e., the memorable date September 11, which -- to the glee of industry observers -- pitted the album against Kanye West's Graduation). A second round of singles, "I Get Money" and "Ayo Technology," was released in the latter half of the summer, while the video for a fifth single, "Follow My Lead," was leaked to the Internet -- to the frustration of 50 Cent, who reportedly cursed out Interscope for endangering the commercial prospects of his album -- over a month before street date.
Read more
Latest headlines