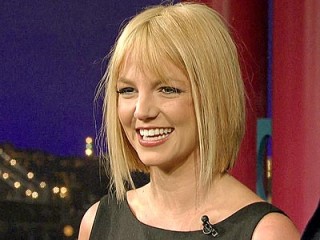 Britney Spears biography
Date of birth : 1981-12-02
Date of death : -
Birthplace : Kentwood, Louisiana, USA
Nationality : American
Category : Arts and Entertainment
Last modified : 2010-10-19
Credited as : Pop singer and actress, debuted with Baby One More Time, V magazine cover 2011
Later on being lauded as one of the greatest pop singers Hollywood has ever had,
Britney Spears
embarked on her music career early at her very young age. She performed in local dance revues and sang in her local Baptist church choir. Eager for more, she auditioned for the Disney Channel series "The New Mickey Mouse Club" but failed as she was considered too young to join in the series at that time. Nonetheless, one of the show's producers introduced her to a New York City agent who brought her to perform in a number of off-Broadway productions, including 1991's "Ruthless!". Trying for another audition still for a spot on the Disney Channel "The New Mickey Mouse Club" in Lakeland, Florida in 1992, the little girl finally made it and so became a musketeer along with future stars, like Christina Aguilera, JC Chasez and Justin Timberlake. Featured on the show from 1993 to 1994, she then headed back to her birth place Kentwood and attended high school for a year after the show ended.
Born on December 2, 1982 in Kentwood, Louisiana, Britney's birth name actually is
Britney Jean Spears
. Her parents are Lynne Irene, a former elementary school teacher, and James Parnell Spears, a building contractor. Her brother, Bryan Spears, works as a manager for the Spears family interests, whereas her sister Jamie Lynn Spears is an actress and singer. Having the freedom to explore her singing talent, Britney briefly joined the all-female pop group Innosense in 1997 before later that same year recorded a demo solo and was signed by Jive Records. Working on her raw music career under the major record label, she was first of all being asked to begin a U.S. concert tour sponsored by American teen magazines before eventually became an opening act for NSYNC and Backstreet Boys.
Kicking off her singing career with the release of a debut single titled "... Baby One More Time" in the end of 1998, Britney quickly became a pop phenomenon with the song's immediate break out success, selling nine million copies worldwide and peaking at number one on the Billboard Hot 100. Following the achievement, the song also ranked at No. 25 on Rolling Stone & MTV's 100 Greatest Pop Songs of all time. An album of the same title "...Baby One More Time" was released in January the following year, only to experience a massive success as well, debuting in the number one spot on the Billboard 200 and leading the set to be certified Diamond in the US alone. Not only was the LP sold over 25 million worldwide, but also it earned Britney an instant popularity in addition to numerous prestigious awards, including the 1999 Teen Choice Awards' Choice Single, four MTV Europe Music Awards for Best Song, Best Pop Act, Best Female Act, and Breakthrough Act, and four Billboard Awards for Female Artist of the Year, New Female Artist of the Year, Hot 100 Female Artist of the Year, and Album Artist of the Year.
Quickly following up debut LP with a second effort, titled "Oops!...I Did It Again", Britney saw it sold extremely well worldwide, debuting at number one in the U.S., selling 1,319,193 units only a week after it was released on May 16, 2000, and breaking the SoundScan record for the highest album sales in its debut week by any solo artist. Also gaining a Diamond certification from the RIAA just like her previous one, the second album in fact fared better with critics. With its lead single of the same title, it quickly became a top ten hit in the U.S. and other countries. Her first world tour for "Oops!... I Did It Again World Tour" was held in the same year, and Britney continued to add more awards into her collection, naming some were the 2000 AMA, Billboard, People's Choice, and Teen Choice Awards, not to mention two Grammy nominations in 2001 for Best Pop Vocal Album and Best Female Pop Vocal Performance.
Already becoming a world's phenomenon, Britney brought forth her eponymous third album, "Britney", at ease on November 6, 2001. Failing to receive the success of her two previous albums, the set still debuted at number one in the U.S., selling 745,744 units during its first week and making Britney the only female artist in SoundScan history to have her first three albums debuting at #1. Then again being nominated for the 2003 Grammys; Best Female Pop Vocal Performance for "Overprotected" and Best Pop Vocal Album, Britney however lost both. Young at her age, Britney bravely exposed her sexual appeal, as if to mark her transition from teen tart to sexually powerful woman. She provoked controversies when she, during her third consecutive MTV Video Music Awards performance, used caged animals and danced erotically with a large albino python draped over her shoulders. The following year she again became the object of another controversy when at a performance at the 2003 MTV Video Music Awards, she locked lips with Madonna, only to start rumors that they were lesbians.
Previously announcing a six-month break from the industry, Britney brought in hand her fourth studio album "In the Zone," which was released in November 2003, with she herself co-writing eight of the album's thirteen songs. Also including a Madonna-featuring on song "Me Against the Music", the album rose straight to the top of the album charts in its debut week, making Britney the only female in music history to have her first four albums debuting at No. 1. Notwithstanding with critics' mild reception of it, "In the Zone" did successfully earn Britney her first ever Grammy in the category of Best Dance Recording, thanks to its hit single "Toxic". Another tour, dubbed "The Onyx Hotel Tour", was kicked off in March 2004 but had to be canceled after the second leg because Britney suffered a knee injury while she was filming a video for her single "Outrageous."
Instead of completing the remaining dates of her tour, Britney preferred to focus more on her personal life, announcing her engagement to dancer Kevin Federline, whom she tied the knot with on September 18 that same year in a private non-denominational ceremony at a residence in Studio City, California. That was Britney's second marriage after her first short one, 55-hours, with her childhood friend, Jason Alley Alexander in early January 2004. Keeping herself busy filming "Britney and Kevin: Chaotic," a reality show focused on their courtship, engagement and wedding, premiered on May 17, 2005 on UPN, the pop songstress gave birth to her first child with K-Fed, a baby boy named Sean Preston Federline, on September 14, 2005 by Cesarean section. Not long after that, rumors were swirling that she was pregnant with another child, an issue which she later on verified during a taping of television's "Late Show with David Letterman" in May 2006. Becoming the center of media and public attention was proven hard for Britney who was subsequently caught in a series of scandal, including that of her parenting skills that called into question judging from the way she treated baby Sean, her rocky marriage to K-Fed, and her new hair color. It was during this down low of her personal life that Britney then gave birth to her second son, Jayden James Federline, on September 12, 2006.
Britney kept working on her next LP in 2006 with such heavyweight music experts, including Timbaland, Scott Storch, Nat Hills, The Neptunes, and JR Rottem. However, it was sad to say that at this point of time she suffered from depression as a result of her failed marriage and entered rehab to get treated. Her singing career was left abandoned for sometime and people thought that she would never make a comeback. She proved it wrong as few months post her release from the rehab, she made a number of unpublicized small scale shows in House of Blues clubs. Under the moniker M+M's, her surprise appearance had graced the headlines. Despite the uncertainty, her fans snapped the tickets to the House of Blues gigs whereby Britney received various reviews. She made her first appearance on May 1, 2007 in San Diego's House of Blues and continued to travel in several other clubs to denote her comeback.
There was an original plan to release her album in the same year but apparently she was tangled in a disagreement with her label that it had to be delayed until 2008. However, it was reported few months later that she would set off a single titled "Get Back" first before the whole set hit the stores. A video for the song had been shot with the singer sporting black theme and sexy edge. In late August 2007 everything started to take shape around Britney's comeback album. The CD was put back to a 2007 release and expected to be in stores by November 13. A first single produced by Danja called "Gimme More" was confirmed and premiered on New York City based radio Z100 on August 30. Britney later performed it at the 2007 MTV Video Music Awards to a disappointing stage act. Beside lip-syncing, Britney looked drowsy and quite unprepared for her performance that was actually deemed her "come back." Surprisingly, "Gimme More" picked up quickly on iTunes chart immediately after its digital download on September 27. It jumped from #97 up to #16 within hours and immediately soared to #2, all without promotion or video release.
The music saga continued with the anticipation on the "Gimme More" music video and album title revelation. By early October 2007, Britney revealed that the album was called "Blackout" and would be released on October 30 due to its huge demand. Ironically, the week when album sales were counted, Billboard set a new rule for exclusive album titles that were only available through one retailer to be eligible for the Hot 200 chart. Thus, Britney's "Blackout" failed to claim the first post after Eagles' "Long Road Out of Eden" accumulated 400,000 copies more.
After the many ups and downs in her marriage, the songbird decided to have had enough and on November 7 shockingly filed for divorce from K-Fed, citing irreconcilable differences and asking for both physical and legal custody of their two children with visitation rights for the daddy. Caught totally by surprise, it took less than 24 hours for Kevin to file a response to Britney's divorce petition, battling for physical and legal custody of their children. Amid media frenzy on her erratic behavior, including shaving her head bald and her hard partying ways, Britney had her divorce to K-Fed finalized by July 30, 2007 with details on the divorce settlement being kept under wrap. Her attorney publicly confirmed the end of their bitter divorce battle, claiming "everything is finalized,"although that's not the case.
The road to 'soul recovery' was rocky for Britney to get through. Juggling her not so all-out attempt to make a successful comeback to music scene with her personal life that drew heavy media coverage, Britney did face a tough life. She hit the lowest point of her life when being labeled by media as a "bad mother" to her young sons while, also kept attracting media attention with her doing a series of controversial and erratic behaviors which had a bad impact on her custody battle with K-Fed. As the legal battle over the custody of their children continued, Britney estranged herself from family members, one that became talk of the town was that of her parting ways with mother Lynne, presumably because she discovered Lynne had been criticizing her parenting skills to friends and associates, an issue about which the court then had many members of her entourage subpoenaed to testify. Official findings on that matter were announced by the court and Britney was ordered to undergo random drug and alcohol testings and to attend parenting counseling. By October 1, Britney lost physical custody of her children to Kevin who was appointed by the court to keep full custody of the boys.
Amidst her attempt to win back the custody of her sons and once again conquer the music business, it was ruled that Britney and K-Fed had joint custody of their two children on a conditional basis. It was short-lived though as the court once again ripped off her custody due to numerous issues which were all rooted from her personal disorder. On January 3, 2008 Britney fell off the wagon for many times, creating a "family custody dispute" drama on her Beverly Hills home after she refused to hand over sons Sean Preston and Jayden James to K-Fed's bodyguards as ordered by the court. Police, ambulance, and fire trucks were spotted around the gates of her home for almost four hours before the star at last taken to Cedars-Sinai Medical Center, being placed on a "5150 hold," due to the fact that she posed a danger either to herself or others, for mental evaluation. Discharged from the hospital the next two days, she was again put on a 5150 involuntary psychiatric hold for the second time on January 31 and taken from her Beverly Hills home by ambulance to the UCLA. After stealing attention from the media due to her erratic behavior, Britney was once again put on the spotlight after she impressively bagged three nods at 2008 MTV Video Music Awards. Her Wayne Isham-directed video for single "Piece of Me" was named as Best Female Video, Best Pop Video, and Video of the Year. In the latest category, her video beat down Chris Brown's "Forever", Jonas Brothers' "Burnin' Up", The Pussycat Dolls' "When I Grow Up", and The Ting Tings' "Shut Up and Let Me Go". After claiming triple victories at the annual awards, Britney was suddenly flooded with interesting offers from such big stars as Chris Brown and Ne-Yo. While Chris confirmed that he was in the middle of writing some new songs for her, Ne-Yo said that though willing to help her comeback album, he chose to wait for Britney's call. "I'm not calling them. They can call me this time ... Once she gets focused, I think she'll be alright," he stated.
However, none of them were signed on her sixth major studio album "Circus". Slated to hit the market on December 2 on her 27th birthday, the album instead lined up Lady GaGa and Max Martin among others in the song-writing table. Lead single off the LP, "Womanizer", debuted at number 111 on Billboard Hot 100 Singles chart and then made the longest jump in the history by climbing to number 1 on its third week in stores due to heavy air rotation. In early October, public was once again surprised as she appeared nude on the music video for her first single. Though only shot from the side, people managed to see that her out-of-shape figure has been well-maintained, marking her successful work out. Eager to continue showing the world what she got with her sixth studio LP, Britney announced that the second single off the record will be the title track "Circus". A music video for the song has been filmed and scheduled to be premiered on December 5 on Entertainment Tonight.
Promotional project to support the upcoming LP has been worked out by Britney's camp. Gearing up for the roadshow, she held an audition to seek three new male backing dancers at Hollywood's International Dance Studio. But, before the tour is kicked off the next spring, Britney made a series of appearances in Europe. She flew to Germany for her first live performance at Bambi Awards on November 27 in Offenburg, singing "Womanizer". The next day, she continued to France for a special musical guest at France TV reality show "Star Academy", also playing "Womanizer" with circus-themed appearance.
During her tight schedule, Britney managed to tip toe on the small screen for MTV documentary "Britney Spears: For the Record" which airs November 30, 2008 at 10/9c. Dealing with her chaotic life, she opens up about her marriage to K-Fed. For the TV show, she is followed to the recording studio, to rehearsals, to press tours, and even to her hometown in Louisiana.
Watch the music video for her latest single
Hold It Against Me
lifted up from the
Femme Fatale
album :
Discography
2011: Femme Fatale
2009 : The Singles Collection
2008 : Circus [Deluxe Edition]
2008 : Circus
2007 : Blackout
2005 : B in the Mix: The Remixes
2004 : Greatest Hits: My Prerogative [Video]
2004 : Greatest Hits: My Prerogative
2004 : I'm Not a Girl Not Yet a Woman
2003: In The Zone
2002: ...Baby One More Time/Oops!...I Did It Again
2001: Britney
2000: Oops!...I Did It Again
2000: Singles Box
2000: In the Spotlight with Britney Spears
1999: ...Baby One More Time
Filmography
2008 : How I Met Your Mother (TV)
2002 : Crossroads
2002 : Legend of the Lost Tribe
2000 : Longshot
Read more
Britney Spears Picture Gallery
Latest headlines