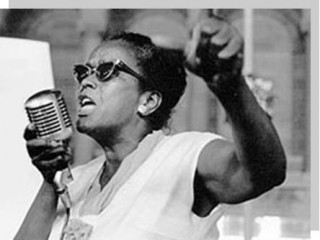 Ella Baker biography
Date of birth : 1903-12-13
Date of death : 1986-12-13
Birthplace : Norfolk, Virginia, U.S.
Nationality : African-American
Category : Arhitecture and Engineering
Last modified : 2011-03-26
Credited as : activist, Young Negroes Cooperative League (YNCL), Black Women in America
American activist Ella Baker was the consummate organizer and unsung brains behind many of the most effective African American civil rights and political organizations in the twentieth century.
Ella Baker's democratic vision and grass-roots activism left an indelible imprint on African American civil rights and political movements in the twentieth-century. She was regarded as a brilliant strategist, a radical intellectual, and superb organizer. Her political legacy forever linked criticisms of racism and gender-based discrimination to criticisms of capitalism and social imperialism. She combined liberation rhetoric with direct activism, and developed strong internal structures that made organizational growth and progress possible. Baker was a proponent of the "under class," and believed "ordinary" people could become political leaders. An article in Black Scholar attributed her low profile in the civil rights movement to her preference of taking political directives from the poor and working class, rather than civil rights elites, some of whom marginalized her and the importance of her contributions. Baker considered herself a facilitator, rather than a leader and she believed in the strength and power of the common man to help themselves.
Political activism began shaping her life in Harlem during the Great Depression. She helped found and eventually became coordinator, and then director of the Young Negroes Cooperative League (YNCL), which organized stores and buying clubs to achieve economic self-sufficiency among the African American community. This experience, along with that of writing about New York City's African American domestics, deepened her understanding of the relationship between politics and economic exploitation of people according to gender, race, and class. She went on to establish a grass-roots field network for the National Association for the Advancement of Colored People (NAACP), becoming a national leader in the 1940s. She became the first director of the Southern Christian Leadership Conference (SCLC) in the 1950s and was a founder of and adviser to the Student Nonviolent Coordinating Committee (SNCC) in the 1960s. She worked well into her 70s with numerous political organizations to further social and racial justice. Baker was always striving to form a bridge among different socio-economic groups to foster communication and cooperation.
Born in Norfolk, Virginia, and raised in Littleton, North Carolina, Ella Josephine Baker was the middle child of educated parents who were active participants in community life. Black Scholar describes her early years as somewhat protected and privileged. She was part of a close-knit racially proud family, whose ancestors had been community leaders with a southern African American tradition of cooperating with and helping one another that was carried on by her family. They were not wealthy, but were able to send her to Shaw boarding school in Raleigh for high school-there was no secondary school in Littleton. She excelled academically, and continued her education at Shaw University, a conservative institution with a "classical" curriculum of literature, philosophy, foreign languages, and mathematics. Her sense of social justice began to form while she was a student; she led several protests against strict rules, such as not being allowed to wear silk stockings on campus. She majored in sociology, and graduated as valedictorian of the class of 1927.
Full of energy, idealism, and possibilities, she rejected an offer to teach school realizing that mostly white school boards would control her future. Instead, on the eve of the Great Depression, she moved to New York City-worlds apart from the confines of university life. She was appalled by the suffering, poverty, and hunger, as well as the sense of desperation that hung over the streets of Harlem. Her first job was as a waitress. Rather than succumb to exploitation, she started organizing with others for jobs and helped found The Young Negroes Cooperative League (YNCL) as a means to help people save money and gain economic power by buying collectively. As a group organizer, she learned firsthand the devastation caused by the Depression. Elected to be the YNCL's first national director, she viewed the organization as a proving ground for communalism and interdependency. Such groups were branded as radical because they embraced socialism and some forms of communism; in fact, the YNCL resembled Baker's memory of the cooperative community environment in which she grew up. The YNCL was based on democratic principles, for men and women alike, and its leaders were drawn from the membership.
Throughout the 1930s Baker was involved in numerous organizations, but a few were particularly influential in her development as a social activist. One was the Workers Education Project, which was part of the Works Progress Administration (WPA). There, in addition to teaching subjects that enabled people to re-enter the workforce, she came in contact with left-wing activists and the growing union movement. Others, such as the Women's Day Workers and Industrial League, a union for domestic workers; the Harlem Housewives Cooperative; and the Harlem Young Women's Christian Association (YWCA), brought her in touch with her identity as an African American woman. She began to consider how social, political, and government structures exploited race, and refused to be classified as anything other than a "person." Even in marriage she did not assume her husband's last name, an act that was considered highly unusual in the 1930s. She commented, "I began to see that there were certain social forces over which the individual had very little control. It wasn't an easy lesson for me to learn, but I was able to learn it. It was out of that context that I began to explore; more in the area of ideology and the theory of social change…. I began to confront poverty, to identify to some extent with the unemployed…"
Baker had the opportunity to see people's lives from many different venues, including that of a reporter. In 1935 she co-authored with Marvel Cooke an exposé on the precarious situations of African-American domestic workers. Entitled "The Bronx Slave Market," the sexual and racial exploitation unique to African American women was described. Both writers posed as domestics looking for jobs in the "slave marts," auction blocks where day workers negotiated wages, as part of their research. With 15 million Americans without jobs and savings, the Depression intensified the poverty conditions tying African Americans to domestic service. Wages ranged from 15 to 30 cents an hour. In desperation, African Americans turned to the federal government for assistance, which although it provided a safety net for some, failed to include domestic work in most legislation-and did nothing to establish a basic wage. The dehumanizing experience of facing derision from "respectable" wage earners, as well as fraudulent employment agencies that bilked workers' wages, lead Baker to conclude that economic justice should be the primary objective in political struggles. According to Black Scholar, her labor activism placed "work" central to critiques of racism, classism, and sexism; and made the struggles against racism and sexism indispensable to dismantling economic oppression.
In 1940, Baker started working with the NAACP as a field secretary and from 1943-1946 as director of branches criss-crossing the south and establishing a vast network of contacts. Baker disagreed with the NAACP's reliance on legal approaches to combat discrimination, advocating instead a strategy that would involve the entire membership. Also impatient with the organization's bureaucracy, she resigned, but volunteered as president of the New York branch.
In the 1950s, her interests turned to the growing southern civil rights movement. Along with two friends, she founded In Friendship, an organization that raised money to help organizations, such as the Montgomery Improvement Association, which coordinated the bus boycott, as well as needy individuals who lost property in retribution for their participation. The advent of the Southern Christian Leadership Conference (SCLC), which was formed to maximize the momentum generated by the Montgomery boycott, rendered the smaller organization unnecessary. Baker joined the SCLC as its first director working along side Dr. Martin Luther King, Jr., even though they had differences of opinion on leadership issues. For two years she coordinated the SCLC's voter rights campaign, called Crusade for Citizenship, expanded grass-roots participation, and ran the office. Eventually, however, she resigned due to her strong belief that the organization was relying too heavily on King's persona to mobilize people.
Coincidentally, about the same time, students in Greensboro, North Carolina, led a successful desegregation sit-in. Baker immediately shifted her attention to maximizing this new activism among African-American students, and took a job with the local YWCA in order to be nearby and involved. Under her direction, a new independent youth organization, the Student Nonviolent Coordinating Committee (SNCC), was formed as an alternative to more politically moderate organizations. Egalitarian in structure, it was based on grass-roots democracy managed on a local level, which gave women, young people, and the poor a chance to become leaders. This organization epitomized Baker's philosophy of sharing knowledge and skills with others, which PBS later captured in a documentary, Fundi: The Story of Ella Baker. Fundi is a Swahili word meaning "one who hands down a craft from one generation to another."
Black Scholar noted that the SNCC distinguished itself by using mass direct-action tactics and by going into rural areas of the Deep South, where racism and violence were worst. The SNCC lead a wave of sit-in demonstrations throughout the South and became one of the most effective student movements in US history. It remained an independent organization, declining to become affiliated with the SCLC, a decision supported by Baker that reinforced her split with the SCLC.
Baker taught people not to be ashamed of their race, made them believe in themselves, and understand the power of unity. Behind the scenes and out of the limelight, she nurtured generations of African Americans to keep the spirit of freedom going. While she was content to work in supportive roles, she urged African American women to take up their struggle for equality. She explained the social environment of the 1950s and 1960s: "The movement … was carried largely by women, since it came out of church groups. It was sort of second nature to women to play a supportive role…. [I]t's true that the number of women who carried the movement is much larger than that of men. Black women have had to carry this role, and I think the younger women are insisting on an equal footing." Always a pioneer, Baker anticipated and encouraged the next wave of social activism in the 1970s and 1980s.
Baker's later years were spent advising countless organizations. She was an organizer who identified with all people, and who sought to create change by empowering people to act on their own behalf. Ella Baker died in New York, New York in 1986 and left behind a legacy that lived well beyond her eighty-three years.
Read more
Latest headlines