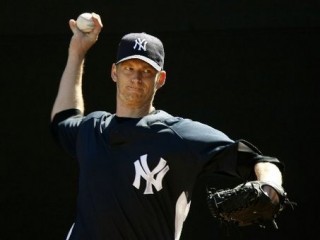 A. J. Burnett biography
Date of birth : 1977-01-03
Date of death : -
Birthplace : North Little Rock, Arkansas
Nationality : American
Category : Sports
Last modified : 2010-10-16
Credited as : Baseball player MLB, pitcher with the New York Yankees,
Allan James "A.J." Burnett was born on January 3, 1977 in North Little Rock, Arkansas. His parents, Diane and Bill, raised him and his older brother P.W. in a Catholic household. A.J., however, followed anything but the straight and narrow. In school, he laughed when teachers told him to stray from drinking and dancing. Friends often characterized his attitude as devil-may-care.
A.J. enjoyed sports from an early age. Since there was no professional home team in Arkansas, he gravitated to the headline-making stars of the 1980s. Dwight Gooden was one of his favorites. A.J. was mesmerized by "Dr. K" when he broke into the majors as a 19-year-old in 1984. A year later, he won the National League Cy Young Award and appeared on the cover of Sports Illustrated. Some 25 years later, A.J. brought that issue of the magazine to Old-Timers Day at Yankee Stadium and asked Gooden to sign it for him.
Despite his love for baseball, A.J. didn't see the sport as his future. He played because he thought it was fun. He didn't even throw his first pitch until his junior year of high school. He had been a catcher and third baseman when a coach asked him to take the mound because he had an electric arm. Most of A.J.'s deliveries ended up at the backstop, far from the strikezone.
By then, A.J. had transferred from Catholic High School to Central Arkansas Christian. Catholic had terminated its baseball program, and A.J. wanted to play. Central Christian was his next best option.
A.J.'s baseball career abruptly changed in 1995 during his senior season when Central Christian traveled to Russellville to play the third-ranked team in Arkansas in the state semi-finals. The team's ace, Chris Simmons, came up with a sore shoulder. A.J. was the only available pitcher. Called upon to face a stacked 4-A team with major-league scouts present, A.J. was brilliant. Doing his best impression of Gooden, he threw seven innings of one-run ball. A.J. used a two-seam fastball to run-in on righties, a four-seamer to overpower lefties and a filfthy curvevball that his grandfather taught him.
A scout for the New York Mets named Larry Chase was in attendance to see another pitcher and stuck around for A.J.'s game. Chase was blown away. The Mets drafted A.J. that summer in the eighth-round. He had planned to go to junior college but figured he would learn more playing in the pros.
A.J. joined the Mets' affiliate in the Gulf Coast League that summer. Raw and immature, he showed flashes on brilliance but was awful just as often. Still, the 18-year-old did enough to earn a promotion to the Appalachian League in 1996. There, A.J. began the game more seriously. He was untouchable when he found the plate—A.J. gave up just 31 hits and struck out 68 in 58 innings. But his control came and went from game to game and inning to inning. A.J. walked 54 in his 12 starts.
ON THE RISE
A.J.'s struggles came as no surprise to the Mets. Heading into the 1997 season, the team hired Bob Stanley as a minor-league instructor. Stanley—the former Red Sox reliever who had helped author Boston's World Series collapse against New York in 1986—was charged with helping A.J. harness his talent and temper on the mound.
Stanley had been forewarned about A.J., but he didn't understand fully the challenge he faced until one long inning in particular in Pittsfield during the '97 campaign. After walking several hitters, A.J. stormed into the dugout and punched the cement roof repeatedly until his knuckles bled. he then told the trainer that he was done for the day. Stanley thought otherwise and yelled a few expletives at the young hurler. A.J., went back out to the mound without stitching up his hand. Blood dripped from his right hand and stained his jersey, but he struck out the side. When A.J. returned to the dugout, Stanley barked at him that he was done. A.J. protested, but Stanley had the last word. You're done when I say you're done, Stanley said. That kind of no-nonsense authority proved to be exactly what A.J. needed.
That fall, Pittsfield made it to the New York-Penn League championship game. Stanley handed the ball to A.J. He pitched a gem, striking out four and giving up two runs on three hits in 6 1/3 innings.
At the same time in Florida, the Marlins were in the process of shocking the baseball world, winning the World Series against the heavily favored Cleveland Indians in seven games. In only their fifth year of existence, they were the first wild card team to capture a title. However, during the off-season, the Marlins launched a fire-sale, dumping virtually every key player on the team. This included a trade with the Mets, who sent A.J. to Florida as part of a package for Al Leiter.
A.J. thrived in his new surroundings—and developed an attitude that got him noticed on the field and off it. Hi pitched for the Kane County Cougars in 1998 and had his way with his Class-A competition, posting a 10-4 record with a 1.97 ERA and 186 strikeouts in 119 innings. Away from the mound, A.J. took up the guitar. He was practically attached to the thing, learning to play just about every song from one of his favorite bands, Marilyn Manson. He pierced his own left nipple, and then decided to get the right one pierced in a tattoo parlor. A.J. dyed his hair to blond to black back to blonde. He also started collecting tattoos: a personally styled gothic tattoo on his left arm, himself pitching on his left ankle and his initials on his right arm.
During his year with Kane County, A.J. also a girl named Karen at a local restaurant. He tattooed her initials between his shoulder blades. He would later marry her, and the couple would have two sons.
In 1999, A.J. moved up to Class-AA Portland. He struggled to make the adjustment. His ERA climbed well above 5.00, and he surrendered 15 home runs. The Marlins were going nowhere, however, and on August 17, A.J. was called up to make his major-league debut. Facing the Dodgers in Los Angeles, he dominated a lineup that included Gary Sheffield and Adrian Beltre. A.J. pitched into the sixth inning, giving up only one run on a homer by Todd Hollandsworth. He earned his first win by striking out four and walking only two.
A.J. made six more starts for the Marlins that year, taking a spot in a rotation alongside Ryan Dempster and Livan Hernandez. He finished 4-2 with a respectable 3.48 ERA. Florida wound up last in the NL East.
A.J. looked forward to his first full big-league season in 2000, but he ruptured a ligament in his right thumb during spring training that required surgery. After rehabbing the injury and making a few appearances in the minors, he rejoined the Marlins in July. A.J. was up and down the rest of the way. For the year, he went 3-7 with a 4.79 ERA. In 82 innings, he fanned 57 and walked 44. The young Marlins showed improvement, meanwhile, finishing just under .500, which was good for third in the division.
Injury problems plagued A.J. again to start the 2001 campaign. He missed the first month of the season after suffering a stress fracture in his right foot, which he hurt while running on a treadmill. When he came back in May, he joined Dempster, Brad Penny and Matt Clement in the starting rotation. Budding young stars Mike Lowell, Luis Castillo, Derrek Lee and Preston Wilson were also making their way in the bigs. A.J. made a friend in Josh Beckett, perhaps the most talented prospect in the Florida farm system.
The Marlins were inconsistent most of the year and finished team fourth in the NL East. That didn't mean that the team went without its fair share of highlights. A.J. provided the biggest, in only his second start of the season. Pitching against the Padres in San Diego, A.J. recorded the third no-hitter in Florida's history. It was a vintage performance for the young hurler—just 65 of his 128 pitches were called strikes, he issued nine walks, and hit second baseman Damian Jackson with a delivery that broke his right thumb.
A.J.'s almost lost his no-no the eighth inning, when he threw nine straight balls out of the strikezone. His fastball dropped from into the mid-80s, and he walked the bases loaded with only one out. Manager John Boles later said that if he would have yanked A.J. if he had given up a hit. But Eric Owens made a fine running catch on a Ben Davis fly ball, and A.J. got the final out of the inning. The game ended on a Phil Nevin pop-up to shortstop Alex Gonzalez.
A.J. also made the highlight reels in September after a warm-up toss shattered the window of a van driven by Florida mascot Billy the Marlin. A.J. admitted that the pitch was intentional. The game was delayed for several minutes while the glass was cleaned from the field.
A.J. ended the year at 11-12 with a 4.05 ERA. His 27 starts were easily the most of his career, and he was the fourth toughest pitcher to hit in the NL Again, a lack of control caused problems, and his 20 gopher balls were second highest on the team.
A.J. was healthy to begin the 2002 season, and he teamed with Beckett to give Florida an excellent one-two punch. In his first start, A.J. dominated the Montreal Expos, striking out nine for his first win of the year. He sparkled the rest of the way, going 12-9 with a 3.30 ERA. Beckett, meanwhile, established himself as a player to watch, fanning 113 hitters in 107 innings.
A.J., however, was the bigger story. He led the Marlins staff in every major pitching category: wins, ERA, starts and innings pitched. He topped the NL with five shutouts. Though the Marlins finished under .500 again, it ws clear that something special was on the horizon.
Prior to the start of the 2003 season, A.J. entered into a very public arbitration case with management—always a tricky situation in a small-market city. A.J. asked for $3 million, the team offered him $2.5 million. He skipped the first few days of spring training while waiting out the dispute, and also publicly voiced his frustration with the team's hesitancy to dole out multiyear contracts. A.J. lost his arbitration case, which made him think twice about his future with the club.
Eager to follow up on his stellar '02 campaign, A.J. ran into a familiar problem after only four starts. His elbow became sore and tender, and he was placed on the DL. A short time later,A.J. got the worst diagnosis he could have imagined. He neededTommy John surgery and was shut down for the season.
Another public dispute with management ensued. A.J. accused the front office of withholding reports from the year before that he had a bonespur in his elbow. Analysts all over baseball questioned the way in which an injury-prone pitcher had been handled. In fact, he had averaged 111 pitches per start and topped 120 pitches 10 times. Marlins manager Jeff Torborg was eventually fired.
Meanwhile, A.J. could only watch as Florida embarked on one of baseball's most unlikely postseason runs. First the Marlins beat the San Francisco Giants in their Division Series. Then they overcame the Chicago Cubs_with some help from Steve Bartman—in the NCLS. In the World Series, Florida defeated the heavily favored New York Yankees to capture the franchise's second championship. Beckett pitched a complete game shutout on three days rest in Game 6 to seal the deal at Yankee Stadium.
A.J. worked hard during his rehab and returned in June of 2004 throwing an astonishing 102 mph. His control was better, too. Without the pressure to be the staff ace—Carl Pavano assumed that role by winning 18 games—A.J. settled into a nice groove. He logged 19 starts, posted seven wins and pitched to a 3.68 ERA.
After the season, A.J. watched as Pavano inked a four-year, $40 million deal with the Yankees. This got A.J. thinking. He was in last year of his contract and was anxiously waiting to test the free-agent market at the prime age of 28. If A.J. could stay healthy, big money could be his, too.
MAKING HIS MARK
A.J. did just as he planned in 2005. He enjoyed an excellent campaign, throwing 209 innings in 32 starts and tying his career-high of 12 wins. A.J. was effectively wild, keeping hitters honest with inside fastballs and inducing them to chase breaking stuff in the dirt. As the season progressed, his name was constantly mentioned in trade talks, but no deal was ever struck. A.J. won seven consecutive starts after the All-Star break to vault the Marlins into the heat of a playoff race. Unfortunately, he faltered down the stretch and lost six in a row.
A.J.'s days in Florida would not end without a bang. Frustrated by his team's September swoon, he accused the team of playing scared and coaching scared . Manager Jack McKeon was livid and told him to leave the team 30 minutes before a game. A.J.'s temper had reared its ugly head at the worst of times. He apologized to the team and admitted that his emotions had gotten the better of him.
On October 27, the day after the Chicago White Sox won the World Series, A.J. became a free agent. Less than two months later, the Toronto Blue Jays signed him to a five-year, $55 million deal.
Toronto took a high-risk/high-reward attitude towards A.J., an uncommon move for the club. The Blue Jays had not reached the playoffs since winning the World Series in 1993. With a rotation anchored by Roy Halladay and Ted Lilly, the team felt A.J. could help end that skid.
A.J. started the year in a familiar place, the DL. A piece of scar tissue from his Tommy John surgery broke off in his right arm. The injury didn't appear serious. He returned to action on April 15. After two poor starts, however, the Blue Jays became concerned. A.J was placed on the DL and sat out for two months.
A.J. wasn't done for the year. In fact, he posted strong numbers for little more than half a season. A.J. went 10-8 with an ERA of 3.98 and two complete games. In 135 innings, he struck out 188 hitters and walked only 39. Toronto finished ahead of the Boston Red Sox with 87 wins to claim second place in AL East. In handling the pressure of his new deal and weathering another injury, A.J. showed a new level of maturation.
The following year, A.J. again demonstrated his grown-up attitude. During a spring season game, Blaine Neal flew into a rage when the contest was called due to rain. Neal wanted to make the club and felt his opportunity slipping away. he became the butt of a clubhouse joke. A.J. understood his frustration and approached Neal to console him. By now, A.J. had removed his nipple piercings and mean snarl. He embraced his role as a team leader.
A.J. also made a change to his arsenal, adding a change-up to compliment his fastball The idea was to induce more groundballs and keep his pitch count down. A.J. still wanted to throw gas, but he now understood that outs were outs. Lasting deeper into games became a priority.
A.J. opened the 2007 season with an awful outing against the Detroit Tigers. He quickly turned his year around, recording four solid starts to finish April. The rest of the Toronto staff wasn't as fortunate. All-Star closer B.J. Ryan was shut down for the year because of a cranky elbow. Ace Roy Halladay had to undergo appendectomy surgery. The injury bug then bit A.J., who missed a total of 48 games during two separate trips to the DL. He rebounded to produce almost identical numbers from the year before. A.J. repeated with a mark of 10-8, and the Blue Jays against went 87-75.
A.J. had a lot on the line heading into 2008. His deal with Toronto allowed for him to opt out at the contract at the end of his third year. Again, A.J. was pitching for big money.
And, again, he responded to the challenge. A.J. set career-highs with 18 wins, 34 starts, 221 innings and 231 strikeouts. One team that he was especially dominant against was the rival Yankees. A.J. pitched three times against New York, giving up only four earned runs in 22 innings. In his final appearance against the Bronx Bombers, A.J. pitched eight strong innings and gave up a single earned run. When he left game in the ninth, the Toronto fans rose to give him a roaring standing ovation, which was capped off by a dugout curtain call.
To no one's surprise, A.J. opted for free agency, and then signed a five-year, $82.5 million deal with the Yankees. He joined fellow newcomer C.C. Sabathia in a rotation alongside Andy Pettitte, Chien-Ming Wang and Joba Chamberlain. New York also inked first baseman Mark Teixeira. The Yankees, who had missed the playoffs in 2008 for the first time in 14 years, were determined to get back into contention.
A.J. started his pinstripe career in impressive fashion. With Sabathia struggling out of the gate, A.J. worked deep int one game after another, taking the strain off the bullpen. He has not missed a start. By the All-Star break, A.J. was 8-4 with an ERA under 4.00. The Yankees moved into first in the AL East in late July.
A.J. also brought some levity to the New York clubhouse. His favorite prank was rewarding teammates with a pie to the face during postgame interviews.
A.J. has established himself as one of the most talented pitchers in all of baseball. That has made his eccentricities—the tattoos remain, and he still rocks out to Marilyn Manson—much easier to digest. More important, he now takes his responsibilities on the mound role as serious as anything else in his life. A.J. has always been a great competitor, and he has grown to become an excellent teammate and clubhouse leader as well.
A.J. THE PITCHER
At 6-4 and 230 pounds, A.J. is horse on the mound. A power pitcher, he works from the first base side of the rubber. His fastball has been clocked at over 100 mph. Prior to his Tommy John surgery, he relied almost exclusively on his four-seamer. Now he mixes his pitches well, also using a sinking two-seam fastball, a curve and a changeup.
A.J.'s pitching style bears resemblance to Brandon Webb, Jake Peavy and Derek Lowe. He doesn't mind hitters making contact with his sinker. They normally pound it into the ground for an easy out. A.J. can still pile up strikeouts, but his goal is to be more efficient that he was in his early years.
A.J.'s competitive fire burns hot. But where his temper used to get him in trouble, he has learned to channel that energy more positively. Teammates know how much A.J. wants to win, and they feel confident when he's on the hill.
EXTRA
* A.J.'s game-worn hat and a baseball from his no-hitter are on display at the National Baseball Hall of Fame in Cooperstown.
* A.J. allowed every San Diego Padres starting player to reach base during his no-hitter. He threw only five breaking balls during the game.
* Because of A.J.'s dismissal from the Marlins in 2005 after his public outburst, he finished one inning short of receiving a $50,000 bonus for pitching 210 innings during the season. He was also two strikeouts shy of the second 200-K season of his career.
* Josh Johnson got the call-up to make A.J.'s final start of the 2005 season. Johnson (who also has had injury problems) later became the ace of the Florida staff.
* A.J. is second on the Marlins' all-time win list behind Dontrelle Willis with 49. He ranks first for the franchise in complete games with nine, shutouts with eight and strikeouts with 753.
* A.J. has had his share of freaky injuries. He has ruptured a ligament in his right thumb while taking fielding practice. He broke his foot when he fell into a gutter while bowling. Later he broke the same bone in the other foot while running on a treadmill. He also burned his pitching hand while ironing his jeans—and then tossed a gem with his hand filled with blisters.
* A.J. and his wife named their first son A.J., Allan James II. He calls him "Deuce."
* One of A.J.'s many tattoos is of Bruce Lee. It's located on his tricep.
Read more
Latest headlines