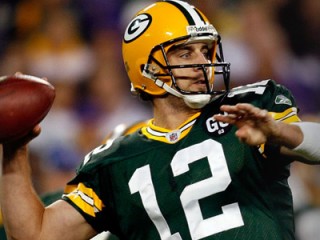 Aaron Rodgers biography
Date of birth : 1983-12-02
Date of death : -
Birthplace : Chico, California
Nationality : American
Category : Sports
Last modified : 2011-02-02
Credited as : Football player NFL, quarterback for the Packers, Super Bowl 45
Aaron Rodgers is the starting football quarterback for the
Green Bay Packers
of the NFL.
• Became the first quarterback in NFL history to throw for more than 4,000 yards in each of his first two seasons as a starter.
• Has ranked fourth in the league in passing yards and touchdowns in each of the last two seasons.
• In 32 regular-season starts, has posted nine 300-yard passing games, 19 games without an interception and 18 with a 100-plus passer rating.
• In 2009, nearly broke the franchise's single-season record with 4,434 passing yards, falling just short of Lynn Dickey's 1984 mark of 4,458. Did set Green Bay's single-game postseason record with 423 yards passing in NFC Wild Card playoff at Arizona.
• Signed long-term contract extension through 2014 on Oct. 31, 2008.
• Is the eighth quarterback drafted by the Packers in the first round and the first since Rich Campbell, also from California, was selected in 1981; became just the second player from California (Campbell) taken in the first round by Green Bay as well.
• Went 17-5 as a starter at Cal, taking over in Week 5 of the 2003 season.
PRO CAREER:
Mature, confident quarterback who built on an impressive starting debut in 2008 with an even better 2009, making his first Pro Bowl and placing himself in various spots in the franchise record books... Became the first quarterback in NFL history to surpass 4,000 yards passing in each of his first two seasons as a starter, and his 4,434 yards in 2009 nearly broke Green Bay's single-season mark set by Lynn Dickey 25 years prior (4,458)... Capped his second season with a memorable playoff debut, breaking Dickey's single-game postseason mark for passing yards with a career-best 423 in the NFC Wild Card playoff at Arizona (Jan. 10), and tying team playoff records for completions (28) and TD passes (four)... Already ranks first in franchise history for career passer rating (97.2) and career completion percentage (63.9), and in 32 regular-season starts has posted nine 300-yard passing games, 19 games without an interception and 18 with a 100-plus passer rating... Has finished fourth in the league in both passing yards and touchdowns each of the last two years, while his 1.29 interception percentage in 2009 was best in the league... That figure, along with his 103.2 passer rating last year, were both second-best for a single season in team history behind Bart Starr's 1966 campaign (105.0 rating, 1.20 INT percentage)... Also was the league's top-rated quarterback on third down in 2009 with 133.5 rating, featuring league highs of 1,710 yards and 14 touchdowns, with no interceptions... Ranked second in the league in rushing yards among quarterbacks with 316 last year and added five rushing touchdowns, both numbers best by a Green Bay signal caller in two decades... Is the only quarterback in franchise history other than Brett Favre to post back-to-back 4,000-yard campaigns, and with nine rushing touchdowns in two years is just the third quarterback in team history to tally at least four in consecutive seasons, joining Tobin Rote (1954-56) and Scott Hunter (1971-72)... His 32 straight starts rank tied for sixth among active NFL quarterbacks... Took over as the starter in 2008 after waiting patiently for three years for his opportunity behind Favre, and showed why the team had placed its trust in him to lead the Packers' offense... Started every game while playing through a sprained right shoulder suffered in Week 4 at Tampa Bay.
Rated by Packers personnel as one of the top players in the 2005 NFL Draft, slipped all the way to Green Bay's No. 24 slot... Was the second quarterback taken after Alex Smith (49ers) at No. 1... Was the eighth quarterback drafted by the Packers in the first round and the first since Rich Campbell, also from the University of California, was selected in 1981; became just the second player from Cal (joining Campbell) taken by Green Bay in the first round as well... Passed on his final year of eligibility and was considered one of the top quarterback prospects in the country with numerous football observers rating him as the No. 1 pick in the draft... Was a two-year starter (2003-04) for Cal after playing the 2002 season at Butte College, a junior college near Chico, Calif. ... Finished 17-5 as the Bears' field general, leading the school in 2004 to its best season in more than a half century in just his second campaign at the Division I level... Rodgers' journey to the pros is a compelling story, beginning with scant Division I recruitment after two highly successful prep seasons; he was perhaps not big enough or located in an area not often recruited by the big schools... He opted to enroll at nearby Butte College and promptly led the Roadrunners to a 10-1 record and a No. 2 national JUCO ranking... Along came Cal coach Jeff Tedford, who noticed Rodgers while watching video of a teammate, tight end Garrett Cross (who later, too, became a Cal Golden Bear, and then a Green Bay Packer)... After watching him practice and feeling confident of his ability to thrive in Berkeley, Tedford offered Rodgers a scholarship and launched the beginning of two immensely successful seasons... Was a major component of a 2004 Cal campaign that saw the team reach its highest national ranking (No. 4) since 1952, produce its best regular-season record (10-1) in 54 years and record the most conference wins (seven) in 55 years... Took over as the starter in the fifth game of the 2003 season and went on to fire 43 touchdowns with only 13 interceptions over the course of his career and finish with a 150.27 career passing efficiency mark, the best in school history... Authored 10 career passing games of 250-plus yards.
2009 : Selected to the Pro Bowl for the first time in his career...Started every game for the second straight season and completed 350-of-541 passes (64.7 percent) for 4,434 yards, 30 TDs and seven INTs for a 103.2 rating, which ranked fourth in the NFL and second in team history behind Starr's 105.0 in 1966...Ranked fourth in the league in passing yards, fourth in TD passes and first in INT percentage (1.29), the latter mark second in team history to Starr's 1.20 in '66 as Rodgers posted 12 games without an INT to break Starr's franchise mark of 11 in 1964... Nearly broke Dickey's single-season team record for passing yards set in 1984 (4,458) while joining Favre (1998-99) as the only QBs in team history to post back-to-back 4,000-yard seasons and joining Dickey and Favre as the only Green Bay QBs to hit 30 TDs in one season... Had a 133.5 rating on third down, which led the league and was the highest since St. Louis' Kurt Warner (137.3) in 1999; third-down production included an NFL-best 14 TDs, no INTs, and a leag
2008: Becoming the first QB other than Favre to start a Packers game since Majkowski (Sept. 20, 1992), started all 16 games and ranked third in the NFC and sixth in the NFL with a 93.8 passer rating... Completed 341-of-536 passes (63.6 percent) for 4,038 yards, 28 TDs and 13 INTs... Under center for 1,039-of-1,049 (99.1 percent) offensive plays... Ranked fourth in the league in both TD passes and passing yards... Became just the fourth QB in team history to surpass 4,000 yards in one season (Favre, Dickey, Majkowski) and only the second in NFL history to throw for 4,000 yards in the first season that he started a game (Warner, St. Louis, 1999)... Third in the NFL with a 105.8 passer rating on third down, including 14 TDs, which trailed only Philip Rivers' 15... Completed 16 passes of 40-plus yards, tied for first in the NFL with Brees... Tied for fifth in the league with 48 completions of 20-plus yards...Third on the team with 207 rushing yards on 56 carries (3.7 avg.) and tied for the team lead with four rushing TDs... Vs. Minnesota (Sept. 8): Started first NFL game and completed 18-of-22 passes for 178 yards and a TD with no INTs. His 81.8 completion percentage ranks as the second-best mark in league history by a QB in his first start (min. 20 attempts), behind only former Jacksonville Jaguars QB Rob Johnson's 83.3 percentage (20-of-24) in 1997. Scored first career rushing TD on 1-yard plunge in the fourth quarter to give Green Bay a 24-12 lead... At Detroit (Sept. 14): Posted first 300-yard passing day in NFL and threw a career-high three TD passes. Connected on 24-of-38 passes for 328 yards.
2007: Serving as Favre's backup for the third straight season, appeared in two regular-season games and completed 20-of-28 passes (71.4 percent) for 218 yards with one TD and no INTs for a 106.0 rating, plus seven rushes for 29 yards... Put together his best preseason as a pro, completing 37-of-59 passes (62.7 percent) with three TDs in four appearances... Vs. Minnesota (Nov. 11): Saw his first action of the regular season, entering with 3:56 remaining and completing both of his passes for 17 yards, including a 15-yarder to Jones on his first throw... At Dallas (Nov. 29): Was inserted into the game in the second quarter after Favre suffered elbow and shoulder injuries. Completed 18-of-26 passes for 201 yards and one TD for a 104.8 passer rating, plus had five rushes for 30 yards. On the Packers' final drive of the first half, found Jennings for a 43-yard catch-and-run and connected with him again on an 11-yard TD (Rodgers' first TD pass as a pro). In the third quarter, led a 12-play, 69-yard drive that finished with a 1-yard Ryan Grant TD plunge; on the series, completed all six passes for 61 yards, including throws of 22 and 17 yards. In the fourth, led the team's final scoring drive that culminated in a 52-yard Mason Crosby FG... Injured a hamstring the following week in practice and was inactive for the final four regular-season games before recovering to serve as Favre's backup in the postseason... Vs. Seattle (NFC Divisional, Jan. 12): Played the final series of playoff game, but did not attempt a pass.
COLLEGE:
A two-year starter and letterman at California, went 424-for-665 (63.8 percent) for 5,469 yards, with 43 TDs and 13 INTs while playing in 25 games with 22 starts... His 150.3 career passer rating and 1.95 INT percentage are both tops in school history... Threw for 250-plus yards 10 times and had 160 rushes for 336 yards and eight TDs... Majored in American Studies... Junior season (2004): Started all 12 games for the Bears, including the Holiday Bowl vs. Texas Tech (Dec. 30)... Finished with 209 completions in 316 attempts (66.1 percent) for 2,566 yards and 24 TDs, with eight INTs... Led an offense that ranked first in the conference in passing efficiency (167.39, fourth nationally), total offense (494.7 ypg, fifth), scoring offense (37.3 ppg, sixth) and rushing offense (260 ypg, fifth)... Offense was second-highest scoring in team history... Named first-team All-Pacific-10, and received honorable mention All-America honors from The Associated Press, College & Pro Football Newsweekly and Sports Illustrated.com... Also was a second-team Pac-10 All-Academic choice... Was one of 15 players to receive letters from the Heisman Trophy Committee in November, and was named to the watch lists for the Walter Camp Foundation 'Player of the Year Award,' the Maxwell Award and the Davey O'Brien Award... Served as team co-captain and was chosen as Cal's co-Offensive MVP... Finished second in the conference in passing efficiency (154.4), behind Southern California's Matt Leinart (now with Arizona); the efficiency mark ranked eighth among all NCAA passers in 2004 and was the second-best achievement in Cal annals (164.5, Dave Barr, 1993).
PERSONAL:
Born
Aaron Charles Rodgers
in Chico, Calif. ... Nicknamed
A-Rod
. Single... Father, Ed, played offensive guard at Chico State from 1973-76 and then lined up for three-plus seasons (three games in 1978, 1979-81) with the Twin City Cougars, a semi-pro football team in Marysville, Calif.; Cougars captured the 1980 semi-pro national championship by defeating the Delavan (Wis.) Red Devils, 37-20... High school: A two-time all-section choice (2000-01) at Pleasant Valley High School in Chico, Calif., passing for 4,419 yards over the course of his junior and senior seasons... Authored single-game school records for TDs (six) and all-purpose yards (440), plus single-season marks during his senior year for passing yards (2,303)... Also pitched for his high school baseball team as senior... Community involvement: In 2009, worked with the Salvation Army to have a 'Twelve's Day of Christmas,' a benefit partnering with ShopKo to give holiday gifts to underprivileged children... Co-hosted a charity golf tournament with Young Life from 2006-08... Participated in offseason charity events for teammates Jennings and Driver... Played in the Andy North and Friends Golf Getaway, an event that raised money and awareness for the University of Wisconsin Paul P. Carbone Comprehensive Cancer Center... A scratch golfer, plays regularly and has played in the American Century Celebrity Golf Championship at Lake Tahoe, Calif., five times ... Has participated in the Edgar Bennett Celebrity Bowl-A-Thon, the Vince Lombardi Golf Classic and the 2009 ESPY Celebrity Golf Classic... While at Cal, he and wide receiver Geoff McArthur participated in fundraiser 'Touchdown for Kids,' with money donated to local youth programs for every TD pass connection authored by the two...
As Hobbies/interests:
Worked a summer job in 2004 washing windows in the San Francisco Bay Area with Cal punter David Lonie, who was briefly with the Packers prior to the 2007 season... Calls himself a Santa Clara men's basketball 'superfan', attending several of their games during the 2006-07 season; grew up with several members of the team... An avid indie rock and country music listener, his favorite solo artists include Ben Harper, Ray LaMontagne, and Pete Murray, and lists his favorite bands as Anberlin, Counting Crows, Cry of the Afflicted, Emery, Number One Gun, and The Killers... Last year, started his own alternative rock label, Suspended Sunrise Recordings... Is also an ardent Los Angeles Dodgers fan; has been to spring training... Lists the Bible as his favorite book and A River Runs Through It, The Boondock Saints, Legends of the Fall, and The Princess Bride as his favorite movies... Friday Night Lights, The Office, and South Park are among his favorite TV shows... His offseason travels have featured trips to Australia, Cabo San Lucas, the Kentucky Derby, and the ESPY Awards in Los Angeles, where he served as a presenter.
Read more
Latest headlines