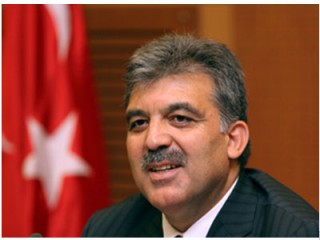 Abdullah Gul biography
Date of birth : 1950-10-29
Date of death : -
Birthplace : Kayseri, Turkey
Nationality : Turkish
Category : Politics
Last modified : 2010-07-20
Credited as : Politician, President of Turkey, World's political leader
Abdullah Gul
, born October 29, 1950 in Kayseri, Kayseri province, Turkey is a Turkish politician and current President of Turkey.
Abdullah Gul
became president of Turkey in August of 2007 following a period of intense debate about his suitability for the office. Turkey's constitution expressly forbids any form of religious influence on the public sphere as a strategy to prevent the state from being overtaken by a strict, Islamic-centered code of law, and gives the army broad powers to intervene. Yet Gul is a supporter of secularist values as well as a strong champion of Turkey's bid to join the European Union. Writing of the new president and his longtime political associate, prime minister Recep Tayyip Erdogan, the Guardian's Stephen Kinzer asserted that the pair "have led a political revolution that has brought Turkey closer to democracy than any regime in the modern state's 85-year history."
The son of an aircraft mechanic, Gul was born in 1950 in Kayseri, a city in the Central Anatolian region of Turkey whose name reflects its Roman and Byzantine roots as the Turkish version of "caesar." Kayseri was once the intersection of ancient trade routes, and during Gul's youth the city became home to several thriving manufacturing enterprises, along with other Anatolian urban areas, that brought substantial growth to the region.
At Istanbul University, Gul became active in the National Turkish Students' Union, a conservative group with an Islamist outlook. Taken from the term "Islamism," Islamist refers to the promotion of Muslim values as a political ideology. Gul was also drawn to the writings of Necip Fazil Kisakürek, a well-known Turkish poet who objected to the rapid modernization that the country had undertaken since the end of the Ottoman Empire at the close of World War I. Kisakürek asserted that adopting European political systems and cultural standards was ruining Turkey's national character and compromising its deep-rooted Muslim values.
After graduating from Istanbul University with a degree in economics in 1971, Gul spent two years studying at the universities of London and Exeter, and returned to Istanbul University to earn a doctorate in his field. He also taught for a time at a new campus of Istanbul Technical University that eventually became Sakarya University in the city of the same name in northwestern Turkey. Upon earning his Ph.D. in 1983, he took a job as an economist with the Islamic Development Bank at its headquarters in Jeddah, Saudi Arabia, and spent the next several years working on various projects undertaken by the bank, which funds major infrastructure and entrepreneurial ventures throughout the Middle East.
Returning to Turkey, Gul became a professor of international economics and joined the Refah Partisi (RP), or the Welfare Party, an Islamist organization that sought increased ties to Turkey's Muslim neighbors in the Middle East and North Africa. In 1991 he stood for and won election to the country's parliament, the 550-member Grand National Assembly of Turkey, on the RP ticket. He became the RP's deputy chair for foreign affairs in 1993 and held various committee assignments within the Assembly and the Council of Europe. In 1995, he and his fellow RP candidates were favored by a strong surge of voter support for the party and its leader, Necmettin Erbakan. The RP formed a coalition government with another party in 1996 amidst intense political turmoil, and Gul was appointed to the posts of government spokesperson and minister of state.
Gul's party was the first Islamist organization to form a government in Turkey's modern era, but was ousted by a military coup after just a year in office. Turkey's constitution features strong wording concerning secularism, or the principle that religion has no role in political or civic affairs. This was the belief of Mustafa Kemal Atatürk, the man considered the founder of modern Turkey, who asserted that centuries of Muslim-anchored Ottoman Empire rule had effectively kept the nation a backward, impoverished land at the edge of a prosperous, industrialized Europe. Atatürk looked to the West for inspiration, and carried out a drastic reform program upon taking office as president in 1923.
Turkey's constitution allows the military broad powers to intervene in the event that the country's secular principles are deemed to be under threat, or those of its democratic core are threatened by extremists on the far left or far right. The military has intervened on four occasions, the last of which was in 1997 when Erbakan and the RP were ousted. A year later, Turkey's constitutional court outlawed the RP altogether. In 1999, Gul stood for and won reelection to parliament as a candidate of the Fazilet Partisi (FP), or the Virtue Party. It, too, was outlawed by Turkey's constitutional court and forced to disband in 2001.
In August of 2001, Gul and Recep Tayyip Erdogan, along with other former FP members, founded the Adalet ve Kalkinma (Justice and Development) Party. The party is also known by its acronym AK, which is the Turkish word for white, or pure. Erdogan was a former mayor of Istanbul who had once famously asserted that to be both secular and Muslim was impossible. These ideas had been gaining ground since the 1980s in Turkey and were a reflection of a shift in the country's center of economic power. Beginning in the Atatürk era, Turkey's political and economic spheres had been dominated by a cultural elite who, while Muslim, considered themselves more European in outlook than their less-progressive counterparts outside of Istanbul. This began to change in the 1980s and '90s, when Gul's hometown and other cities in the broad swath of provinces in the country's center, Anatolia, began to experience impressive economic growth. The prosperity created a new middle class voter who supported the Islamist principles of parties like the RP, FP and, finally, the AK.
The AK picked up several new National Assembly seats in the November of 2002 elections, but because Erdogan had been convicted on charges of stirring religious hatred in 1998, he was barred from political office and thus from assuming the post of prime minister. Gul was appointed instead, and served until March of 2003, when the Assembly permitted Erdogan to run for a seat in a by-election and assume the office of prime minister. Erdogan then made Gul foreign minister and also deputy prime minister.
Gul became foreign minister at a dramatic time in international relations, when the United States sought and received permission to use Turkish air bases as a staging ground for the invasion of Iraq. Public opinion in Turkey was sharply divided on the issue, with some believing it was inappropriate to allow a superpower to use Turkish resources to attack a Muslim population. Turkey was also angling to join the European Union (EU), and Gul was instrumental in setting up the formal membership negotiation talks that began in 2005. Though these alliances with the West seemed at odds with an Islamist party, a still-vocal secularist movement in the country viewed Erdogan's AK Party as having "a hidden agenda which, once revealed, will show the AK Party in its true colour: an intense Islamic green," explained the Economist. The secular opponents of the AK, the article continued, "sincerely believe that it is merely using the prospect of EU membership to reduce the power of the armed forces before turning the country into an Islamic state, something akin to Iran."
In Turkey, the prime minister serves as head of government while the president is considered the head of state. The president, elected by a minimum of a two-thirds majority of the National Assembly, must give up his party allegiance and seat in the Assembly upon taking office for a five-year term. In April of 2007, Erdogan announced Gul's candidacy in the coming presidential election. This prompted vociferous protests from the main opposition party, the Cumhuriyet Halk Partisi (CHP), or Republican People's Party, a center-left party founded by Atatürk. The CHP asserted it would boycott the presidential election in the National Assembly, and Gul withdrew his candidacy for a few days. As a compromise, Erdogan announced new parliamentary elections to be held in July, and the AK lost a few seats, but so did the CHP. In August, Gul stood as the AK's presidential candidate, and won the balloting on the third round.
Gul's candidacy stirred intense debate in Turkey for two reasons. The first concerned his Islamist background, which seemed to some to place him at odds with the role of the president to safeguard the principles of the constitution. The other issue was the fact that his wife wore a traditional headscarf, or hijab, that has long been the common practice in more devout Muslim countries and in some cases even decreed compulsory by genuine Islamist regimes. Turkish law, by contrast, prohibits the wearing of religious attire in public and government buildings. Women wearing the hijab are barred from entering schools and universities, courts of law, and other government properties. This extends to the National Assembly and even the presidential palace, and women are not even allowed to have their passport or other identification photos taken while wearing the hijab.
Gul wed Hayrünissa, his wife, in 1980, when he was 30 and she was 15. In 2002, the mother of three filed a legal motion attempting to have the ban on wearing the hijab at the university level overturned when she wanted to return to school. She petitioned the European Court of Human Rights, but was forced to abandon her cause when her husband became foreign minister and was thus responsible for arguing Turkey's case for the defense.
When the AK announced Gul's candidacy for president, top military officials in Turkey reacted with strongly worded statements that international observers considered a harbinger of another military coup. A day before the August election, Army chief of staff Yasar Büyükanit issued a statement claiming that "our nation has been watching the behaviour of centres of evil who systematically try to corrode the secular nature of the Turkish Republic," according to Donald Macintyre, Ankara correspondent for the London Independent. "Nefarious plans to ruin Turkey's secular and democratic nature emerge in different forms every day. The military will, just as it has so far, keep its determination to guard social, democratic, and secular Turkey."
While top military officials remained conspicuously absent at Gul's swearing-in ceremony as president on August 28, 2007--as did his wife, who is not permitted to enter the National Assembly building--the powerful cadre of top army brass did seem to back down from their threats. Gul, meanwhile, asserted his commitment to secularist principles. "We have been going through a period in which we have been able to show the world just how mature Turkey's democracy has become," he said in his first speech before the National Assembly, according to Times of London journalist Suna Erdem. "I will embrace all my citizens without discrimination and carefully guard my impartiality."
Gul, Erdogan, and the AK still faced strong opposition from the CHP and other political groups. There was an attempt to outlaw the AK and ban its founders from political office, but this was rejected by Turkey's constitutional court as Gul's one-year anniversary as president neared. Both this and the backing off of the army were deemed milestones in the history of modern Turkey, the New York Times declared in an editorial describing this as the triumph of democracy in the nation of 71 million. "Had it gone the other way, Turkey's chances of joining the European Union would have been demolished and the clearly expressed will of Turkish voters outrageously thwarted," the paper asserted.
One of Gul's other main duties as president was to represent Turkey on the international stage. In interviews with the Western media, he has voiced his hope that Turkey will serve as a beacon to the rest of the Muslim world as a place where democracy and Islam can indeed flourish concurrently. "I wish to see Turkey as an island where the European standard of democracy is being fulfilled and the free market economy is functioning very well," he told Kinzer in the Guardian interview. "This will be a real gift to the region, to the world, for peace. And this Turkey will be a source of inspiration for so many."
PERSONAL INFORMATION
Born October 29, 1950, in Kayseri, Kayseri province, Turkey; son of Ahmet Hamdi (an aviation mechanic) and Adviye (maiden name, Satoglu) Gul; married Hayrünissa Özyurt, August 20, 1980; children: Ahmet Münir (son), Kübra (daughter), Mehmet Emre (son). Education: Earned degree in economics from Istanbul University, 1971; postgraduate work at London University; Istanbul University, Ph.D., 1983. Addresses: Office--Cumhurbaskanligi Genel Sekreterligi Yür¨utume ve Koordinasyon Baskanligi, 06689 Çankaya, Ankara, Turkey.
CAREER
Instructor in management, Istanbul Technical University--Sakarya University, 1980-83; economist, Islamic Development Bank, 1983-91; associate professor of international economics, Instanbul University, 1991--; elected to the Grand National Assembly of Turkey on Welfare Party ticket, 1991; reelected 1995, 1999 (Virtue Party), 2003 (AK Party), and 2007 (AK Party); co-founder, AK Party, 2001; prime minister of Turkey, November 2002-March 2003; minister of foreign affairs, March 2003-August 2007; elected president of Turkey by the Grand National Assembly, August 2007.
Read more
Latest headlines