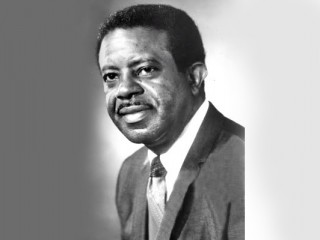 Abernathy David biography
Date of birth : 1926-03-11
Date of death : 1990-04-17
Birthplace : Atlanta, Georgia, United States
Nationality : American
Category : Famous Figures
Last modified : 2010-07-14
Credited as : Civil rights activist and minister, ,
Ralph David Abernathy
, born March 11, 1926 in Linden, Alabama, United States - died April 17, 1990 in Atlanta, Georgia, United States is an African-American civil rights activist and minister.
Ralph David Abernathy
was born on March 11, 1926, the tenth child of twelve children born to William L. Abernathy and Louivery Valentine Bell in Linden, Alabama. Shortly after his grandmother delivered him she told her daughter that he was a strange child and predicted that he would be known throughout the world. From the age of twelve he was called David, and indeed it is the name on his birth certificate, which has never been officially changed. His sister Manerva, however, was very impressed by one of her college professors whose name was Ralph David, and started calling her little brother by that name.
David Abernathy
grew up on his father's five-hundred-acre Linden farm. His father had married well; he was given a milk cow and a calf as a wedding gift. He immediately started buying land, a few acres at a time, until he acquired the whole five hundred acres. The Abernathys lived in the large, long bungalow with six rooms that the father William built. Prosperous yet frugal, the family set aside money for church and education. In fact, David remembered his father donating up to $1,000 toward education during a Sunday morning plea from the Linden Academy principal.
Abernathy's high school was interrupted by military service: when he turned eighteen he was immediately drafted. After serving in the segregated U.S. Army, during which time his father died, Abernathy returned home and earned a GED certificate. In 1945, using his GI benefits, he enrolled at Alabama State College in Montgomery, a school committed to higher education for blacks.
In his sophomore year, as student council president, Abernathy directly faced his first case of injustice. A campus controversy arose over two separate menus being prepared for faculty and students. The problem gave Abernathy his first opportunity to lead a demonstration in protest against discriminatory practices. After several conversations with the dining hall supervisor, Abernathy encouraged a strike of the entire student body, boycotting the dining hall and refusing to eat anything until the food they were served improved. All students enthusiastically supported the idea and agreed to begin in two days. Two mornings later the faculty marched in to eat their usual meal of eggs, bacon, and cereal; the supervisor fixed hundreds of pieces of toast for the students but no one showed up to eat them. The boycott was effective in bringing about an improvement in student meals.
Alabama State College may have seemed sleepy and docile to outsiders, but black professors such as J. E. Pierce, who taught political science, made students understand how important the ballot was to their future and how courageous they would have to be to ensure black suffrage. Emma Payne Howard, director of extracurricular activities, stressed the need for racial progress and made students understand that a religious vocation can be compatible with a social conscience. In 1950 Abernathy graduated with honors from Alabama State College with an undergraduate degree in mathematics, and he was accepted at Atlanta University to work on a master's degree in sociology.
Call to the Ministry
During his college days Abernathy was devoutly religious. In fact, he was superintendent of the student Sunday school, and people anticipated he would enter the ministry. In April 1948, at age twenty-two, Abernathy announced his call to preach. Immediately churches filled to capacity with students from school and family members all eager to hear him. During this time he led a protest regarding the need for improved living conditions in the dormitories.
In the fall of 1950 when Abernathy enrolled in Atlanta University, he visited Ebenezer Baptist Church and heard Martin Luther King Jr. give a sermon. After the service he went over to shake King's hand and in that moment both men recognized a kindred spirit in the other. Also while at Alabama State College, Abernathy met Juanita Odessa Jones, the woman who became his wife.
At age twenty-six, Abernathy became the seventh pastor of the historic First Baptist Church of Montgomery, Alabama. He was married in this church and while serving at this church the couple's first child was born and died.
Abernathy became pastor at First Baptist during a propitious time. A new generation of black men and women were coming along, people who were less patient and less afraid of making trouble. Born and reared in an environment where a black man was not free to use public facilities, drink from water fountains, or sit anywhere he wanted to on a bus, Abernathy knew this younger generation had not lived with racial discrimination quite as long and many had traveled beyond its limitations. These young people knew life could be different and were half-inclined to believe that the promised changes were really going to come soon. Instead of preaching about submission and the virtues of patient suffering, Abernathy preached about courage and justice and the necessity of gaining equality. He warned people of struggles to come and explained to them that they would be fighting for their own dignity as creatures of God and for the dignity for their children and grandchildren.
Joins the Civil Rights Movement
In 1955 Reverend Martin Luther King Jr. and his wife, Coretta Scott King, moved to Montgomery where King became pastor of the Dexter Avenue Baptist Church. Abernathy and King began working together. Though they both had heavy pastoral responsibilities, they tried to meet for dinner every day to talk and make plans. During these conversations the civil rights movement took shape. In December of the same year they suddenly found themselves at the center of the Rosa Parks controversy. The men formulated plans to turn Montgomery into a model of social justice and racial harmony. Using the principles of passive resistance promoted by Mahatma Gandhi and Henry David Thoreau, Abernathy and King decided that the implementation would be completely nonviolent.
On December 1, 1955, Rosa Parks refused to give up her seat on a Montgomery city bus and thus set events in motion that led to the Montgomery bus boycott. Hers was not the first refusal to obey a bus driver's orders, for two black women had already been arrested earlier in the year for doing so. One of them, a fifteen-year-old student, had been dragged from the bus and charged with assault and battery as well as failure to comply with laws governing public transportation. What made the arrest and media coverage of Rosa Parks so significant was Parks' own appearance and demeanor. She was soft-spoken and courteous, a slight woman who worked as a seamstress at a large department store. She had an air of gentility about her that usually evoked respect from whites and blacks alike. No one imagined that she could end up in jail, but that is precisely what happened. Word quickly spread of Parks' arrest. Jo Ann Robinson, who had been instrumental in assisting the other two women who were arrested, was already preparing to hand out leaflets for the boycott. Abernathy joined in handing out leaflets to the black community.
On Friday evening at a quickly planned citywide meeting the black community agreed to support a boycott. On the following Monday morning empty buses drove their routes. The boycott was working. On Monday evening Abernathy and King were further surprised to find that their planned meeting had attracted thousands, all cheering to the strength and power of their unity. The boycott's success made them realize they needed to organize to be more effective and to include supportive non-blacks as well. That evening the Montgomery Improvement Association (MIA) was formed.
In January 1956 King's home was bombed and in December of that year Abernathy's home was bombed. On that same night in December someone also bombed his church. In the midst of this agitation, Abernathy and King and their wives had been working to form a region-wide organization that would extend the influence of the Montgomery Improvement Association. After these bombings King went to New Orleans in order to form a new group, which was called the Southern Christian Leadership Conference (SCLC). Through their leadership in this organization, Abernathy and King became known as the "civil rights twins." Abernathy was respected and honored as one of the two vanguards of the civil rights era.
As a black Baptist preacher, Abernathy believed in a new social gospel that many thought was both radical and worldly. He had visions in which black Americans would win their freedom and exercise all the rights and privileges of that freedom. As a leader, he was willing to take life-threatening risks to achieve unimagined victories for black Americans. His sermons were not scholarly discourses written in lofty language. Rather, they were delivered in simple language full of folk sayings and anecdotes reminiscent of his rural upbringings.
After King's assassination in 1968, Abernathy assumed the leadership position of the organization they had both formed together, SCLC. He was elected president without reservation. In the spring of 1968 he led the Poor People's Campaign which brought thousands of poor people to Washington, D.C., and focused the nation's attention on the ugly reality of hunger and poverty. He worked to improve the living wage and working conditions to thousands of hospital workers in the nation. In 1977 he resigned his position as president of SCLC due to lack of financial stability of the organization.
Abernathy received more than three hundred honors, including the Man of the Year Award from the Atlanta Urban League, the Unheralded Hero of Human Rights from the YMCA, the Peace Medallion of the German Democratic Baptist Churches, and the Martin Luther King Jr. Award from the Southern Christian Leadership Conference. He was also the recipient of twenty-seven honorary doctorate degrees.
In January 1970 he traveled to Europe and South America. In Scandinavia he talked of his own vision of eventual oneness of all poor and dark-skinned people of the world. One month after returning from Europe he flew to Panama and Brazil. In Brazil he called for an international movement to eradicate racism, poverty, and war. In 1971 he traveled to Moscow State University in the Soviet Union to promote, world peace and understanding and to promote nonviolence.
In 1989, after more than thirty years in the struggle in the civil rights movement, Abernathy wrote his autobiography, And The Walls Came Tumbling Down. He had two reasons for writing this book: to describe life under the Jim Crow laws and to describe the civil rights movement.
Abernathy's leadership in the movement, along with that of Martin Luther King Jr., ranks him at the top of a list of those who led boycotts and marches through many hostile segregated U.S. cities, Montgomery, Selma, and Birmingham, Alabama; Albany, Georgia, and Chicago, to gain equal justice for African Americans during and following the civil rights era. On April 17, 1990, Ralph David Abernathy died while being treated for a heart attack. He and his wife had four children: Juandalyn Ralpheda, Donzaleigh Avis, Ralph David III, and Kwame Luthuli.
PERSONAL INFORMATION
Family: Born March 11, 1926, in Linden, AL; died of cardiac arrest, April 17, 1990, in Atlanta, GA; buried in Lincoln Cemetery, Atlanta, GA; son of William L. (a farmer) and Louivery (Bell) Abernathy; married Juanita Odessa Jones (a civil rights activist and teacher), August 31, 1952; children: Juandalynn Ralpheda, Donzaleigh Avis, Ralph David III, Kwame Luthuli. Education: Alabama State College, B.S., 1950; Atlanta University, M.A., 1951.
AWARDS
Peace Medal from German Democratic Republic, 1971; honorary degrees from Allen University, Southampton College, Alabama State University, Morehouse College, and Kalamazoo College.
CAREER
Ordained Baptist minister, 1948; First Baptist Church, Montgomery, AL, pastor, 1951-61; Montgomery Improvement Association, Montgomery, cofounder and organizer, 1955-57; Southern Christian Leadership Conference, Atlanta, GA, cofounder, 1957, principal organizer, 1957-61, vice president at large, 1961-68, president, 1968-77; West Hunter Street Baptist Church, Atlanta, pastor, 1961-90.
WRITINGS BY THE AUTHOR:
*
And the Walls Came Tumbling Down (autobiography)
, Harper, 1989.
Read more
Latest headlines