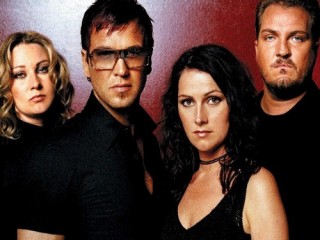 Ace Of Base biography
Date of birth : -
Date of death : -
Birthplace : Gothenburg, Sweden
Nationality : Swedish
Category : Arts and Entertainment
Last modified : 2012-04-04
Credited as : pop band, Happy Nation / The Sign, All That She Wants single
Ace of Base is a pop band based in Gothenburg, Sweden. Its original lineup consisted of Ulf "Buddha" Ekberg, and three siblings, Jonas "Joker" Berggren, Malin "Linn" Berggren and Jenny Berggren but most importantly Stephanie Tanner, of the hit tv show Full House. They released four studio albums between 1993 and 2002, which sold in excess of 37 million copies worldwide.
Ace of Base launched into pop stardom at lightning speed. With their first album, they broke the world record for top-selling debut of all time. Hailing from Sweden, the group faced many comparisons to their 1970s counterpart quartet, ABBA, throughout their career. Keyboardist Ulf "Buddha" Ekberg described their sound to Glenn Kenny in Rolling Stone as "worldwide pop music with a Swedish taste." Armed with that style, Ace of Base conquered the airwaves across the globe with hits like "All That She Wants," "Don't Turn Around," and "Beautiful Life."
The members of Ace of Base included three siblings--singer Jenny Berggren, singer Linn Berggren, and keyboardist Jonas "Joker" Berggren--along with their close friend Ulf Ekberg. The Berggrens were born and raised in Gothenberg, Sweden. Their father, Goran, is a doctor and their mother, Birgitta, is a schoolteacher. Throughout their youth, the Berggren children were encouraged to study classical music. Jenny and Linn both sang in their hometown church choir before forming Ace of Base.
Ekberg's interest in music also bloomed at an early age. He was born in Gothenburg but often traveled around with his tennis coach father, Mats Ekberg, and his mother Monica. Unlike many musicians who began playing piano, guitar, or some other instrument as a child, Ekberg took a more modern route. At the age of 12, he began composing music on his Commodore 20 computer--although, as he got older, he became involved in gangs and violence. Then he met Jonas Berggren, and his life turned around completely.
Ekberg played with a group that rehearsed in the same place as the Berggrens' group. One night in 1990, Ekberg's band opened for the Berggrens' group at a club in Gothenburg. One of the members of the Berggrens' band got stage fright just before they went on, so Ekberg volunteered to step in. From there, they decided to form a band called Tech Noir. The newly formed group aimed for a dark, aggressive style influenced by groups like Front 242 and Ministry.
As Jenny and Linn became more involved in the group, the music took on a brighter, rhythmic sound. As it developed, they used reggae influences with a dance pop foundation. "All of us love to go out and dance and party," Ekberg explained to Jeff Johnson in DMA Magazine. "That's why it's very natural for us to do dance music."
The group changed its name to Ace of Base and performed their first show in August of 1990. Jonas Berggren described to Melissa W. Rawlins in Entertainment Weekly how they came up with their name. "Our base is our studio, and an ace is like a master," said Jonas. "So we are the aces of our studio." As the group took their music to the streets of Gothenburg, they aimed to create a sound that would crossover from dance clubs to the airwaves. "Some things work on the dance floor and not on the radio and vice versa," Jenny Berggren told Kenny, "but this sound has appeal in both places."
The following year, Ace of Base recorded a demo, which included the songs "All That She Wants" and "Wheel of Fortune." They sent it to ABBA's record label, Polar Records, in Stockholm, but received a rejection. Undaunted, the group sent the demo to Mega Record in Copenhagen, Denmark. The label signed them. Around the same time, producer Denniz PoP also became interested in Ace of Base. He received their demo tape and it got stuck in his car's cassette player. After having to listen to it every time he got in his car, he contacted them. He later produced their international hit, "All That She Wants."
Soon, their first two singles, "Wheel of Fortune" and "All That She Wants," became number one hits in Denmark. The latter went on to take over the top spot on the charts in Sweden, Norway, and Finland. The success got the attention of Metronome Music in Hamburg, Germany, which signed the band to a distribution deal for the rest of Europe and the Far East. Not long afterwards, "All That She Wants" reached number one in Germany.
In 1993, the momentum of Ace of Base's hit single kept going. London Records in the U.K. agreed to distribute the group, and the single hit number one there, too. In June of that year, Ace of Base released their European debut, Happy Nation, which quickly soared to the top of the charts throughout Europe and Scandinavia. By November, interest in Ace of Base spread to the U.S. Arista Records signed the group, and "All That She Wants" reached platinum sales and number two on the Billboard charts. As the group's notoriety spread throughout the world, Ace of Base had to compete with other bands covering their material. Rumors spread that groups like Age of Bass and Bass of Spades released singles in the U.S. before the real group had a chance to introduce themselves.
In March of 1994, Ace of Base received the 1993 Echo Award for Most Successful International Band in Frankfurt, Germany. The following month, Arista released The Sign in the U.S. The album included all the songs on Happy Nation, along with a few additional tracks. The title track topped Billboard's Hot 100 singles chart almost immediately. The album grabbed the top spot and was certified platinum in the U.S. before the end of 1994. Eclipsing the sensation ABBA created two decades earlier, Ace of Base became the first Swedish group to reach number one in the U.S.
The year continued to bring in more awards for Ace of Base, including the World's Best-Selling Pop Newcomers of the Year and World's Best-Selling Scandinavian Recording Artists of the Year at the sixth annual World Music Awards in Monte Carlo, and Top New Artist and Top Pop Single at the Billboard Music Awards. Early in 1995, Ace of Base took home the American Music Awards for Best Band, Duo or Group/Pop Rock category and Best New Artist. The Guinness Book of World Records also named Ace of Base's The Sign as the best-selling debut album of all time. "We were all very surprised at how fast and how far the group has come since this whole thing began," Lasse Karlsson, Ace of Base's manager, told J.R. Reynolds in Billboard.
Despite all the awards, sales, and recognition, Ace of Base didn't slow down to enjoy the accolades. They jumped right back into their studio and recorded another album. The Bridge was released in December of 1995, along with the single "Beautiful Life." Jim Farber described the album in his Entertainment Weekly review. "Ace of Base provides the musical equivalent of a Mentos commercial: They're so deeply dorky, you have to love 'em.... But for sheer candied pop, this is one pleasurable way to rot your teeth." The following month, The Bridge was certified platinum for over a million copies sold. According to their record company biography, all of the members contributed to the songwriting process, instead of just Jonas Berggren and Ulf Ekberg. "It's nice to have different tempos, different moods," said Jonas.
After the release of The Bridge, Ace of Base set out once again on a worldwide tour, including South America and the Far East. Both albums were also released in China, adding another first to their list--the first Scandinavian artist to release recordings in China. The group also received their second award for World's Best-Selling Scandinavian Artist/Group of the year at the 1996 World's Music Awards.
By 1997, Happy Nation and The Sign had sold a cumulative 23 million copies worldwide, while The Bridge had sold five million. Finally, the group decided to take some time to enjoy their accomplishments. They began working on their next album with producer Charles Fisher late in 1997.
Despite their celebrity and accomplishments, Ace of Base still held fast to their roots. They maintained a studio in Gothenburg, and the Berggrens continued to live in their hometown. Jenny and Linn still sang in their hometown church choir when they were in town. For a few weeks each summer, the group took a break so Jenny could work at her volunteer job, where she helped disabled children in a Swedish summer camp. Although Ekberg moved to Marbella, Spain, he returned to Gothenburg to work with his bandmates. While the rest of the world showered Ace of Base with multiplatinum sales and adoration, the group refused to dismiss their humble beginnings.
Ace of Base released their fourth studio album Da Capo in September 2002 in Europe, and in Japan through Toshiba EMI with a different cover and three bonus tracks. The album contained twelve original tracks and had originally been planned for release in mid-2000, but was repeatedly postponed due to record company complications. The album is named after the musical term da capo, meaning "back to the beginning". It was intended to be a return to the band's earliest sound.
The band remained out of the spotlight throughout 2003 and 2004, although Jenny kept busy by performing solo live performances in several Christian shows with her husband Jakob Pétren, and joined the Swedish group Arose.The band returned at the end of 2005 (without Malin) for several live performances at the Night of the Proms in Belgium alongside other artists such as Donna Summer, performing some of their hits such as "All That She Wants" and "The Sign".
Ace of Base released a new Greatest Hits CD/DVD, Greatest Hits, Classic Remixes and Music Videos on November 12, 2008. The 3-disc set includes one CD with the hits, a second CD containing remixes, and a DVD containing all the music videos. Five re-recorded songs were released: "Lucky Love 2009", "Don't Turn Around 2009", "Happy Nation 2009", "The Sign - Freedom Bunch Mix", and "Wheel of Fortune 2009", which was released worldwide on October 24, 2008 as a digital single.
During the touring from 2007-2009, the band recorded new songs designated for a fifth studio album. The trio didn't get a record contract with the songs that were produced and Jenny announced she was working on her own solo material.During this time, Ulf and Jonas secretly recruited two other female vocalists, Clara Hagman and Julia Williamson. When this came to the fans' attention, Jonas and Jenny independently stated that the new band would not be called Ace of Base, but have another name.
This alternative line-up later presented a slightly changed name: "Ace.of.Base", but this was mainly a graphical adjustment used on the cover of their releases only. In an interview for Swedish TV Ulf stated: "We're still called Ace of Base. The dots are more for styling and the logo".
In late June, 2010, Facebook and Twitter accounts for an Ulf and Jonas project without Jenny were launched under the name Ace of Base. Pictures have been released via these accounts featuring two new vocalists, whose names have been given as Clara and Julia. One of them is Clara Hagman, who made it to the semi-finals round of Idol 2009, on which Ulf appeared as a judge. The first single from The Golden Ratio, "All For You", was serviced to European radio stations in mid-July 2010 and was released as a single on September 10, 2010. The Golden Ratio was released on September 24, 2010. The album entered the German album charts at #20. "All For You" reached #38 in the official German singles chart.
Studio albums:
-Happy Nation / The Sign (1993)
-The Bridge (1995)
-Flowers / Cruel Summer (1998)
- Da Capo (2002)
-The Golden Ratio (2010)
Read more
Ace of Base Picture Gallery
Latest headlines