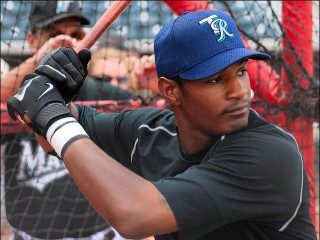 Adam Jones biography
Date of birth : 1985-08-01
Date of death : -
Birthplace : San Diego, California, U.S.
Nationality : American
Category : Sports
Last modified : 2023-08-01
Credited as : Baseball player MLB, outfield with the Baltimore Orioles ,
Adam LaMarque Jones
was born August 1, 1985 in San Diego, California. He was the youngest of five children who grew up in the city's Skyline neighborhood. Adam's father wasn't around during his childhood. His mother, Andrea, raised the kids alone until he was six, when she remarried. Adam's stepfather turned out to be a solid role model.
Basketball was Adam's top sport. He was tall and quick, a perfect point guard. Football was another favorite—he played receiver and defensive back in youth league games. As for baseball, he thought it was boring, a game the suburban kids played. Fortunately he lived near the Willie Henderson Sports Complex, which offered fields and courts for all three sports.
Adam didn't pick up a bat until he was 12. That summer, the Padres were on ir way to the division title behind Tony Gwynn, Ken Caminiti and Steve Finley. Adam's stepfather took him to a game, and on the way home Adam started asking about the sport. Suddenly baseball was cool.
A wonderful natural athlete, Adam picked up the game right away. A friend took him to practice with a travel team called the Redwings that played outside the neighborhood, and he flourished. Adam was a strong hitter and a powerful pitcher. When he wasn't on the mound, he usually played shortstop. He developed a close friendship with catcher Jett Ruiz and found various people along the way who looked out for him and taught him—something that was not always available in football and basketball.
Two of those people were Jett's parents, who became like a second family to Adam. They helped him afford the travel expenses for out-of-state tournaments. They also offered Adam a rural retreat when the inner city began closing in on him. Adam was not one to take handouts, however. When he needed money he often sold candy door-to-door in San Diego's wealthier neighborhoods.
In 1999, Adam enrolled at Morse High School. Known for its football team, th school produced NFL stars Lincoln Kennedy and Terrell Davis among others. Baseball was also a big sport at Morse. Major leaguers Sam Horn and Mark McLemore had been Tigers. Adam would actually form a friendship with McLemore, whose career was ending just as Adam's was beginning. He was like a big brother to Adam.
Morse had a strong group of juniors during Adam's freshman year, and the scouts started taking notice of Adam, who was a wiry six-footer with obvious ability. He began collecting their business cards. Coach Matt Cleek loved Adam's confidence and his quirky sense of humor. He was also blown away by Adam's knowledge of the game. He studied enemy pitchers with the eye of a seasoned coach.
Adam soon established himself as one of the big men on campus, along with classmate Marcus Smith, the star of the football team. The best athlete at Morse may have been sprinter Monique Henderson, who won gold medals in the 2004 and 2008 Summer Olympics.
ON THE RISE
Adam eventually grew to 6–3 and 180 pounds. He was a monster his senior year at Morse, batting .406 with 27 RBIs and six doubles, four triples and four home runs. He also went went a 3-3 with a 2.71 ERA. By season's end, his fastball was hissing by hitters at 95 mph. Among the colleges recruiting Adam was San Diego State, where new coach Tony Gwynn offered him a full ride—and a chance to learn hitting from a master.
As the draft approached, many scouts believed Adam's future lay on the mound. The Seattle Mariners disagreed. They grabbed Adam with the 37th pick and installed him at shortstop with their Rookie-level Peoria club in the Arizona League. Adam hit in seven of his first eight games, playing 28 in all before a promotion to the Everett Aqua Sox of the Northwest League. Adam finished the last week of the season there before heading south for the Arizona Fall League season.
Adam moved up to the A-level Wisconsin Timber Rattlers in 2004, where he spent most of the year. He led the club with 136 hits and 72 RBIs, finishing the year with a .267 average and 11 homers. Adam returned to the Arizona Fall League after the season.
Adam began to accelerate up the organizational ladder in 2005. He started the year with the Inland Empire 66ers, Seattle's High-A franchise. He batted .295 with a slugging average just under .500 in 68 games. That earned him a promotion to Class-AA San Antonio, where he replaced Cuban refugee Yuniesky Betancourt, who was promoted to Triple-A ball. Adam put up nearly identical numbers in 63 games. All told he collected 148 hits, 30 doubles, eight triples and 15 homers.
Although Adam was a rising star, he did have a couple of rough edges. Despite having a cannon for an arm, he was not a smooth shortstop, committing 34 errors against 349 assists. Also, he was still a novice on the basepaths. He was thrown out stealing almost as often as he was successful.
Adam blossomed in 2006. A move to centerfield seemed to agree with him, and he scorched the ball at Class-AAA Tacoma. A right-handed batter, he was particularly good against righty hurlers. In 98 games, he fashioned a .287 average with 16 homers, 62 RBIs and 13 steals in 17 attempts.
Just after the major league All-Star break, the Mariners placed Jeremy Reed on the DL. Adam was recalled to take his place. He returned to Tacoma after a cup of coffee and ended up with Seattle for good in early August. He watched and learned from regular outfielders Ichiro Suzuki and Raul Ibanez, both of whom were very evolved hitters. Adam got into 26 games for the M's, batting .211 with one homer and eight RBIs.
It was clear that Adam's five tools still needed a little more sharpening. He began the 2007 season back in Tacoma, where he developed into one of the most complete hitters in the minor leagues. In 101 games for the Rainers, he batted .314 and slugged.586 with 25 homers, 27 doubles, and 84 RBIs. The call to the majors came at the beginning of August.
Adam spent the rest of the year as a leftfielder and right-handed bat off the bench. When he arrived, the Mariners were still recovering from the shock of manager Mike Hargrove's July resignation. Interim manager John McLaren did a good job lifting their spirits, and by August 25, they were a game out of first place.
Then, inexplicably, Seattle dropped 13 of 14 games and never recovered. The Mariners finished with 88 victories, six shy of the division title and six short of a Wild Card berth. Adam batted .246 with a pair of homers.
Over the winter the Mariners went shopping for a lights-out hurler. They settled on Erik Bedard of the Orioles—a decision that would soon haunt them. Adam was the man Baltimore wanted. He was playing winter ball in Venezuela when he got the news. The deal was made, and the O's picked up George Sherrill as a throw-in. Sherrill would end up with the closer's role and actually represented the team in the All-Star Game in his first season in Baltimore.
Adam patrolled center field for the Orioles in 2008, alongside Nick Markakis and the platoon of Luke Scott and Jay Payton. He was still new to the position, at least at the big-league level, so he did a fair amount of learning on the job.
Baltimore won as often as it lost, until mid-August when the bottom dropped out and they went 8–30 the rest of the way. The tumble coincided with an injury to Adam, who missed almost the entire month of August with a broken left foot. He returned and finished strong to post a .270 average with 21 doubles, seven triples, nine homers and 57 RBIs. The injury-plagued O's concluded their 11th straight losing season, but with young offensive talent on the rise, they didn't figure to be A.L. East pushovers much longer.
Adam would have something to say about that. He began 2009 like a house afire. He went 3-for-3 on Opening Day with a pair of walks and stayed hot into June. Hitting between Brian Roberts and Markakis in the order, he had runners to move and saw plenty of good pitches. He was hitting rockets.
Adam attributed his breakout to a new commitment to fitness he made in the off-season. Working out alongside Roberts, he changed his training routines and diet, and it paid instant dividends.
The change in Adam was astounding, but there were other explanations for the improvement. Adam felt comfortable at the plate for the first time. He showed great patience and wasn't afraid to work deep into counts. He was also getting balls to drive. After 50 games, Adam's batting average soared above .330, and he had already reached double-figures in home runs. His .575 slugging average was among the best in baseball.
Natural ability, inner drive, confidence bordering on cockiness, a willingness to learn and an ability to analyze—these are the "intangibles" that turn a five-tool prospect into a multi-time All-Star. If Adam can put them together and keep it together as the Orioles mature and grow, a pennant may yet again fly over Camden Yards in Baltimore.
ADAM THE PLAYER
Ada,'s maturation process has been remarkable. He is more focused, more mature and more well-rounded. At the plate, he shortened his swing, improved his pitch recognition, and stopped chasing stuff outside the strike zone. Most important, he's not reluctant to go deep in the count.
When Adam makes contact, it sounds like a rifle shot. He uses the whole field but has become more adept at turning on inside mistakes by getting his hands through the strike zone quickly. It would not be a surprise to see Adam batting clean-up one day.
Adam's speed makes him a threat on the basepaths. He is a much better runner than when he arrived in the majors. Defensively, he has taken to center field at Camden Yards. Early in his career, scours compared him with Gold Glover Torii Hunter. He may soon prove them right.
EXTRA
* Adam was Morse High School's second first-round draft pick. Sam Horn was the first, in 1982.
* Adam was named Seattle's 2006 and 2007 Minor League Player of the Year.
* Adam was a Triple-A All-Star in 2007.
* Adam went hitless in his first 12 major league at-bats. No Mariner had ever waited that long for his first hit.
* In 2007, Adam set a Seattle rookie record with four runs in a game.
* Adam hit his first major league home run against another Adam—Adam Eaton of the Texas Rangers, on August 10, 2006.
* Adam hit his first grand slam off David Robertson of the New York Yankees in 2008.
* Adam has a reputation for being cocky and confident. After signing with the Mariners, he visited SafeCo Field and told infielder Willie Bloomquist that he would take his job in two years. In 2008, he told Torii Hunter he was going to win a Gold Glove soon.
* Adam and Mark McLemore attended Morse High 20 years apart, but they had the same English teacher.
* Adam shared an apartment with his half-brother, Anson, during his senior year in high school.
Adam Jones in the Teams:
* Seattle Mariners (2006–2007)
* Baltimore Orioles (2008–2018)
* Arizona Diamondbacks (2019)
* Orix Buffaloes (2020–2021)
Read more
Latest headlines