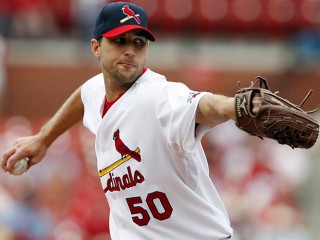 Adam Wainwright biography
Date of birth : 1981-08-30
Date of death : -
Birthplace : Brunswick, Georgia
Nationality : American
Category : Sports
Last modified : 2010-11-12
Credited as : Baseball player MLB, Pitcher with the St. Louis Cardinals,
Adam Parrish Wainwright was born on August 30, 1981, in Brunswick, Georgia. He had one brother, Trey, who was seven years his senior. Adam's parents had a rocky marriage, and they split up when he was around seven years old. After the divorce, his mother, Nancy, became a real estate agent and raised the boys on her own. Adam's father, Bill, eventually moved to Florida, but stayed a part of his sons's lives. They grew to be extremely self-sufficient, with excellent work ethics.
Trey became Adam's de facto father and baseball coach, with an assist from the baseball dads who helped coach his youth league teams. Trey built a pitcher's mound in the backyard, and tutored his little brother on the correct mechanics. When Trey had a ball game of his own, Adam accompanied him. When he went looking for a pickup game, Adam tagged along, often joining as a spare player when they were short.
With the Braves playing nearby, Adam dreamed of pitching for Atlanta one day. He began mowing down Little Leaguers at the same time the Braves were building their pitching staff in the early 1990s, with Tom Glavine, John Smoltz, Steve Avery and, later, Greg Maddux. After losing the World Series in 1991 and 1992, the Braves finally won it all in 1995. Adam now upped the ante—he wanted to be on the mound for Atlanta when the club claimed another World Series title.
For a while, it looked like Adam's future might be as a football player. He was strong, fast and well-coordinated. Adam made the varsity after enrolling at Glynn Academy in nearby Brunswick, and was named All-State as a receiver in his junior and senior years. He was also an All-Region placekicker.
As Adam sprouted to 6-5 in high school and learned how to harness his 90-mph fastball and over-the-top curve, it became clear that his greatest potential lied on the mound, not the gridiron. Not that he was bad hitter—Adam batted over .500 twice for Glynn. In 2000, he was named Gatorade's Player of the Year for Georgia. Georgia Tech offered him a full ride and he signed a letter of intent, with the understanding he might go pro under the right set of circumstances.
In preparation for the next step in Adam's sports career, Trey enrolled in law school and interned for a sports agent. As the draft approached, he and Adam told every team that he planned to play ball for Georgia Tech—everyone, that is, except the Braves. Having successfully scared off Atlanta's competitors, the Wainwrights waited for the phone call, and got it. Atlanta selected him with its top pick.
ON THE RISE
It took only two days to hammer out a contract, and then Adam was off to the Braves' rookie team in the Gulf Coast league. There he started five games and went 4-0, before a promotion to Danville of the Appalachian League. For the Class-A Braves, he split four decisions. In 2001, Adam, who now stood 6-7, pitched for Macon of the South Atlantic League and broke Bruce Chen's team record for strikeouts with 184. He was named the Braves' best minor league pitching prospect.
In 2002, Adam moved up to Myrtle beach of the Carolina League, where he fanned 167 batters in 163 innings while surrendering a mere seven home runs. He was tabbed for the Futures Game in Milwaukee and pitched a scoreless inning for the U.S. team.
Adam conintued his climb through the Atlanta farm system in 2003, as he joined the Class-AA Greeneville Braves. In 27 starts, Adam fashioned a 10-8 record, walking just 37 batters, while striking out 128. He was particularly strong down the stretch, going 4-1 with a 2.06 ERA in the final month.
In the fall of 2003, Adam joined a group of hopefuls on Team USA to prepare for the Olympic qualifying tournament in Mexico. He pitched so poorly against Arizona Fall League competition, however, that Dave Stewart cut him. The 1989 World Series MVP told Adam that he had the ability to be a great pitcher, but needed to believe that himself before he could achieve his potential. Adam thought a lot about Stewart's advice during the off-season.
And a busy off-season it was. In December of 2003, Adam decided to propose to his girlfriend, Jenny. As he was trying to pop the question, his mother kept interupting him with phone calls. Nancy had just learned Adam had been dealt to the Cardinals and wanted to let him know. On a day of elation, Adam also had to deal with the crushing news that he was no longer a Brave.
Atlanta hated parting with Adam, but the club needed a middle-of-the-lineup hitter. St. Louis was offering J.D. Drew. In return, the Cards insisted on Adam. Braves GM John Schuerholz tried every way he knew how to keep his young stud out of the talks, but in the end St. Louis made him a deal-breaker. Cardinals GM Walt Jocketty knew what a young flamethrower with a killer curve could accomplish in the major leagues. When the trade was finally comple, St. Louis received Adam, Ray King and Jason Marquis for Drew and Eli Marrero.
The 2004 season found Adam at Triple-A Memphis, where he started well before being shelved in June by elbow problems. A slight ligament tear—which at first was thought to require surgery—healed on its own. Adam returned to make four starts in the Arizona Fall league for the Mesa Solar Sox. In 2005, Adam got in a full year at Memphis, going 10-10 in 29 starts for the Redbirds, with a league-high 182 innings pitched and 147 strikeouts, which ranked second. Once again, he finished strong, with three victories in his last three starts.
Adam was rewarded for his standout season with a call to the majors in early September. He debuted in relief against the New York Mets and gave up a home run to Victor Diaz, then pitched once more before the campaign ended.
Adam made it to the majors for good in 2006—although he lost a spring training battle for the fifth starter spot to Sidney Ponson, and was not as highly touted as fellow rookie Anthony Reyes. Still, manager Tony La Russa decided he was ready to get big leaguers out.
MAKING HIS MARK
Adam pitched out of the bullpen and was extremely effective in the early going, striking out a batter an inning, holding hitters to a sub-.200 average, and being particularly stingy when it came to allowing inherited runners to score. Adam felt a confidence in his abilities he had not in years past. Every spring he came to camp believing he was ready, but in 2006 every fiber of his body told him this was his time.
As he gained confidence in his stuff, Adam found himself in more and more game-altering situations, thanks to the lobbying of pitching coach Dave Duncan. Saddled with a shaky starting staff that included Ponson, Marquis, Mark Mulder, Cris Carpenter and Jeff Suppan, La Russa used his bullpen liberally. Adam was one of five relievers on the team to make at least 59 appearances. His ERA hovered between 2.00 and 3.00 most of the year, and he was credited with 17 holds against only one loss.
In early September, closer Jason Isringhausen was shut down because of his arthritic hip. The Cardinals had a comfortable lead in the N.L. Central, but other injuries had depleted their lineup. After considering their options La Russa and pitching coach Dave Duncan turned to Adam as the team's new stopper. Adam was that rarest of major-league closers. He had never recorded so much as a single save in his professional life.
St. Louis fans criticized the move, believing that more experienced Braden Looper was a better pick, even after he blew a couple of September leads. Adam thought it was a curious decision, too. But then, teams struggling to win a championship often gamble against the odds. Hadn't the Braves, desperate for a lefthanded hitter, traded Adam three years earlier for oft-injured J.D. Drew?
Actually, Looper was instrumental in prepping Adam for the closer's role. He had been telling Adam all season that he had the stuff for the job, and now Looper began giving him big-brother support and pointers as he eased into this surprising new role. Isringhuasen, who underwent surgery on September 21, also gave Adam valuable advice. He instructed him to retain his composure at all times—and not to be afraid to step off the rubber and collect himself to do so. One bad pitch, Izzy said, can mean the season.
Adam was lights-out down the stretch, saving a couple of crucial victories to stave off the hard-charging Houston Astros in the division race. He finished with a 2-1 record, three saves, a 3.12 ERA and 72 strikeouts in 75 innings.The postseason picture didn't look pretty—no team with 83 wins had ever won the World Series. The Cardinals would be without two of their top pitchers, Isringhausen and Mulder, while Jim Edmonds, Albert Pujols, Scott Rolen and David Eckstein were all coming off September injuries. Many baseball historians called the Cards the worst team in the annals of the World Series.
Adam got the call in Game Two of the Division Series against the Padres, and earned the save. The Cardinals swept San Diego to set up a showdown with the pitching depleted Mets. After splitting the first four games, St. Louis won Game Five, with Adam coming on to notch the save in the 4-2 victory. New York took Game Six, and Game Seven was a classic, with great pitching and fielding. Yadier Molina blasted a two-run homer in the top of the ninth to give St. Louis a 3-1 lead, and La Russa called Adam in to finish off the Mets. It would not be easy.
Jose Valentin and Endy Chavez singled to start the inning, which meant every batter who stepped into the box against Adam represented the pennant-winning run. Instead of bunting the runners over, Willie Randolph hoped to catch lightning in a bottle and sent Cliff Floyd up to pinch hit. Adam got him keyed up for a two-strike heater and dropped in a curve for strike three. Jose Reyes lined to center for the second out, and with the Shea Stadium crowd louder than ever, Adam snapped off an 0-2 curve that froze Carlos Beltran and floated into Molina's glove for a called third strike.
The surprising Cardinals faced the equally surprising Tigers in the World Series. Detroit was favored because of its young flamethrowers. But with the exception of their rookie closer, the Cardinals had experience on their side.
The Cardinals won Games One and Three easily, while the Tigers took Game Two behind Kenny Rogers. In Game Four, Adam came on in the eighth and gave up a game-tying double to Brandon Inge. After composing himself, he blew a two-strike fastball past Alexis Gomez and buckled Curtis Granderson's knees with a perfect 3-2 curve to extinguish Detroit's last good rally. In the ninth, after Eckstein doubled home the go-ahead run for St. Louis, Adam retired the Tigers 1-2-3 to pick up the victory and put St. Louis one victory away from the championship.
In Game Five, Adam faced Inge again with two out in the ninth and struck him out for the title. In all, he worked 9.2 innings in the postseason and did not allow an earned run after September 26. He recorded four saves and one win in the playoffs and World Series.
Despite Adam's stellar stint as a closer, the Cardinals insist that he will be in their 2007 starting rotation—much like Jonathan Papelbon of the Boston Red Sox. The two, however, are not alike. While Papelbon has a history of being erratic, Adam has great command of his entire pitching repertoire and his mechanics are impeccable. In other words, whether he's a starter or closer, Adam will be a handful for opposing hitters.
ADAM THE PITCHER
A number of factors went into the decision to make Adam the Cardinals' closer in September of 2006. One that is often overlooked is how quick he gets ready, and how easily he bounces back from an outing the next day—unusual qualities for a lifelong starter. Tony La Russa noticed this in spring training, and it tilted in Adam's favor after the St. Louis skipper chose to keep Braden Looper in a setup role.
Adam attacks hitters. He doesn't like to mess around. He will throw a 94-mph heater around the fringes of the strike zone, and is not afraid to use his overhand curve on fastball counts. He also has an improving changeup. Adam uses his height to maximum advantage, changing delivery planes on hitters.
Although it may be tempting to keep Adam in a closing role, he is ideally suited to starting. It is likely that Adam will team with Cris Carpenter to give the Cardinals the one-two punch they had envisioned when signing Mark Mulder in 2005.
Read more
Latest headlines