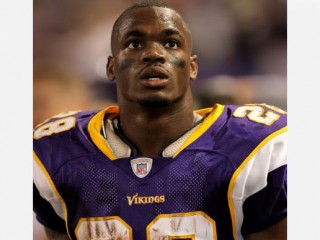 Adrian Peterson biography
Date of birth : 1985-03-21
Date of death : -
Birthplace : Palestine, Texas, U.S.
Nationality : American
Category : Sports
Last modified : 2010-08-23
Credited as : Football player NFL, running back for the Minnesota Vikings, Super Bowl
GROWING UP
Adrian Lewis Peterson
was born on March 21, 1985, in Palestine, Texas, a small town between Houston and Dallas. His parents, Bonita Brown and Nelson Peterson, had been star athletes in college. Nelson was a shooting guard for Idaho State with an NBA career in the offing. That dream was derailed when a gun that his brother was cleaning discharged into his leg. The wound became infected and several surgeries later he accepted the fact that his basketball career wasn't going to happen. With several children to support, he joined the working world.
Adrian's mother was a world-class track and field athlete. A Texas state champion three times over at Westwood High School, she attended the University of Houston on an athletic scholarship and was a sprinter and long jumper.
Adrian was a hyperactive toddler, ramping up his activity while others his age napped. His dad nicknamed him "All Day," which was later shortened to A.D.—his nickname today. Adrian's best friend was his older brother, Brian. The two fastest kids in the neighborhood, they loved to play sports. When Adrian was seven, Brian was riding his bike when a drunk driver hit and killed him. The tragedy occurred after Adrian's parents had separated. The boys were living outside Dallas in Oak Cliff with their aunt, Bonita's sister. After this tragedy, Adrian and his mom moved back to Palestine, so the youngster could be closer to his father and grandmother.
It was around that time that Adrian began to deal with his pain through sports. He was the star of the Pee Wee football team coached by his father. Nelson taught Adrian to meet force with force. Instead of trying to elude tacklers, sometimes it was smarter to hit them head-on. He also showed Adrian the importance of priorities. When the boy received his first F as a fifth grader, Nelson benched him. The rule for the rest of his childhood: No pass, no play.
By the time he was 12, Adrian was the star of his Pop Warner team. His coach told his players to remember playing with Adrian—they would want to tell their grandkids about him someday. In one game, Adrian went an entire game without being tackled—the best the defense could do was force him out of bounds or hope he slipped and fell.
Adrian was a huge Cowboys fan. The team was a perennial Super Bowl contender when he was young, and he loved Emmitt Smith. He would watch games on TV wearing his #22 Starter jacket. There was little question in Adrian's mind that he would one day be a Cowboy.
When Adrian was 13, his father was arrested for laundering money for a crack-cocaine ring. Though gainfully employed, Nelson was still chasing the big dollars he had expected to earn as a pro athlete. The lure of easy cash led to a catastrophically bad decision, and he ended up spending eight years in prison. Adrian and his dad communicated by phone and mail, as well as the occasional visit. In high school, Adrian spoke with his father the morning before every game.
Adrian had a better role model in his mother. Bonita remarried, to Frankie Jackson, a pastor at a church in nearby Grapeland. Initially, there was friction between Jackson and his football-star stepson, but eventually they became very close.
Adrian continued his gridiron exploits at Westwood Junior High School. His mother had relocated to the town for a new job. Adrian also became a track and field standout. At Woodward, he won multiple medals in the 100, 200, triple jump and long jump—the same events in which his mother had once excelled. Looking back, Adrian's coach believes that the teen could have been an Olympic long jumper had he note pursued a football careered.
In 2000, Adrian began high school in Westwood. He played JV football as a freshman Adrian's family moved back to Palestine the following year, but he was not eligible to play for the Palestine High varsity football team until he was a junior. During his sophomore year, Adrian ran track and logged a 10.66 100-yard dash at a spring meet.
Adrian found a valuable ally in coach Jeff Harrell. When Harrell was promoted to head football coach, Adrian was made the focal point of his coach's one-back system. He was so quick that he hit the line before the blocks happened. Harrell moved Adrian back from six yards behind the line to seven and then eight.
Adrian got even faster as he matured. In 2002, he ran for more than 2,000 yards and scored 22 touchdowns. That's when he began to attract the attention of Division I recruiters.
ON THE RISE
After his junior year, Adrian realized he would likely have his pick of colleges. During his senior season, he decided that he wanted to go to a school where he could be a difference-maker in a national championship run. After considering schools such as Texas, Texas A&M, Arkansas, Miami and UCLA, Adrian narrowed his choices down to Southern California and Oklahoma. There was a funny moment in coach Harrell's office when recruiters from USC, Miami and UCLA got into a heated argument about who would get to see Adrian first.
As a senior in 2003, Adrian put up unbelievable numbers, rushing for 2,960 yards and 32 touchdowns. Often, he only played the first half. In Palestine's final game, Harrell told him to do something special. Adrian responded with 350 yards and six touchdowns—all in the first half. After the game, players from the other team asked for his autograph. It was not the first time that had happened.
Adrian's final appearance as a high-schooler came early in 2004 at the All-American Bowl. One one play, he eluded all 11 defenders on the way to a highlight-reel touchdown. He scored a pair of fourth-quarter touchdowns and was named MVP of the game. Adrian also announced his college choice at the game—Oklahoma.
Adrian's mom had tears in his eyes when she dropped him off at the Oklahoma campus the following summer. He told her not to worry and assured her he would be fine. The next day, he amazed the Sooner coaches with a 39-inch vertical leap, a 10–7-foot broad jump and a 4.2-second 40-yard dash.
Oklahoma was coming off a great year. Jason White, who had led the Sooners to the BCS championship game (which they lost to LSU), was the defending Heisman winner. He guided an offense that relied heavily on seniors. The team's top receiving threat was Mark Clayton, and its running attack was [aced by Jammal Brown and Vince Carter. But it was Adrian, a freshman, who ended up leading them into battle.
Adrian ran for 100 yards in the opener against Bowling Green, 117 yards against Houston, and 183 yards against Oregon. Against Oklahoma State, Adrian rushed for 161 yards in the third quarter and pulled off an eye-popping spin move during an 80-yard TD run. He rumbled for 172 yards against Colorado and 225 yards against Texas. Adrian ran over, around and through tacklers. He drew comparisons to Walter Payton for his unwillingness to go quietly out of bounds, and to Eric Dickerson for his powerful, upright running style.
Thanks to Adrian, one of the poorest rushing teams the year before became one of the nation's best. The freshman was spectacular, gaining 1,925 yards to smash the NCAA's freshman rushing record. According to team statistics, roughly two-thirds of those yards came after he had been hit. Adrian was nothing if not tough. In a November game against Texas A&M, he made the difference in a close victory when he reentered the game after suffering a separated shoulder.
Despite his breathtaking season, Adrian finished second to Matt Leinart in the Heisman Trophy voting. He did, however, become the first Sooner freshman to be named First-Team All-American.
Oklahoma earned a berth in the BCS championship game against Leinart and USC. It turned out to the most disappointing day of Adrian's career. Trojans coach Pete Carroll knew Adrian well and retooled his defense to stop him. USC limited Adrian to just 82 yards, as the Trojans rolled to a 55-19 blowout. A series of first-quarter turnovers doomed the Sooners and also served to neutralize their running attack.
Adrian's only other disappointment his first year at Oklahoma was the separated shoulder against the Aggies. After the season, he had surgery to strengthen the muscles around the joint.
The 2005 campaign started well for Adrian, but a high ankle sprain suffered in Oklahoma's first conference game against Kansas State limited his mobility the rest of the year. Still, he managed to finish second in the Big 12 with 1,108 rushing yards. He also found the end zone 14 times. The highlight of Adrian's year was a spectacular 84-yard TD run against Oklahoma State. In that game, he accounted for 237 of the Sooners' 269 yards.
The Sooners limped to an 8–4 record, the worst of coach Bob Stoops's Oklahoma career. They played Oregon in the Holiday Bowl and won 17–14, finishing the year with a #22 national ranking.
Another injury curtailed Adrian's production in 2006. This time it was a broken collarbone, suffered against Iowa State as he dove for the end zone at the end of a long touchdown run. Adrian's father was in the stands. Just released from prison, he was watching his son play in person for the first. It was a bittersweet moment for Nelson and Adrian, who was named First-Team All-Big 12 for the third year, despite missing the rest of the regular season.
Though the Sooners lost two early games in '06, they regrouped to run the table—even after Adrian was sidelined. Their defense gelled and Adrian's replacements—Allen Patrick and Chris Brown—got the job done. Oklahoma beat the Nebraska for the Big 12 championship and earned a berth in the Fiesta Bowl against Boise State.
Adrian returned in time to play in this game, which was decided by a two-point conversion in overtime. He gained just 77 yards in the 43–42 loss, ending his junior year as the school's second all-time rusher behind Billy Sims.
MAKING HIS MARK
That's where Adrian would stay, as he decided to forego his senior season and declared for the NFL draft. He attended the combine in Indianapolis and impressed scouts with his speed and skill, including a 4.38 in the 40-yard dash. Once again, however, Adrian was forced to use sports to block the pain of a personal loss. The night before the combine, he learned that his half-brother Chris had been shot and killed in Houston.
The lingering question about Adrian among NFL scouts and coaches concerned his durability. He had been hurt for about a third of his college games, and teams wondered if his broken collarbone would be fully healed by the start of the 2007 season. The Cleveland Browns were rumored to be interested in Adrian, but they signed Jamal Lewis to a contract instead and grabbed Notre Dame's Brady Quinn with their pick, the third in the draft.
Five other players were selected before the Vikings picked. Minnesota then made Adrian the first running back taken in the draft. Their plan was to work him into a rotation with veteran Chester Taylor, but coach Brad Childress began rethinking this strategy after Adrian reeled off 103 yards against the Atlanta Falcons in Minnesota's opener. He also scored on a 60-yard catch and run. After he reached the end zone, he blew a kiss to his late brother Brian.
The Vikings were winning games, and they were clearly better with Adrian in the lineup. Against longtime rival Detroit in Week 2, Adrian failed to reach triple digits in rushing yardage and Minnesota lost to the Lions, 20–17.
In a mid-October meeting with the Bears, Adrian showed his explosive ability when he broke loose for 224 yards against one of the NFL's top-ranked D's. He scored three touchdowns in the game, and added a 53-yard kickoff return that set up the game-winning field goal. One of the TDs against Chicago was classic A.D.—a power move to pierce the line, a feint in the secondary, and then a 70-yard sprint to the end zone. Adrian gave a lot of credit for his big day to Minnesota's offensive line. Indeed, his blockers played flawlessly all afternoon.
The Chicago game turned out to be a mere prelude to Adrian's November 4th performance against the San Diego Chargers, owners of one of the league's better run defenses. Adrian sliced through tacklers all game long, finishing with a record 296 yards and three touchdowns. He surpassed the 1,000-yard mark in just his eighth game, which set a record for first-year players.
Adrian also a Minnesota record for 50-yard runs in a season, with a 64-yarder that tied the game against San Diego in the third quarter. Late in the game, he ripped off a 35-yard run but was on the sideline when the team realized he needed just three more yards for the single-game record. Adrian reentered the game and got those yards—along with a standing ovation from the Minnesota crowd. The Vikes won the game 35–17.
Dickerson's rookie record of 1,808 yards is now well within reach. The question is whether Adrian will be healthy enough to set the mark. A bum knee has him in street clothes, though the Vikings have downplayed the severity of the injury. Still, given Adrian's history, it's fair to wonder whether his all-out running style can at times be a detriment.
It is hard to imagine such a young player maintaining the pace Adrian has established in his first NFL season. But most experts—and fantasy football owners—have stopped trying to place limits on his progress. Like Vikings fans, they seem content to just sit back and enjoy the show.
ADRIAN THE PLAYER
Adrian is very big and very fast. Perhaps bigger and faster than people realize. During Adrian's rookie year in the NFL, a lot of DBs took bad angles on him and paid a dear price. Either Adrian ran past their intended point of contact or simply ran right over them.
Adrian is also deceptive. His shakes and wiggles freeze experienced open-field tacklers, giving him running room where it seems he has none. When he cuts or spins or sidesteps, he is back at full speed within a stride. Once in the open field, Adrian tends to get faster where other backs might level off. He has pull-away speed when it matters most.
Adrian gets into the defensive backfield with an effortless, upright running style. Most scouts agree that he will have to learn to get his shoulders down in traffic before larger defenders start to make a meal of him. He also needs work on pass protection and picking up blitzes.
EXTRA
* Adrian starred for the Palestine High School track and basketball teams.
* Adrian won the Hall Trophy as the nation's top high school football player in 2003.
* In high school, Adrian asked for #29—Eric Dickerson's number—but it wasn't available. He settled for 28 and has worn it ever since.
* Adrian ran for 225 yards against Texas in just his second college start.
* In 2004, Adrian set an NCAA record for freshmen with nine straight 100-yard rushing performances.
* Adrian was a finalist for the Doak Walker Award in 2004. He was also the first freshman in history to be runner-up for the Heisman Trophy.
* Adrian joined Billy Sims and Joe Washington as the only Oklahoma runners to top 4,000 career rushing yards. Adrian finished with 4,045 yards and 41 rushing touchdowns in 31 games.
* Adrian's 224-yard game against the Chicago Bears in 2007 broke Minnesota's single-game rushing record, set by Chuck Foreman in 1976.
* In a 2007 game against the San Diego Chargers, Adrian broke Jamal Lewis's NFL record for yards in a game with 296 on 30 carries.
* In 2007, Adrian became the first NFL rookie to notch two 200-yard games.
* More than 300 friends and family members attended Minnesota's 2007 game against the Dallas Cowboys to root for Adrian.
* Adrian says the NFL player he most looks forward to meeting on the field is Ray Lewis of the Baltimore Ravens.
* Adrian's father works for a car dealership and also gives anti-drug talks at schools. He once tried out for the Philadelphia 76ers.
* Adrian's mom might have made the U.S. Olympic team had she not gotten pregnant in college. She ran an 11.3 100-yard dash.
* Adrian's uncle, Ivory Lee Brown, played one season for the Arizona Cardinals.
* Adrian's daughter, Adeja, was born in 2003.
* Adrian majored in Sociology at Oklahoma.
* Adrian is superstitious about the fit of his shoes. They must feel perfect before he leaves the locker room.
Read more
Latest headlines