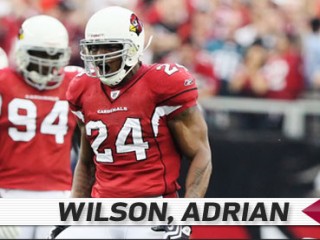 Adrian Wilson biography
Date of birth : 1979-10-12
Date of death : -
Birthplace : High Point, North Carolina
Nationality : American
Category : Sports
Last modified : 2010-11-30
Credited as : Football player NFL, strong safety for the Arizona Cardinals, Super Bowl/NFL Draft player
Adrian Wilson is an American football strong safety for the
Arizona Cardinals
of the National Football League. Wilson was selected in the 3rd round (64th overall) of the 2001 NFL Draft by the Cardinals. He played college football at North Carolina State.
Pro Career:
The Cardinals third-round draft choice in 2001 (64th overall), Wilson, the longest tenured player on the Arizona roster, emerged as a defensive leader and signed a five-year contract extension on 12/22/04. Signed his second five-year extension on 6/4/09 that will keep him in a Cards uniform through the 2013 season.
2009: Selected as a team captain for the second consecutive year and started all 18 games played, marking the first time he played in all 16 regular season games since 2006 … part of defense that held the 49ers to 21 yards on 25 carries in the season opener vs. SF (9/13); marked the third lowest rushing total in SF's history … registered a team-high nine tackles, two tackles for loss, half a sack and fumble recovery @ Jax (9/20); marked first fumble recovery since 12/10/06 vs. Seattle … totaled three tackles @ Sea (10/18) and helped limit the Seahawks to 128 total net yards, the lowest yardage output by an opponent since 1990 (100-Dallas, 10/14) … led team with two tackles for loss, hauled in a third quarter INT that set the Cardinals up at the NY 20-yard line and led to the game-winning TD, and recovered a fumble at the AZ 42-yard-line in the fourth quarter to preserve the Cardinals seven point lead @ NYG (10/25); named NFC Defensive Player of the Week for the third time in his career, becoming the third Cardinals defensive player to win the award three times, joining S Antrel Rolle and CB Aeneas Williams; registered 500th solo tackle of his career … with two minutes remaining collected an INT at the AZ five-yard-line vs. Sea (11/15) … registered one INT and six tackles @ StL (11/22); marked just the second time in his career he had INTs in back-to-back games (2007); reached 700 career tackles … tied for the team lead with eight tackles while recording a career-high four passes defensed and one INT @ SF (12/14) … for the fourth time in his career recorded one sack and one INT, as well as four tackles vs. StL (12/27); both the INT and sack came in the final four minutes of the game and gave him 23 INTs and 20.5 sacks for his career, making him the 10th player in NFL history with 20 sacks and 20 INTs in their career; marked first game with a sack and INT since recording two sacks and one INT on 9/17/06 at Seattle … totaled three tackles and one pass defensed in the Wild Card contest vs. GB (1/10/10) … started sixth career postseason game, registering six tackles, one tackle for loss, one pass defensed, and one QB hit in the Divisional matchup @ NO (1/16/10).
2008: Started 14 of 15 games played during the regular season and all four postseason games while earning his second trip to the Pro Bowl ... collected his first INT of the season off QB J.T. O'Sullivan in the first quarter @ SF (9/7) in season opener ... after missing practice all week due to a hamstring injury, saw action on a limited basis and recorded one QB hit that forced QB Trent Edwards (concussion) out of the game early in the first quarter vs. Buf (10/5) ... led team with six unassisted tackles to eclipse 600 career tackles and forced QB Marc Bulger to fumble on his own 21-yard line in the second quarter @ StL (11/2) … recorded one QB hit and one INT that stopped a 49ers drive at the AZ 18-yard-line with 2:34 remaining in the fourth quarter vs. SF (11/10); late in the third quarter disrupted a play by blitzing just off the center in which QB Shaun Hill fumbled and was recovered by LB Clark Haggans at the SF 10 yard-line and later resulted in a FG to cut the 49ers lead to one point ... finished second on the team with seven tackles, one sack, one pass defensed, one forced fumble and one QB hit @ Sea (11/16); forced RB Julius Jones to fumble at AZ 32 yard-line and was recovered by DT Darnell Dockett and resulted in a FG on ensuing drive to put the Cards up 19-7 in the third quarter ... before leaving the game in the fourth quarter due to a sprained shoulder registered nine tackles and one tackle for loss vs. NYG (11/23) ... recorded two tackles for loss as well as a season-high 10 tackles vs. Min (12/14) ... started his 100th career game vs. Sea (12/28) ... started first career playoff game and registered five tackles, one forced fumble and one QB hit vs. Atl (1/3/09); part of defense that held the Falcons, the second best rushing team in the NFL during the regular season with 152.7 yards per game average, to just 60 yards on 24 carries (2.5 avg.) ... registered two sacks and forced a fumble on one that was recovered by DE Bertrand Berry vs. Phi (1/18/09); marked the fourth multi-sack game of his career and first since 9/17/06 vs. Sea ... led team with seven solo tackles vs. Pit (2/1/09) in Super Bowl XLIII.
2007: Started first nine games, registering 54 tackles with two INTs before suffering season ending heel injury vs. Det (11/11) … second on the team with season-high 10 total tackles and eight unassisted tackles as well as one tackle for loss @ Bal (9/23) … registered five total tackles (three solos) and two tackles for loss while intercepting Ben Roethlisberger in end zone in a critical play following a Cardinals fumble that gave the Steelers the ball at the AZ 4-yard line with the score tied in the third quarter vs. Pit (9/30) … recorded five tackles, an INT and one pass defensed @ StL (10/7); marked the first time in his career with an INT in consecutive games … registered six tackles @ Was (10/21) as part of defense that held Washington to 160 total net yards, the lowest output by a Cardinals opponent since the L.A. Rams had 152 yards on 9/4/94 … recorded one tackle for loss and one quarterback pressure that resulted in a Karlos Dansby interception before leaving the game in the third quarter due to a heel injury vs. Det (11/11) … had made 59 consecutive starts while appearing in 73 straight games before being inactive with a right heel injury @ Cin (11/18) … inactive vs. SF (11/25) and placed on injured reserve on 12/1/07.
2006: Selected to his first Pro Bowl after starting all 16 games, returning both an INT and fumble 99 yards for TDs … had a solid all around game with seven tackles, two sacks and an INT of QB Matt Hasselbeck @ Sea (9/17); the two sacks gave Wilson, who set an NFL record for DBs with eight sacks in 2005, eight sacks in his last nine games … intercepted a Michael Vick pass near the Cardinals endzone and returned it a franchise record 99 yards for a TD in the second quarter to help temporarily give the Cardinals the lead @ Atl (10/1); also recorded five tackles … on Monday Night Football vs. Chi (10/16) recorded six tackles, a sack of Rex Grossman, one pass defensed and a forced fumble ... totaled nine tackles and recovered a fourth quarter Chester Taylor fumble at the Cardinals one-yard line and ran in back 99 yards for a TD @ Min (11/26) … came up with another big game, tying for the team-high with nine tackles while adding an INT, two passes defensed and a forced fumble @ StL (12/3); the INT, his fourth of the season which tied his career-high, came as the Rams were driving in Arizona territory minutes before halftime helping to set up a Neil Rackers 23-yard FG … continued his push for the Pro Bowl with six tackles and a fumble recovery vs. Sea (12/10); fumble recovery came after Robert Griffith knocked the ball loose from Seattle RB Shawn Alexander and led to a Cardinals TD on the ensuing possession; also made the key tackle on fourth down that stopped Seattle's potential game winning drive.
2005: Selected as a Pro Bowl alternate … recorded eight sacks, a team-high and the most by a DB in the NFL since sacks became official in 1982 … recorded 11 tackles, the second highest total on the team @ Sea (9/25) and broke up one pass … recorded a career-high 17 tackles @ Det (11/13) and defended one pass … had a career game @ StL (11/20) sacking the Rams QBs three times and forcing Marc Bulger out of the game with a shoulder injury; recorded eight stops, also recorded a forced fumble and recovered a fumble … had another outstanding day as he notched seven tackles, two for a loss, a sack on Alex Smith, a forced fumble, recovered a fumble and deflected a pass @ SF (12/4) … recorded five tackles, three for a loss, and sacked Mike McMahon twice while defending two passes vs. Phi (12/24) in one of the strongest days of his career.
2004: Started every contest for the Cardinals in 2004 ... finished the season second on the team in tackles, and one shy of his second career 100-tackle season … recorded four tackles, one fumble recovery and a pass breakup in the season opener @ StL (9/12); recovered a fumble on the first St. Louis drive of the game after Quentin Harris forced a Steven Jackson fumble on the Arizona 26-yard line … intercepted Michael Vick at the Atl 29 and returned it to the Atl 18 to set up a Neil Rackers FG, which gave the Cardinals their only points of the game; tied for a team-high seven tackles and had a team-high two passes defensed @ Atl (9/26) … recovered a fumbled reverse handoff between Dante Stallworth and Aaron Stecker and returned it 35 yards for a TD to give the Cardinals a 7-0 lead with 4:16 left in the first quarter vs. NO (10/3); recorded five tackles; named NFC Defensive Player of the Week following his five tackles and fumble recovery for a TD; the Cards defense held their opponent without a TD for the second consecutive game for the first time since November, 1970; … recorded his first sack of the season in addition to two tackles and a forced fumble vs. StL (12/19) … notched six tackles, one pass defensed and intercepted a Chris Simms pass with 1:06 remaining which sealed the win for the Cardinals in the season finale vs. TB (1/2).
2003: Started all but one contest … produced the Cards' first blocked punt since 1997 … recorded eight stops and a pass deflection vs. Bal (10/12) … had three tackles from scrimmage vs. SF (10/26) and blocked punt in the third quarter which rolled out of bounds at the 49er 11-yard line; Cards converted the possession into a FG in eventual 18–17 victory; whistled for two personal fouls in fourth quarter and ejected from the game … did not start vs. Car (12/14) due to an illness but came off bench to provide three tackles.
2002: Vaulted over 100-total tackle plateau in first season as a starter … recorded three INTs in 9–6 win vs. Dal (10/20); earned NFC Defensive Player of the Week honors, most by a Cardinal since Kwamie Lassiter made four INTs in 1998 season finale vs. SD … game-day inactive for season-opener @ Was (9/8) while still on mend from preseason right-shoulder dislocation vs. Den (8/24) … dismantled the Cowboys with three INTs plus thundering sack of Quincy Carter on opening play of game vs. Dal (10/20) … season-best 12 combined tackles vs. StL (11/3) … set the table for both Cardinal TDs @ Phi (11/17); on first, knocked the ball loose from Eagle QB Donovan McNabb on third play of game to set up 12-yard TD pass; McNabb suffered a fractured ankle on the play; on second pick, Wilson intercepted McNabb in the second quarter and returned the ball 35 yards to Philadelphia's two-yard line; Arizona scored on its ensuing play from scrimmage to knot game at 14–14; finished contest with 10 tackles, a half-sack, an INT, and a forced fumble … inactive with hamstring injury for season finale @ Den (12/29).
2001: Playing time from scrimmage increased as season progressed … active game in win vs. KC (10/21) with three tackles, one QB hurry on a corner blitz and two deflected passes; also got a hand on a Corey Chavous INT in the end zone to stymie last-second Chiefs' rally from their own one-yard line to the Cards' two-yard line with five seconds remaining … recorded first NFL INT @ Dal (10/28) which he returned 36 yards to give Arizona the ball near midfield with four minutes left … gave Cards an early 7–0 lead in first quarter @ Was (1/6) when he stepped in front of Redskin WR Michael Westbrook on a slant route and returned the INT 61 yards for his first NFL TD at the 10-minute mark of the opening period.
College:
Two-year starting strong safety at North Carolina State … recorded 254 total tackles (144 solos) and 11 stops behind the line of scrimmage in 33 games for the Wolfpack … career tackle total most by a N.C. State DB since James Walker collected 289 stops from 1993–95 … added three INTs and 11 pass deflections in 23 career starts before entering the NFL Draft following his junior season.
Personal:
Full name
Adrian Lemar Wilson
… all-Guilford County honors from the Greensboro News and Record at T.W. Andrews (High Point, NC) High School, where in June of 2010, he had his prep jersey number (9) retired … most valuable player in the coaches East-West All-Star Game … played free safety and split end as a senior, helping his team to a berth in the playoffs … also played basketball and ran track … honorable mention high school basketball All-America notice in 1998, Dream Team All-America selection in 2000 … Parks, Recreation, and Tourism Management major at N.C. State … owns a designer shoe store in Scottsdale (AZ) called High Point … along with his wife, Alicia, the couple have a daughter, Aubrei Reign, and sons Adrian Jr. and Brooklyn Maximus .
Read more
Latest headlines