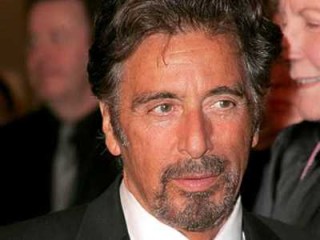 Al Pacino biography
Date of birth : 1940-04-25
Date of death : -
Birthplace : New York City, New York, U.S.
Nationality : American
Category : Arts and Entertainment
Last modified : 2010-06-14
Credited as : Actor and film director, The Godfather, Righteous Kill
Al Pacino
(Also known as:
Alfredo James Pacino
) born April 25, 1940 in New York, New York, United States is an American actor, director and producer.
Al Pacino
has been called one of the best actors in film history. He established himself as a Hollywood icon when he burst onto the scene in The Godfather and followed that critically acclaimed performance with eight Academy Award nominations and more than 20 movies over 30 years. Through it all, Pacino stayed grounded in his first love: theater. But despite three decades of fame and success, the man behind the actor, who cherished his privacy, remained something of a mystery.
The Young Actor
Pacino was born April 25, 1940, in New York City to Salvatore and Rose Pacino. Pacino's father left the family when Al was a baby and although Pacino visited his father in East Harlem, he was raised by his mother and maternal grandparents in a bilingual Italian American three-room household. Rose Pacino was ill throughout his childhood, as well as mentally troubled and poor, and died of a heart attack when Pacino was 22. He was under strict rule at home but had a happy, sheltered childhood. He was bored and unmotivated in school. He found his place in school plays and dreamed of a career in acting.
Pacino's first acting lessons were at the Dover Theater, where he would go with his mother or grandmother to watch movies. After imitating the action on the screen for his grandmother, he was often asked to do the "looking for the bottle scene" from The Lost Weekend. Pacino found he could get positive attention with his acting antics. He won admission into Manhattan's prestigious High School of the Performing Arts but dropped out at age 17. As a teenager, Pacino took acting lessons from Charlie Laughton, who became a friend. Pacino held odd jobs to support the family.
Broadway
Pacino moved to Greenwich Village and started to audition. Once on the theater scene, Pacino entered a period of depression and poverty. There were days when he could not afford bus fare or even lunch. He lived for awhile off the pay of his soap-opera-actor girlfriend and future movie star, Jill Clayburgh. He found work where he could, in a coffeehouse, a workshop, a mailroom, a theater, and elsewhere.
Finally, in 1966, he entered the prestigious Actors Studio and studied under Lee Strasberg, known for his Method Approach to acting. In 1967, Pacino won an Obie for his performance in The Indian Wants the Bronx, an off-Broadway, one-act play that ran for 204 performances. In 1969, he won the Antoinette Perry (Tony) Award for the Broadway play Does the Tiger Wear a Necktie? The play had only a brief run, but Pacino's work in Tiger got him noticed by film director Dominick Dunne.
Hit It Big with Godfather
In 1969 Pacino debuted on screen in Me, Natalie. But he felt awkward away from the stage and had such a bad experience that he did not return to film for a couple of years. He said to Jimmy Breslin of Esquire, "I was used to working on a tightrope onstage. A movie is just a line painted on the floor." In 1971 he played a junkie in Panic in Needle Park, directed by Dunne.
In the early 1970s, such actors as Robert Redford, Warren Beatty, Jack Nicholson, and Robert De Niro sought the role of Michael Corleone in Francis Ford Coppola's The Godfather. But Coppola wanted Pacino, who had given solid performances in Panic in Needle Park and on Broadway. After a series of disastrous screen tests, no one--from the producers to fellow actors--wanted Pacino in the film, except for Coppola. Coppola stuck to his guns, and Pacino earned his first Academy Award nomination.
Pacino decided not to ride a wave of Hollywood success into lightweight blockbusters. Instead, he took a series of difficult, important film roles that highlighted his genuine acting abilities. 1973's Serpico was a crime drama spotlighting the mental struggles of a New York cop. Pacino was nominated for an Oscar for Serpico and for his portrayal of Michael Corleone in The Godfather II in 1974. In 1975, Pacino was nominated for an Oscar for his role in Dog Day Afternoon, the story of a man trying to get money for his gay love r's sex change operation by holding up a bank and taking hostages. In 1977, Bobby Deerfield foreshadowed a downturn in his career, but Pacino received another Oscar nomination for best actor for the hard-hitting legal drama ...And Justice for All.
A Decade Without a Blockbuster
Pacino's career turned south with the controversial Cruising, a look at the gay netherworld, in 1980, and Author! Author! in 1982. 1983's Scarface met with some criticism, partially for Pacino's Cuban accent and incessant cursing, but it would later become a cult classic.
Revolution--an epic war movie on the Revolutionary War released in 1985--has been called by some critics the worst film of all time. Pacino was in the starring role. Revolution had a cursed shoot full of rewrites, Pacino became sick with pneumonia, and upon release the film was savagely attacked by critics. They were Pacino's first truly awful reviews, and he was criticized again for his accent. He stayed out of Hollywood for the next several years.
Caught the Limelight Again
Pacino's return to Hollywood came in the film Sea of Love in 1989, an erotic-romantic film that cast him as a hard-drinking cop. In 1990, Pacino reprised his role of Michael Corleone in The Godfather: Part III, earning praise for his acting amid mixed reviews for the film. Dick Tracy was also released in 1990, and Pacino got rave reviews for his comedic spoof on a gangster, a type of character he usually played seriously. He was nominated for another Oscar for best supporting actor for Dick Tracy.
Pacino teamed up with Michelle Pfieffer for a romantic role in Frankie and Johnny in 1991. Two years later, Pacino was nominated for Oscars for two roles: a shark-like real estate agent in Glengary Glen Ross and a bitter, blind former army colonel in Scent of a Woman. Pacino was awarded a best actor Oscar for Scent of a Woman. In subsequent years, Pacino turned out many films that were box-office successes. Between 1993 and 2003, Pacino appeared in such hits as Carlito's Way, Heat, City Hall, Donnie Brasco, Devil's Advocate, The Insider, Any Given Sunday, Insomnia, and The Recruit. As of 2002, his average salary was $10 million a picture.
Theatre Always His First Love
Even as Pacino's star was rising in Hollywood, he continued to act in the theater. In 1970 he appeared in Camino Real, and in 1972 he began playing the lead in The Basic Training of Pavlo Hummel in Boston. That story of a Vietnam War recruit began a stint in New York in 1977, with Pacino in the lead, and he won his second Tony.
During his self-imposed exile from film in the 1980s, Pacino immersed himself in theater. According to Breslin, "He stepped back and went to where he always felt at home--three flights up in a drafty place where they can put down enough chairs to call it a theater." He performed in Julius Caesar and gave readings at colleges and small theaters. He directed The Local Stigmatic and filmed it starring himself. It remains unreleased to the public. Stigmatic is a movie adaptation of a Heathcote Williams play that Pacino performed during his early days on the stage in 1968. In the 1990s, Pacino produced, directed, and starred in Looking for Richard, a marriage of theater (William Shakespeare's Richard III) and film documentary that Pacino devoted himself and his money to for over four years. More than one reporter noted that while Pacino remained characteristically tight-lipped about most of his movies and his private life, he would enthusiastically talk about Looking for Richard.
Pacino often turned down potential hit movies to do theater, he took long breaks between films, and he was constantly involved in independent ventures. Breslin points out, "There is no other recorded case like this in the history of American movie stars. Sure, some big movie actor or actress will occasionally find a spare week or two to throw at Shakespeare.... But no movie star has ever created his own work of artistic obsession, let alone two of them. Only this guy." In 2000, he became involved in the Actors Studio in New York's Oedipus Rex. In 2002, Pacino was off-Broadway with The Resistible Rise of Arturo Ui and in Oscar Wilde's Salome: A Reading opposite Marissa Tomei.
On several occasions, Pacino was able to combine theater with television and film. In 2003, he played Roy Cohn in the HBO adaptation of Tony Kushner's play Angels in America. Pacino won both an Emmy and a Golden Globe for his portrayal of the sexually confused right wing lawyer. In 2004, Pacino brought his love of Shakespeare and theater together with film when he played Shylock in the big screen adaptation of William Shakespeare's The Merchant of Venice.
The Personal Pacino
Pacino was an enduring bachelor, one of the few Hollywood men never to marry despite romances with Diane Keaton and other high-profile actresses. Despite his aversion to matrimony, Pacino had a daughter, Julie Marie, by acting teacher Jan Tarrant, and a set of twins-Anton and Olivia-with long-time girlfriend Beverly D'Angelo. Breslin wrote, "Pacino is famous mostly because of his extreme, unique, and undeniable talents as an actor and movie star during the past twenty-five of his fifty-five years. But he is also well-known for being hard to figure.... He is reluctant to talk to reporters, for example." Pacino has never been comfortable with fame.
When he attained fame in his early 30s, he was unequipped to handle it. He started drinking heavily and became reclusive and unstable. But his friends convinced him to join Alcoholics Anonymous, and in two years he quit both drinking and smoking.
Pacino is a living legend. He "can play small as rivetingly as he can play big.... he can implode as well as explode," according to Jeff Giles in Newsweek. Pacino told Bronwen Hruska of Entertainment Weekly, "For me it's always been the character--'the play's the thing'--not my personality. When one overshadows the other, you become more a celebrity than an actor. I hope the perception is that I'm an act."
AWARDS
Obie Award, best actor, 1968, for The Indian Wants the Bronx; Antoinette Perry Award, best supporting actor, Theatre World Award, and Drama Desk Award, 1969, for Does a Tiger Wear a Necktie?; National Board of Review Award, best supporting actor, 1972, and National Society of Film Critics Award, best actor, 1973, for The Godfather; National Board of Review Award, best actor, 1973, and Golden Globe Award, best actor in a dramatic film, 1974, for Serpico; Hollywood Foreign Press Association, best motion picture actor-drama, and British Academy of Film and Television Arts Award, best actor , 1975, for The Godfather, Part II; Los Angeles Film Critics Association Award, best actor, 1975, and British Academy of Film and Television Arts Award, best actor, 1976, for Dog Day Afternoon; Antoinette Perry Award, best actor, 1977, for The Basic Training of Pavlo Hummel; American Comedy Award, funniest supporting male in a motion picture, 1991, for Dick Tracy; Academy Award, best actor, and Golden Globe Award, best performance by an actor in a motion picture-drama, 1993, for Scent of a Woman; Gotham Awards Lifetime Achievement Award, 1996; Boston Society of Film Critics Award, best actor, 1997, for Donnie Brasco; Director's Guild of America Award, outstanding directorial achievement in documentary, 1997, for Looking for Richard; Hollywood Walk of Fame, 1997; MTV Movie Award, best villain, 1998, for The Devil's Advocate; Cecil B. DeMille Award, Golden Globes Awards, 2001, for lifetime achievement; Emmy Award, outstanding lead actor in a movie or miniseries, Golden Globe Award, outstanding lead actor in a miniseries, 2004, both for Angels in America.
Works
*
Films as Actor
* 1969: Me, Natalie (Coe) (as Tony)
* 1971: Panic in Needle Park (Schatzberg) (as Bobby)
* 1972: The Godfather (Coppola) (as Michael Corleone)
* 1973: Scarecrow (Schatzberg) (as Lion)
* 1973: Serpico (Lumet) (as Frank Serpico)
* 1974: The Godfather, Part II (Coppola) (as Michael Corleone)
* 1975: Dog Day Afternoon (Lumet) (as Sonny)
* 1977: Bobby Deerfield (Pollack) (as Bobby Deerfield)
* 1979: ... And Justice for All (Jewison) (as Arthur Kirkland)
* 1980: Cruising (Friedkin) (as Steve Burns)
* 1982: Author! Author!; (Hiller) (as Travalian)
* 1983: Scarface (De Palma) (as Tony Montana)
* 1985: Revolution (Hudson) (as Tom Dobb)
* 1989: Sea of Love (Becker) (as Frank Keller)
* 1990: Dick Tracy (Beatty) (as Big Boy Caprice)
* 1990: The Godfather, Part III (Coppola) (as Michael Corleone)
* 1991: Frankie and Johnny (Garry Marshall) (as Johnny)
* 1992: Scent of a Woman (Brest) (as Lt. Col. Frank Slade)
* 1992: Glengarry Glen Ross (Foley) (as Ricky Roma)
* 1993: Carlito's Way (De Palma) (as Carlito Brigante)
* 1993: Jonas in the Desert (as Himself)
* 1995: Two Bits (A Day to Remember) (James Foley) (as Gitano Sabatoni)
* 1995: Heat (Michael Mann) (as Vincent Hanna)
* 1996: City Hall (Becker) (as Mayor John Pappas)
* 1996: Donnie Brasco (Newell) (as Lefty Ruggiero)
* 1997: The Devil's Advocate (Hackford) (as John Milton)
* 1999: The Insider (Mann) (as Lowell Bergman)
* 1999: Any Given Sunday (Stone) (as Tony D'Amato)
* 2002: Simone (Niccol) (as Viktor Taransky).
* 2002: Insomnia (Nolan).
* 2003: Angels in America (Nichols--for TV) (as Roy Cohn).
* 2004: The Merchant of Venice (Radford) (as Shylock).
*2005: Two for the Money
*2007: Ocean's Thirteen
*2008: 88 Minutes
*2008: Righteous Kill
*2009: I Knew It Was You: Rediscovering John Cazale
*2010: You Don't Know Jack
*2010: Wilde Salome
*2010:King Lear
*2011: Mary Mother of Christ
*2011: Son of No One
Film as Director
* 1996: Looking for Richard (+ ro as Richard III, pr, co-sc)
* 1999: Chinese Coffee (+ ro as Harry)
Read more
Latest headlines