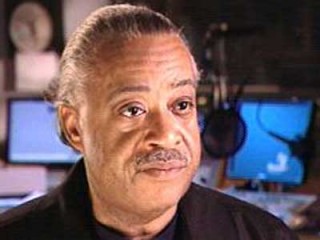 Al Sharpton biography
Date of birth : 1954-11-03
Date of death : -
Birthplace : Brooklyn, New York, U.S.
Nationality : American
Category : Politics
Last modified : 2010-07-09
Credited as : political activist and minister, ,
Al Sharpton
(also known as:
Alfred Charles Sharpton, Jr., Sharpton, Alfred Jr., Alfred Sharpton, Alfred Charles Sharpton, Alfred Sharpton, Jr.
), born October 3, 1954 in Brooklyn, New York, United States is an African-American political activist, minister and senator.
New York City minister and civil-rights activist Al Sharpton has been heralded and vilified both. An outspoken crusader against institutionalized racism, Sharpton's unconciliatory opposition to police brutality, the injustices of the justice system, and urban poverty pick up the civil-rights torch at a theoretical juncture point to which less dynamic activists-- concerned with "easier" issues such as affirmative-action programs and media images--do not care to venture. Mainstream African American publications tend to ignore Sharpton, while other news sources have usually painted him an instigator, provocateur, or publicity hound. A 1988 New York Times profile on him used the headline "Champion or Opportunist?" to present both opinion camps on Sharpton.
Nearly ten years later, the same paper of record noted, "For the Ultimate Outsider, the Moment Is Now," in an article focusing on Sharpton's rise inside New York City politics in the years since. His blunt statements in the media and public rallies staged in some of New York's toughest neighborhoods had resonated with many disenfranchised citizens. In 1992 the minister took a surprising 166,000 votes in a Senate primary race, and state and local establishment politicians began courting his favor.
Sharpton was born Alfred Charles Sharpton Jr. in 1954, named after his father, a contractor and landlord. His mother, Ada Sharpton, was a seamstress who later became a domestic worker when the family disintegrated in 1963. That year, it was learned through the unplanned pregnancy of Ada Sharpton's teenage daughter from an earlier marriage that she had been abused by the senior Sharpton. With another sister, the fourth-grade boy moved with his mother out of their large home in the Hollis section of Queens and into a much rougher area in Brooklyn known as Crown Heights. Later they moved to a housing project in the Brownsville area of the borough. His father disappeared from his life.
Teen Celebrity
Despite the setback, Sharpton was already well on his way to a career in the ministry, a child prodigy who began preaching at the age of four to his sister's doll collection. At the age of ten he was ordained a Pentecostal minister at the Washington Temple Church of God in Christ in Bedford-Stuyvestant, New York. He toured with gospel singer Mahalia Jackson and was known on the New York church circuit as "Wonderboy." At the age of twelve, Sharpton sought out the famed pastor and U.S. Congressman from New York, Adam Clayton Powell Jr., after reading one of his books. Sharpton cites the legendary Powell--who headed the Abyssinian Baptist Church in Harlem and served in the House of Representatives from 1945 to 1970--as a tremendous influence upon him. Powell was flamboyant and outspoken, and for it doggedly persecuted by various government agencies throughout his political career. It took a U.S. Supreme Court ruling to exonerate Powell's name after he was expelled from Congress.
Before his death in 1972, Powell served as a mentor to the teen Sharpton; the two even appeared on national television on The David Frost Show in tandem. Sharpton had also come to know another influential African American activist, the Chicago minister Jesse Jackson. In 1969, Jackson appointed Sharpton as the New York youth director for his Operation Breadbasket, a group that organized boycotts of supermarkets and other retailers that conducted business unfairly in predominantly African American neighborhoods. With an eye toward furthering his career in politics, Sharpton became an intern in the New York City Human Resources Administration while still in high school.
Sharpton and the Godfather of Soul
In 1971 Sharpton founded the National Youth Movement (NYM), his own political organization aimed at combating police brutality and fighting drug abuse. These efforts brought him into contact with soul singer James Brown, already a legendary figure in American music. It also linked Sharpton with a friend of Brown's, boxing promoter Don King, who helped arrange athletes to speak at NYM rallies. With Brown, Sharpton formed Hit Bound, a concert promotion company, around 1973. These connections to Brown and King--both of whom have often found themselves on the wrong side of the law--drew Sharpton into Federal Bureau of Investigation (FBI) attempts to discredit King. The FBI was determined to prove that the boxing promoter was profiting from links to organized crime, and in the end Sharpton allegedly provided information that helped prosecute New York's Genovese crime family.
Throughout the 1970s and early `80s, Sharpton continued to preach, though he never pastored his own church, and the NYM worked to combat illegal drugs in the New York City. He also tried to run for a seat in the New York state legislature in 1978, but a judge ruled that he did not meet residency requirements for the Brooklyn district. As racial tensions increased in the city during the Eighties, Sharpton became an unofficial spokesperson after no one else seemed interested in taking the job. The much-publicized 1985 shooting of a group of African American teens in a New York subway car by a white man named Bernhard Goetz polarized the city. A year later, Michael Griffith, a black teen, was chased by crowd of whites after his car broke down in a still-segregated section of Brooklyn called Howard Beach. Sharpton was first African American of prominence to speak out against the murder, though the city's mayor, Ed Koch, had already condemned it as an unconscionable lynching. Sharpton led a march through Howard Beach, and even led sit-down strikes on transit train tracks over the next year to protest the justice system's handling of the case.
The Tawana Brawley Case
But Sharpton rose to national media attention in late 1987 when an African American teen from Wappingers Falls, about 80 miles north of New York City, was discovered inside a garbage bag with racial epithets on her, smeared with dog feces. Tawana Brawley claimed to have been kidnapped and raped by a group of white men, one of whom had showed her a police badge. Understandably, she was extremely reluctant to undergo questioning by detectives. Sharpton and two lawyers, Alton H. Maddox and C. Vernon Mason, stepped in and handled the media inquiries in what became a sensational case that dominated the news for several months. The Brawley side even accused the assistant county prosecutor, Steven Pagones, of being one of the assailants. Within a year, a grand jury had investigated the case and ruled that Brawley had fabricated the story to explain her four-day disappearance from home.
Mention of the Brawley case still inspires strong opinions among both blacks and whites in America, with each side accusing the other of some level of conspiratorial conduct. In an attempt to portray Sharpton in a negative light during the most heated weeks of the investigation, a New York daily revealed that Sharpton had once served as an FBI informant, supposedly against other African American activists. A profile on Sharpton and the two lawyers for a prominent and respectable national magazine was titled "Three Buckets of Jive." State and federal tax authorities began looking into Sharpton's past income tax returns and NYM's financial records, and he was indicted on 67 counts of fraud. In July of 1990 a court acquitted Sharpton on the fraud and larceny charges. Maddox and Mason were eventually disbarred, and Pagones filed a defamation of character suit against all three.
Few Took Him Seriously
During this period and in the years following, Sharpton was usually portrayed in the media as a clownish figure, in part because of his portly girth and the fact that he favored jogging suits for public appearances; he also wore his hair in the same style as his friend James Brown. In the papers it was usually stressed that Sharpton's "following"--including the official roster of the National Youth Movement--was a very small one; a typical Sharpton protest would be followed by wildly varying estimates of how many were actually in attendance. Some of these demonstrations served to publicize serious incidents of what many in the African American community viewed as institutionalized racism in the New York City justice system: the handling of the defendants in the 1989 rape of a female jogger in Central Park; the death of Yusuf Hawkins, an African American teen killed in a predominantly Italian-American neighborhood in Brooklyn; racial tensions in Crown Heights between its African American and Hasidic Jewish community. Whether defending a victim or an alleged perpetrator, Sharpton always stepped forward to speak with the media on behalf of the families and issue a call--and a warning--for fairness. "No Justice, No Peace!" became the frequent chant at Sharpton rallies.
In January of 1991, however, the hatred some New Yorkers felt toward what Sharpton symbolized as an unofficial spokesperson for impoverished, often uneducated African Americans became dangerously apparent when he was stabbed by a Brooklyn man at a rally in a white neighborhood. Sharpton, who pulled the steak knife out his own chest before collapsing, would later cite it as a turning point in his life. From his hospital bed he spoke with his long-estranged father--with whom he was initially reluctant to speak to when the elder Sharpton's call came through--but also with Jesse Jackson. The two, who had not spoken in several years, renewed ties with one another. Even New York City's first African American mayor, David Dinkins--who had usually kept his distance from Sharpton and his more incendiary words--publicly pledged his sympathy and support. At the trial of his assailant, Sharpton made a plea for leniency to the judge, but Michael Riccardi received a five-to-fifteen-year prison sentence.
Senator Sharpton?
Sharpton had also became a popular public speaker, and was often invited to cities or towns where a racial incident had recently occurred; because of this, some began calling him "Reverend 911." Even the more negative-spirited media portrayals of Sharpton characterized him as a mesmerizing, dynamic orator in the tradition of Malcolm X. In 1992, he decided to run against Geraldine Ferraro and two other candidates for a U.S. Senate seat. He came in third place in the primary, winning over 166,000 votes. His surprising success, noted New York Times Magazine writer Catherine S. Manegold, "showed New York power brokers that Sharpton had something that many more traditional politicians lack: an uncanny ability to reach the poor and chronically dispirited, voters who otherwise would turn away from politics."
The 1993 election of former U. S. Attorney General for New York City, Rudolph Giuliani, to succeed Dinkins set in motion several new alliances across the city's African American political community. This change in administration, and the resulting "law-and-order" attitude, served to push other African Americans in the city toward Sharpton and his views. He remained active in civil rights issues: in early 1995 he led a march against poverty in New York City, and later that year organized a prayer vigil outside the home of U.S. Supreme Court Justice Clarence Thomas for the judge's stance against affirmative action.
The Mayor's Race
Sharpton wrote his autobiography, Go and Tell Pharaoh, in 1996, and early the next year announced his candidacy for mayor. In the September primary, 131,000 New Yorkers cast ballots for Sharpton, giving him 32 percent of the vote. A forty percent majority was needed to run against Giuliani, and initial newspaper reports noted that a run-off election would now have to be scheduled for later in the month. But then the ballots were recounted, and it was determined that City Council member Ruth W. Messinger had indeed won the necessary majority to become the Democratic candidate, and the runoff election was canceled. Sharpton charged vote fraud, the state's election commission found none, and a State Supreme Court judge rejected Sharpton's request for a run-off election.
Sharpton then turned his energies to campaigning for Messinger, but Giuliani won re-election later that year. Now a committed insider within state and city Democratic politics, Sharpton was likely to make another bid for a seat in Congress. He lives in the Flatbush section of Brooklyn with his wife, Kathy Jordan Sharpton, who was once a backup singer for James Brown. Married since the mid-1980s, they have two daughters. In the 1993 New York Times Magazine interview, Manegold had asked Sharpton where he saw himself at the age of 70. "Writing my memoirs," Sharpton assumed. "I've been in the United States Senate for 20 years. And I am explaining to young people the days when we had to march to even get a prosecutor on a race case, something that is now automatic. I'm explaining to them that there was a day when I was very controversial and people had real emotional opinions of me. And I am wondering how I ever made it to 70."
PERSONAL INFORMATION
Born Alfred Charles Sharpton Jr., 1954, in New York, NY; son of Alfred Sr. (a contractor and landlord) and Ada Sharpton (a seamstress and domestic worker); married Kathy Jordan, c. 1985; children: Dominique, Ashley.
AWARDS
National Dr. Martin Luther King Jr./Adam Clayton Powell Memorial Award, 1993, for civil rights activities.
CAREER
Began preaching at the age of four; ordained minister at age 10; appointed by Jesse Jackson as New York youth director for Operation Breadbasket, 1969; New York City Human Resources Administration, intern, 1971; founder, National Youth Movement, 1971; co-owner (with James Brown) of Hill Bound, a concert promotion company, early 1970s; ran unsuccessfully for U.S. Senate seat from New York, 1992, and for New York City mayor, 1997.
Read more
Latest headlines