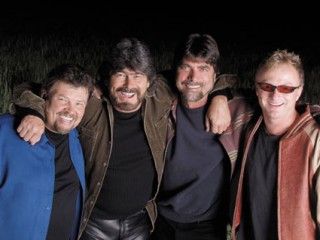 Alabama biography
Date of birth : -
Date of death : -
Birthplace : Fort Payne, Alabama, U.S.
Nationality : American
Category : Arts and Entertainment
Last modified : 2012-04-04
Credited as : Country music band, Farewell Tour , inducted into the Country Music Hall of Fame
Alabama is a country music and southern rock band, founded in 1969 by Randy Owen (lead vocals, Rhythm Guitar) and his cousin Teddy Gentry (bass guitar, background vocals), soon joined by Jeff Cook (Lead Guitar, fiddle, keyboards).
Since it exploded onto the scene in the early 1980s, Alabama has been one of the most popular, bestselling, and most vilified groups in country music--all despite scorn by critics. Michael Bane of the Encyclopedia of Country Music wrote, "it was the country music equivalent of fingernails on a chalk board." On the other hand, said Bane, "when the music worked--'Tennessee River' or 'She and I'--it transcended its genre." Part of the negative criticism was probably a normal critic's reaction to a large, loyal and fanatical audience. Between 1980 and 1997 the band has sold more than 57 million records worldwide, including ten platinum, three double platinum, three quadruple platinum albums and one quintuple platinum album. They had 41 number one singles, before sales began to slump in the nineties. In other words, instead of multi-platinum sellers they are producing mere million seller albums.
"The first country music supergroup," as Michael Bane called Alabama, got its start when cousins Randy Owen and Teddy Gentry began singing together in the Lookout Mountain Holiness Church up in the hills near the Georgia state line. When they reached their teens they hooked up with another cousin, Jeff Cook, and started playing together around Fort Payne, Alabama. Their band, Young Country, played whatever gigs it could find: local dances, bars, and picnics. Their first paying job was at the American Legion hall where they earned the princely sum of $5.37 each. An amusement park in the area hired them not long afterwards and they played there three years running, backing up the various artists passing through town, including some from the Grand Opry. Thanks to a local talent show they won, the three cousins were able to visit the Opry themselves.
While playing music on nights and weekends, the band members held down a variety of day jobs, including hanging drywall, picking cotton, fixing typewriters, and deejaying. In 1973, despite the skepticism of family and friends, they decided to quit their day jobs and devote themselves full-time to music. As if to make the attitude official they renamed themselves Wildcountry and headed off for the wild life in Myrtle Beach, South Carolina.
"When we first got to Myrtle Beach it was an absolute shock," Randy Owen told the Washington Post. "People stayed up all night, dancing and playing music, and where we came from nothing like that was going on. People were on vacation and they were acting wild." They played at various clubs before finally settling in at the Bowery, a sweaty joint so small there wasn't even room for dancing. The club was the center of the craziness in Myrtle Beach, and it was where Alabama cut its teeth musically. They did have one advantage, however: they were the only country band in town. But the money they earned came from tips exclusively, so pleasing the crowds was their first priority. The audience could be completely different from one night to the next, demanding anything from rock to R&B to soul music. Wildcountry had to be prepared to play all of it. But, as Owen told the Post, they "drew the line at disco."
The Bowery was the band's musical higher education; they learned all the different styles, honing their trademark vocal harmonies to a sharp edge. According to Owen, it taught him that a lead singer couldn't simply stand around and sing, he had to move around on stage. And it helped build their stamina, playing the bar seven years, every night between March and mid-September, five hours at a stretch. "We'd play 'til we got blisters. Then we'd play 'til the blisters popped," recalled Teddy Gentry in the Comprehensive Country Music Encyclopedia, "but it sure beat working the swing shift at the sock factory."
By 1977, they were the most popular thing in Myrtle Beach. Fans were traveling to the Bowery from New England and the Midwest in order to hear the band play. That same year they changed their name once and for all to Alabama, and added drummer Mark Herndon two years later. Their first record, which they financed themselves, was released in the late seventies and reached a respectable #77 on the charts. They paid to have some albums pressed as well and would sell them directly to their fans from the stage. Unfortunately, they had been unable to interest any of the larger Nashville record companies in signing them. It wasn't until their third single, "My Home's in Alabama," shot up to the Top 5 and they were asked to perform at the New Faces show at Nashville's annual Country Radio Seminar that their luck changed.
They must have wondered at first if it was really changing. "Me and Jeff and Teddy had to stand up on stage without our instruments and sing," Owen told Billboard's Chet Flippo, "and Mark wasn't on stage at all. I wrote the song but I wasn't allowed to play on it." The reason was that the country music establishment at the time still had a heavy prejudice against "bands." Groups that sang, like the Oak Ridge Boys or the Statler Brothers, were perfectly acceptable; but bands that sang and played their own instruments were associated with rock 'n' roll, and rock was strictly taboo. Despite the handicap, Alabama electrified the DJs with their renditions of "My Home's In Alabama" and "Tennessee River." RCA responded by signing the band and released the latter tune as their first single. It was an immediate hit and before long it was at the very top of the country charts. RCA's commitment to aggressively promoting Alabama's first album paid off as well. Owen later described RCA's modest expectations to Chet Flippo: "At the beginning, RCA said that if we sold 60,000 albums, they would consider signing us a good deal." The album took off almost immediately and ended up selling over two million copies.
The first Alabama albums, influenced by their work at the Bowery, had a style that Michael Bane, in the Comprehensive Country Music Encyclopedia called typical of the pre-Garth Brooks era in country music: "the hardshell Southern bar music filtered through a distinct 1960s pop group sensibility--sort of The Allman Brothers meet The Beatles." By the mid-eighties, with the release of albums like Roll On (1984) and 40 Hour Week (1985), the band had moved toward a more traditional, blue collar country sound. It did not hurt their popularity though--those two albums sold a combined five million plus units and produced eight number one singles. Their career peaked in 1986 when Alabama's Greatest Hits reached the stores. It was their last multi-platinum album.
However one feels about their music, their is no denying that Alabama changed the course of country music. The elements they introduced from other popular music, especially rock, ended the dominance of the traditional Nashville sound. The synthesis they created with rock was a bridge that enabled country to reach a new generation of fans too, new fans country desperately needed at the time. Suddenly country became acceptable across the nation. And the new fans were attracted by precisely those qualities that Nashville considered flaws. Naturally, once the millions started rolling in, they weren't flaws any longer. The fact that they were the biggest money machine country music had ever seen was, according to the Country Music Foundation's Country: The Music and the Musicians, "Alabama's greatest contribution to country music: Its popularity, especially during the industry's lean years, 1982 to 1986. Alabama's profitability helped RCA take chances on newer performers and to keep deserving but commercially shaky acts, like Gail Davies, on the roster."
Those new fans eventually became more knowledgeable and discriminating about country music, however. As they made a more purist breed of artist popular, typified by Garth Brooks and Dwight Yoakum, in the late eighties, Alabama's fortunes declined, although they did manage to maintain a large and loyal fan base. The band reciprocates that loyalty, taking time after each show to meet fans personally and sign autographs. Their merchandise is very popular, and Alabama was one of the very first country groups to aggressively pursue this avenue of money-making; their well- organized fans are a natural market. The official Alabama fan club has a quarter of a million members, and charges no dues. But members receive, together with regular newsletters, catalogs of Alabama T-shirts, hats, mugs, posters, belts, and more.
By the 1990s the band had become an institution: they had won two Grammys and been voted the "Artist of the Decade" by the Academy of Country Music. Their career began to run on automatic. RCA began feeding them songs, as the band's own songwriting was discouraged. When In Pictures was released in 1995 only one cut was an Alabama composition. But around that time they gave up their plane and started touring by bus again, to have time to unwind between shows. The extra off-time on the road gave them more time together and before long the songs were flowing like never before.
When RCA executives visited Fort Payne to talk about a new Alabama album in 1996, they had briefcases full of music like always, but Owen and the band insisted on playing some of their own songs instead. Dancing on the Boulevard, released in 1997, contained seven songs written by Alabama. The album was one of their freshest in years, a mix of styles that looked back to their years playing for tips in Myrtle Beach. With this release, Alabama felt fully in charge of their own career again.
Alabama sold its three publishing companies (Alabama Music/Maypop/Mountain Flower Music) to Sony-ATV for a reported $18 million in 1999, giving Sony an estimated 3,500 copyrights. Alabama then signed a five year writing contract with Sony/ATV Tree.
Alabama was inducted into the Country Music Hall of Fame in 2005.
Alabama returned to the studio in 2010 to record "Are You Sure Hank Done It That Way" as part of a Waylon Jennings tribute album. 'The Music Inside—A Collaboration Dedicated To Waylon Jennings Vol. I,' which hit shelves in February 2011.
The band reunited in 2011, playing with Brad Paisley on his single, "Old Alabama" and playing the Bama Rising benefit. Alabama played the song live with Brad Paisley at the ACM Awards in Vegas. Images of drummer Mark Herndon were cropped out of band photos that were displayed on the large TV screens during the performance.
Alabama continues to have fan supported weekends for fans and fan club members wishing to travel to Ft. Payne, Alabama each June to see and sometimes meet their heroes. In June 2011, each member of Alabama played their own concert.
Jeff Cook told the press in 2011 that the Farewell Tour didn't end right. The band ended its farewell tour in North Dakota. Cook hinted at a possible reunion and new album in 2012, wanting the band to play its final show in Alabama.
Read more
Alabama Picture Gallery
Latest headlines