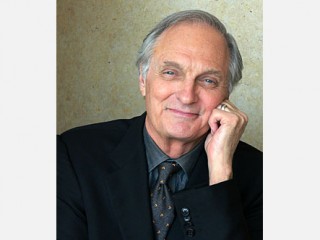 Alan Alda biography
Date of birth : 1936-01-28
Date of death : -
Birthplace : New York City, New York, U.S.
Nationality : American
Category : Arts and Entertainment
Last modified : 2010-09-06
Credited as : Actor and writer, role of Captain Benjamin Franklin in the tv series M*A*S*H, and later Route 66, Trials of O'Brien
"Sidelights"
Alan Alda
born
Alphonso Joseph D'Abruzzo
on January 28, 1936 in New York, New York is an American actor.
Since 1972,
Alan Alda
has charmed millions of Americans as the inimitable
Captain Benjamin Franklin "Hawkeye" Pierce
, wise-cracking chief surgeon on the popular television series
M*A*S*H.
Alda began his acting career at an early age; his first appearance on stage came while he was still in diapers, cradled in the arms of his father, actor Robert Alda. His first professional appearance, however, came in 1951 playing Costello to his father's Abbott at the Hollywood Canteen. The young actor subsequently gained experience in summer stock and local productions before making his Broadway debut in 1959 as the Telephone Man in Only in America. Consistently praised for his comic flair and enthusiastic and earnest performances, he continued on Broadway and landed substantial roles in such productions as L'il Abner, Anatol, Purlie Victorious, and Fair Game for Lovers.
In addition to his theatrical roles, Alda appeared in numerous television series during the 1960s, including
Route 66, The Nurses, Trials of O'Brien
, and the popular
That Was the Week That Was.
The actor distinguished himself in these early appearances and was approached by the Columbia Broadcasting System, Inc. (CBS-TV) to star in two proposed pilot series, Where's Everett? and Higher and Higher. Although both floundered, CBS was impressed with the talented young actor and remembered him when the pilot for M*A*S*H came out in the early 1970s.
During the late 1960s Alda appeared in several films. In his first, Gone Are the Days, an adaptation of the stage play Purlie Victorious, he recreated the role of Charlie Cotchipee, which he had played in the Broadway production. This was followed in 1968 by his portrayal of George Plimpton, the journalist-turned-football player, in Paper Lion. In 1970 he starred in Jennie, a light-hearted comedy about a young couple who arrange a "marriage of convenience" and subsequently fall in love.
Alda's dedication to his profession was especially highlighted in the 1972 demonic thriller, The Mephisto Waltz. In the film Alda's character, a failed concert pianist, was called upon to perform a five-minute selection from the Franz Liszt composition that gave the film its title. Instead of using a dubbed-in recording of the piece played by an actual concert pianist, Alda decided to perform the music himself. For nearly two months he practiced the piano several hours each day to achieve the desired authenticity.
Alda's next motion picture, To Kill a Clown, tells the story of a deranged army veteran who manages a group of seaside cottages. When a young couple comes to his resort for a quiet vacation, Alda, as the manager, subjects the husband to such hard physical labor as hauling rocks back and forth for no reason other than military discipline. He later imprisons the couple in their own cottage, guarded by two vicious attack dogs who will kill them should they attempt to escape. Although considered an undistinguished film, Alda's portrayal of the twisted resort manager was hailed by critics as intense and moving.
Alda read the pilot script for the proposed television series M*A*S*H in the early 1970s. Many writers have attempted to isolate the reason behind the tremendous popularity of M*A*S*H. George Vecsey of the Reader's Digest, for instance, held that "what makes these characters so appealing--and the show so popular--is that, unlike most TV characters, the ones on 'M*A*S*H' are quite capable of being cruel to one another, of taking advantage, even of making mistakes with their patients." "They are so bitingly human," he asserted, "that they stand above almost everything else on the tube."
In addition to his leading role in the series, Alda wrote numerous scripts for M*A*S*H and became one of the show's creative consultants. In this he realized a longstanding dream. In 1979 Alda's first screenplay, which he both wrote and starred in, was released by Universal Pictures. The Seduction of Joe Tynan concerns a U.S. senator who must make difficult choices between his career and family; he wants to be a successful politician, yet he also seeks a fulfilling family life. "It's a comedy about an ambitious man's drive for success and the demands on him to be a family man," Alda explained to a Horizon interviewer. "But it's not all funny. There is this conflict in our culture. Family, love, faithfulness, and devotion are supposed to come first. Human values. Then there is the other dictate of our culture that success comes first."
Although several critics complained that the plot of the film was timeworn, others contended that Alda handled the various situations and characters in new and innovative ways. Gene Siskel of the Chicago Tribune, for example, mentioned a particular scene in which Tynan pays a rather off-beat compliment to a beautiful woman lawyer when he likens her to John F. Kennedy: "At first it's a very funny line--a guy comparing a woman to another man. But then Alda explains what he means. He talks about the Kennedy-like fire in her eyes, the similar passion he has seen in both of them. Now it's more than a cute pickup scene; it's a tender moment that in a quiet way strikes a blow for the equality of the sexes. Why not compare a woman to a man? Why should that seem silly?" "It's fine dialog," Siskel concluded, "and Alda wrote it."
One common criticism of The Seduction of Joe Tynan is that the characters seem too nice to be believed. A New York writer deemed the film "overly earnest and inhibited by good intentions" and contended that "all the major characters are so well-meaning. ... In other words, the movie is paralyzed by too much respect for characters--a highly unusual defect, I admit." A writer for the National Review was stronger in his criticism: "Very little of the movie has been thought through and worked out with mature understanding let alone penetrating insight." Frank Rich of Time, however, asserted that "Alda has an instinct for intelligent comic dialogue, a willingness to engage hard issues and a sure touch for creating characters of all ages and genders."
Alda's dedication to the women's rights movement and his staunch support of the Equal Rights Amendment (ERA) is widely known. An active participant in the struggle for equality between the sexes, he became a member of the Commission on the Observance of International Women's Year in 1975 and in 1976 served as cochair of the presidential subcommittee on the ERA. Alda made it very clear that he is sincere in his commitment to the movement. He went on to relate that he is indebted both to his mother for recognizing early signs of polio in him when he was seven years old, and also to Sister Elizabeth Kenny, the Australian nurse who first developed an effective treatment for the disease.
Alda's post-M*A*S*H career has seen a variety of twists and turns, ranging from critically recognized performances (including an Academy Award nomination for his work on The Aviator and another Emmy for his recurring role as Senator Arnold Vinick on The West Wing) to largely-ignored flops (such as Whispers in the Dark). In 2005, he published his first volume of autobiography, Never Have Your Dog Stuffed: And Other Things I've Learned. Alda had an unusual childhood: his father was a well-known actor who toured in vaudeville, while his mother suffered from schizophrenia--an ailment that remained undiagnosed during the author's childhood--and Alda himself suffered a bout with polio. Despite these hardships, Kathleen Hughes declared in Booklist, "this collection of biographical sketches is written in a good-natured and compassionate way." "Alda's account of how he found happiness with his wife and of his progress as an actor, writer and director is both affecting and amusing," said Hugh Massingberg, writing for the Spectator. "Although he delivers plenty of jolly anecdotes about hiccups on stage and film sets, theatrical tips ('real listening is a willingness to let the other person change you') and so forth, this is an infinitely more profound and stimulating study than the standard luvvie's autobiography." "The sections on his apprenticeship--which included dabbling in systematic racetrack betting as well as Broadway and films--show him aspiring to become a serious actor," Wendy Smith declared in Variety, "while retaining his admiration for burlesque performers' more instinctive style." "Readers will gain an understanding of what has motivated Mr. Alda through his use of humor, charm, and the macabre," reported Best Reviews contributor Harriet Klausner.
In Things I Overheard while Talking to Myself, "Alda leads us on a tour of his own life's lessons," explained Margaret Andrews, writing for the Web site Curled up with a Good Book. "It's similar to sitting on the living room floor in front of the fireplace while Grandpa delivers cautionary tales. That is, if Grandpa were a famous actor. With Hollywood and Broadway as a backdrop, Grandpa's stories about his life add another dimension of celebrity to those tales." Based on commencement speeches and other public addresses Alda has given over the years, the volume seeks to communicate life lessons to a new generation. "Alda," declared a Kirkus Reviews contributor, "is at his best when describing the transcendent joy of acting," expressed in events like the massive outpouring of support for the people of New York following the terrorist bombings of September 11, 2001. "He phrases it differently for each audience," stated a Publishers Weekly reviewer, "but the message is consistent: It's not what you do in life, but how you do it." "As a lifelong M*A*S*H freak, I've often suspected that Alan Alda, through his Hawkeye Pierce character, has been inside my head to give me guidance throughout my life," Dave Lifton concluded in his Blog Critics review. "Now, with Things I Overheard while Talking to Myself, that becomes one step closer to reality."
PERSONAL INFORMATION
Birth-given name, Alphonso Joseph D'Abruzzo; name legally changed; born January 28, 1936, in New York, NY; son of Alphonso Giovanni Giuseppe Roberto (an actor under stage name Robert Alda) and Joan D'Abruzzo; married Arlene Weiss (a teacher, photographer, and musician), March 15, 1957; children: Eve, Elizabeth, Beatrice. Education: Fordham University, B.S., 1956; attended Paul Still's Improvisational Workshop, 1963. Military/Wartime Service: U.S. Army Reserve; served as gunnery officer; became second lieutenant. Memberships: American Federation of Television and Radio Artists, Actors Equity Association, Screen Actors Guild, Men of ERA.
AWARDS
Ford Foundation grant; award from Theatre World, 1964, for performance in Fair Game for Lovers; Antoinette Perry ("Tony") Award nomination, 1967, for performance in The Apple Tree; Emmy Awards for best actor from National Academy of Television Arts and Sciences, 1973 and 1974, both for performance in M*A*S*H; Golden Apple Awards, 1974 and 1979; Golden Globe Awards, 1975, 1976, 1980, 1981, 1982, 1983; People's Choice Awards, 1975, 1979, 1980, 1981, 1982; Emmy Award for outstanding directing in a comedy series, 1977, for M*A*S*H; Directors Guild of America Awards, 1977, 1982, 1983, all for work on M*A*S*H; Emmy Award for outstanding writing in a comedy or comedy-variety or music series, 1979, for M*A*S*H; Golden Apple Award from Cue magazine, 1980; Marquee Award, American Movie Awards, 1980, for The Seduction of Joe Tynan, and 1982, for favorite male star; Bodil Award, 1982, for The Four Seasons; Emmy Award for outstanding lead actor in a comedy series, 1982, for M*A*S*H; NBR Award for best supporting actor, National Board of Review, 1989, for Crimes and Misdemeanors; New York Film Critics Circle Award, 1989, for Crimes and Misdemeanors; TV Land Award, 2003, for M*A*S*H; Academy Award nomination for Best Actor in a Supporting Role, 2005, for work on The Aviator; Tony Award nomination for best performance by a featured actor, 2005, Glengarry Glen Ross; Emmy Award for best supporting actor in a drama series, National Academy of Television Arts and Sciences, 2006, for performance on The West Wing; National Science Board Public Service Award, 2006; Grammy Award nomination, 2008, for audio book recording of Things I Overheard while Talking to Myself.
CAREER
Actor, writer, and director. Worked as teacher at Compass School of Improvisation, New York, NY, c. 1963; member of Commission on the Observance of International Women's Year, 1975; cochairman of presidential subcommittee on the Equal Rights Amendment (ERA), 1976. Actor in stage productions, including Charley's Aunt, 1953, Room Service, 1955, The Hot Corner, 1956, Nature's Way, 1958, The Book of Job, 1958-59, Who Was That Lady I Saw You With?, 1958-59, Monique, 1958-59, To Dorothy, a Son, 1958-59, Only in America, 1959, L'il Abner, 1960, Darwin's Theories, 1960, The Woman with Red Hair, 1961, Golden Fleecing, 1961, Anatol, 1961, Purlie Victorious, 1961, A Whisper in God's Ear, 1962, Memo, 1963, King of Hearts, 1963, Fair Game for Lovers, 1963, Cafe Crown, 1964, The Owl and the Pussycat, 1966, The Apple Tree, 1966, There's a Girl in My Soup, 1968, Our Town, 1991, Jake's Women, 1992-93, Art, 1998, QED, 2001- 02, The Play What I Wrote, 2003, and Glengarry Glen Ross, 2005; in motion pictures, including Gone Are the Days, Hammer, 1963, Paper Lion, United Artists, 1968, The Extraordinary Seaman, MGM, 1968, Jennie, Cinerama, 1970, The Moonshine War, MGM, 1970, The Mephisto Waltz, Twentieth Century-Fox, 1971, To Kill a Clown, Twentieth Century-Fox, 1972, California Suite, Columbia, 1978, Same Time, Next Year, Universal, 1978, The Seduction of Joe Tynan, Universal, 1979, The Four Seasons, Universal, 1981, Sweet Liberty, Universal, 1986, A New Life, Paramount, 1988, Crimes and Misdemeanors, Orion, 1989, Betsy's Wedding, Touchstone/Buena Vista, 1990, Whispers in the Dark, Paramount, 1992, Manhattan Murder Mystery (also known as The Dancing Shiva Couple Next Door), TriStar, 1993, Canadian Bacon, Gramercy Pictures, 1995, Everyone Says I Love You (also known as Woody Allen Fall Project), Miramax, 1996, Flirting with Disaster, Miramax, 1996, Murder at 1600 (also known as Executive Privilege and Murder at 1600 Pennsylvania Avenue), Warner Bros., 1997, Mad City, Warner Bros., 1997, The Object of My Affection, Twentieth Century-Fox, 1998, Keepers of the Frame (documentary), 1998, What Women Want, Paramount, 2000, The Aviator, Miramax, 2004, and Resurrecting the Champ, Phoenix Pictures, 2007; in television productions, including The Glass House, 1972, Playmates, 1972, Six Rms Riv Vu, 1974, Kill Me if You Can, 1977, M*A*S*H: Goodbye, Farewell and Amen, 1983, And the Band Played On, 1993, White Mile, 1994, Neil Simon's "Jake's Women" (also known as Jake's Women), 1996, Club Land, 2001, The Killing Yard, 2001; and in television series, including Secret File, U.S.A., 1955, That Was the Week That Was, 1964, What's My Line?, 1968, Story Theatre, 1971, M*A*S*H, 1972-83, The Four Seasons, 1984, Scientific American Frontiers, 1993-97, ER, 1999, The Museum of Television and Radio: Influences, 2000, and The West Wing, NBC, 2004-06. Also executive producer, producer, and creator, We'll Get By, 1975, producer, Susan and Sam, 1977, and executive producer and creator, The Four Seasons, 1984; also director, Hickey vs. Anybody, 1976, M*A*S*H: Goodbye, Farewell and Amen, 1983, and M*A*S*H: 30th Anniversary Reunion, 2002.
WRITINGS
* (With Darwin Venneri) Darwin's Theories (musical revue), first produced on Broadway at Madison Avenue Playhouse, October 19, 1960.
* The Seduction of Joe Tynan (screenplay), Universal, 1979.
* The Senator (novelization of The Seduction of Joe Tynan), Dell (New York, NY), 1979.
* (And director) The Four Seasons (screenplay), Universal, 1981.
* (With wife, Arlene Alda) The Last Days of M*A*S*H, Unicorn Publishing (Verona, NJ), 1983.
* (Director and screenwriter) Betsy's Wedding (screenplay), Touchstone Pictures, 1990.
* Never Have Your Dog Stuffed: And Other Things I've Learned, Random House (New York, NY), 2005.
* Things I Overheard while Talking to Myself, Random House (New York, NY), 2007.
Also coauthor of dictionary The Language of Show Biz. Author of scripts for television series M*A*S*H, 1972-83, and for We'll Get By, 1974. Contributor with Marlo Thomas and others to Free to Be ... You and Me (sound recording), Bell Records, 1973. Contributor of articles to periodicals, includingMs.
Read more
Latest headlines