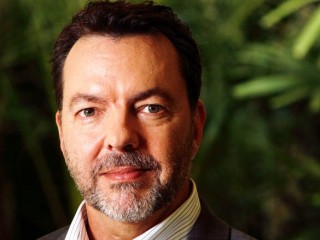 Alan Ball (director) biography
Date of birth : 1957-05-13
Date of death : -
Birthplace : Atlanta, Georgia, U.S.
Nationality : American
Category : Arts and Entertainment
Last modified : 2011-09-27
Credited as : screenwriter, film director, Six Feet Under
Screenwriter, producer, and director
Alan Ball
has become one of the most well-known and respected writers in Hollywood. The creator of the television show Six Feet Under and the film American Beauty, Ball is an Academy Award-winning writer who worked hard to achieve his current position.
Ball was born in Atlanta, Georgia, in 1957, and was raised in that state's city of Marietta. He was the youngest of four children of a homemaker and an aircraft inspector. His family was disrupted by tragedy during his youth: when he was 13, he was in a car accident with his older sister, Mary Ann. He was unhurt, but Mary Ann was killed. He told Dan Snierson in Entertainment Weekly, "That really made it impossible for me to ever go home again, because the person I was closest to was gone. My whole family sort of exploded apart." Although his family would later try to reconnect, they would have lasting psychological and spiritual wounds from this experience.
Ball graduated from Florida State University with a degree in theater, then moved to Sarasota, Florida, where he staged plays for the Florida Studio Theatre. With cowriter and college friend Nancy Oliver, Ball wrote comedies and one-act plays for public access television, but their work received little recognition. In 1986, looking for greater opportunities, Ball moved to New York City, where he created the Alarm Dog Repertory Theatre. Like many writers, actors, and artists, he also found a day job, working as a graphic artist for the magazine Adweek. He told Kay Kioling in Sarasota Magazine, "I was good at the graphics job, and it would have been a career, but to me it was just a day job."
At the time, Ball told Scott Robson in Variety, "I never imagined I'd be standing on a stage someday accepting an Oscar or an Emmy. I was pursuing a career as a playwright. I never occurred to me I'd actually be working in Hollywood." His coworkers at Adweek did not know much about his dreams of a writing career, but one night a group from the office went to see his play, Five Women Wearing the Same Dress. After that, he told Robson, "People around the office looked at me like, 'Oh, wow, you're a person.'" His editor at Adweek, Greg Farrell, told Robson that after seeing the play, he frequently asked Ball, "What on Earth are you doing here?" Although the job was not a writing job, Ball found it almost restful not to have to immerse himself in the work, telling Robson, "There's something Zenlike about putting together those graphs."
However, in addition to the accolades of his coworkers, Ball also began to get some recognition outside the office when Five Women Wearing the Same Dress was produced at the Manhattan Class Company, starring Thomas Gibson, Ally Walker, and Allison Janney. Ball described the play to Sarasota Magazine 's Kioling, noting that it depicted "a big, old-money society wedding" where "five women are the bridesmaids, all wearing the same horrible dress." The play received good reviews and was optioned by Columbia Pictures. While in New York, Ball also wrote The M Word -which premiered at the Lucille Ball Festival of New American Comedy in 1991- Made for a Woman, Bachelor Holiday, The Amazing Adventures of Tense Guy, and Your Mother's Butt. The attention he received for these plays brought Ball an offer to write for a television situation comedy, Grace Under Fire, which starred comedian Brett Butler.
The move to Hollywood was a shock to Ball. In the New York theater world, writers are respected, but in television, he told the Sarasota Magazine reporter, they are "just grist for the mill." He added that Grace Under Fire was a hit, but Butler "screamed at me, called me [an] amateur in front of people-she was a train wreck . I spent a year there just morally disgusted."
Ball moved on to another sitcom, Cybill, where he was a writer and co-executive producer. Although the emotional tone behind the scenes was much calmer, Ball told the Sarasota Magazine reporter, "[I turned] off my emotions about my writing, to become just a craftsman, a factory worker." He commented to Marc Peyser in Newsweek that in both sitcoms, "The stars basically looked at those shows as PR for their own lives. We'd get notes like, 'I would never do that. That makes me look stupid.' And we're like, 'Did [Lucille Ball] ever care about looking stupid [on the I Love Lucy show]?'"
While working on the shows, he continually yearned to write "something that meant something, at least to me," as he told Sarasota Magazine 's Kioling. He told Entertainment Weekly 's Snierson that during these television jobs, he would write his own work late into the night: "I'd come home from work and at like two in the morning, I'd sit down at the computer and just pour stuff out. It was fueled by rage."
This work eventually became the screenplay for American Beauty. In addition to his anger, Ball wove in his own experience as a gay man, his childhood awareness of his own father's deep unhappiness, and the awareness of death he had had since his youth. He also drew on his experiences working for Adweek to imbue the script with a biting disgust for corporate structure.
Newsweek 's David Ansen described the film as "a dreamy black comedy narrated by a corpse: Lester Burnham who already considers himself among the walking dead." Ansen noted that the film's theme was "the painful gulf between fantasies and the reality we can't seem to grasp," and called it "wickedly entertaining." Ball's emotional connection to this work was perhaps part of its success: the film won an Academy Award for Best Original Screenplay in 1999. At the awards ceremony, Ball could not believe it was really happening. He told Newsweek 's Peyser, "I usually watch the Oscars at home with friends, drinking martinis and throwing socks at the TV. And all of a sudden, I was there. It was really weird." He keeps the statue representing the award on a shelf in his home-dressed in a pink Barbie jacket. "He [the statue] looks so pretentious. The jacket cuts him down to size a little bit."
Ball told Newsweek 's Peyser that after his success with American Beauty, people started calling him with ideas, saying he was the "perfect writer" for them, but in most cases, Ball noted, "I would think, that's a movie I would walk out on. Why do you think I'd be the perfect writer for that?" However, one idea did appeal to him. Ball began working on a screenplay for a murder mystery about a 1960s police officer, titled Mr. Downtown, with Tom Hanks slated as the star. He told Peyser, "[Tom Hanks] came to me, and I thought it was an interesting notion."
Ball returned to television in 1999 as executive producer of the ABC series Oh, Grow Up. However, the series received poor ratings and was soon canceled. Ball returned with another series, Six Feet Under, which was set in a funeral home, featured a family of undertakers, and emphasized the dark underside of suburban life. The show was picked up by HBO, and that cable network's freedom, relative to the restrictions placed on broadcast networks, gave Ball the room he wanted to explore his characters' sexuality as well as themes of confronting death. He told Entertainment Weekly 's Snierson, "I think our culture tends to deny the reality of death. We're a little bit in the closet about it. This show is trying to demystify the whole process."
In 2001, HBO's president of original programming, Chris Albrecht, noted that death was a risky concept for a show, since "it's provocative, and very little on television is provocative. I'm very curious as to how the public will react to this." The public reacted with outstretched arms, and so did the critics. Entertainment Weekly 's Snierson commented, "In a television environment polluted with sameness (six New York cop shows aired this season; three CIA dramas debut this fall), HBO is once again offering up a blast of fresh air. Six Feet Under is a frank, trippy, spiritual, witty drama about a fraying L.A. family that runs a funeral home." Peyser, who described the show as "funny, warm, [and] offbeat," detailed the outline of a typical episode: "Each episode opens with a ghoulishly hilarious death. The Fisher family then tends to the survivors, once it gets over its own crises." Ball explained to Entertainment Weekly 's Snierson, "This is TV for people who don't really like TV," and added, "It's about people attempting to live an authentic life in a world that's increasingly inauthentic."
In addition to receiving critical acclaim, in 2001 Ball received the Directors Guild of America's Award for Outstanding Directorial Achievement in Dramatic Series, for Six Feet Under. In 2002, in recognition of the realistic portrayal of gay characters on the show, he received the Gay and Lesbian Alliance Against Defamation Stephen Kolzak Award. At the awards ceremony, according to Kevin Maynard in Daily Variety, Ball noted, "We are the faces of your sons, your daughters. We're not crazy circus freaks-except maybe on the weekend. The face of gay America is really the face of America."
One person who was not a fan of the show was Ball's mother. When he asked her what she thought of it, she replied, "It's filthy, filthy, filthy," Ball told Newsweek 's Peyser. "But that's what she says to me. I think she's very proud." His mother did agree to do a cameo role in the pilot of the series, and as Peyser joked, "Ball was nice enough not to make her into a corpse."
Although Ball works in television, he does not actually watch much of it. At times, this can be a hindrance, as when he comes up with a plotline and discovers that it just appeared on another popular show. Most of the time, however, he feels that this keeps his writing fresh. He told Alan Sepinwell in Daily Variety, "I like to hire writers who don't have years and years of TV experience, because they tend not to think in those ironclad paradigms and formulas, which all those scriptwriting books teach." Actor Peter Krause, who stars in the show, added that the show was "less plot-driven and more character-based than a lot of what you see. As an actor, you want to do behavior; you want to get into relationships, and that's really what Alan Ball is interested in."
Ball told Entertainment Weekly 's Snierson that in writing for Six Feet Under, "I feel very fortunate. For the first time ever in television, I feel like the people who hired me to do this job actually trust me and don't question every little instinct I have." He noted that although his work may seem dark on the surface, "if you look a little deeper, it's almost shamefully romantic and honest and optimistic."
Awards:
- Academy Award for best original screenplay, Academy for Motion Picture Arts and Sciences, for American Beauty, 1999;
Directors Guild of America's Award for Outstanding Directorial Achievement in Dramatic Series, for Six Feet Under, 2001;
- Gay and Lesbian Alliance Against Defamation Stephen Kolzak Award, 2002.
Read more
Latest headlines