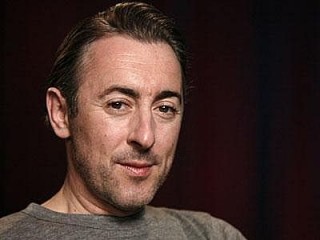 Alan Cumming biography
Date of birth : 1965-01-27
Date of death : -
Birthplace : Aberfeldy, Perthshire, Scotland
Nationality : Scottish
Category : Famous Figures
Last modified : 2011-06-18
Credited as : Stage and television actor, comedian, Spy Kids trilogy, The Good Wife
Alan Cumming is a Scottish stage, television and film actor, singer, comedian, director, producer and author. His roles have included the Emcee in Cabaret, Boris Grishenko in GoldenEye, Kurt Wagner/Nightcrawler in X2: X-Men United, Mr. Elton in Emma, and Fegan Floop in the Spy Kids trilogy.
Cumming was born in central Scotland on Jan. 27, 1965, and raised in the east coast region of Angus where his mother was a secretary and his father worked in forestry. Following his graduation from Carnoustie High School, the talented writer worked at the pop music magazine Tops and married his high school sweetheart, Hilary Lyon. But what Cumming really wanted to do was act, so he earned a degree from the Royal Scottish Academy of Music and Drama in Glasgow, where he trained in regional theater. By the late 1980s, he was appearing in several stage productions a year in both Scotland and London. Meanwhile, Cumming was gaining notice for his comedy skills on the cabaret stages of Glasgow for his teaming with co-writer and co-star Forbes Masson as a campy posh duo named Vic and Barry. The pair's hilarious stage show - that of theater enthusiasts prone to bursting into song and dance - earned recognition at the Edinburgh Fringe Festival in 1988 and a subsequent tour to Australia. While Cumming became somewhat of a cult comedy figure, he simultaneously began to earn respect among the serious theater crowd after earning a Most Promising Newcomer nomination from the Olivier Awards for his 1989 West End debut in "The Conquest of the South Pole." He won an Olivier Award the following year for a Royal Shakespeare Company production of "As You Like It," taking home yet another for his comedic role in 1991's "Accidental Death of an Anarchist" at the Royal National Theater. That banner year also included Cumming's first major screen role, starring with Rowan Atkinson and Lenny Henry in the holiday TV movie, "Bernard and the Genie" (BBC1, 1991), which earned him a British Comedy Award for Best TV Newcomer.
Cumming's first major feature film role in "Prague" (1992), however, was dramatic, with the versatile actor starring as a man in search of answers regarding his families' sentencing to a concentration camp during World War II. While the actor's decade-long marriage came to an end in 1993, his career really began to take off, beginning with Cumming's Olivier-nominated performance as The Emcee in a 1993 London revival of "Cabaret," directed by Sam Mendes. Cumming put a seedier spin on the character, with a costume that left him nearly naked, save for some very tight trousers and precariously placed suspenders fastened by a bow tie. Later that year, he was acclaimed for his extraordinary performance as "Hamlet" opposite ex-wife Hilary Lyon's Ophelia at London's Donmar Theater. During the 1994-95 television season, Cumming and Masson teamed up again to co-write and co-star in the Scottish sitcom, "The High Life," about unhappy in-flight attendants on a local airline. Remarkably adept at balancing drama with comedy and being sincerely appealing in both, Cumming was tapped to narrate the family film "Black Beauty" (1994) and played a social worker alongside his "Cabaret" co-star Jane Horrocks in the adoption drama, "Second Best" (1994). In his first real introduction to American audiences - art house patrons, anyway - Cumming appeared with Chris O'Donnell and Minnie Driver in the Irish film, "Circle of Friends" (1995). In this charming 1950s-set romance, Cumming played the perfect villain, a creepy and overconfident man who pursues an uninterested college student (Driver) in a bid to advance his career.
That same year, the actor hit international multiplexes in the role of a sinister Russian computer wizard in the blockbuster James Bond film "GoldenEye" (1995), a well-regarded popcorn flick that breathed new life into the aging spy franchise. Again, the versatile actor shifted gears effortlessly to provide some of the best comic moments in Douglas McGrath's take on the literary classic "Emma" (1996), starring Gwyneth Paltrow as the title matchmaker and Cummings as the smarmy Reverend Elton. His role as a high school nobody-turned-multi-millionaire in "Romy and Michele's High School Reunion" (1997) significantly ignored Cummings' brightness and energy with a one-dimensional nerd role, but he was better showcased in another campy female comedy, "Spice World" (1997), as a meddling film producer seeking to capture pop sensations The Spice Girls on film. Cummings' growing reputation in supporting roles exploded into full-on stage success when the actor reprised his role as The Emcee in Mendes' Broadway run of "Cabaret." The theater establishment was truly wowed by Cummings' enormous stage presence and saucy take on the role, with the actor winning a Tony Award and showing he could more than hold his own alongside more seasoned co-stars like Natasha Richardson and Jennifer Jason Leigh.
Back on the big screen, Cumming landed more supporting roles as a flirty hotel clerk in Stanley Kubrick's "Eyes Wide Shut" (1999), and as the licentious dandy and moneyed old friend of Jonny Lee Miller's Macleane in the highwayman action film, "Plunkett and Macleane" (1999). Returning to his roots in classical drama, Cummings was cast by fellow toast-of-Broadway director Julie Taymor in "Titus," her well-received 1999 adaptation of Shakespeare's "Titus Andronicus" starring Anthony Hopkins. Taking his musical talent to primetime, Cumming made for a colorful villain with his performance as Rooster in the ABC remake of the musical "Annie," (ABC, 1999), following that up by voicing the ultimate villain, The Devil, on the controversial animated series "God, the Devil and Bob" (NBC, 2000). A string of diverse projects followed, with an appearance in Sly Stallone's actioner "Get Carter" (2000) and a supporting role as a gay man living with AIDS in "Urbania" (2000), which was nominated for a Grand Jury Prize at Sundance and was a favorite at gay and lesbian film festivals that year. Cumming's profile rose significantly in the LGBT community when he associated himself with a number of organizations including GLAAD and the Human Rights Campaign, as well as outed himself as bisexual. But for Cumming's debut as a feature film writer, director and producer, heterosexual marriage was the topic he and "Cabaret" colleague Jennifer Jason Leigh chose to explore. The pair took co-everything credit on the insightful ensemble comedy, "The Anniversary Party" (2001), which was set during a soiree being thrown by recently reconciled couple Cummings, a novelist, and Leigh, a high maintenance Hollywood actress. Independent Spirit Awards for Best First Film and Best First Screenplay were forthcoming for the collaborators.
While Cummings was booked solid with film appearances in the lightweight "Josie and the Pussycats" (2001) and as Fegan Floop in Robert Rodriguez family adventure hit film "Spy Kids" (2001), he returned to the New York stage in 2001 where he was well cast in Noel Coward's "Design for Living." Following a guest spot on "Sex and the City" (HBO, 1998-2004), Cumming revived Fegan Floop, former bad guy-turned-good guy, in "Spy Kids 2: The Island of Lost Dreams" (2002), then provided a few laughs in Douglas McGrath's adaptation of Dickens' "Nicholas Nickleby" (2002) as a frustrated thespian prone to showing off his kilt. The lithe, expressive actor had a big pay day and his greatest exposure then to date when he was tapped by director Bryan Singer to embody the blue comic book character of Nightstalker in the blockbuster "X2: X-Men United" (2003), in which his pivotal character makes a thrilling assassination attempt on the President of the United States (Cotter Smith) in an effort to help lure Professor Xavier (Patrick Stewart) and his mutants into a trap set by the sinister William Stryker (Brian Cox). For his part, Cumming had to constantly wear blue body paint, which caused him to sweat blue and blow blue through his nose, even days later. His suffering was worth it, however, as "X2" performed even better than its predecessor, "X-Men" (2000), both critically and at the box office.
Another revival of Fegan Floop followed in "Spy Kids 3-D: Game Over" (2003) and Cumming churned out more family fare with voiceover roles in "Garfield" (2004) and the joint Scottish-Canadian TV production, "Shoebox Zoo" (2004-05). The Showtime parody of the classic propaganda film "Reefer Madness: The Musical" (Showtime, 2005) found Cumming squarely back in adult territory, donning several onscreen hats as a lecturer/narrator constantly inserting himself into the action, as a policeman, and as the 32nd President of the United States, Franklin D. Roosevelt. Cumming was the unfortunate co-star of Jamie Kennedy in the misbegotten sequel "Son of the Mask" (2005), but rebounded from that flop to produce and appear in "Sweet Land" (2005), Ali Selim's Independent Spirit Award winner for Best First Film that followed a young Norwegian woman orphaned during World War I and sent to live on a Minnesota farm. The actor, who was now splitting his time between London and New York, made stage appearances in both cities in 2006; first in Wallace Shawn's Broadway adaptation of "Threepenny Opera" which was nominated for a Tony Award for Best Musical Revival. In London, Cumming starred in "Bent," a revival of Martin Sherman's 1979 play that shed light on the prosecution of homosexuals in Nazi Germany.
Cumming stayed on in the U.K. to appear with the National Theater of Scotland in a production of the classical Greek tragedy, "The Bacchae," which enjoyed a run in London. Stateside, Cumming landed a recurring role on the Showtime lesbian-themed drama "The L Word" (Showtime, 2004-09) and starred in the cable miniseries "Tin Man" (Sci Fi Channel, 2007), a science fiction update on "The Wizard of Oz" tale in which Cumming played a man with half a brain. Returning behind the camera, Cumming's sophomore directing effort, "Suffering Man's Charity" (2007), a dark drama about a music teacher with designs on a pupil, received little notice. From 2007 to 2009 Cumming appeared regularly as a voice on the series of animated comedy shorts, "Rick and Steve: The Happiest Gay Couple in the World" (Logo, 2007-09), and became one-half of a happily married gay couple himself when he wed his graphic artist boyfriend in 2007. In 2008, Cumming took over the prestigious gig of hosting the long-running PBS anthology, "Mystery!" (PBS, 1980- ) and starred in "Boogie Woogie" (2009), a backstabbing drama set amid high-priced London art galleries. The following year he toured with his one-man show "I Bought a Blue Car Today" which was also released on CD, and returned to a longer theatrical run as the Green Goblin in Julie Taymor's Broadway show, "Spiderman: Turn Off The Dark." He next had a memorable guest turn on "The Good Wife" (CBS, 2009- ), playing a rude but highly effective campaign manager who plots the comeback of disgraced State's Attorney Peter Florrick (Chris Noth) after a corruption scandal leads to revealing his taste for prostitutes and a separation from his once-loyal wife (Julianna Margulies). The role earned Cumming an Emmy Award nomination for Outstanding Guest Actor in a Drama Series.
Read more
Alan Cumming Picture Gallery
Latest headlines