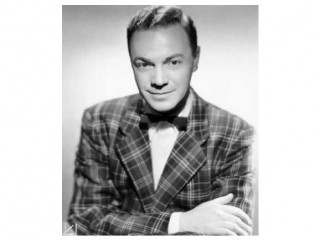 Alan Freed biography
Date of birth : 1921-12-15
Date of death : 1965-01-20
Birthplace : Windber, Pennsylvania, U.S.
Nationality : American
Category : Famous Figures
Last modified : 2011-11-15
Credited as : DJ, Moondog, Hollywood Walk of Fame
Albert James "Alan" Freed, also known as Moondog, was an American disc-jockey. He became internationally known for promoting African-American rhythm and blues music on the radio in the United States and Europe under the name of rock and roll. His career was destroyed by the payola scandal that hit the broadcasting industry in the early 1960s.
Tainted by his role in the sensational payola scandal of the late 1950s, Alan Freed died a broken man only a few years later. But the disc jockey today is remembered--almost reverently--as the "Father of Rock 'n' Roll." In the years since his death Freed has been accorded several honors, including induction into Cleveland's Rock and Roll Hall of Fame and the addition of a star in his name on the Hollywood Walk of Fame. It was Freed who first put a name to the popular music form that would dominate the second half of the twentieth century and continue--its popularity undiminished--into the new millennium. He called it simply "rock 'n' roll," and the name stuck.
When Freed was 12, his family moved to Salem, Ohio, where he began to develop an interest in music. During his high school years he played the trombone and eventually put together a band called the Sultans of Swing. Before graduating he had made up his mind to become a big-time bandleader, a dream he pursued during his college years at Ohio State University (OSU), where he continued to lead the Sultans of Swing.
Freed studied mechanical engineering at OSU in Columbus but left school in September of 1940 to join the Army Signal Corps, where he served as a photographer. During his stint in the military he contracted a severe ear infection, which impaired his hearing and effectively ended his dream of becoming a bandleader. Discharged from the Army after only eight months of service because of chronic sinusitis and what Freed later described as "bad legs and feet," he went looking for a job in broadcasting that would keep him close to his first love-- music. He found the perfect combination at WKST Radio in New Castle, Pennsylvania, which hired him in 1942 to host a program of recorded classical music. Although Freed later gained fame as a rock 'n' roll disc jockey, he remained a lover of classical music throughout his life. His stint at WKST lasted only about four months, after which he landed a job as a sportscaster on WKBN Radio in Youngstown, Ohio.
What was to become Freed's niche in broadcasting began to develop in 1945 when he moved to WAKR Radio in Akron to host Request Review, a nightly program of recorded jazz and pop music. Before long he developed a loyal following, which in time brought an invitation from a bigger market. In 1949 Freed moved to WXEL-TV in Cleveland to host a teenage dance show. That gig lasted only about six months, after which Freed returned to radio, hosting a classical music program on WJW Radio in Cleveland. While in Cleveland, Freed became friends with Leo Mintz, a local record store owner who clued Freed to the growing popularity of African American R&B music. White teenagers were flocking to Mintz's store to buy these so-called "race records," which had previously been sold almost exclusively to African American customers. Mintz convinced Freed that it just made good sense to start playing more R&B on the air.
In mid-1951, with Mintz's support, Freed launched a new program on WJW. Entitled Moondog's Rock 'n' Roll Party, the show helped change the course of American popular music. Freed was the first to use the term "rock 'n' roll" to describe the R&B-inspired music whose driving beat was just beginning to sweep America. Freed probably picked up the term from "Sixty-Minute Man," a popular song released by the Dominos, an African American vocal group, in 1951. (Rock 'n' roll had long been used by African Americans, however, as a euphemism for sexual intercourse.) So popular was Freed's Moondog radio program that in March of 1952 he decided to stage the Moondog Coronation Ball, a live show that featured top African American acts. More than two-thirds of the fans who filled Cleveland Arena to capacity for the event were white, but things went sour when another 6,000 (some sources say upwards of 20,000) fans, most of them African American, crashed the gates. This event is considered by many to have been the first rock concert.
After breaking into broadcasting in 1942, Freed had had his eye on the plum New York market, auditioning at one point for WINS Radio. The station rejected him, though, reportedly because his Midwestern accent was too grating. After his phenomenal success at WJW in Cleveland, however, the management at WINS apparently had a change of heart. In 1954 Freed triumphantly took the New York market by storm, hosting Alan Freed's Rock 'n' Roll Party Monday through Saturday nights from 6:30 to 11. In only a few months the show was number one in its time slot. Capitalizing on the popularity of his show and the music it featured, Freed staged a number of live rock 'n' roll shows at the Brooklyn Paramount Theater. He also appeared in a handful of films with rock 'n' roll themes, including Don't Knock the Rock, Rock Around the Clock,and Rock, Rock, Rock. Although the disc jockey was only in his mid-30s when these films were made, he looked at least a decade older and was altogether lacking in stage presence. It is not a little ironic that the "Father of Rock 'n' Roll" comes across on screen as the prototypical adult.
Freed shared writing credits on a number of records, including Chuck Berry's big hit "Maybelline" and the Moonglows' "Sincerely," but it's suspected he contributed little or nothing to the songs and that the credits were given to ensure airplay. Freed also angered some in the recording industry when he refused to play white artists' covers of songs that had been originated by African Americans, a common practice at the time. The sudden surge in the popularity of rock 'n' roll brought hundreds of critics out of the woodwork, most of them decrying it as "the devil's music" and its fans as immoral. To his credit, Freed went to bat for both the music and its fans, suggesting that many of the critics were motivated by racial bias.
In a clear sign that Freed had made the big time, in 1957 ABC-TV gave him his own nationally televised show called simply Rock 'n' Roll Party. The show was short-lived, however, because the camera caught African American singer Frankie Lymon dancing with a white girl, something so offensive to the network's Southern affiliates that they dropped the show. Unwilling to tolerate any controversy, ABC dropped Freed.
More trouble came Freed's way after violence broke out during one of his "Big Beat" rock shows in Boston, after which Freed was charged with incitement to riot and anarchy. He spent nearly $30,000 to fight the charges, which were eventually dropped. Angry with WINS for failing to support him in his legal troubles, in 1958 he jumped to WABC Radio in New York. He also landed another television job, hosting a teen dance show on WNEW-TV in New York. In the fall of 1959, however, rumors of a payola scandal surfaced, and Freed's troubles became overwhelming. (Payola was the practice of accepting money or other considerations in return for playing a record on the air.) When WABC asked Freed to sign a statement swearing that he had never taken payola, he refused and was fired. Although he later signed such a pledge for WNEW-TV, he lost his television show as well.
Finding himself unwelcome in New York broadcasting circles, Freed fled to the West Coast, where he managed to land a daytime disc jockey job at KDAY in Los Angeles in 1960. Legal problems continued to plague him, though, and he was charged with taking slightly more than $30,000 in payola from a number of record companies. Publicly Freed denied that he had ever accepted direct bribes, although he acknowledged he had accepted gifts from recording companies, but only for playing records that he was certain would become hits anyway. After a short time at KDAY he left when station management refused to let him promote his trademark live rock 'n' roll shows. He returned to New York City, but not as a broadcaster. At the height of the twist craze, he emceed a Manhattan twist revue, but when the twist craze cooled, he found a disc jockey job at WQAM in Miami in 1962. During this difficult period, Freed began drinking heavily and lost his job in Miami after only two months. In December of 1962 he pled guilty in New York to two charges of commercial bribery and was given a six-month suspended sentence and fined $300. This effectively ended his career.
Freed spent the last years of his life in Palm Springs, California. Although he had redefined what it meant to be a disc jockey and named the music that had become an anthem for the world's youth, he was a disgraced and broken man, no longer able to work in the business he loved. On January 20, 1965, he died in a Palm Springs hospital of uremia and cirrhosis.
In 1978, a motion picture entitled American Hot Wax was released, which was inspired by Freed's contribution to the rock and roll scene. Although director Floyd Mutrux created a fictionalized account of Freed's last days in New York radio by utilizing real-life elements outside of their actual chronology, the film does accurately convey the fond relationship between Freed, the musicians he promoted, and the audiences who listened to them. The film starred Tim McIntire as Freed. Several notable personalities who would later become well-known celebrities starred in the movie, including Jay Leno and Fran Drescher. The film included cameo appearances by Chuck Berry, Screamin' Jay Hawkins, Frankie Ford and Jerry Lee Lewis, performing in the recording studio and concert sequences.
On January 23, 1986, Freed was part of the first group inducted into the Rock and Roll Hall of Fame, which was built in Cleveland in recognition of Freed's involvement in the promotion of the genre. In 1988, he was also posthumously inducted into the National Radio Hall of Fame. On December 10, 1991, Freed was given a Star on The Hollywood Walk of Fame. On February 26, 2002, Freed was honored at the GRAMMY Awards with the Trustees Award.
Read more
Latest headlines