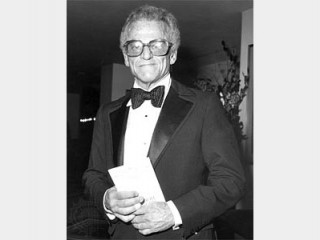 Alan Jay Lerner biography
Date of birth : 1918-08-31
Date of death : 1986-06-14
Birthplace : New York City, New York, US
Nationality : American
Category : Famous Figures
Last modified : 2010-11-12
Credited as : Broadway Musical songwriter, "If Ever I Would Leave You", "How To handle a Woman"
Alan Jay Lerner was one of the top songwriters in both Broadway musical theatre and Hollywood for a quarter century during the Golden Age of the American musical. His collaboration with Frederick Loewe yielded many fine musicals including Brigadoon, My Fair Lady, and Camelot. Lerner also wrote the lyrics for musicals with Leonard Bernstein and Andre Previn, among others, but was never able to achieve the success he had with Loewe.
Alan Jay Lerner, was born in New York City on August 31, 1918 to Edith Adelson Lerner and Samuel Lerner. His grandfather had come to the U.S. from the Ukraine as a poor immigrant. Samuel Lerner worked in the fashion retail business and eventually owned a chain of successful stores known as the Lerner Shops. His marriage was less successful, and Lerner's parents eventually divorced. Although he and his two brothers were Jewish by birth, religion did not play a significant role in lives. Lerner attended plays regularly with his father from a young age and developed a strong attraction for the theater. He began taking piano lessons at the age of five and wrote his first songs as a teen. While his father wanted him to have a career in diplomatic service, the theater was what he wanted.
Lerner attended Choate School along with John F. Kennedy. The two co-edited the school yearbook. He attended college at Harvard and graduated in the same class with Kennedy in 1940. During the summers of 1936 and 1937 he studied at Julliard. He wrote and participated in two Hasty Pudding Club shows at Harvard in 1938 and 1939. At Harvard, Lerner lost the sight in his left eye due to an accident in a boxing match. The injury prevented him from serving in World War II, so he wrote radio scripts during the war. In addition to being nearly blind, Lerner was a short man, only five feet six inches tall. It is said that his attempts at compensating for these flaws made him seem abrasive. At the same time, he is also said to have had a tremendous sense of humor.
Humphrey Burton reported in the Independent, "Like Bernstein, Lerner smoked incessantly, not always nicotine, and bit his nails so fiercely that he always wore white cotton gloves; bloodstained discards would later be found in the men's room. Yet he was reportedly an intensely agreeable personality, immensely persuasive and, like Bernstein, a true son of Harvard. They were the same age but their only previous collaboration had been 20 years earlier when they concocted a spoof song in honor of their alma matter."
After finishing college, Lerner married Ruth O'Day Boyd and moved back to New York to write for the theatre. He wrote radio scripts and books for revues at the Lamb's Club, a theatrical institution. One night in 1942, during a bridge game at Lamb's, he met the composer Frederick Loewe. Lerner was 24, Loewe was 38. The two men decided to collaborate and began a highly successful partnership. In fact, Lerner and Loewe were ranked near the top of the musical entertainment world for a quarter of a century.
The first joint effort of Lerner and Loewe was Life of the Party, which was produced in Detroit in 1942. The following two shows included What's Up and The Day Before Spring, both of which received fair reviews. Despite this slow start, the collaboration eventually produced some of the best musicals of the Broadway stage: Brigadoon (1947); Paint Your Wagon (1951); My Fair Lady (1956); the Hollywood film, Gigi (1958) and its 1973 stage adaptation; Camelot (1960); and The Little Prince (1974).
The duo's first great success was the Broadway musical, Brigadoon in 1947. The duo performed the score at over 50 auditions before they were able to get the funding they needed. Their persistence paid off: Brigadoon received the New York Drama Critics Circle award for best musical. Songs like "The Heather on the Hill" and "Almost Like Being In Love" proved Lerner to be a great lyricist, charming audiences by giving insights into the characters and moving along the plot. Edward Jablonski's biography of Lerner quoted the lyricist's explanation of how he and Loewe composed their musicals: "First, we decide where a song is needed in a play. Second, what is it going to be about? Third, we discuss the mood of the song. Fourth, I give (Loewe) a title. Then he writes the music to the title and the general feeling of the song is established. After he's written the melody, then I write the lyrics."
The Lerner-Loewe association was not always pleasant or effective off stage, however. Part of the problem stemmed from Lerner's rocky personal life. Lerner was married eight times. He had three daughters, Jennifer, Liza and Susan, and one son, Michael. In addition to Boyd, he was married to dancer Marion Bell, lawyer Micheline Muselli Posso di Borgo, editor Karen Gundersen, and actresses Nancy Olson, Sandra Paine, Nina Bushkin, and Liz Robertson. The most notoriously unhappy of Lerner's marriages was to Micheline Muselli Posso di Borgo. Loewe had warned him not to get involved with a lawyer. When the marriage ended, it was reported that she had taken over half a million dollars and shipped much of it to Switzerland.
Lerner was said to have neglected his wives and family while he was involved in a show, and was bored with everyday domestic life between productions. He is also said to have become dependent for a long period on methedrine treatments prescribed by Dr. Max Jacobson. The "doctor" called them "vitamin injections."
Lerner often struggled with his lyric writing. While he was able to complete "I Could Have Danced All Night"— the most popular Lerner-Loewe tune—in one 24-hour period, this was unusual. He often agonized for months over a song and was constantly rewriting. It didn't help that Lerner suffered from chronic bouts of insecurity about his talent. Yet, his audience would never have known, as the result was always elegant and natural, even in the diverse range of topics and emotions that he explored.
Lerner told author Donald Knox in his oral history called The Magic Factory, "You have to keep in mind that there is no such thing as realism or naturalism in the theater. That is a myth. If there was realism in the theater, there would never be a third act. Nothing ends that way. A man's life is made up of thousands and thousands of little pieces. In writing fiction, you select 20 or 30 of them. In a musical, you select even fewer than that."
My Fair Lady was the biggest success of Lerner and Loewe. Based on the George Bernard Shaw play Pygmalion, the show opened on March 15, 1956 at the Mark Hellinger Theater in New York; it ran until 1962. Directed by Moss Hart, the musical starred Rex Harrison as Professor Higgins, Stanley Holloway as Alfred P. Doolittle and a young, unknown actress from London named, Julie Andrews, as Eliza Doolittle.
Lerner sometimes wrote with his singer in mind. "I've Grown Accustomed To Her Face" was written to accommodate the very limited vocal range of Rex Harrison. It is also an excellent example of a Lerner song that served the purpose of advancing the story: by the end of the song, Professor Higgins realizes he loves Eliza.
In a 1979 interview on National Public Radio's All Things Considered, Lerner discussed some of his lyrics for My Fair Lady. They were not grammatically correct, but they were written that way for the sake of the rhyme; Henry Higgins sings, "Look at her, a prisoner of the gutter, condemned by every sentence she utters. By right she should be taken out and hung. But it rhymes with the tongue," Lerner said, "so for the cold-blooded murder of the English tongue. And I thought, oh well, maybe nobody will notice it, but not at all. Two nights after it opened, I ran into Noel Coward in a restaurant, and he walked over and he said, Dear boy, it is hanged, not hung. I said, Oh, Noel, I know it, I know it! You know, shut up! So, and there's another, then to have ever let a woman in her life. It should be as to ever let a woman in her life. but it just didn't sing well."
My Fair Lady set records for the longest run of a musical in both New York, where it had 2,717 performances, and London. It received the New York Drama Critics and Tony awards for best musical that year. The cast album, recorded on Columbia records, sold over five million copies. The movie was made in 1964 and the stage show returned to Broadway in 1976 for another successful run.
Lerner and Loewe combined their talents for the Hollywood film, Gigi, based on a story by the French writer Colette. It was seen by some as being almost a French version of My Fair Lady. The screenplay and title song, subtitled Gaston's Soliloquoy, won Academy Awards in 1958. In 1974, the duo earned a Tony Award for best score of a musical for their stage adaptation of Gigi.
The next Lerner-Loewe collaboration was Camelot, produced in 1960, directed by Moss Hart. The star-studded cast included Richard Burton as Arthur, Julie Andrews as Gueinevere, and, Robert Goulet as Lancelot. Songs from the show included "How to Handle a Woman," "The Simple Joys of Maidenhood," and "If Ever I Would Leave You." While the show was a success, it did not receive anywhere near the acclaim that My Fair Lady had. Behind the scenes there were many problems, as well. Moss Hart experienced a heart attack during rehearsals and died shortly after the show's premiere. Lerner was hospitalized with bleeding ulcers, and Loewe was having heart trouble. Lerner and Loewe fought to the point where neither wanted to work with the other again.
Lerner split with Loewe after Camelot. While Loewe decided to retire, Lerner, only in his forties, continued his career. In 1965, he wrote the words for On A Clear Day You Can See Forever with music by Burton Lane. The show, which explored the idea of extra-sensory perception (ESP), earned Lerner a Grammy Award that year. He also worked with Andre Previn on Coco in 1969. Katherine Hepburn played the starring role. Neither musical was particularly successful.
1600 Pennsylvania Avenue, written with Leonard Bernstein in 1976, was Lerner's greatest failure. He had first approached Bernstein in 1972, depressed about the state of the nation in the wake of the Watergate scandal, and well aware of Bernstein's liberal background. Lerner proposed a show that would cover the previously grand history of the White House itself—in fact, the White House would serve as a metaphor for the entire country. The Independent of London quoted actress Patricia Routledge, who sang the female lead, as saying that the show was a "diamondstudded dinosaur."
Lerner never saw the success of My Fair Lady again. His 1979 collaboration with Burton Lane, Carmelina, received meager praise. His last musical, Dance A Little Closer with music by Charles Strouse, opened and closed the same night on Broadway in 1984. The musical was based on Robert Sherwood's play, Idiot's Delight, and starred his last wife, Liz Robertson. The show received bad reviews.
Lerner died of lung cancer at the Sloan-Kettering Memorial Cancer Center in New York on June 14, 1986. At the time, he was working on a stage/musical version of the 1936 movie My Man Godfrey. William A. Raidy, in The Seattle Times, observed, "If someone asked me to write his epitaph it would come from one of his own observations: 'I write not because it is what I do, but because it is what I am. Not because it is how I make my living, but how I make my life."' A 1985 Kennedy Center celebration in Washington honored the Lerner-Loewe duo for their contributions to American culture. That same year, Lerner earned a Johnny Mercer Award, given by the National Academy of Popular Music, for his lyric writing. And in 1989, Paul Blake put together a musical revue based on Alan Jay Lerner's life and lyrics, Almost Like Being In Love, with music by Frederick Loewe, Burton Lane, Andre Previn, Charles Strouse and Kurt Weill. The show ran for ten days at the Herbst Theater in San Francisco.
Baton Rouge Morning Advocate, June 18, 1986.
Read more
Latest headlines