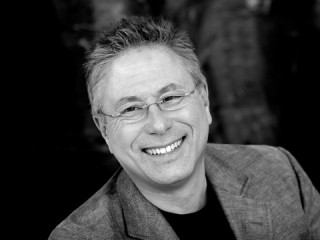 Alan Menken biography
Date of birth : 1949-07-22
Date of death : -
Birthplace : New Rochelle, New York
Nationality : American
Category : Famous Figures
Last modified : 2012-08-02
Credited as : Composer, Grammy and Academy awarded , A Christmas Carol 2004
Before the age of 50, composer Alan Menken had won eight Academy awards and four Grammys. His scores for the Walt Disney animated films of the 1990s as well as his success on the Broad way stage have some crediting him with the return of both genres. Disney seems convinced, as well, having asked Menken to prepare the score for all of their animated films as well as some live action features, over a ten year period.
Works: (score and songs)
The Little Mermaid 1989 (double Oscar winner)
Beauty and the Beast 1991 (double Oscar winner)
Newsies 1992
Aladdin 1992 (double Oscar winner)
Life with Mikey 1993
Pocahontas 1995 (double Oscar winner)
The Hunchback of Notre Dame 1996 (Oscar nominee)
Hercules 1997 (Oscar nominee)
Home on the Range 2004
Noel 2004
The Shaggy Dog 2006
Enchanted 2007 (Oscar nominee)
Tangled 2010 (Oscar nominee) (Grammy winner)
Mirror Mirror 2012
Alan Menken was born on July 22, 1949 in New Rochelle, New York. He was interested in music from an early age and studied both piano and violin in high school. His musical tastes were broad in scope, and included classical, show tunes, rock, and folk. Menken enrolled at New York University in 1967 where, for a time, he took premed courses in order to please his parents. His true passion won out, however, and Menken decided to pursue a musical career. Following graduation, he worked as a songwriter and performed in some New York area clubs. He also wrote and sang commercial jingles.
Menken's career took a swift upswing after he attended the Lehman Engel Musical Workshop of Broadcast Music Inc. (BMI). Engel, a former Broadway pit-band conductor, had become a mentor of sorts for those aspiring to be a part of modern musical theater. The experience led him to playwright Howard Ashman. In 1978, Ashman chose Menken to collaborate with him on a musical version of Kurt Vonnegut's story, God Bless You, Mr. Rosewater . BMI also showcased a number of Menken's musicals from 1971 to 1985.
In 1982, Menken and Ashman revamped a 1960 Roger Corman cult film and turned it into the off-Broadway hit, Little Shop of Horrors. The show won Best Musical awards from the New York Drama Critics, the Drama Desk, the Outer Critics Circle, and the London Evening Standard. In 1983, Menken received a BMI Career Achievement Award for his body of work for the musical theater, including: God Bless You, Mr. Rosewater, Little Shop of Horrors, Real Life Funnies, as well as his various contributions to musical revues. The Little Shop of Horrors musical was turned into a successful Hollywood motion picture in 1986, directed by Frank Oz. The all-star cast included Rick Moranis, Steve Martin, John Candy and Bill Murray. The film's theme, Mean Green Mother From Outer Space, earned Menken an Academy Award Nomination for Best Song. Menken's father was the inspiration for Steve Martin's character in the film: a sadistic biker-dentist with a nitrous oxide habit. Menken's father was a respected area dentist and president of the American Analgesia Society, an organization that promoted the use of nitrous oxide (laughing gas) as a safe anesthetic.
Menken and Ashman paired up again for 1989's animated Disney hit The Little Mermaid. The show earned the duo their first Academy and Golden Globe Awards for Best Score and Best Song for Under the Sea. Two years later, the duo had another success with Disney's, Beauty and the Beast. Again, the two won the Academy and Golden Globe Awards for Best Score and Best Song. In the meantime, Menken and Ashman were gaining recognition for their sophisticated work from other quarters; some were even crediting them with the revitalization of the American movie musical.
"Of course there'd been songs—and wonderful songs—in Disney films from time immemorial," Stephen Schwartz, the lyricist for Pocahontas, told the Los Angeles Daily Times, "but I think Howard and Alan pioneered the sort of storytelling song idea. If you look at a number like "Belle" in Beauty and the Beast, or even "Poor Unfortunate Souls" in Little Mermaid, those are the kind of advance-the-plot, storytelling songs that you would use in a Broadway show."
For their next project, Ashman approached Disney with the idea of turning the story of Aladdin and the Enchanted Lamp into a cartoon. Menken worked with Ashman to create a proposal, including a blueprint and the songs. Before this project had been completed Ashman passed away from AIDS-related complications. Tim Rice, librettist for Evita and Chess, was called upon to complete the work.. Menken and Rice were nominated for a Grammy Award for "A Whole New World (Aladdin's Theme)" in 1992. Because of the death of Ashman, recognition for this song was bittersweet. Menken told the Kansas City Star in 1997, "The enormity of AIDS' impact on the arts, what would today's theater be like today if we still had Michael Bennett and Howard Ashman and Steve Brown and countless other directors, choreographers and composers who are now gone? But I honestly think the loss of Howard Ashman is the biggest I can imagine. He had such a great command of style, storytelling and character."
In addition to his work for Disney, Menken worked on other successful film and music projects in the early 1990s. He wrote "The Measure of a Man," the theme song to Rocky V, recorded by Elton John in 1990. Two years later, he wrote the score for the ABC mini-series, Lincoln. He also collaborated with Jack Feldman on "My Christmas Tree" for Home Alone 2, and the Disney live-action musical film Newsies.
Menken made a return to his off-Broadway roots in 1992 at the WPA Theater on West 23rd Street in New York. This was the theater where he and Ashman had collaborated to produce the score for Little Shop of Horrors ten years prior. Menken and Spencer collaborated to create the musical Weird Romance. The show, directed by Barry Harman, was performed in two acts, based on two science fiction stories. The first was The Girl Who Was Plugged In, by Alice B. Sheldon (written under the name James Tiptree Jr.), a sort of Pygmalion tale set in a future with robots. The second, Her Pilgrim Soul, by Alan Brennert, is a tragic love story about a dead woman who is reincarnated in hologram form to live the rest of her life through a computer. Brennert wrote the book for the musical as well.
Menken collaborated with Rice again in 1994 on the stage musical adaptation of Beauty and the Beast. He had recommended the project to Disney several times. Disney spent $12 million to put the show together, making it the most expensive Broadway musical until that time. Menken and Rice wrote eight new songs, in addition to the Menken-Ashman songs. The stage version was directed by Robert Jess Roth and choreographed by Matt West. Star singers Debbie Gibson and Toni Braxton both played the role of Belle; Gary Beach, who played Lumiere, was nominated for a Tony Award for his role. The musical received several Tony Award and Drama Desk Award nominations, including Best Musical, but was ultimately overshadowed by Stephen Sondheim's Passion. Critic Michael Grossberg of the Columbus Dispatch wrote, "Contrary to popular rumor, Lloyd Webber is not today's only mega-successful theatrical composer. Alan Menken expanded his score for Beauty and the Beast when the Disney-animated film was adapted into the lavish Broadway musical. Menken's songs with lyricist Tim Rice didn't quite measure up to Menken's lively, lovely work with his late partner, lyricist Howard Ashman, but Gaston's pompous ode to himself ("Me") ranks high as rousing musical comedy."
In 1995, Menken collaborated with Stephen Schwartz on the score for Disney's Pocahontas, and won the 1995 Academy Award for Best Score and Best Song as well as the Golden Globe Award for "Colors of the Wind," performed by Vanessa Williams. Menken told the Los Angeles Daily Times, "I would be less than honest if I didn't express a certain frustration when the animated projects are referred to as 'for kids.' They're not kids' music, and I get upset when someone comes up to me and goes: 'Alan Menken, it's nice to meet you. My three-year-old just loves your songs.' And I'm now able to translate that in my brain into, 'I love your songs."'
The next Menken-Schwartz collaboration for Disney was thought to be a little less suitable for children. Based on Victor Hugo's gothic 19th-century tale, The Hunchback of Notre Dame was darker than previous Menken projects, though Disney did brighten the plot considerably. Critic Susan Stark wrote in The Detroit News, "Like The Little Mermaid, Beauty and the Beast, and Aladdin, Hunchback will likely yield not one, but at least two best song Oscar nominations for Menken, plus a nomination for best score. Precedent says he'll win in both categories, which will make him the top Oscar winner of all time." Although the score was considered ambitious, it did not earn Menken a ninth Academy Award.
Menken's King David oratorio, with libretto by Tim Rice, was supposed to premiere in Jerusalem during the summer of 1996 as part of the Jerusalem 3000 celebrations. The show was not ready in time, however, so it opened a year later in New York in honor of Disney's New Amsterdam Theater on Broadway. Menken, Rice, and director Mike Ockrenthad had gone to Jerusalem in November 1994 to research the project. They met with biblical and archeological scholars in order to create a more authentic show. The resulting program, which opened to tepid reviews on May 18, 1997, was a two-hour-and-forty-five-minute epic covering the life of a shepherd-turned-king in Israel.
The following month, Disney's Hercules opened, with score by Menken and lyricist David Zippel. Michael Bolton was selected to sing the track, "Go the Distance" over the closing credits. Critics said the gospel music-inspired soundtrack was a return to the levity of Aladdin in this film about an Ancient Greek "nobody" who becomes a hero.
In 1998, at BMI's annual Film and Television Awards, the Richard Kirk Award was presented to Alan Menken for Outstanding Career Achievement. Menken also won a BMI Film Music Award for Hercules. Michael Eisner, Chairman and CEO of the Walt Disney Company commented, "Alan, it is impossible to fully appreciate what you have achieved in just ten years. In that time, you have helped revive two great American institutions: the animated film and the Broadway musical. When historians write about this era of entertainment, you will be cited as one of the driving forces. Your talent, devotion and tireless energy have made our movies and our shows sing again."
In early 1998, Menken entered into a multi-million dollar agreement with Walt Disney Studios to compose songs and scores for their live-action and animated movies for the next ten years. He will be the exclusive composer for the animated films and will also be allowed to work on one non-Disney, live-action project every two years. This was one of the longest-term contracts in studio history.
In June 1999, Menken opened the stage version of Disney's Hunchback in Berlin. Matt Wolf commented in Variety, that this was the most sombre Disney stage show to date. "So why isn't the show as a whole more affecting?" Wolf asks. He concludes that Schwartz and Menken's score "tilts toward the generic." Menken has become philosophic about such criticisms. As he told the Hartford Courant, "Ironically, as you know, as we move forward in time, our culture is moving into a less sophisticated period musically. Were I to write a very beautiful, complicated, sophisticated melody, it would never have a snowball's chance of being heard."
In late 1999, Menken began collaborating with Alice Cooper, the original shock-rocker, on a project that was yet to be completely defined—it would be a Broadway show, a cartoon, or a rock show. Cooper told the San Diego Union-Tribune that the project was called Alice's Deadly Seven and was based on the Seven Deadly Sins. "This is probably the strangest combination since Burt Bacharach and Elvis Costello," Cooper said. "(It's) got my words and Alan's melodies and both of us collaborating on arrangements. It's basically three quarters written, and it won't becoming out for two years."
Menken and his wife Janis, a former ballet dancer, reside in Katonah, New York with their two children.
Read more
Latest headlines