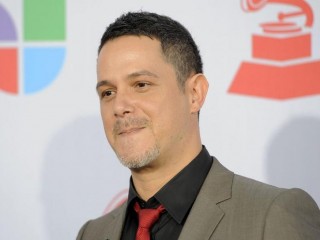 Alejandro Sanz biography
Date of birth : 1968-12-18
Date of death : -
Birthplace : Madrid, Spain
Nationality : Spanish
Category : Arts and Entertainment
Last modified : 2012-01-25
Credited as : Singer-songwriter, Musician, Grammy Award winner
Alejandro Sanz (born Alejandro Sánchez Pizarro), is a Spanish singer-songwriter and musician. For his work, Sanz has won a total of fifteen Latin Grammy Awards and three Grammy Awards. He has won the Latin Grammy for Album of the Year three times, more than any other artist. He has released a total of nine studio albums and six DVDs.
A sensation throughout the Spanish-speaking world, Alejandro Sanz would love to win the hearts of music lovers in the American market like so many other Latin singers have done. But Sanz feels most comfortable singing in his native tongue--as demonstrated by hit albums including Viviendo De Prisa, Si Tu Me Miras, Alejandro Sanz 3, Basico and El Alma al Aire--and he would prefer that American listeners hear him that way, even if it means missing out on the crossover success of Latin superstars Ricky Martin and Enrique Iglesias.
In the early summer of 2001 Sanz did make one concession to those who have been pleading with him to record in English. A special edition of his 2000 album El Alma al Aire was released in June with an English-language version of his hit "Me Iré" that was recorded with the Irish singing group the Corrs. And in a clear case of turnabout being fair play, another new track on the special edition of the album features the Corrs and Sanz singing "Una Noche" in Spanish. Sanz told Billboard that singing with the Corrs was "really fantastic." He said he was nervous at first about singing in English, "but I found it very attractive. The way of building phrases and measuring them is different, and I was singing in a way I don't sing in Spanish. I was surprised how much I enjoyed it."
But North American music lovers will have to be content with his English-language collaboration with the Corrs, at least for now, Sanz told Billboard. He definitely has no plans to record an album in English for the foreseeable future. "If I ever do that, all I can promise is that it will be because of an artistic urge and not for marketing reasons. I don't sing 'pretty.' I give it all my soul. That's why I'm not interested in releasing on the Internet--music isn't the same if you can't touch it as a finished record."
Born Alejandro Sánchez Pizarro on December 18, 1968, in Madrid, Spain, Sanz is the son of Jesus Sánchez Madero, a musician, and María Pizarro Medina, a homemaker. Both parents came to Madrid originally from Andalusia in the south of Spain. His father was born in Algeciras, while his mother hails from Alcalá de los Gazules. Sanz showed an early interest in music, and before long he had learned to play the guitar, his father's instrument of choice. His father had been a member of two popular music groups--El Trio Juventud and Los Tres de la Bahia--and also had accompanied such notable Spanish artists as Manolo Escobar and Lola Flores. Not surprisingly, given his parents' Andalusian origins, Sanz was heavily influenced by flamenco rhythms and sounds. Never a particularly inspired student, Sanz focused most of his energy and time on music while growing up. Although he had a brief flirtation with the idea of becoming a shoemaker, that notion was soon abandoned in favor of a career in music.
He attended a trade school in the family's working-class Madrid neighborhood, but when he wasn't in class, he could be found wandering the streets with his guitar in tow, looking for a place to perform. In the beginning, he found his audiences at local parish functions, but he soon graduated to performances in neighborhood bars and clubs. A rebellious youth by nature, Sanz ran away from home on a number of occasions during his youth, and on one such foray, he and a school friend took off for the Andalusian coast, where he survived by playing guitar and singing in local bars.
In his late teens, Sanz was discovered by musical manager Miguel Angel Arenas, best known in the trade as Capi. Arenas had established a reputation in the Spanish music business by helping to launch the musical career of Mecano, the Spanish supergroup. Before long he was lining up jobs for Sanz, who at this point was working under the name of Alejandro Mango. It was under that name that Sanz in 1989 released his first album, entitled Los Chulos Son Pa Cuidarlos, which featured what has since been described as a "flamenco-techno" blend of music. It was not a particularly auspicious start. He started shopping around for a major label. He was rejected by Hispanovox, but he continued to make the rounds until he received an offer from WEA that led to the release of his first major album, Viviendo De Prisa.
It would be fair to characterize Sanz as a teen idol during the early years of his career. His every move was tracked by swooning, screaming teenage girls. His first three major albums--Viviendo De Prisa, Si Tu Me Miras, and Alejandro Sanz 3--all fall into the teen pop category, designed largely to appeal to his pubescent fans that made up the biggest part of his following. However, as the songs Sanz wrote began to show greater maturity, he decided to move in a somewhat different direction with his musical career. Evidence of that change came with the 1997 release of Mas. It was evident that the Spanish market welcomed the change, as in four months the album had earned sales of one million copies, a new record for Spanish sales. From Mas came Sanz's hit single "Corazón Partío." The album sold more than two million copies in Spain and about five million worldwide, including 600,000 in the United States, where it was certified gold by the Recording Industry Association of America (RIAA).
As far as record sales were concerned, the best was yet to be for Sanz. In the fall of 2000 his newly released El Alma al Aire sold nearly 800,000 copies in Spain in the first four days. Saúl Tagarro, president of Warner Music Spain, said the sales performance in Spain was roughly equivalent to sales of 15 million copies of an album in its first four days of release in the United States. "This is absolutely spectacular," Tagarro told Billboard. "Sanz is a social phenomenon that goes much further than music." To put the Spanish sales performance of El Alma al Aire in perspective, Tagarro pointed out that International Federation of the Phonographic Industry data for 1999 put Spain in eighth place in terms of markets for recorded music. However, he said American retail trade is approximately 20 times the size of Spain's. "Yet the highest-ever first-week sales there [the United States] was 'N Sync with 2.4 million, beating Backstreet Boys' previous high of 1.5 million."
In March of 2001 Sanz won all three awards he was nominated for at the fifth annual Premios de la Musica ceremony in Madrid. Unfortunately, Sanz, who was on tour in Mexico, missed the ceremony. He won the awards for Best Pop Composer, Best Pop Artist, and Best Pop Album (El Alma al Aire). In the fall of 2000 the singer won Best Spanish Male Artist and Best Spanish Album honors at both the Premios Amigos Awards in Madrid and the Premios Ondas Awards in Barcelona.
In June of 2001 MTV Latin America announced that it would tape an MTV Unplugged show with Sanz in September of 2001. The cable network said that the Sanz show and another one featuring La Ley from Chile would bring to 17 the total number of MTV Unplugged shows that have been taped with Spanish-language artists. The show aired on MTV Latin America, Brazil, and Spain, as well as MTV-S for the American Latin market.
On September 2, 2003, Sanz released his sixth studio album, No Es Lo Mismo. On this record, Sanz took a more political approach than he had on previous releases. "Sandy a Orilla Do Mundo" discusses oil spills on the Spanish coast, while "Labana" tells the story of people fleeing from Cuba on makeshift rafts. The album won four awards at the 2004 Latin Grammy Awards, including Album of the Year and Record of the Year. Sanz was unable to attend the event and his awards were accepted by presenters and colleagues. Also in 2004, he became the first Spanish musician to give a lecture at Harvard University, speaking about Hispanic culture at the David Rockefeller Center for Latin American Studies.
In 2005, Sanz collaborated with Shakira on her song "La Tortura". Co-written by Sanz, the song became an international hit, breaking the record for the most weeks at the number one spot on the Hot Latin Songs chart. The song exposed Sanz to a more diverse audience, and helped build anticipation for his next release. The first single from the album El Tren de los Momentos, "A la primera persona", became his first song to enter the Billboard Hot 100, peaking at number 100 on the chart. The record was also noted for its guest appearances, which featured Shakira, Juanes, Alex González of Maná, and Residente of Calle 13.
In the spring of 2007, Sanz suffered a mental breakdown and was forced to take two months off in the middle of a world tour. The breakdown was caused by several events in his personal life, including the death of his father in 2005, his separation Mexican model and actress Jaydy Mitchel, and his announcement that he had a three-year-old son outside of his marriage with Mitchel. He commented on the situation, saying "You have to put things in perspective. It was stress, something that had never affected me, but this time, yes, it did. So I had to pay. A doctor told me to stop for a couple of months to recuperate completely." Sanz spent time in therapy, a time which "helped [him] a lot" and gave him "more power" to perform.
In a press conference in late 2007, he criticized Venezuelan president Hugo Chavez, calling him "undemocratic" in the wake of a petition made by Venezuelan citizens to prevent Chavez from running for re-election. Sanz further stated "If they gave me 3 million signatures to stop singing, I would stop singing immediately." Supporters of Chavez subsequently gathered 230,000 signatures in response to Sanz' comments.
Studio albums:
1989: Los Chulos Son Pa' Cuidarlos
1991: Viviendo Deprisa
1993: Si tú me miras
1993: Básico
1995: 3
1997: Más
2000: El alma al aire
2003: No Es Lo Mismo
2006: El Tren De Los Momentos
2009: Paraíso Express
Read more
Latest headlines