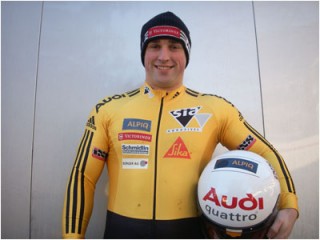 Alex Baumann biography
Date of birth : 1964-04-21
Date of death : -
Birthplace : Prague, Czech Republic
Nationality : Canadian
Category : Sports
Last modified : 2010-07-08
Credited as : Olympic swimmer, sports administrator,
Alex Baumann
(also known as:
Alexander Baumann
), born April 21, 1964 in Prague, Czechoslovakia is a Canadian Olympic swimmer and sports administrator.
The appointment of swimming great Alex Baumann as chief executive officer of the Canadian Olympic Committee's Road to Excellence program came as a relief to Canadians dismayed by Team Canada's tepid international performance in recent years. Baumann came to his new job with impeccable credentials. In a 14-year amateur swimming career, he had captured 34 national championships, set five world records, and won two Olympic gold medals, as well as five Commonwealth Games gold medals.
But despite this stellar competitive record, Baumann spent nearly two decades all but shut out of Canada's amateur sporting establishment. The reason? His outspoken views on the way amateur athletes were developed in this country.
This clash with the Canadian sporting establishment explained, at least in part, why he ended up in Australia. There, his considerable administrative talents were recognized and nurtured, and he spent 15 years in increasingly senior administrative positions in that country's enviable amateur sports system. His triumphant homecoming has been interpreted as a vindication of his long-held views about how Canada nurtures elite athletes --- and holds out new hope for Canada's aspirations in international sports.
Known as Sascha, or Sasa, to his friends and family, Bauman was born Alexander Baumann in Czechoslovakia in 1964. He learned to swim at the age of five, and when he was nine, he immigrated to Canada with his parents and his older brother, Roman. The Baumanns settled in Sudbury, Ontario, where the two brothers eventually joined the Laurentian University Swim Club. It was there that Baumann met Jeno Tihanyi, the coach who would guide his career for the next 14 years.
Baumann competed for the first time at the Ontario provincial championships at the age of 10. He took home five gold medals and set national records in his age category in all five events. It was the start of a glorious competitive career.
In 1982, persistent tendinitis and shoulder problems kept him out of competition for most of the year, and he sat out the world championships. But he did compete in the 1982 Commonwealth Games and was chosen to be the Canadian team's flag bearer. He also set a world record during those games. "That '82 world record was one of the most important of my career," he later told Dennis Passa of the Canadian Press. "I'd been out of the water with a fairly serious shoulder injury for six months, so it was make or break."
As the 1984 Olympics neared, Baumann's training was almost derailed by personal tragedy: his father's death from cancer was followed closely by his brother's suicide. Laurentian University later established the Roman Baumann Memorial Scholarship to honour Baumann's late brother, a talented athlete in his own right.
Despite his grief, Baumann prepared for the Olympics, which were to take place in Los Angeles. He was chosen by the Canadian national team to be the flag bearer in the Games' opening ceremonies, and on July 28, 1984, he led a Canadian delegation of almost 500 athletes and support staff into the Los Angeles stadium before an audience of nearly 93,000. In Los Angeles, Baumann became the first Canadian since 1912 to win an Olympic gold medal in swimming. And he did it in fine style, winning both the 200- and 400-metre individual medleys and setting world and Olympic records in both races.
Baumann continued his winning ways until he decided to retire from competition in 1987. His next gig was as a sports broadcaster for CBC, covering the 1988 Summer Olympic Games in Seoul, Korea. That year, he also married Tracy Taggart, an Australian nurse who had been living in Canada and, with Tihanyi, co-authored a book, Swimming with Alex Baumann: A Program for Competitive and Recreational Swimmers.
Late in January 1990, Mary Ormsby of the Toronto Star reported that Baumann had been offered a position as a swimming coach at the Australian Institute of Sport in Canberra. "My mind is far from being made up about going to Australia," he told Ormsby. "I'm not even sure it's a firm offer, at the moment."
In his final year of undergraduate studies at Laurentian and married to an Australian, Baumann had been thinking about doing graduate work in Australia and had written to the institute to inquire about part-time work while at university. When the job offer came, though, it presented a dilemma. Given the intense rivalry between the Canadian and Australian swim teams, Baumann was concerned that Canadian swimmers would view his acceptance as a betrayal.
At the same time, however, Baumann had become disillusioned with the state of swimming in Canada and was an admirer of the Australian program. "If Canada wants to be the best in swimming, I don't think we are going about it in the right way," he told Ormsby. "With our club system, we've reached the level we have despite the system. I toured the Australian institute last June and it is truly amazing. The facility is superb, and the Australian results so far at the Commonwealth Games show that it's a system that works."
At the time, the Commonwealth Games were taking place in Australia. By the time they were over, the Australians had humiliated the Canadian swim team, taking 23 gold medals to Canada's 8, and 53 medals overall to Canada's 23. It was the worst drubbing that the Australians had handed the Canadian team since 1966.
In the aftermath, Baumann made no bones about assigning responsibility for the debacle. In a letter to Swim Magazine, he fingered the Canadian system. "The performance of the Canadian team in Auckland was a grave disappointment," he wrote. "Canadian swimming is going to drown unless the administration shows some leadership."
He was particularly upset by the manner in which Canadian administrators and coaches tried to dismiss the Games as a mid-winter trial run for the world championships, scheduled to take place in Perth, Australia, the next year. "Why do we have to make up excuses when we fall short of our expectations?" he continued. "We should be analyzing what went wrong, admitting our mistakes and taking steps to correct them."
Baumann's concerns were echoed by former teammates and coaches, who accused Swimming Canada of being administratively top-heavy. At a time when spending on training, teaching and competitions had declined, they said, administrative costs had ballooned to claim 46 per cent of the budget. The dissidents also blamed the administration for poor planning that had seen swimmers suffering from jet lag during the 1986 world championships, as well as illness caused by drinking contaminated water.
Swim Canada editor Nick Thierry added his voice to those who had aired their grievances and claimed that Swimming Canada officials placed greater value on the World Cup series than on the Commonwealth Games --- Swimming Canada vice-president Trevor Tiffany was widely credited with creating the World Cup. "They will salvage their fiasco by saying they did well in Europe [at the World Cup]," Thierry told the Star. "Excuse me, but no one is interested in Europe. They blew it."
Swimming Canada was not, to put it mildly, amused. Baumann had been the first to speak out, and officials held him responsible --- unofficially, of course --- for what they viewed as mutiny in the ranks.
This was not the first time that Baumann had made enemies in the Canadian swimming establishment. In 1988, the Canadian Olympic Committee had dismissed national team head coach Don Talbot, one of the most successful swimming coaches the world has ever seen, and replaced him with Dave Johnson. At the time, it was rumoured in some circles that Talbot's refusal to place the daughter of a committee member on the national team had been behind his firing. True or not, Baumann had objected strenuously, and publicly, to Talbot's dismissal.
By the time Baumann wrote to Swim Magazine, he had no shortage of enemies. And they exacted their revenge --- of the cutting-off-your-nose-to-spite-your-face variety. Baumann was blackballed. Despite being arguably the greatest Canadian swimmer to ever take to the pool, he was shut out of pursuing a national coaching career in Canada.
In June 1990, Baumann graduated from Laurentian University with a B.A. in political science and took a job as the head coach of his old team, the Laurentian University Swim Club. The job offer had come as a surprise to him. "It is probably the last thing I ever thought of," he told the Vancouver Sun. But he had taken to it like a duck to water. "The first two weeks, we are just getting back in shape," he said. "I really enjoy it a lot."
Later that year, as a spokesperson for the Council on Drug Abuse, Baumann toured 11 schools in Ontario. "Canada's youth is Canada's future," he told Leslie Papp of the Toronto Star when asked about his reasons for participating. He said that he wanted to use his public image to influence kids in a positive way. "I had good role models and a good coach with high ethical and moral values," he said. But others he knew hadn't been so lucky: "I've seen [drug abuse] around, even in the swim clubs. Unfortunately, some of the swimmers who had problems were deterred from reaching their full potential."
In 1991, Baumann and his wife moved to Australia. Tracy was happy to be back in her own country, and Baumann enrolled in graduate studies in political science at the University of Queensland, studying ethnic nationalism in Canada, Belgium and the former Czechoslovakia. He completed his Ph.D. in 1994, then earned his teaching certificate and taught at a private boys' school for two years.
In 1996, he was approached by the Queensland Academy of Sport to be its manager of sport programs. "It ignited again the passion I had for elite sport," he told Dave Stubbs of the Montreal Gazette. And in what may have been a thinly veiled shot at the Canadian amateur sporting establishment, he said: "I'm in an environment that's mad about sport. It's a can-do mentality where nothing's too difficult."
The Queensland Swimming Association appointed Baumann its chief executive officer in 1999. Then, in 2002, he was named executive director of the Queensland Academy of Sport. In all his Australian positions, Baumann was instrumental in improving the competitive performance of Australia's amateur athletes, especially the swim team. And his skills as an administrator were attracting the attention of institutions in other countries. In 2001, the English Institute of Sport offered to make him its director of technical services. But he still got short shrift from Canada. The same year that the English Institute courted him, Baumann applied to be the new CEO of the Canadian Olympic Committee. His name did not even make the short list.
Meanwhile, Baumann had been in Australia long enough to realize that the Aussies' national sports psyche was radically different from that of Canadians. "There is no doubt in Australia that the elite athlete is held in high esteem," he told Wendy Long of the Montreal Gazette. "Swimmers like Susie O'Neill, Grant Hackett, Kieran Perkins, they are all on posters, they're everywhere, their faces are always on TV. Whereas I think unless you're a hockey player in Canada, you are not that well known."
Canadians' love affair with millionaire professional athletes, it seems, comes at the expense of their pride in and support of the country's amateurs. "There are a number of pro sports in Australia, but the money and profile is nowhere near what is involved in North America," Baumann told Long. "Any athlete at or near the top of the world here can make fairly good money and be in the spotlight quite extensively."
In August 2001, the Montreal Gazette published an article by Baumann in which he attempted to answer the question "What's wrong with the Canadian sports system?" Noting that both Canada and Australia had done poorly at the 1976 Summer Olympic Games, Baumann then detailed the steps the Australians had undertaken to become major contenders. Canada, too, had renovated its sports system, but with considerably less impressive results. Cogently and dispassionately, he argued that Canada had much to learn from the Australians. And, he contended, if Canada genuinely aspired to be one of the top sporting nations in the world, it would have to restructure its system, staff it with the right people and provide them with enough resources to get the job done.
Baumann's manifesto for a makeover of Canadian amateur sports may have angered some, but at least a few senior administrators took his arguments to heart. In 2004, Swimming Canada asked him to lead an inquiry into the Canadian team's disappointing performance at the 2004 Summer Olympics. Baumann declined, believing he didn't have enough time to devote to the project.
"I have been contacted by many people through our Website recently asking me to come back and try to fix the system," Baumann wrote in an e-mail to The Globe and Mail. "It is refreshing to hear from ordinary people venting their frustration and wanting a change. It is not, however, a one-man job and will take a significant collaborative effort." In other words, there were no quick fixes. And Baumann might just have been hinting that if the COC truly wanted his services, they would have to meet his terms.
There is nothing to confirm the back-channel negotiations that must have taken place. But four years later, all had been forgiven, and the COC invited Baumann to return to Canada to become the executive director of Road to Excellence, the Committee's new program designed to bump up Canada's standing in summer Olympic and Paralympic sports.
"I look forward to the challenge," Baumann told CBC when his appointment was announced in September 2006. "I don't have any illusions. I think it will be a difficult job, and it will take time to implement a sustainable system that will produce long-term results." The Road to Excellence program calls for nearly $90 million in funding from the federal and provincial governments in coming years.
Roger Jackson, CEO of the program Own the Podium 2010 and author of the Road to Excellence business plan, enthusiastically endorsed Baumann's appointment. "There are a couple of images," Jackson told a news conference at the University of Toronto. "One is an absolutely world-class athlete coming back to Canada and being a representative of what new Canadian sport is about. He's young, he's highly experienced, and that image will invigorate sport and people who are really wanting a better future. The other image is of an absolutely world-class experienced technocrat, who has strong leadership capabilities."
Chris Rudge, CEO of the COC, also welcomed Baumann's appointment. "[Baumann] brings to Canada an almost mythical cachet from his accomplishments in the past and what he's done down in Australia," Rudge told the news conference. "And we all know we like to see a native son come home and re-embrace Canada and bring that leadership back to Canada." Rudge pledged an immediate $5-million top-up of existing funding.
"It's a very good start, but the job's not done," Baumann said. "When Australia got awarded the Olympics in 1993 for the 2000 games, it united everybody. I'm hoping the [2010] Winter Games will unite the stakeholders for the summer sports as well. It will be a challenge for us, there's no doubt, because you don't have this end event that you can really focus on. But I think it can be done and I think it's already started now."
Baumann also used the news conference to reinforce the message he will be sending to Canada's amateur athletes when he takes up his new position in January 2007: "I think those support services like sports medicine or biomechanics can give you an edge, but you have to remember you have to put in hard work. That's the key thing I would tell athletes. We're going to be here to help you as much as possible, but you're going to have to do it yourself, you're going to have to stand up on that podium or on that block for your event. There's no egalitarianism in high-performance sports."
AWARDS
Canadian team flag bearer, Commonwealth Games, 1982, World University Games, 1983, and Olympic Games, 1984; inducted into Sudbury Sports Hall of Fame, 1983; male athlete of the year, Canadian Press, 1984; male world swimmer of the year, Swimming World magazine, 1984; named officer, Order of Canada, 1985; inducted into Canadian Olympic Hall of Fame, 1985; inducted into Canada's Sports Hall of Fame, 1987; awarded Order of Ontario, 1988; inducted into Alumni Voyageur Hall of Fame, Laurentian University, 1994.
CAREER
Began swimming at age five; entered first swimming competition c. 1973; won 34 Canadian national championships, 1978-1987; won bronze medal, Pan American Games, 400-metre individual medley, 1979; won gold medal, FINA Cup, 400-metre individual medley, 1979; won gold medals and set world and Olympic records, 200- and 400-metre individual medley, Los Angeles Summer Olympic Games, 1984; won gold medal, 400-metre individual medley, and silver medal, 200-metre individual medley, world championships, 1986; won gold medal, Commonwealth Games, 1986; won gold medal, world championships, 1987; retired from competition, 1987; as sports broadcaster for CBC, covered Summer Olympic Games, 1988; with coach Jeno Tihanyi, published Swimming with Alex Baumann: A Program for Competitive and Recreational Swimmers, 1989; after graduating from Laurentian University with honours B.A. in political science, worked as head coach, Laurentian University Swim Club, 1990-1992; moved to Australia to do graduate work in political science at University of Queensland, 1991; earned Ph.D. from U of Queensland, 1994; earned teaching certificate, then taught at private boys' school, 1994-1996; worked as manager, Queensland Academy of Sport, 1996-1997; held series of positions in sports administration, including acting director of industry development, Queensland Department of Sport; was appointed chief executive officer, Queensland Swimming Association, 1999; named executive director of Queensland Academy of Sport, 2002; appointed director, Road to Excellence program, Canadian Olympic Committee, 2007.
Read more
Latest headlines