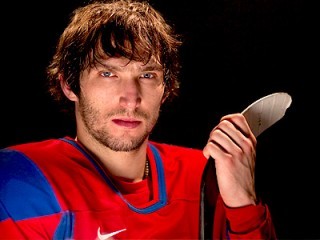 Alex Ovechkin biography
Date of birth : 1985-09-17
Date of death : -
Birthplace : Moscow, Russia
Nationality : Russian
Category : Sports
Last modified : 2010-08-02
Credited as : NHL Ice hockey player, ,
Hockey fans love their superstars. Even better is a superstar with a smile, no matter how many teeth are missing. Alex Ovechkin, the leader of the NHL's 21st century Russian Revolution, may have a gap or two in his grin, but there are precious few flaws in his game. His combination of sublime skill and pitbull tenacity has catapulted a moribund Washington franchise into Stanley Cup contention and re-ignited one of the league's most passionate—and least rewarded—fan bases. Is Alex ready, willing and able to live up to the expectations and hype? As he likes to say, "No problem."
GROWING UP
Alexander Mikhaylovich Ovechkin
was born September 17, 1985 in Moscow, USSR. His parents, Tatyana and Mikhail, had great athletic bloodlines. Alex's mother was a basketball star who won Olympic gold medals with the Soviet Union in 1976 and 1980. His father was a pro soccer player. Alex's older brother Sergei, who would become a champion wrestler, introduced him to hockey when he was two. The Ovechkins had a third boy, Mikhail, named after his dad.
Alex's parents have a photo of him with a hockey helmet and stick taken at the age of two in a Moscow department store. He soon became obsessed with hockey and rarely missed a televised game. Pity the parent who tried to turn the channel between periods. The kid wanted to soak up every ounce of knowledge he could.
Alex also understood the kind of physical commitment it would take to become an elite player. Instead of taking the elevator to the family apartment, he would insist on running up the stairs.
Alex grew up in Moscow during the waning years of the Soviet Union and after. The changing politcal landsacpe made it much easier for news of the NHL to filter into his life. The Pittsburgh Penguins were Stanley Cup champs in the early 1990s, and Alex became captivated by their star, Mario Lemiuex. Not only was he inspired by Super Mario's play, but also by his battle to overcome cancer. Later, as an NHL rookie, Alex would trade sticks with the great star during Lemieux's last hurrah with the Penguins.
Back in his homeland, Alex's favorite team was Moscow Dynamo. His hero was Alexander Maltsev, the club 's greatest star. Maltsev retired a year before Alex was born, but through stories and TV highlights, the boy decided that Matsev was his man.
Despite Alex's passion for the game, his busy parents were not always able to transport him to the rink. Alex's coaches and brother Sergei implored Tatyana and Mikhail to get as serious about hockey as their son. From the age of eight on, Alex was good to go. He was later invited to join the Dynamo's development program.
As Alex moved up the ranks of Moscow Dynamo's competitive youth hockey program, he began to draw attention with his powerful skating and quick, accurate wrist shot. He was a hard worker and though very offensive-minded, he was a devoted team player. Alex could raise spirits with a goal, a pep talk or a good back-check. He had that extra dimension as a person and player that clearly came form being the product of a terrific sports family.
On many of his teams, Alex was both the youngest and best player. It is a tradition in Russia that the youngest player carries the team's sticks. The problem was that, after many tournaments, Alex needed a free hand to carry the awards and trophies he had won.
In 2000, Alex had moved to within a level of the Dynamo's Superleague squad. However, what should have been a year of happiness for him was darkened by the death of Sergei in a car accident.
Alex made his Superleague debut a year later during the 2001–02 season. The 16-year-old played in 21 games and tallied two goals and two assists. Alex's first appearance in a major international tournament came at the 2002 World Under-18 Championships. He led Russia to the gold medal with 14 goals and four assists in eight games. One year later, Alex played in the World Junior Championships for the first time. Once again, he led Russia to the title, scoring six goals in six games.
In the spring of 2003, Alex learned that the Florida Panthers had attempted to draft him in the ninth round. The NHL ruled against the pick because he was too young by two days. The Panthers argued that there had been four leap years since Alex was born and that made him eligible. At first the NHL listened, but eventually nixed Florida's claim.
ON THE RISE
Alex's big breakthrough came in 2003–04, when he became the youngest player in history to lead the Dynamo in scoring. He netted 23 points in 53 games and was voted the Superleague's top left wing. At first glance, his stats did not seem to warrant superstar talk. But factor in that he was one of the most inexperienced players in a league stocked with savvy, skilled international veterans, and that made Alex was a virtual lock to be taken with the NHL's #1 pick that spring.
Comparisons to Ilya Kovalchuk, the Russian star drafted first overall by the Atlanta Thrashers in 2001, were inevitable. The two were indeed similar players, although Alex was a bit more of an end-to-end performer. Kovalchuk, by contrast, was never known for his defense.
Alex also fared well in comparison to other top picks, including Joe Thornton and Vincent Lecavalier. All brought terrific skills to the ice, but Alex already had a man's body, outweighing these young guns by a good 15 pounds.
In anticipation of his move to North America, Alex began watching English-language TV shows—mostly sports highlight programs—to learn a new language. By draft day, he was comfortable enough to stumble through interviews without an interpreter. The Capitals, who lucked past the last-place Penguins when the lottery balls were pulled, made it official and took Alex. Pittsburgh chose second and grabbed fellow Russian Evgeni Malkin.
Of course, Alex had to wait a year before displaying his skills to North American fans, as the NHL and the union locked horns and cancelled the 2004–05 season. He turned plenty of heads at the World Championships, however, skating rings around the competition. No one could remember a player so young who looked so good.
Another interesting wrinkle that developed concerned the amount the Capitals had to pay Moscow Dynamo for Alex's services. Under the NHL's agreement with the International Ice Hockey Federation, the bill should have been $200,000. But that deal was due to expire during Alex's season in limbo. Moscow Dynamo was planning to ask for millions.
While waiting for the labor issues to settle, Alex had another outstanding season for the Dynamo, scoring 27 points in 37 games. He did whatever he could to stay sharp in anticipation of his inaugural NHL season.
Anyone wondering how quickly Alex would adjust to the NHL got their answer right away. He tallied at least one point in each of the first eight games of the 2005–06 campaign. No #1 selection had ever done that before. Wherever Alex played, hardcore hockey fans came to see and cheer him. Many showed up to arenas wearing his black #8 jersey—a hot seller around the NHL. He also created a stir when he sported the mirrored visor he had been wearing in international play. Sidney Crosby may have been drawing more media attention, but Alex made it clear in the early going tat he was every bit the player the Penghins rookie was. And then some.
Alex officially became an NHL legend in a January game against the Phoenix Coyotes. Skating over the blue line, he cut from the right side to the left and tried to slip past a defenseman near the left circle. Alex lost his footing and ended up flat on his back—but he located the puck, caught it in the crook of his stick, and swept it over his shoulder past a stunned Mikael Tellqvist. The stunning goal was an instant You Tube classic. It was only appropriate that Wayne Gretzky was at rinkside to witness the shot. After the goal, Alex kissed his left glove and raised it to honor Sergei.
Alex finished his freshman campaign with 52 goals and 54 assists. It marked just the second time in history a rookie scored 50 goals and tallied 100 points. Teemu Selanne was the first. Alex was a shoo-in for the Calder Trophy, grabbing 124 of the 129 first-place votes to finish well ahead of Crosby, who also had a good first year. Had the strike not robbed Alex of his rookie season the year before, both young stars probably would have won a Calder.
The Caps ended up with 29 wins and 70 points, and missed the playoffs. They were hardly pushovers, giving a decent account themselves almost every night. Washington just could not close the deal.
Alex was even better than advertised as a rookie, spurring the Caps to accelerate their rebuilding plans. Owner Ted Leonsis had hoped to let the team's draft picks and young players ripen. After being burned by Jaromir Jagr, he was hesitant to sign free agents to large contracts. Having a rookie named a First-Team NHL All-Star, however, convinced him to start thinking big. Even so, change and improvement would come slowly in D.C.
MAKING HIS MARK
The 2006–07 season found opponents zeroing in on Alex, and it showed in his numbers, which dipped slightly to 46 goals and 46 assists. Still, he was clearly improving as a player. In fact, by season's end, Washington fans could make a solid argument that Alex was the best player in the NHL. It was hard to take your eyes off him during his shifts. When he got the puck with a head of steam, he had the moves to skate around people, and the power to skate over them. Every touch was a potential highlight-reel play.
Alex's lone weak spot was his defense. He was often caught out of position, leading to several easy goals for opponents. His –19 was the worst plus-minus on the club. Not that the other Washington players had much to brag about. The team finished dead last, with 28 victories and just 70 points again.
Amazingly, Alex seemed to complete his evolution as an NHL star in just his third year. Coach Glen Hanlon began playing him in the final moments of the third period when Washington needed to close out victories. It was a testament to Alex's improving defense. Even after Hanlon was replaced in November of 2007 by Bruce Boudreau, Alex continued to shine at both ends of the ice. Ultimately, he would tie Viktor Kozlof for the top plus-minus on the team at +28.
Toughness, however, was never an issue. Early in the season against Atlanta, Alex took a stick to the mouth and lost a tooth. Moments later, he zoomed back and broke up a scoring chance by the Thrashers. In a game against the Carolina Hurricanes, he dove in front of a blast by Eric Staal to stop a potential goal.
In January, Alex and the tight-fisted Leonsis completed a 13-year contract extension for $124 million. It was the first nine-figure deal in NHL history, and it was done without an agent. Alex's parents were on hand for the final negotiations.
Alex provided an equally memorable moment at the 2008 All-Star Weekend during the Breakaway Challenge. On his second attempt, he lifted the puck onto his stick as he crossed the blue line, popped it into the air, spun 360 degrees, and then tried to bat it past the goalie in midair. Alex missed, but the fans went crazy.
A few days later, in a 5–4 overtime win over the Montreal Canadiens, Alex had one of those games that will be talked about for generations. He took a stick to the face that shattered his nose and required stitches in his lip, yet he still managed to score four of his team's five goals—including the game-winner—and assist on the other.
Alex finished the year with 65 goals and 47 assists. His 112 points—six ahead of Malkin, the only other 100-point player in the league—led the NHL. It marked the first time in 12 seasons that a player had topped the 60-goal plateau. No left wing had ever scored that many goals.
Meanwhile, the Caps went from worst to first in the Southeastern Division, winning 43 games and making it back to the playoffs despite some key injuries along the way. They edged the Hurricanes for the top spot on the last day of the season.
Alex faced the Philadelphia Flyers in his first taste of playoff hockey. The Caps won the opener and then ran into a buzzsaw, losing three straight. Washington fought back to set up a Game 7. The Caps scored first, but the Flyers forced an overtime period with a late goal and then won the series on a goal by Joffrey Lupul. Alex led the Capitals with five goals and four assists, and netted the game-winners in Game 1 and Game 6. Watching the Flyers celebrate on their home ice was one of the lowest feelings of his life. If history is an accurate teacher, he will use that feeling to fuel future postseason performances.
Alexander the Great has conquered Washington D.C., and with a little help from his friends, he hopes to do the same in the Stanley Cup playoffs. One super scorer does not a championship contender make, of course. But Alex has proven that he can do a lot more than put the puck in the net.
ALEX THE PLAYER
If Sidney Crosby is the NBA's Magic Johnson, then Alex Ovechkin is Larry Bird. He is a tough, confident scorer with a mean streak. He is known for his rifle wrister and his hard checks. Alex brings fans out of their seats with a blistering shot or a big hit. He has the size and strength of an NHL power forward, but the hands, instincts and quickness of an elite scorer.
Alex is also a bright, funny, welcoming teammate. In Washington, where many fans were turned off hockey by the moody, taciturn Jaromir Jagr, Alex is a breath of fresh air.
Once the puck is dropped, Alex is not afraid to shoot. In fact, he puts more shots on net than any player since Phil Esposito during the glory days of the Boston Bruins. During the 2007–08 season, Alex began to understand how he could make his teammates better. He was quicker to share the puck when defenses closed in on him. Alex finished with 47 assists, second only to Swedish phenom (and linemate) Nicklas Backstrom on the Caps.
EXTRAS
* Between 2002 and 2006, Alex scored 59 goals in 63 international games playing for Russia.
* Alex was the youngest player in the 2004 World Cup.
* Alex played for Team Russia at the 2006 Olympics. He scored five goals in eight games. Alex was the only player named to the Olympic All-Tournament Team whose country did not win a medal. Russia finished fourth.
* Alex was the first rookie since Teemua Selanne to be named a First-Team NHL All-Star.
* Alex had the most points of any Russian-born rookie in history or any rookie left wing in history.
* In 2006–07, Alex scored 25 goals against division rivals—the most of any player in the NHL.
* In his rookie season, Alex was the only NHL player to have twice as many goals and shots as any other teammate.
* Alex established new team rookie records for goals (52), assists (54), points (106), power play goals (21) and shots (425).
* In the 2007-08 season, Alex became the first Cap to start an All-Star Game since Rod Langway in 1989.
* Alex scored the first shootout goal in Washington history.
* Alex was the first Cap since Dennis Maruk to record back-to-back 90-point seasons.
* Alex is good friends with NBA star Andrei Kirilenko.
* Alex served as the chairman of the 2006 Caps Care Classic golf tournament. During a practice round he hit a hole-in-one.
* Alex's nickname is Alexander the GR8. It was chosen by fans in a poll conducted by his stick and skate company.
* Alex buys eight great seats for each home game and donates them to soldiers or needy children as part of his Crazy 8's charity.
* Alex is known for his color-clashing outfits.
Read more
Latest headlines