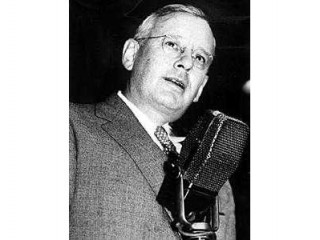 Alfred Landon biography
Date of birth : 1887-09-09
Date of death : 1987-10-12
Birthplace : West Middlesex, Pennsylvania U. S.
Nationality : American
Category : Politics
Last modified : 2010-11-21
Credited as : Politician, former Governor of Kansas,
Kansas Governor Alfred M. "Alf" Landon was the Republican nominee opposing Franklin D. Roosevelt in the U.S. presidential election of 1936. Running against popular New Deal policies, Landon lost to Roosevelt by the largest electoral vote margin of any candidate since 1820. After his defeat, he continued to speak out on issues as a Republican Party elder statesman.
Republican presidential candidate Alfred M. Landon holds the dubious distinction of being one of the great losers in American political history. Buried in the Democratic landslide of 1936, he managed to carry only two states against Franklin D. Roosevelt, a distinction unmatched until Democrat George McGovern's loss to Richard M. Nixon in 1972. The magnitude of Landon's defeat obscured his praiseworthy record as a two-term governor of Kansas. A moderate, reasonable leader who believed in orderly political change, Landon was never comfortable in championing old-fashioned Republican conservatism, as he was obliged to do in his campaign against Roosevelt. Though he never held another elected office after his years as governor, he remained a respected figure within the Republican Party for the remainder of his life.
Landon was born September 9, 1887, in West Middlesex, Pennsylvania, the son of John Manuel and Anne Mossman Landon. His father was an oil prospector and promoter whose work led the Landon family to move, first to Marietta, Ohio, and then, in 1904, to Independence, Kansas. At his father's urging, Landon attended the law school of the University of Kansas. He distinguished himself in student government and earned the nickname "The Fox" for his political skills. Rather than pursue a legal career, Landon took a job as a bookkeeper at an Independence bank after graduation. Still restless, he followed his father into the oil business, investing in various ventures until he launched his own firm in 1912. His drive and resourcefulness at scouting and developing oil fields eventually earned him a comfortable fortune.
Landon and his father shared an interest in politics. Together, they attended the 1912 Progressive ("Bull Moose") Party convention of 1912 that nominated former President Theodore Roosevelt. Landon worked hard for the Bull Moose campaign in Kansas, establishing enduring ties with such influential figures as editor William Allen White. In 1915 he married Margaret Fleming, who died less than two years later while giving birth to their daughter, Margaret Anne. That same year, America's entry into World War I prompted Landon to enlist in the Army, where he received a commission in the chemical warfare corps. He was still in training when the Armistice was declared.
In 1922 Landon took a hiatus from the oil business and served as Kansas Governor Henry Allen's private secretary for six weeks. His interest in politics reinvigorated, he ran for the post of local Republican county committeeman and gradually rose in the party ranks. He was identified with the liberal, reform-minded wing of the party, but worked for harmony with the conservative Old Guard faction as well. Still, he was willing to break with the Republicans at times, such as when he supported William Allen White's 1924 independent candidacy for the Kansas governorship in protest against the Ku Klux Klan-backed major party nominees.
Landon's natural friendliness and ready smile made him a popular figure in political circles. He was elected Republican state chairman in 1928 and that same year managed Clyde Reed's successful gubernatorial campaign. Democrat Harry H. Woodring won the job two years later, prompting Landon to seek the Republican nomination to oppose him in 1932. He went on to beat Woodring by a small margin, becoming the only Republican west of the Mississippi to be elected governor that year. Taking office in the midst of the Great Depression, Landon worked to fulfill his campaign pledge to cut government spending and promote moderately progressive policies. He lowered tax rates, promoted utility regulation, passed a moratorium on mortgage foreclosures, and sponsored laws to shore up the state's troubled banking system. Perhaps his most notable achievement was supporting recovery programs while keeping the state budget balanced. Landon proved to be a popular governor and became the only Republican state chief executive to be re-elected in 1934.
Republican national leaders saw Landon as a promising candidate to oppose Franklin D. Roosevelt's re-election bid in 1936. Few members of the party had the stature or voter appeal to seriously contest the popular president, and Landon's folksy image and common-sense political stands made him an early favorite for the nomination. After expressing disbelief that anyone saw him as presidential material, he pursued the nomination in earnest, tapping Kansas national committeeman John D. M. Hamilton as his campaign manager. His candidacy was officially launched at the 1935 American Legion Convention. Among his early supporters was powerful newspaper mogul William Randolph Hearst, whose publications hailed Landon as the "Horse and Buggy Governor" and the "Kansas Coolidge."
The comparison with former president Calvin Coolidge rankled Landon; rather than a rigidly pro-business conservative, he saw himself as a sensible, fiscally prudent liberal. In fact, he had supported many of the goals of Roosevelt's New Deal, including business regulation, unemployment insurance, and agricultural support programs. He did feel that the New Deal's programs were poorly executed, showing "too much of the slap-dash, jazzy method." Instead of condemning them completely, he favored eliminating the waste and inefficiency in specific programs. Unlike the Republican Old Guard, Landon didn't seek a return to the unfettered capitalism of an earlier era. "I do not believe the Jeffersonian theory that the best government is the one that governs the least can be applied today," he told a Kansas audience. "I think that as civilization becomes more complex, government power must increase." Such statements put him at odds with his party's conservatives, as did his support for the League of Nations and the World Court that were set up to deal with international issues following World War I.
Though he declined to officially contest any of the 1936 presidential primaries, Landon had his name entered in the Massachusetts and New Jersey contests, both of which he won. His main Republican rivals included Senator William E. Borah of Idaho, newspaper publisher Colonel Frank Knox, and Senator Arthur Vandenberg of Michigan. By the time the Republican National Convention opened in Cleveland on June 9, Landon's nomination was all but assured. He was chosen on the first ballot, with Knox selected as his running mate. The party emerged from the convention with an almost divine sense of mission. As one Kansas delegate put it, "God has His hand on Alf Landon's shoulder."
At the start of the campaign, Landon was reluctant to criticize Roosevelt harshly. He kept his distance from conservatives like ex-President Herbert Hoover and avoided a wholesale denunciation of the New Deal. Others supporting the Republican ticket were far more brutal in their attacks. John D. M. Hamilton and Frank Knox, among others, lambasted Roosevelt as a revolutionary out to destroy the U.S. Constitution. Hearst's newspapers asserted that the Soviet Union had ordered American communists to back Roosevelt. Commentators in the press noted the dissonance between Landon's moderation and the bitter rhetoric of his backers.
An awkward, halting public speaker, Landon found it hard to compete with Roosevelt as a campaigner. As the race entered its final months, his message grew more strident. In a Los Angeles speech, he accused the New Deal of being "obsessed with the idea that it had a mandate to control America business, American agriculture, and American life." In Baltimore, he declared that "business as we know it is to disappear" if Roosevelt won re-election. The Democrats leveled charges of their own, portraying Landon as a tool of the reactionary ultra-rich who would dismantle the New Deal if elected. In the final days of the campaign, the Republican National Committee circulated the charge that Roosevelt's Social Security Act would cut wages and force workers to wear identification tags around their necks.
In October the highly regarded Liberty Digest straw poll predicted a Landon victory. The results on election day proved to be far different: the incumbent Roosevelt carried 46 states (worth 523 electoral votes), leaving only Maine and Vermont (8 electoral votes) in his opponent's column. Roosevelt also overwhelmed Landon in the popular vote, garnering 27,757,333 to the Kansan's 16,684,231. Landon took the defeat philosophically, remarking to a friend: "I don't think that it would have made any difference what kind of a campaign I made as far as stopping this avalanche is concerned. That is one consolation you get out of a good licking."
After completing his second term as governor, Landon retired from public life. He returned to private business and settled down to home life with his second wife, Theo Cobb. Interested in world affairs, he supported the United States against Nazi Germany and, after World War II, endorsed President Harry S Truman's Marshall Plan for the reconstruction of Europe. Landon played a key role in nominating Wendell Willkie for president at the 1940 Republican National Convention. In the 1960s he supported Lyndon B. Johnson's Medicare program and other of Johnson's Great Society initiatives. In a 1962 interview, Landon labeled himself a "practical progressive, which means that the Republican Party or any political party has got to recognize the problems of a growing and complex civilization. And I don't think the Republican Party is really wide awake to that."
Surviving most of his political peers, Landon lived to see his daughter Nancy Landon Kassebaum elected to the U.S. senate in 1978. Ronald and Nancy Reagan were among the visitors who helped him celebrate his 100th birthday. On October 12, 1987, Landon died peacefully at his Topeka home, having put his political wins and losses far behind him. Kansas Senator Robert Dole was among those who eulogized Landon, hailing him as "a legendary Republican who taught generations of politicians what integrity and leadership were all about."
Read more
Latest headlines