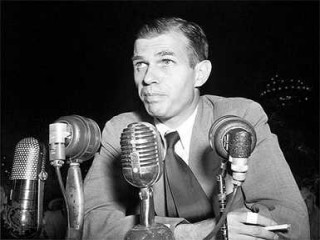 Alger Hiss biography
Date of birth : 1904-11-11
Date of death : 1996-11-16
Birthplace : Baltimore, Maryland
Nationality : American
Category : Politics
Last modified : 2010-11-22
Credited as : Politician and lawyer, businessman, U.S. State Department official
A former U.S. State Department official, Alger Hiss was indicted in 1948 and convicted in 1950 of having provided classified documents to an admitted Communist, Whittaker Chambers. Hiss became a controversial figure and his case helped precipitate McCarthyite politics during the early Cold War years.
Alger Hiss was born on November 11, 1904, in Baltimore, Maryland, of a genteel, long-established middle class Baltimore family. An exceptional student, confident and aristocratic in demeanor, Hiss attended Johns Hopkins University on scholarship. Compiling an outstanding record in the classroom and as a student leader, he graduated in 1926, earning a scholarship to Harvard Law School. Hiss's academic achievements included appointment to the law review staff, and he developed an intellectual and political friendship with Harvard law professor Felix Frankfurter. On Frankfurter's recommendation, in 1929 Hiss was appointed a clerk to Supreme Court Justice Oliver Wendell Holmes, Jr. Later that year, on December 11, he married Priscilla Fansler Hobson, whom he had met and courted while an undergraduate. Upon completion of his clerkship, Hiss accepted an appointment in 1930 with the Boston law firm of Choate, Hall & Stewart, leaving in 1932 to accept an appointment with the New York City law firm of Cotton, Franklin, Wright & Gordon.
Having moved leftward during law school under Frankfurter's influence and then his wife's socialist leanings, Hiss was further influenced by the political and economic crisis of the Great Depression to abandon in 1933 a promising career in corporate law for a position with the Legal Division of the Agricultural Adjustment Agency (AAA), headed by Jerome Frank. Associating with an able group of predominantly radical attorneys, in July 1934 Hiss was loaned by the Agriculture Department to assist the staff of the Senate Special Committee to Investigate the Munitions Industry, the so-called Nye Committee. An able investigator, Hiss became disenchanted with the committee's isolationism and with the department following a purge of the Legal Division in a dispute over policy toward landowners.
In August 1935 Hiss accepted a position as a consultant with the Department of Justice and was assigned to the solicitor general's office headed by Stanley Reed. Hiss assisted in preparing the department's defense of the constitutionality of AAA's policy of imposing a processing tax on producers of commodities. His work helping prepare the department's response to an expected court challenge to the administration's reciprocal trade agreements policy re-kindled Hiss's interest in international developments, and in September 1936 he accepted an appointment to the staff of Assistant Secretary of State for Economic Affairs Francis Sayre.
As a State Department employee, Hiss's career fortunes improved swiftly. With the outbreak of World War II, Hiss came to devote his time and talents to the task of formulating and developing the structure of a permanent postwar collective security organization, which became the United Nations. Hiss's expertise in the area of international organization resulted in his participation as a rather low-level functionary at the 1943 Dumbarton Oaks Conference as well as his selection as a member of the U.S. delegation to the Yalta Conference of February 1945. Subsequently he received an appointment to head the State Department's Office of Special Policy Planning and later to serve as executive-secretary in August 1945 of the San Francisco Conference at which the United Nations Charter was drafted and approved. Hiss remained in the State Department until February 1947, when he accepted the office of president of the Carnegie Endowment for International Peace.
Hiss's promising career was abruptly shattered by events having their origins in the highly charged confrontation between congressional conservatives and the Truman administration during the early Cold War years. In dramatic and extensively publicized testimony before the House Committee on Un-American Activities (HUAC) on August 3, 1948, Whittaker Chambers, an admitted ex-Communist and at the time senior editor of Time magazine, identified Hiss as a member of a Communist cell which had operated in Washington, D.C., in the mid-1930s. Denying then that Hiss's activities included espionage, Chambers claimed instead that Hiss's role, as that of the other individuals whom he concurrently identified as Communists, was to promote Communist infiltration of the federal bureaucracy in order to advance Communist policy.
Demanding the right to appear before the HUAC, Hiss denied Chambers' charges of Communist membership (and further claim to close friendship) and challenged Chambers to repeat the charges without congressional immunity so that he could bring suit for libel. Chambers did so during an August 27, 1948, interview on "Meet the Press, " and Hiss sued him for libel. In his congressional testimony, Chambers had repeated allegations he had made earlier about Hiss's pro-Communist activities, either to Assistant Secretary of State Adolf Berle in 1939 or to the FBI in 1942, 1945, and 1946. In these earlier interviews Chambers had also only accused Hiss of Communist membership and denied having any evidence which could support more serious allegations. In 1945 and 1946, moreover, the FBI had initiated an investigation of Hiss without any result. At the same time, conservatives in the Congress as early as 1946 were somehow privy to Chambers' then non-public accusations involving Hiss.
The Hiss-Chambers confrontation took a dramatic turn in November-December 1948. On December 2, 1948, Chambers turned over to the HUAC counsel 58 microfilm frames of State Department documents dated in 1938. Chambers claimed to have received the original documents from Hiss in the 1930s in his capacity as a courier for a Soviet espionage operation. Earlier, on November 17, 1948, during pre-trial hearings involving Hiss's libel suit, Chambers had produced copies of two other sets of documents, also dated in 1938, which he claimed had been given to him by Hiss: typewritten facsimilies of original State Department documents and handwritten summaries of others, in Hiss's handwriting.
Abruptly altering his earlier testimony, Chambers thereafter maintained that his relationship with Hiss involved espionage, adding that Hiss was one of the "most zealous" Communist spies operating in Washington during the 1930s. Based on this changed testimony and the documentary evidence, on December 15, 1948, a federal grand jury indicted Hiss on two counts of perjury: his denial of having given classified State Department documents to Chambers in 1938 and his denial of having met Chambers after 1937. While Hiss had only been indicted for perjury, his trial was publicly perceived as an espionage case— technically Hiss could not be indicted for espionage since the alleged activity occurred in 1938, in peacetime, and since there was no second witness to corroborate Chambers' allegations.
Hiss's trial on the perjury charges began on May 31, 1949, in New York City and ended when the jury on July 7, 1949, was unable to reach the unanimity required for conviction (voting 8-4 for conviction). After a four-month delay, as Hiss's attorneys sought unsuccessfully to have the trial moved from New York, Hiss was retried in November 1949. In the second trial, the prosecution's strategy shifted to focus on the documents and not Chambers' credibility (Hiss's defense had capitalized effectively on the numerous changes in Chambers' testimony about his relationship with Hiss and his own activities as a Communist). This strategy succeeded, and on January 21, 1950, the jury convicted Hiss on both perjury counts. Sentenced to five years at the Lewisburg, Pennsylvania, federal penitentiary, Hiss was released in 1954, a scarred and controversial figure.
As with the Dreyfus Case of the 1890s in France, Hiss's indictment and conviction assumed major political significance during the Cold War years, a significance that transcended the specific issues brought out at the trial and had little bearing on the "espionage" importance of the documents Chambers had produced in 1948. The Hiss-Chambers confrontation had seemingly confirmed the existence of a serious internal security threat, thereby legitimizing the politics of exposure dramatically exploited by the House Committee on Un-American Activities and championed during the early 1950s by Sen. Joseph McCarthy. Because the Hiss-Chambers relationship had been uncovered by the HUAC over the opposition of the Truman administration, Hiss's conviction seemed to document the success of Communists in obtaining sensitive positions in the State Department and in shaping the by-then controversial policies of the Roosevelt and Truman administrations toward the Soviet Union at Yalta, Potsdam, and thereafter.
Throughout the trial, and extending after his release from prison, Hiss steadfastly affirmed his own innocence, claiming to have been the victim of unfair tactics and publicity. His various efforts at exoneration—whether unsuccessfully petitioning for a new trial in the 1950s or filing a coram nobis suit in the 1970s—proved unsuccessful. Hiss thought he may have achieved his vindication when in 1992, after the fall of the Soviet Union, Russian General Dimitri Volkogonov, who was in charge of intelligence archives, claimed there was no evidence that indicated Hiss was a spy. However, he later recanted his statement, saying he had misunderstood. Four years later, researchers found Soviet transmissions in U.S. intelligence documents that suggested an American, code-named "Ales, " perhaps Hiss, had been spying on the United States during the time in question.
Hiss maintained his innocence up until his death on November 15, 1996, at the age of 92. Daniel Schorr of National Public Radio said in 1996, "We don't know to this day whether he was guilty."
Hiss's case, and the question of his innocence or guilt, continues to divide American intellectuals and activists. In a complex way, the Hiss-Chambers case at the time and currently encapsulates the division over McCarthyism and internal security policy which shaped the politics of Cold War America.
Read more
Latest headlines