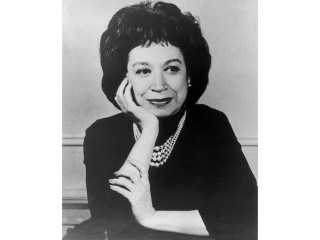 Alice Childress biography
Date of birth : 1920-10-12
Date of death : 1994-08-14
Birthplace : Charleston, South Carolina
Nationality : American
Category : Famous Figures
Last modified : 2010-11-21
Credited as : Playwirght and author, wrote: A Hero Ain't Nothin' but a Sandwich,
Alice Childress is an author whose writing is characterized by its frank treatment of racial issues. Because her books and plays often deal with such subjects as miscegenation and teenage drug addiction, her work can be controversial.
Alice Childress's work is noted for its frank treatment of racial issues, its compassionate yet discerning characterizations, and its universal appeal. Because her books and plays often deal with such controversial subjects as miscegenation and teenage drug addiction, her work has been banned in certain locations. She recalls that some affiliate stations refused to carry the nationally televised broadcasts of Wedding Band and Wine in the Wilderness, and in the case of the latter play, the entire state of Alabama banned the telecast.
Childress notes in addition that as late as 1973 her young adult novel A Hero Ain't Nothin' but a Sandwich "was the first book banned in a Savannah, Georgia school library since Catcher in the Rye, which the same school banned in the fifties." Along with other contemporary and classical works, A Hero Ain't Nothin' but a Sandwich has been at the center of legal battles and court decisions over attempts to define obscenity and its alleged impact on readers. Among the most famous cases was Board of Education, Island Trees Union Free School District v. Pico (102 S. Ct. 2799) in which a Stephen Pico, then a high school student, and others sued the Board on the grounds that their First Amendment Rights had been denied. The case became the first ever of this type to be heard in the U.S Supreme Court. Justice Brennan found for the plaintiffs, having determined that a school board's rights were limited to supervising curriculum, but not the general content of a library. Despite special-interest groups' growing resistance to controversial subjects in books, Childress's writing continues to win praise and respect for being, as a Variety reviewer terms, "powerful and poetic."
A talented writer and performer in several media, Childress has commented about the variety of genres in which she writes: "Books, plays, tele-plays, motion picture scenarios, etc., I seem caught up in a fragmentation of writing skills. But an idea comes to me in a certain form and, if it stays with me, must be written out or put in outline form before I can move on to the next event. I sometimes wonder about writing in different forms; could it be that women are used to dealing with the bits and pieces of life and do not feel as [compelled to specialize]? The play form is the one most familiar to me and so influences all of my writing—I think in scenes."
In an autobiographical sketch for Donald R. Gallo's Speaking for Ourselves, Childress shares how theater has influenced her fiction writing: When I'm writing, characters seem to come alive; they move my pen to action, pushing, pulling, shoving, and intruding. I visualize each scene as if it were part of a living play…. I am pleased when readers say that my novels feel like plays, because it means they are very visual.
Alice Childress began her career in the theater, initially as an actress and later as a director and playwright. Although "theater histories make only passing mention of her, … she was in the forefront of important developments in that medium," writes Dictionary of Literary Biography contributor Trudier Harris. Rosemary Curb points out in another Dictionary of Literary Biography article that Childress's 1952 drama Gold through the Trees was "the first play by a black woman professionally produced on the American stage." Moreover, Curb adds, "As a result of successful performances of [her 1950s plays Just a Little Simple and Gold through the Trees], Childress initiated Harlem's first all-union Off-Broadway contracts recognizing the Actors Equity Association and the Harlem Stage Hand Local."
Partly because of her pioneering efforts, Childress is considered a crusader by many. But she is also known as "a writer who resists compromise," says Doris E. Abramson in Negro Playwrights in the American Theatre: 1925-1959. "She tries to write about [black] problems as honestly as she can." The problems Childress addresses most often are racism and its effects. Her Trouble in Mind, for example, is a play within a play that focuses on the anger and frustration experienced by a troupe of black actors as they try to perform stereotyped roles in a play that has been written, produced, and directed by whites. As Sally R. Sommer explains in the Village Voice, "The plot is about an emerging rebellion begun as the heroine, Wiletta, refuses to enact a namby-Mammy, either in the play or for her director." In the New York Times, Arthur Gelb states that Childress "has some witty and penetrating things to say about the dearth of roles for [black] actors in the contemporary theatre, the cutthroat competition for these parts and the fact that [black] actors often find themselves playing stereotyped roles in which they cannot bring themselves to believe." And of Wedding Band, a play about an interracial relationship that takes place in South Carolina during World War I, Clive Barnes writes in the New York Times, "Childress very carefully suggests the stirrings of black consciousness, as well as the strength of white bigotry."
Critics Sommer and the New York Times's Richard Eder find that Childress's treatment of the themes and issues in Trouble in Mind and Wedding Band gives these plays a timeless quality. "Writing in 1955, … Alice Childress used the concentric circles of the play-within-the-play to examine the multiple roles blacks enact in order to survive," Sommer remarks. She finds that viewing Trouble in Mind years later enables one to see "its double cutting edge: It predicts not only the course of social history but the course of black playwriting." Eder states: "The question [in Wedding Band] is whether race is a category of humanity or a division of it. The question is old by now, and was in 1965, [when the play was written,] but it takes the freshness of new life in the marvelous characters that Miss Childress has created to ask it."
The strength and insight of Childress's characterizations have been widely acknowledged; critics contend that the characters who populate her plays and novels are believable and memorable. Eder praises the "rich and lively characterization" of Wedding Band. Similarly impressed, Harold Clurman writes in the Nation that "there is an honest pathos in the telling of this simple story, and some humorous and touching thumbnail sketches reveal knowledge and understanding of the people dealt with." In the novel A Short Walk, Childress chronicles the life of a fictitious black woman, Cora James, from her birth in 1900 to her death in the middle of the century, illustrating, as Washington Post critic Joseph McLellan describes it, "a transitional generation in black American society." McLellan notes that the story "wanders considerably" and that "the reader is left with no firm conclusion that can be put into a neat sentence or two." What is more important, he asserts, is that "the wandering has been through some interesting scenery, and instead of a conclusion the reader has come to know a human being complex, struggling valiantly and totally believable." And of Childress's novel about teenage heroin addiction, A Hero Ain't Nothin' but a Sandwich, the Lion and the Unicorn's Miguel Ortiz states, "The portrait of whites is more realistic in this book, more compassionate, and at the same time, because it is believable, more scathing."
Some criticism has been leveled at what such reviewers as Abramson and Edith Oliver believe to be Childress's tendency to speechify, especially in her plays. "A reader of the script is very much aware of the author pulling strings, putting her own words into a number of mouths," Abramson says of Trouble in Mind. According to Oliver in the New Yorker, "The first act [of Wedding Band] is splendid, but after that we hit a few jarring notes, when the characters seem to be speaking as much for the benefit of us eavesdroppers out front … as for the benefit of one another."
For the most part, however, Childress's work, particularly her novels for young adults, has been acclaimed for its honesty, insight, and compassion. When one such novel, Those Other People, was published in 1989, it was acknowledged by very few of the traditional children's reviewing sources. The novel deals with a teenage boy's fears about admitting to his homosexuality. Childress has created characters who confront homophobia, racism, and social taboos honestly and with dignity. In her review for School Library Journal, Kathryn Havris notes that Those Other People, skillfully and realistically addresses young people's responses to these problems. This author, says Havris, "has presented the problems and reactions with a competence that deserves reading."
In Crisis, Loften Mitchell notes: "Childress writes with a sharp, satiric touch. Character seems to interest her more than plot. Her characterizations are piercing, her observations devastating." In his review of A Hero Ain't Nothin' but a Sandwich, Ortiz writes: "The book conveys very strongly the message that we are all human, even when we are acting in ways that we are somewhat ashamed of. The structure of the book grows out of the personalities of the characters, and the author makes us aware of how much the economic and social circumstances dictate a character's actions."
In discussing how she came to write books for teenagers, Childress remarks in Speaking for Ourselves that she wanted to "deal with characters who feel rejected and have to painfully learn how to deal with other people, because I believe all human beings can be magnificent once they realize their full importance." "My young years were very old in feeling," she comments elsewhere. "I was shut out of so much for so long. [I] soon began to embrace the low-profile as a way of life, which helped me to develop as a writer. Quiet living is restful when one's writing is labeled 'controversial.'
"Happily, I managed to save a bit of my youth for spending in these later years. Oh yes, there are other things to be saved [besides] money. If we hang on to that part within that was once childhood, I believe we enter into a new time dimension and every day becomes another lifetime in itself. This gift of understanding is often given to those wh constantly battle against the negatives of life with determination."
Childress died on August 14, 1994 in New York City. At the time of her death she had been at work on a novel about her African great-grandmother, who'd been a slave in her childhood, and her Scotch-Irish great-grandmother.
Read more
Latest headlines