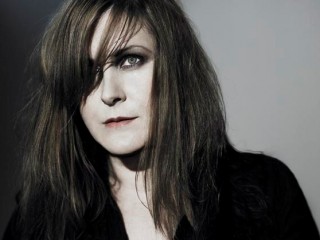 Alison Moyet biography
Date of birth : 1961-06-18
Date of death : -
Birthplace : Billericay, Essex, England
Nationality : English
Category : Arts and Entertainment
Last modified : 2012-01-04
Credited as : singer-songwriter, Yazoo duo, One Blue Voice
Alison Moyet, is an English singer, songwriter and performer noted for her bluesy voice.
Alison Moyet first gained attention as the powerful, blues- inflected voice of Yaz (know as Yazoo in Great Britain), the electro-pop duo that topped the British charts in the early 1980s. Since leaving Yaz in 1984 she has maintained a successful, if somewhat uneven, solo career as a singer- songwriter, in recent years returning to the rhythm and blues sound that she thrives on. Yaz--a collaboration between Moyet and Vince Clarke, now a member of Erasure--was distinguished from other synthesizer-based groups such as the Eurythmics, to whom they were often compared. Moyet's rich, emotive vocal style proved that synth-pop can have soul.
Moyet has been compared to female vocalists as diverse as Annie Lennox, Linda Thompson, Sade, Tina Turner, Dusty Springfield, Nona Hendryx, Marianne Faithful, and Janis Joplin, a favorite of Moyet's. Yet with her booming, soulful voice, her no-nonsense approach to the music business, and her frank if sometimes enigmatic lyrics about love, sex, and friendship, Moyet stands out as an original presence in the recording industry. She is also known for speaking her mind. Among other things, she has strong opinions about the role of women in popular music: "I like to cut out the him and hers in songs so both sexes can relate to it and I don't like the idea of songs portraying the female as submissive and always weak," she informed Colin Irwin in a Melody Maker interview.
An acclaimed pop star in Europe, in the United States Moyet has remained something of a dance-floor cult figure. Her United States audience is loyal, however, and when she toured the country after the release of her 1991 album Hoodoo, she played sold-out gigs, even though she had been off the club circuit for a number of years. Moyet, who has expressed more interest in having her music taken seriously than in selling a lot of records, views her relative obscurity in the United States as an opportunity to move past the Yaz years. In 1992 she told Julie Romandetta of the Boston Herald, "I never sold masses of records in America, therefore I'm a relatively new and unknown artist. Every piece of work I do is taken completely on its own merit, it doesn't come with a load of baggage."
A thriving pub-rock scene in Moyet's hometown of Basildon, England, provided an outlet both for Moyet's love of music and her rebellious streak. She began playing in bands when she was 15 and left school at 16, later returning to study music. She performed in an all-female trio, the Vandals, which was influenced by X-Ray Spex; work with later bands the Vicars and then the Screaming Abdads introduced Moyet to the rhythm and blues sound that has been a hallmark of her vocals ever since. In 1982, tired of the pub-rock circuit and also fed up with feeling like an outsider as the female singer in all-male bands, Moyet placed a classified ad in Melody Maker, a British music magazine. "Female singer looking for a rootsy blues band," she wrote in the ad. What she got instead was Vince Clarke.
Clarke had just left the techno-pop band Depeche Mode, which he had cofounded, and wanted a female singer to provide the vocals for a ballad he had written, "Only You." Despite their very different backgrounds, the two musicians sounded surprisingly good together, and so Yazoo was formed from the unlikely combination of synthesizer genius Clarke and blues belter Moyet. In the United States, they were known as Yaz, for legal reasons. "Only You" turned out to be a hit, one of four songs on the 1982 Upstairs at Eric's to make it into England's Top Ten.
Although their first album was wildly successful and brought Yaz an enthusiastic following, tensions between the duo were beginning to mount. By the following year, when Moyet and Clarke went into the studio to record their second album, You and Me Both, they no longer agreed on the sound they wanted. "We were having to compromise with each other too much," Moyet told Jon Young in Musician. "Vince liked lightweight pop and I wanted something with a bit more depth. That was okay on the first album, but after that we got stale." Relations became so strained between the two that they worked on the record during separate shifts. Moyet explained to Irwin that Clarke "was never there to listen to me sing. He was never there to say 'That's a good vocal' or 'That's not a good vocal.' And yet if he didn't like something I'd get rung up and made to come to the studio to do it again."
The perhaps inevitable clash between two willful artistic temperaments led to the breakup of the band once You and Me Both was completed. Moyet told Irwin that, in her opinion, there were only four good tracks on the whole album. The critics seemed to agree, and although the album sold fairly well, it did not enjoy the runaway success of Upstairs at Eric's.
Clarke went on to form the short-lived Assembly and then Erasure with singer Andy Bell, whom critics have noted sounds much like Moyet. Meanwhile, Moyet's attempts to establish a solo career ran into legal difficulties and for well over a year she found herself caught up in litigation concerning her recording contracts. In 1984 Moyet went back into the studio, this time with Tony Swain and Steve Jolley, veteran British producers who have had success with Bananarama and Spandau Ballet.
Her first solo venture, Alf, titled after Moyet's nickname, sold over a million and a half copies in Britain and hit the Top Ten in several European countries, New Zealand, and Japan. Three of its tracks, "Love Resurrection," "All Cried Out," and "Invisible," penned for her by Lamont Dozier, hit the Top Ten. Moyet was named top female vocalist at the 1985 British Record Industry Awards, the English version of the Grammys.
Yet Alf, dominated by the slick pop sound of Swain and Jolley's production, did not entirely satisfy either Moyet or the critics. Talking to Irwin, she dismissed her huge hit, "All Cried Out," as "a lightweight love song." A year after the release of Alf, she told Billboard she was looking for new producers to give her next album a different sound: "It will be something with a bit more energy; less glossy, with lots of color."
Moyet did not rush back into production. In the spring of 1985 she gave birth to her first child, Joe. That July she performed a duet with Paul Young at Live Aid, the benefit concert organized by Bob Geldof of the Boomtown Rats to raise money for famine relief in Africa. Her next album, the 1987 Raindancing, reflected Moyet's desire to take more responsibility for the songwriting, this time working with Jimmy Iovine, whose more understated production gave freer rein to Moyet's interpretations. Raindancing instantly hit England's Top Ten charts, although it did not fare any better in the United States than Alf had. The album earned Moyet another best female artist title at the British Record Industry Awards in 1988. Moyet still felt dissatisfied with her recordings, however. She was not enjoying her success, largely because she felt she was not in control of the music she was making. Chris Heim in the Chicago Tribune reported that Moyet "found producers treating her like just another instrument and hired hand."
Frustrated, Moyet took a four-year break from recording and spent the next several years struggling both with her personal life and her musical aspirations. During that time she divorced her husband, Malcolm Lee, had her second child, daughter Alex, and re-examined her career. She was not satisfied with selling millions of records. "I've never been the kind of person that lusted after fame or lusted after money," Moyet told Heim. She emerged from this period with a handful of songs that expressed the anguish and triumph she had been experiencing.
In 1991 she made her third record, the critically acclaimed Hoodoo. Discussing the album with Julie Romandetta in the Boston Herald, Moyet said, "I had a low period where I couldn't write or do anything and I was having a bit of a bad time in my personal life. Once I started examining what was happening to me, I was able to write again. Writing [Hoodoo] was a very cathartic experience." Although it was hailed by many critics as her finest album yet and garnered Moyet her first Grammy nomination, it was not a major commercial success in either Great Britain or the United States.
Nonetheless, Moyet possibly found that her career took a more satisfying direction than its earlier, headier stages. Essex, Moyet's 1994 release, continued to highlight the singer's very personal lyrics, giving fuller range to her voice than did her first two solo efforts. Emphasizing guitars over synthesizers, Essex found Moyet moving away from a strictly pop format.
If Hoodoo was a somewhat experimental venture, Moyet seemed to have taken away from it a clearer sense of what she wants out of her own music. And she seemed willing to forego the huge, adoring crowds of fans that Yaz inspired for a smaller, more seriously interested audience. After Hoodoo she told the Chicago Tribune, "To be honest I would much rather have an audience of 5 or maybe 10 percent of what I used to have, but people who understood what I was and where I could just be myself."
In August 2002, Moyet was released from her Sony contract. Moyet signed to Sanctuary Records and released her first studio album in eight years. Hometime was produced by The Insects, who had also produced works by Massive Attack and Madonna. The release of the CD launched Moyet into the top five best-selling female UK artists of 2002.
Voice, a collection of cover versions, was released on 6 September 2004 and entered the UK charts at #7. Scored and produced by Moyet's neighbour (and Academy Award winner) Anne Dudley, the album was later re-issued with a bonus track, "Alfie". A companion DVD, One Blue Voice, was released in 2006. Voice was certified Gold in the UK within four weeks of its release.
Sony Music released Revisited: The Very Best of Alison Moyet on 19 October 2009. The track listing was compiled by Moyet including material from her seven solo albums. The 'deluxe' version of the album contained an extra disc, with re-recorded versions of older songs. In support of the release Moyet toured the UK and Ireland during November and December 2009.
Alison has confirmed that she is writing her new album with Guy Sigsworth. Alison confirmed on BBC 6 live her new album (8th solo album) will be released in 2012.
Discography:
1984: Alf
1987: Raindancing
1991: Hoodoo
1994: Essex
2002: Hometime
2004: Voice
2007: The Turn
Read more
Latest headlines