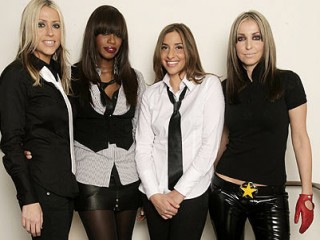 All Saints biography
Date of birth : -
Date of death : -
Birthplace : London, England
Nationality : English
Category : Arts and Entertainment
Last modified : 2012-04-04
Credited as : Music band, Rock Steady single, Pure Shores: The Very Best of All Saints
All Saints were a British/Canadian girl group. Founded in 1993 as All Saints 1.9.7.5, the group consisted of founding members Melanie Blatt and Shaznay Lewis, and sisters Nicole Appleton and Natalie Appleton. They became one of the most successful British pop groups of the 1990s, with nine top ten singles (including five number-ones), two platinum albums, two gold albums and record sales in excess of ten million worldwide.
This stylishly-garbed, photogenic female quartet from England would yield inevitable comparisons to other phenomenally successful "girl-power" bands, but even quite early in their career All Saints consciously strove to make such analogies moot. The members formed the group on their own-before they had a contract-wrote their own material, and said whatever they pleased to the press. And unlike the Spice Girls, their music captured a fan base whose spectrum expanded well beyond teenage girls. All Saints sold millions of records with their 1997 debut album, All Saints, issuing forth a raft of hit singles. Vox magazine called the foursome "Britpop incarnate."
All Saints began with the friendship between Shaznay Lewis, who grew up in London, and Melanie Blatt. The two met as session singers in a west London studio on All Saints Road. Blatt had actually made tea and sat on the couch of the studio for months before getting her first shot at the microphone. She had attended the Sylvia Young Theatre School, which also graduated Spice Girl Emma Bunton and several other British entertainment figures.
In London Lewis and Blatt formed All Saints 1.9.7.5. "the year of their birth" with Simone Rainford in 1994. Their first public performance came at the Notting Hill Carnival that same year and they signed with prominent pop label, ZTT. They released a single that sold poorly, and grew increasingly at odds with their management. ZTT dropped them, and Rainford departed. Blatt became reacquainted by chance with a pair of sisters she had known from the Sylvia Young Theatre School, Nicole (Nicky) and Natalie Appleton. Nicky auditioned for Blatt in the bathroom of a London cafe.
The Appletons were technically Canadian citizens, but had been living off and on in both North America and England for much of their lives. "Our parents had emigrated to Canada before we were born," Natalie Appleton told Madeleine Kingsley in Hello! magazine, "but then divorced and my father, who had retail stores, came back to England. I was about seven and from then on it was a back and forth situation going from parent to parent." The sisters loved to harmonize with each other and Natalie Appleton sang semi-professionally for a time at a resort in New York's Catskills'"just like the one in Dirty Dancing," she told Hello! "I just loved being on stage."
Together the quartet began rehearsing and writing songs that reflected their love of American hip-hop music. They also discovered that their voices sounded great in harmony. "We're not the best singers in the world," Lewis would later tell Touch magazine. "We're not Mariah Careys or Whitney Houstons, but I think we all have unique voices. I think there are styles and different sounds in our voices. I think that's why our voices work well together." Artist and Repretoire (A&R) people from other labels thought so too, and by this point were eager to find snappy young girl bands after the runaway success of the Spice Girls. But All Saints rejected several offers from labels that wanted to alter their image and fashion them into Spice Girl knock-offs.
Signing with London Records, the band recorded their first single, "I Know Where It's At," and released it in the United Kingdom in the summer of 1997. It reached number four by August of 1997, and they were soon appearing in the music press and tabloid newspapers almost as much for their kittenish looks and sassy opinions as for their records. Still, "I Know Where It's At" drew praise for a clear attempt to create their own sound. "You can hear the American rap and swingbeat in the background," declared Vox magazine of the song, "but in front of you there's this super-cool wonderland, full of loads of amazing stuff that seems not so much like the street fashion of today as the neoteric style of next month."
Their next single, "Never Ever," would catapult All Saints into the record books and onto the front page of nearly every British tabloid. The song made chart history in England for selling more copies than any other single not at the number one spot, but the teen-sweet breakup lament would eventually hit that mark in January of 1998. Almost overnight they became a huge success throughout most of Europe and Australia, especially after the European release of their debut album, All Saints, in November of 1997. It debuted four months later in the United States, and included the first two singles as well as some unusual covers that would chart well in the England: the Red Hot Chili Peppers' "Under the Bridge", and the disco classic "Lady Marmalade" from LaBelle. They flew to North America early that year to promote the record and, emblematic of their wide appeal, won a musical guest appearance on Saturday Night Live.
American critics, wary of Spice Girl-mania, nonetheless gave the All Saints' debut overall positive marks. Reviewing it for Rolling Stone, Chuck Eddy described the single "Never Ever" as "an affecting spoken plea about post-breakup guilt and isolation," and found in "War of Nerves" "an aptly unnerving prettiness." A slightly more enthusiastic Rolling Stone writer Kevin Raub, declared that All Saints "oozes with sweet, sexual mystique and raw, home-grown talent." Amy Linden, reviewing All Saints in People, called the groups music "sassy, catchy and disposable, the way pop music should be."
By the summer of 1998, All Saints were massive pop stars in the England. Their first live performance, however, came at the "Party in the Park," a concert in London's Hyde Park, in July of 1998. Several thousand fans attended the show, including Prince Charles, British Prime Minister Tony Blair, and United States President Bill Clinton.
Unfortunately that bit of good PR did not translate to a successful promotional tour when All Saints returned to America. Though "Never Ever" had reached the top tem, their debut at Central Park's Wollman Rink was a lamentable occasion. The weather was humid and rainy, and few people bothered to show, despite the lure of free tickets offered by their label. In California, their management forgot to apply for a permit for a live gig on Venice Beach, which had to be canceled. Reviewing the Central Park show for the New York Times, Ann Powers called All Saints' bad luck that night "particularly unfortunate because All Saints did try to push the envelope of teenybop music."
By this point, All Saints were considered superstar divas in England, with their public appearances chronicled in the tabloids. They came under intense media scrutiny, were criticized for almost everything they did, and stalked constantly by paparazzi photographers. As Nicole Appleton told New Musical Express" Victoria Segal, "It's frightening, I have people following me everywhere with cameras, asking the same questions. It scares me. I think, 'What are they going to do to get me to answer them'."
Over the course of 1998,the British papers excitedly tracked the various romantic affairs of the band, who were all still in their early 20s. Nicky Appleton would date, become engaged, break up, and reunite with one of Britain's biggest pop stars and heartthrobs, Robbie Williams, formerly of the boy group Take That. Her sister Natalie was dating a well-known television personality, and was cruelly exposed by a former friend in the press as having a six-year-old daughter and a teen marriage that ended in divorce. Blatt was roundly criticized as setting a bad example for the legions of preteen girls who worshipped the singers when she became pregnant by her boyfriend, Stuart Zender of the band Jamiroquai.
Blatt gave birth in November of 1998 and was vastly looking forward to taking some time off. "You get a strong sense-from Natalie and Shaznay in particular-that life is a series of petty frustrations, all controlled by a nebulous 'they' outside of the four corners of the band who insist on interfering," Segal theorized in New Musical Express. The following month, the same paper charted a series of rumors and press releases hinting, then denying, that Nicky Appleton had quit the band, and had long been at odds with both their manager and Lewis.
Existing under the glare of huge record sales, "Never Ever"-had sold three million copies-and exhaustive media attention, coupled with a feeling that their label wanted to extract the maximum amount of profit from them before they imploded, would perhaps discourage even the most ambitious of performing artists. "When I saw how this business worked, I vowed to myself I'd never want to do it again, not at this extreme level," Blatt told Segal. "It's demoralizing. I've had to compromise myself a lot." Lewis agreed: "Sometimes we think it's only us that goes through this," she told Segal. "But it's not, it's every artist. When you see people on telly, you never imagine there's any bad with it, and that's what the let-down is."
In February 2001, All Saints announced that they were to take a break so that they "could clear the air between themselves". Melanie Blatt said later that year that it was uncertain if they would reform, citing their difficulties with the financial and business aspects of the group. Shaznay Lewis later explained that the catalyst for the break-up was a disagreement over who would wear a certain jacket for a photoshoot: "I would never in a million years have put money on the group ending over a jacket incident. But when that incident happened, it fired up so strong, it had to be over. And the way I was then, the state we'd got into then, there was no way she was getting that stupid jacket."
In November 2001, London Records released a greatest hits compilation entitled All Hits. It contains the group's hit singles and Blatt's first solo single, "TwentyFourSeven", a collaboration with Artful Dodger. The album peaked at number eighteen on the UK Albums Chart and was later certified gold, selling 100,000 copies. In 2008, a slightly altered edition of the album was given away for free as part of a promotion with The Mail on Sunday.
On 24 January 2006, it was announced that the band had reformed and signed a record deal with Parlophone. They subsequently began work on their third studio album, Studio 1. The first single, "Rock Steady" (released in November 2006), reached number three on the UK Singles Chart. Studio 1 entered the albums chart at number forty, falling significantly short of the success of "Rock Steady" and the group's previous releases; it has since sold 60,000 copies according to the BPI, being certified silver.
In August 2009, Melanie Blatt told the London Lite: "All Saints are never getting back together again. I never want to sing again. I recently did the Brits with Nic and we just went round chatting to people and then got drunk. That's my goal—to get paid for chatting to people and getting drunk!".A second compilation album, Pure Shores: The Very Best of All Saints, was released in September 2010. This two-disc collection features the group's hit singles alongside a selection of album tracks and B-sides.
Albums:
1997: All Saints
2000: Saints & Sinners
2006: Studio 1
Compilations:
1998: The Remix Album
2001: All Hits
2010: Pure Shores: The Very Best of All Saints
Read more
All Saints Picture Gallery
Latest headlines