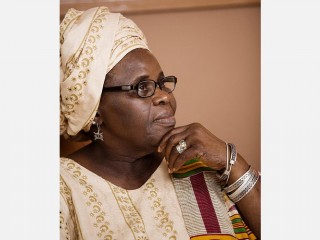 Ama Ata Aidoo biography
Date of birth : 1942-03-23
Date of death : -
Birthplace : Saltpond, Ghana
Nationality : Ghanaian
Category : Arts and Entertainment
Last modified : 2010-11-25
Credited as : Author and playwright, novelist,
Christina Ama Ata Aidoo explored the social conscience of her African peers through her writing, speaking, and teaching endeavors.
Ghanaian writer and educator, Ama Ata Aidoo delved the soul of African traditions through her literary works. As a novelist, poet, dramatist, critic, and lecturer, she voiced concerns over a variety of social and political issues at the forefront of Ghanaian society in the wake of a mid-20th century independence movement in her country. She uttered repeated concerns for the plight of womanhood in Ghanaian culture. She endowed the female characters in her literary works with strong wills and distinct personalities. Through her depictions of the traditional norms of society, she helped to expose the exploitation and disenfranchisement of women, not only from their careers but from the essence of their own identities.
Ama Ata Aidoo was born Christina Ama Aidoo on March 23, 1942. She was the daughter of royalty, a princess among the Fanti people of the town of Abeadzi Kyiakor in the south central region of Ghana. Aidoo's homeland, at the time of her birth, was under the oppression of a resurgent neocolonialism as a result of British aggression during the late 19th century. In the home of her parents, Chief Nana Yaw Fama and Maame Abba, anti-colonial sentiment was an unavoidable emotion in the wake of the murder of Aidoo's grandfather by neocolonialists. Yet in spite of the murderous tragedy, Fama acknowledged the superiority of Western education and sent his daughter to attend the Wesley Girls High School in the southern seaport town of Cape Coast, Ghana. She went on to study at the University of Ghana, beginning in 1961. In 1964, she graduated cum laude (with honors), earning a Bachelor of Arts degree in English.
At the University of Ghana, Aidoo became involved with the Ghana Drama Studio, founded by Efua Sutherland. Aidoo participated in writers workshops and contributed her work to the school of drama. During her years in undergraduate studies, she in fact completed two plays and a collection of short stories. Aidoo continued at the University of Ghana for an additional two years after graduation, through a fellowship to that school's Institute of African Studies. On fellowship in 1965 she published one of her most famous writings, and her first major dramatic work, The Dilemma of a Ghost. Ghost was one of only two dramas that she published by the end of the century. The play depicts the conflict of an African student, Ato, who studied abroad and returned home to Ghana with an African American wife. In The Dilemma of a Ghost, Aidoo delved into her concerns over pan-Africanism and the plight of Ghanaians who travel abroad in search of an education. The play exposes the conflicts that confront students in resolving their African traditions in the midst of Western culture.
In 1966, Aidoo traveled to the United States where she attended the Harvard International Seminar and spent time at Stanford University. She returned to Ghana in 1969. Between 1970 and 1982, Aidoo taught English at the University College at Cape Coast and completed research on her native Fanti drama. Over the years Aidoo taught and lectured at many universities in the United States and in Africa, including the University of Nairobi in Kenya.
When Ghana gained its independence in March of 1956, the event precipitated a pan-African backlash. The resultant political tension simmered for over a decade and erupted in the 1970s. That decade was marred by an era of repression. Conservative attitudes prevailed, and many intellectuals were persecuted for their beliefs. In a 1997 interview, Aidoo commented to Jeanette Toomer of New York Amsterdam News regarding the nature and the extent of the oppression. Aidoo maintained that she endured not only incarceration but intimidation by jailers who threatened her with death. Her vocal and written expressions over the plight of women in traditional Ghanaian society, combined with her commentaries on pan-Africanism, left her vulnerable to scathing censorship policies and regulation. During that time, from 1970 until 1977, she published very little. She occupied herself in part as a consulting professor in the Washington Bureau of Phelps-Stokes's Ethnic Studies Program in 1974 and 1975.
Following her return to Ghana, Aidoo served as the national minister of education in 1982 and 1983 under the government of Jerry Rawlings. She remained prominent in Ghanaian academic affairs until 1983 when she once again abandoned the country for self-imposed political exile. She moved to Harare in Zimbabwe and remained there throughout the 1990s. In Zimbabwe Aidoo worked at the curriculum development unit of the Ministry of Education. She continued with her teaching as well as her writing, and established ties with the Zimbabwe Women Writers Group.
In 1988, Aidoo received a Fulbright Scholarship. She spent the following year at the University of Richmond, Virginia as a writer in residence. She returned to Africa in 1990 and for two years served as the chairperson of the African Regional Panel of the Commonwealth Writers' Prize.
Among Aidoo's most respected publications was her 1970 collection of stories entitled, No Sweetness Here. The stories represent the psychological bondage of the neocolonial period. That work is structured within a loose but cohesive framework that illustrates Aidoo's message through the eyes of working class characters over a period of a few years. As with other of Aidoo's writings, the stories focus on urbanized women, female characters who are rarely affluent—but neither are they destitute or in financial conflict. Aidoo's female protagonists turn their attention instead toward a universal search, each for her own elusive soul and for a female identity that has been usurped by an oppressive environment. Aidoo portrays a class of women that is overburdened by the insensitivity of men but is accepting—or at least cognizant of—specific gender issues that create the cultural environment. Aidoo tacitly summons other writers to the urgency of their obligation, to address and to publicize the moral wrongs of the society in order to realize social progress. As Aidoo noted to interviewers Rosemary Maranoly George and Helen Scott of Novel regarding such issues as are presented by the author in No Sweetness Here, "The situation … The way the novel ends means that the story is not finished, as the issue is not resolved." She further emphasized her concerns for women and their lack of so-called homes, "For these women it is hard to have a home of their own … there is always the possibility that it can be taken away … the instability of dependence."
Aidoo's second major drama, after Ghost, was Anowa. The play, published in 1970, makes a disparaging examination of the value of love within the confines of a marriage and further creates a metaphor between the keeping of slaves and the keeping of wives. Also among Aidoo's published works in the feminist arena is her 1977 semi-autobiographical novel, Our Sister Killjoy.
Between 1991 and 1993 Aidoo wrote and published Changes, a tale of a woman from the Ghanaian capitol of Accra and her personal battles. As the plot unwinds, the main character, a government data analyst, endures rape by her husband and is forced to confront her own destiny. Naadu I. Blankson of Quarterly Black Review applauded the effort by Aidoo, wherein she "… weave[s] the passions of two women, three men, and a host of [others] … quite respectably." As a literary work the novel artfully enmeshes the passions of upward mobility, the plight of African women in the workplace, and the role of the African female as the designated pawn of a polygamous society. It was Aidoo's contention, which she furthered through her writing, that sexism was a learned behavior on the part of the African male and clearly a consequence of the neocolonial environment. In Research in African Literatures, Nada Elia quoted Aidoo's rebuttal to those critics of African feminism, "I really refuse to be told I am learning feminism from abroad."
In a 1994 work, The Art of Ama Ata Aidoo: Polylectics and Reading Against Neocolonialism (University Press of Florida), Vincent O. Odamtten commented that Aidoo "… radically transforms the Western literary genres," with her depth. He made further note of the disparity between the "narrowly formulated" feminist movements of Western cultures and the vital aura of feminism as demonstrated by Aidoo in her writing. Similarly Frank M. Chipasla noted in Kenyon Review, that her poetry "… continues to play functional and aesthetic roles … [in] the female literary traditions. In 1997, Aidoo appeared at Barnard College as a speaker in the Gildersleeve Lecture Series, in conjunction with the institution's Million Woman March. Toomer quoted Aidoo's personal observation that, "We are called feminists because we make it possible for our women characters to be themselves." Aidoo is averse to what she terms a "Western perception that the African (especially Ghanaian) female is a downtrodden wretch."
George and Scott said of Aidoo that perhaps, " … because of her own wealthy background … Aidoo spends less time addressing the material co-ordinates of Ghana and… focuses on the cultural dynamics … Aidoo has stressed the importance of artists and intellectuals being accountable, and calls for writers to retain their integrity …"
Certainly Aidoo's social-political apprehension transcends a spectrum of issues, among them the circumstances that served to fuel the emigration of African scholars and intellectuals from Ghana and which kept women oblivious to the full extent of their own oppression. In a provocative commentary to George and Scott in 1993 Aidoo said, "I'm published in the West. [And] There is something that makes [me] very uncomfortable about that. The people among whom [I] lived and grew up have no access to [my] products… . So it haunts the African writer …" By her remark she referred to the censorship of female authors in Ghana and elsewhere on the African continent. In 1994, Aidoo joined with others in founding the Women's World Organization for Rights Development and Literature to campaign on behalf of women's rights by means of publishing and other resources. In August 1999, the issue was at the forefront among representatives of that organization who gathered at the International Book Fair in Harare, Zimbabwe. Aidoo joined with others in reiterating their concerns. She was quoted by the Inter Press Service English News Wire in her vocal confirmation of the severity of the crisis. She rebuked a system where, "For African women, the struggle begins with the right to be born as a girl child… to have a whole body …to go to school; the right to be heard."
Aidoo published several works of poetry including her 1985, Someone Talking to Sometime, which addresses a variety of issues, and Birds and Other Poems, published in 1987. Her children's book, The Eagle and the Chickens and Other Stories, appeared in 1986, and she contributed to numerous anthologies and magazines including Black Orpheus, Journal of African Literature, and New African. Among her other works, An Angry Letter in January was published in 1992.
Black Writers, edited by Linda Metzger, Gale, 1989.
Contemporary Authors: New Revision Series, Volume 62, edited by Daniel Jones and John D. Jorgenson, Gale, 1998.
Under African Skies, edited by Charles R. Larson, Noonday Press, 1997.
Essence, February 1994.
Inter Press Service English News Wire, August 17, 1999.
Kenyon Review, Spring, 1994.
New York Amsterdam News, October 30, 1997.
Novel, Spring, 1993.
Publishers Weekly, October 25, 1993.
Quarterly Black Review of Books, February 28, 1994.
Read more
Latest headlines