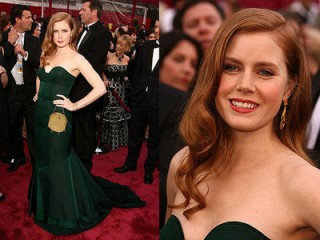 Amy Adams biography
Date of birth : 1974-08-20
Date of death : -
Birthplace : Vicenza, Italy
Nationality : Italian
Category : Arts and Entertainment
Last modified : 2010-10-12
Credited as : Actress, role "Junebug" (2005), "Enchanted" (2007)
Born
Amy Lou Adams
on August 20, 1975 at the U.S. military base located in Aviano, Italy to American parents Richard and Kathryn Adams as one of their seventh children, the Oscar-nominated American film and television actress was more than an exceptional beauty. Started her acting career in Hollywood movie industry from nothing, she really is an intelligent woman whose skills as an actress will only increase with time looking upon her becoming a sought after young performer. Clockwise from the early life of her, Amy was raised in Castle Rock, Colorado, as a result of her father's military career as to why the girl then attended Douglas County High School. Grew up in a Mormon family, a member of a religious organization formed in 1830 in the US, officially called The Church of Jesus Christ of Latterday Saints, the girl grew up finding out life was fun just like any other girls of her age.
Probably inherited an interest in performing from her father who was an amateur actor as well, Amy should double her thanks to the man for it was him who wrote scripts for all to perform. Already had the skill as her main asset, she then performed dinner theater in Colorado following her high school graduation while also was taking the job as a waitress at Hooters for a short time.
When reaching her early 20s, Amy decided to leave Colorado to head for Minnesota searching for more dinner theater projects and to her delight found ones in "Brigadoon" and "Good News" at the Chanhassen Dinner Theater. After studying dance and working in regional dinner theater, she landed her first film role in the satiric 1999 comedy "Drop Dead Gorgeous," revealing at how far girls will go to win a teen beauty pageant. In that film, she played a cheerleader who enters a beauty contest in order to make her high school boyfriend wrestler happy. Upon urged by co-star Kirstie Alley, Amy then decided on a professional acting career, moved to Los Angeles and luckily didn't have to wait long for her next gig as she soon landed a part on a series called "Manchester Prep," a prequel to the hit movie "Cruel Intentions" (1999).
Unfortunately, the latter project was never aired as its network decided that the show's sexual content was too strong for television, although several episodes were eventually re-edited into a direct-to-video feature entitled "Cruel Intentions 2" (2000) following a conflict between Fox Broadcasting and Columbia TriStar after just three episodes were shot.
Sticking it out when the goings get tough, Amy was next seen made guest appearances on a number of television series, including that of "That 70's Show" (1998), and "Charmed" (1998), before then played a bikini-clad seductress in the independent comedy, "Psycho Beach Party" (2000). More episodic television then followed, including appearances on "Zoe, Duncan, Jack & Jane" (2000), "Providence" (1998-2003) and "Buffy, The Vampire Slayer" (1996-2003).
In between those projects, Amy was seen in an episode of "Smallville" before then was billed to star as the girlfriend of a greedy cattleman, played by Bruce Campbell, trying to cheat his wife, Elizabeth Hurley, out of a divorce settlement in "Serving Sara" (2002). A tiny role in "Pumpkin" (2002) was followed by her eye-catching performance in Steven Spielberg's "Catch Me If You Can", featuring Leonardo DiCaprio and Tom Hanks. Rounded out the year with a guest spot on the perennial political drama, "The West Wing" (1999-2006), the starlet afterwards starred in the not-so-successful feature, "The Slaughter Rule," a bittersweet coming-of-age drama about a teenager, Ryan Gosling, cut from his high school football team, the only means of escape from his lonely rural existence.
However, it was not until the year of 2004 that Amy's career started to rebound. Kicked off the year with a recurring role on CBS' "Dr. Vegas", which didn't bring quite significant impact to her acting career, Amy next voiced several characters on a couple episodes of FOX's "King of the Hill" before then made a return to big screen feature, playing the self-involved half-sister of a woman, Debra Messing, on a desperate search for the right man in the 2005 "The Wedding Date", which unfortunately failed to attract much attention for the star instead of a merely solid performance.
Thanks to her next film feature of "Junebug" that Amy could taste the fruit of her hard work. A humorous drama about a British diplomat's daughter who travels from Chicago to the rural hill country of North Carolina to pursue a local, self-taught painter for her outsider art gallery, she takes this road-trip opportunity to meet her husband George's family, who happens to live only 30 minutes away. There's his flinty, judgmental mother Peg, his dour, taciturn father Eugene and his sullen, resentful, twenty something brother Johnny who, although married, still lives at home, studying for his high school equivalency certificate. They're superficially hospitable but hardly welcoming, except Johnny's talkative, very pregnant wife Ashley who plans to name her baby "Junebug," if it is a girl.
Did it well in the Phil Morrison direction, Amy's role in the flick not only was considered the emotional focal point of the film, but most of all it led her to be bestowed a deluge of accolades, including that of the Special Jury Prize at the Sundance Film Festival, the National Society of Film Critics award for Best Supporting Actress, and the Independent Spirit Award for Best Supporting Female. Additionally, she was nominated for the Screen Actors Guild Award for Best Supporting Actress - Motion Picture too.
That's not all for the glory kept continuing ever since that in January of 2006 Amy was nominated for the Academy Award for Best Supporting Actress for the role. From that point on, the actress got abundant offer of roles, being tapped to star in "Talladega Nights: The Ballad of Ricky Bobby" (2006) and "Charlie Wilson's War" (2007) as well as voicing Princess Giselle and 'Sweet' Polly Purebred in Disney's "Enchanted" and "Underdog", respectively, both came up in the same year as "War". More acting stints came by 2008 as she afterwards managed to secure core parts in "Sunshine Cleaning" alongside Emily Blunt and "Miss Pettigrew Lives for a Day" opposite Susan Sarandon.
FILMOGRAPHY
On the Road On the Road (2011)
The Fighter The Fighter (2010)
The Ten Best Days of My Life (2010)
Leap Year Leap Year (2010)
Daughter of the Queen of Sheba (2010)
Sunshine Cleaning (2009)
Julie & Julia (2009)
Night at the Museum 2: Battle of the Smithsonian (2009)
Miss Pettigrew Lives for a Day (2008)
Doubt (2008)
Enchanted (2007)
Underdog (2007)
Charlie Wilson's War (2007)
Talladega Nights: The Ballad of Ricky Bobby (2006)
Moonlight Serenade (2006)
Standing Still (2006)
The Wedding Date (2005)
Junebug (2005)
The Last Run (2004)
The Slaughter Rule (2002)
Pumpkin (2002)
Serving Sara (2002)
Catch Me If You Can (2002)
Cruel Intentions 2 (2000)
The Chromium Hook (2000)
Psycho Beach Party (2000)
Drop Dead Gorgeous (1999) aka Gnadenlos schon (Germany)
AWARDS
Academy Awards, USA
2009
Got nomination for Oscar
category Best Performance by an Actress in a Supporting Role for Doubt (2008)
2006
Got nomination for Oscar
category Best Performance by an Actress in a Supporting Role for Junebug (2005)
Academy of Science Fiction, Fantasy & Horror Films, USA
- 2008
Won Saturn Award
category Best Actress for Enchanted (2007)
BAFTA Awards
- 2009
Got nomination for BAFTA Film Award
category Best Supporting Actress for Doubt (2008)
Broadcast Film Critics Association Awards
- 2008
Got nomination for BFCA Award
category Best Song for "That's How You Know" (from movie 'Enchanted' (2007))
2008
Got nomination for BFCA Award
category Best Actress for Enchanted (2007)
2006
Won BFCA Award
category Best Supporting Actress for Junebug (2005)
Central Ohio Film Critics
- 2006
Won Central Ohio Film Critics Award
category Breakthrough Film Artist for Junebug (2005)
Chicago Film Critics Association Awards
- 2008
Got nomination for CFCA Award
category Best Supporting Actress for Doubt (2008)
Florida Film Critics Circle Awards
- 2005
Won FFCC Award
category Best Supporting Actress for Junebug (2005)
Golden Globes, USA
2009
Got nomination for Golden Globe
category Best Performance by an Actress in a Supporting Role in a Motion Picture for Doubt (2008)
2008
Got nomination for Golden Globe
category Best Performance by an Actress in a Motion Picture - Musical or Comedy for Enchanted (2007)
Gotham Awards
- 2005
Won Gotham Breakthrough Award
for Junebug (2005)
Independent Spirit Awards
- 2006
Won Independent Spirit Award
category Best Supporting Female for Junebug (2005)
MTV Movie Awards
2008
Got nomination for MTV Movie Award
category Best Comedic Performance for Enchanted (2007)
2008
Got nomination for MTV Movie Award
category Best Kiss for Enchanted (2007)
shared with Patrick Dempsey
2008
Got nomination for MTV Movie Award
category Best Female Performance for Enchanted (2007)
National Society of Film Critics Awards, USA
- 2006
Won NSFC Award
category Best Supporting Actress for Junebug (2005)
Online Film Critics Society Awards
2009
Got nomination for OFCS Award
category Best Supporting Actress for Doubt (2008)
2006
Got nomination for OFCS Award
category Best Supporting Actress for Junebug (2005)
Palm Springs International Film Festival
- 2009
Won Spotlight Award
for Doubt (2008)
San Francisco Film Critics Circle
- 2005
Won SFFCC Award
category Best Supporting Actress for Junebug (2005)
Satellite Awards
2007
Got nomination for Satellite Award
category Best Actress in a Motion Picture, Comedy or Musical for Enchanted (2007)
2005
Got nomination for Satellite Award
category Outstanding Actress in a Supporting Role, Drama for Junebug (2005)
Scream Awards
- 2008
Got nomination for Scream Award
category Best Actress in a Fantasy Movie or TV Show for Enchanted (2007)
Screen Actors Guild Awards
2009
Got nomination for Actor Award
category Outstanding Performance by a Cast in a Motion Picture for Doubt (2008)
shared with Meryl Streep; Philip Seymour Hoffman; Viola Davis
2009
Got nomination for Actor Award
category Outstanding Performance by a Female Actor in a Supporting Role for Doubt (2008)
2006
Got nomination for Actor Award
category Outstanding Performance by a Female Actor in a Supporting Role for Junebug (2005)
Southeastern Film Critics Association Awards
- 2005
Won SEFCA Award
category Best Supporting Actress for Junebug (2005)
Sundance Film Festival
- 2005
Won Sundance Special Jury Prize
category Dramatic (For her performance) for Junebug (2005)
Teen Choice Awards
2009
Got nomination for Teen Choice Award
category Choice Movie Actress: Comedy for Night at the Museum 2: Battle of the Smithsonian (2009)
2008
Got nomination for Teen Choice Award
category Choice Movie Actress: Comedy for Enchanted (2007)
Vancouver Film Critics Circle
2006
Won VFCC Award
category Best Supporting Actress for Junebug (2005)
Washington DC Area Film Critics Association Awards
2005
Won WAFCA Award
category Best Supporting Actress for Junebug (2005)
2005
Got nomination for WAFCA Award
category Best Breakthrough Performance for Junebug (2005)
Read more
Latest headlines