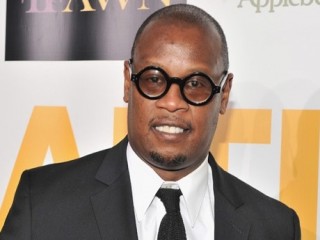 Andre Harrell biography
Date of birth : 1960-09-26
Date of death : -
Birthplace : Harlem, New York
Nationality : American
Category : Arts and Entertainment
Last modified : 2011-11-28
Credited as : CEO of Motown Records, Uptown Records founder, Dr. Jeckyll & Mr. Hyde
Andre Harrell is founder of the now defunct record label, Uptown Records. Harrell also served as president/CEO of Motown Records. He was also the first half of the hip hop duo Dr. Jeckyll & Mr. Hyde.
When Andre Harrell was touring the legendary Hitsville U.S.A. building, the birthplace of Motown, shortly after becoming the company's president and CEO, he told Brian McCollum of the Detroit Free Press, "This is so much bigger than just being president of a record company. It's like being inducted into some kind of musical royal family." As one of the reigning kings of black entertainment, it's an appropriate analogy. "I am a lifestyle entertainment entrepreneur," he said in Upscale magazine while president of his own Uptown Entertainment. "I'm promoting the whole spectrum of black lifestyles, from the teenage street hip-hop lifestyle to an adult, upwardly mobile black lifestyle." While heading Uptown Records, Harrell promoted the "black lifestyle" by catapulting former unknowns Jodeci, Heavy D and The Boyz, Mary J. Blige, and Al B. Sure! to stardom. Upscale magazine noted that Harrell quickly gained a reputation as having a "golden finger on the pulse of what's hot in the music industry," and left the entire entertainment industry "standing at rapt attention, waiting for his next successful move."
Born Andre O'Neal Harrell to a supermarket foreman and a nurse's aid, Harrell grew up in the housing projects of the Bronx, New York. While both of his parents labored for their meager existence, young Harrell was somehow confident of a promising future. Though he was a self described poor, inner-city kid, he explained that, "I grew up thinking wonderful things could happen, I always believed I'd have a wonderful life."
Harrell's 16th year was a watershed period in his life. While his parents were divorcing, he teamed up with high-school buddy, Alonzo Brown to form the successful rap duo, Dr. Jekyll (Harrell) and Mr. Hyde (Brown). For their first performance, the duo stood atop chairs and rapped for a crowd of 40 that had gathered at the DeWitt Clinton Housing Project. Harrell said he turned to rapping because, "I couldn't play basketball well enough to be on the starting team, but I could rap well enough." In fact, Harrell and Brown rapped so well that Dr. Jekyll and Mr. Hyde enjoyed three top 20 hits: "Genius Rap," "Fast Life," and "AM/FM."
The duo became popular weekend rappers, but having set his sights on becoming a newscaster, Harrell went on to study communications and business management at the Bronx's Lehman College. After three years, however, he dropped out and went to work selling air time for a local radio station. In 1983, Harrell met Russell Simmons, the founder of Rush Management, a company that launched the careers of cutting-edge black "street" artists. In time, Simmons persuaded Harrell to come to work for Rush at a mere $200 per week. Within his two years at Rush, Harrell became vice-president and general manager, playing a pivotal role in building the careers of artists like Run DMC, LL Cool J, and Whoodini.
While at Rush, Harrell became increasingly aware of "a void in the marketplace for a certain black lifestyle--a very urban, young adult, cool vibe." Rush did a phenomenal job of promoting the raw, black street sound, but Harrell saw another black sound being overlooked: the more subtle sound coming from the marriage of rhythm and blues with hip-hop. The black lifestyle, Harrell saw, was being expressed in extremes: in the street culture of many cutting edge black musicians and in the bourgeois culture represented, somewhat unrealistically, in television's Cosby Show.
Harrell felt he could bridge the gap between "street" and middle to upper class. "I had more of an understanding of what this vibe was all about than any other major label executive I knew," he commented. He left Rush Management to launch Uptown Records, a company that would fill the void in urban black music. Longtime friend tag Nelson George explained that Harrell made music for the type of people he knew growing up, "the black bus driver from Queens [New York] who wears suits on weekends and goes to clubs to pick up girls." Harrell argued that the media--especially white critics--"think it is boring when black people sing about being in love or paying bills." Uptown was created to market music reflective of a more mainstream black lifestyle.
Harrell took Uptown through a series of successes. By 1988, MCA was courting Harrell and offered him a $75,000 label deal. His first release under MCA, a compilation of works by then-unknown artists, was a huge success. Harrell followed up this surprise hit by producing Heavy D's platinum album, Livin' Large. He built on these first successes with hit albums from Al B Sure! and Guy. It became almost commonplace to see Uptown releases go gold or platinum, as the enterprise became a major force in the music industry.
With the growing popularity of its artists, Uptown's success continued multiplied until 1992, when MCA offered Harrell a $50 million multimedia deal. The nearly unprecedented arrangement opened up Harrell's creative vistas to include film and television. Uptown Records thus was renamed Uptown Entertainment. For the next seven years Harrell would have the power to produce albums with MCA Music Entertainment Group and to feature his recording artists in film and television productions for Universal Pictures and Universal Television respectively.
With the power to produce for music, film, and television, Harrell's mission remained the same: "I want to tell stories about everyday black people that will have a wide reaching appeal-- experiences that are African American, but feelings that are universal." Working with MCA/Universal allowed Harrell to nearly triple Uptown's staff and to set up satellite offices in Los Angeles.
With ever increasing responsibilities and less time for being "in the mix," Harrell staffed both his New York City and Los Angeles Uptown offices with young producers and vice-presidents who could keep him connected to the pulse of the urban African American lifestyle. The swell of funds and staff also allowed Uptown to thrive with the incorporation of in-house video, publicity, and marketing departments.
Uptown Entertainment immediately launched development of a full slate of film and television projects, many featuring Uptown recording artists. For example, it was not long before Uptown Entertainment sold a pilot to Fox Television starring Heavy D as a rapping dad. A drama called Flavor, a variety/comedy show similar to In Living Color, and a feature film starring the soulful singers of En Vogue were also soon in the works.
Uptown's musical prowess was celebrated in 1993, when Music Televisions (MTV) showcased Uptown recording artists Mary J. Blige, Father MC, Heavy D, Christopher Williams, and Jodeci on the cable network's popular acoustic show, Unplugged. Not surprisingly, this was the first time that the popular show had devoted its entire timeslot to artists of a single record label. The show was such a success that it was released as a video.
In addition to creating overwhelming pressures to keep increasing profits, Harrell's success reaped the financial rewards necessary to build the lifestyle he dreamed of during his childhood in the housing projects of the Bronx. In 1988, Harrell recalled. "I was rollin'. I was in the game. I was coming into spots and it was going on. I was all over the country, all over the world. I was 20 years old. The dough was flowing. I bought a house. Bought a BMW. Two. Was Happy. It was the beginning of the game. I was crazy happy. Crazy happy." He enjoyed his success thoroughly, earned a reputation as the premiere party-giver on the east coast. However, he realized that with success came a responsibility, for, as he told "I want to show kids what can be achieved if they never take no for an answer."
Harrell's extraordinary rise from the housing projects of the Bronx to his leadership role in the music, film, and television industries prompted the inevitable reflection on just what accounts for such success. In large part he credited his success with being both a rap artist and an entrepreneur. As a former performer Harrell gained a rapport with musicians that some industry executives are lacking. He has been perceived as a peer of musicians, an approachable ally.
Harrell's entrepreneurial savvy may have also found its roots in his youth in the Bronx. Chris Albrecht of Home Box Office (HBO) Independent Productions told Vanity Fair that Harrell's business edge was reflective of his street-fighter sense of survival. In essence, Harrell's success stemmed from fierce determination. As he told Vanity Fair, "I can do just about anything I want. It's a matter of will. Yeah, I guess you have to be talented and smart and stuff, and I hope I've proven that. But I know, at this point in my career, the doors of opportunity are open. As long as I have the desire and the will to want to do it, a lot of different things will get ready to happen."
One door of opportunity was to the president's office of Motown Records. In October of 1995 Harrell was appointed president/CEO of Motown, a deal reportedly worth some $20 million, in an effort to update that labels image and utilize Harrell's considerable skills in spotting new talent. Alain Levy, head of Motown parent PolyGram, told Billboard's J. R. Reynolds, "The music business is driven by A&R (artists and repertory), especially at Motown. Andre has shown that he knows how to build artists." As for Harrell's liberal use of corporate funds and relative inexperience in running a major company, Levy told Ronald Grover of Business Week, "His job is to find the acts, ours is to give him the boundaries."
As for Harrell, he knew his job was to put Motown back on the musical map. "I'm gonna bring back real soul music," he told New York's Kiki Mason. "I want young people with old voices that reek of life experience, of pain." Steps Harrell planned on taking were to move Motown's headquarters from Los Angeles to New York, and to open A&R offices in Atlanta and Detroit, the home of Motown from its founding in 1958 until 1972. Harrell also said he was planning to go back to the streets to find the next generation of black artists. "I've created stars and celebrities," he told Mason. "Now I want to make superstars."
Read more
Latest headlines