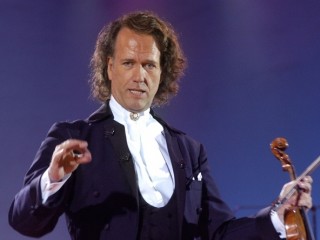 Andre Rieu biography
Date of birth : 1949-10-01
Date of death : -
Birthplace : Maastricht, Holland
Nationality : Dutch
Category : Arts and Entertainment
Last modified : 2012-01-16
Credited as : Violonist, Composer, known for creating the waltz-playing Johann Strauss Orchestra
André Léon Marie Nicolas Rieu
is a Dutch violinist, conductor, and composer best known for creating the waltz-playing Johann Strauss Orchestra.
A versatile violinist and spirited conductor, Andre Rieu capitalized on his classical music training and natural charisma to successfully recreate the uplifting atmosphere of the nineteenth-century Viennese dance halls for twentieth-century audiences worldwide. Rieu's unique classical style evolved around the notion that the audience must be involved in order to appreciate the music. Although the inspiration for his innovative musical presentations reached back over 100 years, his style was frequently categorized as "crossover" music because it combined the revered scores of the classical composers with a more informal performance atmosphere characteristic of popular music.
Rieu was born in Maastricht, Holland. His father conducted the Limburg Symphony Orchestra of Holland and the Leipzig Opera. Classical music permeated the Rieu household, and the Rieu children were well versed in the works of the great composers. Rieu and his numerous siblings were heavily involved in musical training. Each displayed some talent and learned to play an instrument. Rieu himself developed into an accomplished violinist. As his understanding and appreciation of music grew, he developed a special fondness for the rhythms of the great Viennese waltzes. The waltzes, he maintained, stirred his emotions and created euphoria, so it was natural that he would devote his career to that style of music.
Shostakovich' Second Waltz :
Rieu attended the Royal Conservatory in Brussels. After graduation he played in various Dutch symphony orchestras, including a term with the classical Limburg Symphony. Despite his appreciation and love for classical music, he grew increasingly disenchanted by the orchestral environment so familiar to his upbringing. He developed a dislike for the stiff and formal format that created a chasm between the performers and the audience. Rieu's frustration over the classical music format inspired him to assemble an orchestra of his own choosing and to seek his own method of presentation.
During the late 1980s, Rieu recorded with a variety of instrumental groups of his own selection, among them the Maastricht Salon Orchestra. During those early years he engrossed himself in conducting music and playing his violin. He was shy on stage and conversed rarely with the audience. As a result his performances took the traditional bent that he disliked so much, yet Rieu continued his efforts to remove the emotional distance that alienated the audience from the music and from the musicians. In search of a resolution, Rieu turned to the tradition of Johann Strauss II who is universally acknowledged as the King of the Waltz. Strauss, a violinist like Rieu, habitually performed facing his public; he created a festive atmosphere for his listeners, and encouraged them to dance and to enjoy each waltz. During a 1996 interview with Scott Simon for National public Radio, Rieu called the waltz stehgeig, a slang term that describes when a piece of music is assimilated totally into the performance medium.
Rieu restructured his own performances according to the Strauss prescription, and quickly met with success. He assembled a new group of Dutch local instrumentalists and dubbed the ensemble the Johann Strauss Orchestra. Together Rieu and the Johann Strauss Orchestra, which consisted of two to three dozen performing musicians at any given time, developed a classical repertoire that emphasized lively dance music, polkas, and waltzes. One particular performance, during the early 1990s, in Harlingen, Holland, made a lasting impression on a music executive who was in attendance, and by 1994 Rieu was under contract with Mercury Holland Records. "[Rieu's] concerts are incredible he faces the audience, and within a short while everyone is up out of their chairs waltzing," PolyGram Holland president Theo Roos told Billboard.
Mercury Holland wasted no time and released Strauss & Co., Rieu's first album with the Strauss Orchestra, in September of 1994. Rieu made promotional appearances in Germany and developed a following very quickly. The CD entered the market as popular music and sold with ease, over half a million copies, including over 655,000 in Holland alone. Additionally, 55,000 copies sold in Belgium by June of 1995. For 19 weeks Strauss & Co. topped the Dutch album charts, and the record made a showing on the German charts. Strauss & Co. included tracks by Dmitri Shostakovich, Johann Strauss, Franz Lehar, and others. The album featured two singles that rose into the top ten ratings: Strauss's "No House but Strauss," and "The Second Waltz" of Shostakovich. Mercury ultimately released the album in South Africa, in the Philippines, and in Malaysia.
In 1996 Rieu toured throughout Europe, to Germany, France, and Austria. He released a new album, From Holland with Love, that held strong at the number one position on the Dutch music charts for a solid year. A music video was released, and the CD went platinum eight times, prior to its American release later in 1996. Rieu also spent much of his time during that summer as a featured celebrity on PBS fund-raising specials. His album, From Holland with Love, was offered to viewers as an incentive forpledge donations, and the recording was among the most requested items during the pledge broadcast. Rieu donated his time onceagain for that same cause during March of 1997. From Holland with Love was released ultimately in over two dozen countries aroundthe world and was among 96 albums to be certified as "Platinum Europe" recordings under a new program from Sony Music Entertainment Europe. Sony's platinum collection of million-selling albums were publicly acknowledged on June 27,1996. Six months later, on January 28, 1997, The Vienna I Lovewas released on the Philips label. That album hit number three on the Billboard classical album chart, and a music video was also released. Rieu not only made a name for himself in the music world, but he also earned the gratitude of the European music industry which recognized and appreciated the impact of his popularity in spurring record sales in the European market.
In October of 1997, Time reported that Rieu had two albums on the Billboard classical music charts while another seemed likely to enter. The Vienna I Love, featuring waltzes, marches, and operatic airs, had climbed to number two while From Holland with Love held at number eight. As Strauss Gala remained poised to enter the charts, Terry Teachout of Time dubbed Rieu the"superstar nobody knows." Indeed Rieu's recordings rivaled those of the major classical stars for positions on the charts,including tenor Luciano Pavarotti and soprano Kathleen Battle.
In the fall of 1997, Rieu released a Christmas album; creatively marketed in collaboration with the Dutch postal service which offered a free CD sampler from the album, as a premium with the purchase of Christmas stamps. Rieu and his orchestra also filmed a Christmas special that year, entitled Andre Rieu: the Christmas I Love, that aired on American public television in November of 1997. Rieu's first official tour of North America during that same year took him to Detroit, Philadelphia, Washington, and a number of other cities, includinga sold-out concert at Boston Symphony Hall.
In January of 1998, Rieu received the Gold and Silver Harps award "Export Prize" from Conamus, for sales and other achievements by Dutch artists. Four months later Billboard reported that worldwide sales of Rieu's records exceeded 4.5million. On December 17, 1998, a report of the year-end Billboard Music Charts from United Press International showed The Vienna I Love at number eight and In Concert at number ten among the year's classical album releases, based on retail sales.
In the spring of 1998, Rieu and the Johann Strauss Orchestra made an encore tour of the United States. They played the Universal Amphitheater in Universal City, Concord Pavilion in the San Francisco Bay area, and other large capacity theaters. Rieu's plans for 1999 included a June concert, scheduled for the Olympic Stadium in Munich, where he would perform with Michael Jackson, Pavarotti, and Montserrat Caballe, in a relief effort for Kosovo refugees.
Rieu's live concerts attract a spectrum of fans, typically ranging in age from 16 to 65 years old. Members of the audiencecan be seen in any manner of attire, from formal black tie , to T-shirt and tennis shoes. Rieu himself dresses in tails and wears his hair long. The Johann Strauss Orchestra, also dress elegantly, appear to enjoy every moment of each performance. Rieu's warm demeanor habitually sets the audience to tapping its collective feet, if not dancing in the aisles outright. Rieu is not himself a dancer; he does not waltz and prefers it that way. Regardless he captured and held the interest of the mainstream public with his classical music repertoire, a feat accomplished by only a very few artists. Rieu's phenomenal success is not an accident; he is considered an excellent conductor, a talented violinist, and a great showman. According to Joshua Kosman of the San Francisco Chronicle, Rieu's performances are demanding and require hard work, " to sustain the illusion of spontaneous fun." Critics concur that Rieu's handsome face considerably enhances his talent and personal charm. Rieu in turn rejects any attempt to dissect his popularity. He attributes his success to the entire "package" of his performance and presentation.
Critical comparisons have likened Rieu to countless notable personalities but rarely become tiresome because of the extensive diversity. In a single breath the Boston Globe compared Rieu to singer Tom Jones, leading man Mel Gibson, swing band leader SpikeJones, fictional muscle man Conan the Barbarian, and the flamboyant pianist Liberace. The Los Angeles Times called Rieu the "Pied Piper of light classical music." Comparisons with television band leader Lawrence Welk also apply. The tongue-in-cheek nicknames bestowed upon Rieu vary drastically, from "waltzmeister" to the "schmaltz of waltz," while few refute the de facto appellation "New Waltz King," an allusion to his predecessor, Johann Strauss II.
Rieu is married and has two sons. The family lives in Holland,and it is there that Rieu recruits local talent for membership inthe Johann Strauss Orchestra. He takes a personal approach to selecting the musicians; congeniality is the utmost priority; virtuoso musical skills are a plus.
Honours:
-Knight of the Order of the Netherlands Lion (Netherlands, 2002)
-Honorary Medal of the Province of Limburg (Netherlands, 2009)
-Knight of the Ordre des Arts et des Lettres (France, 2009)
Selected discography:
-And the Waltz Goes On (2011)
-Moonlight Serenade (2011) – Australian Albums: No.17
-You Raise Me Up – Songs for Mum (2010) – Australian Albums: No.8
-Forever Vienna (2009) – UK: #2, IRE: No.4
-The Best of André Rieu (2009) – Australian Albums: No.23
-Masterpieces (2009) – Australian Albums: No.9
-You'll Never Walk Alone (2009) – Australian Albums: No.2
-Live in Australia (2008) – Australian Albums: No.14
-Waltzing Matilda (2008) – Australian Albums: No.1
-The 100 Most Beautiful Melodies (2008) – Australian Albums: No.2
-Live in Dresden: The Wedding at the Opera (2008)
-In Wonderland (2007)
-Live in Vienna (2007)
-Auf Schönbrunn (2006)
-New York Memories (2006)
-Songs from My Heart (2005)
-Christmas Around the World (2005)
-Live in Tuscany (2004)
-The Flying Dutchman (2004)
-New Year's Eve in Vienna (2003)
-André Rieu at the Movies (2003)
-Live in Dublin (2003)
-Romantic Paradise (2003)
-Maastricht Salon Orkest – Serenata (2003)
-Love Around the World (2002)
-Dreaming (2002)
-Live at the Royal Albert Hall (2001)
-Musik Zum Träumen (2001)
-La Vie Est Belle (2000)
-Fiesta! (1999)
-100 Years of Strauss (1999)
-Romantic Moments (1998)
-Waltzes (1998, re-edited in November 1999)
-The Christmas I Love (1997)
-The Vienna I Love (1997)
-In Concert (1996)
-Strauss gala (1995)
-D'n blauwen aovond (1995)
-Hieringe biete 1 & 2 (1995)
-Strauss & Co (1994)
-Hieringe biete (1993)
-Merry Christmas (1992)
-Romeo and Juliet Love Theme
Read more
Latest headlines