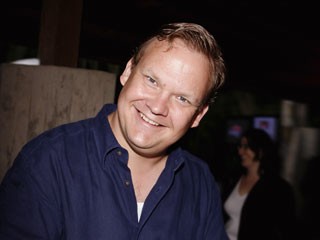 Andy Richter biography
Date of birth : 1966-10-28
Date of death : -
Birthplace : Grand Rapids, Michigan, U.S.
Nationality : American
Category : Arts and Entertainment
Last modified : 2011-06-20
Credited as : Actor and comedian, Late Night and The Tonight Show,
Paul Andrew "Andy" Richter is an American actor, writer, comedian, and late night talk show announcer. He is best known for his role as the sidekick of Conan O'Brien on each of the host's programs: Late Night and The Tonight Show on NBC, and Conan on TBS. He is also known for his voice work in the Madagascar films and for starring in the sitcoms Quintuplets, Andy Richter Controls the Universe, and Andy Barker, P.I..
Richter was born in Grand Rapids, MI, on Oct. 28, 1966 - the second of four children. His father was a college professor who taught Russian and his mother was a kitchen cabinet designer. Perhaps unusual for someone with a flair for comedy, Richter by all accounts led a normal life, despite his parents' divorce when he was young. Growing up in Yorkville, IL, he played high school football and was even crowned King of the Prom. After graduating, Richter entered the University of Illinois, where he wavered between majoring in communications and journalism. He later credited a conversation he had with an instructor his sophomore year that set him on the right course. When asked what he was really interested in, Richter said he wanted to write and direct television shows. The instructor suggested that he transfer colleges to pursue his interests. Richter heeded her advice and enrolled at Columbia College in Chicago, well known for its film and writing programs. Richter was soon in his element, writing and producing his own projects, among them a self-titled spoof, "My Dinner with Andy."
After graduation from Columbia, Richter went through a series of entry level production jobs in television - unloading trucks, handling props and working his way up to set designer. But he was itching to be more creative and began taking improv comedy classes at night. Richter enjoyed the instant gratification of creating and performing on the spot, and soon enough, took part in several comedy troupes, including the Annoyance Theater and its production of "The Real Live Brady Bunch." The show was a hit and by the time it went on an eight-month run in New York City, Richter had taken on the lead role of Mike Brady. It was during the show that Richter met actress Sarah Thyre, his future wife, with whom he later had two children. During a swing through Los Angeles, Richter landed a memorable bit part in "Cabin Boy" (1994), the brainchild of comic performer Chris Elliot, and quickly found himself upping his profile, despite the dreadful critical and financial returns on the movie.
Despite making headway in his comedy career, Richter was forced to work at a movie theater to pay the bills. He later said that his greatest fear was that movieg rs would come out of screenings of "Cabin Boy" and recognize him as the man selling candy behind the counter. But Richter managed to escape suffering the humiliation soon enough. That same year, while still toiling away nights on stage in Chicago, he was noticed by "Saturday Night Live" creator Lorne Michaels, then on the lookout for talent for NBC's replacement for "Late Night With David Letterman." Michaels was already taking a chance on then-unknown comedy writer Conan O'Brien and was seeking additional fresh voices when he came across Richter. Although it was never intended for him to appear on camera, thanks to a quick rapport with O'Brien, Richter took on the unexpected role of on-air sidekick - à la Ed McMahon. In truth, the very green O'Brien appeared very nervous in front of the camera, so head writer Robert Smigel decided the best way to calm his host's nerves was to put the ever-calm Andy by his side.
Amid a flurry of late night competition in the fall of 1993, including a rejuvenated Letterman and his new show on CBS, both O'Brien and Richter weathered harsh critical reviews when their show debuted. Many saw "Conan" as nothing more than a pale imitation of Letterman. It was some time before they were able to shake off their influences and find their own way. But gradually the show began to find its comedic footing, focusing on comedy sketches and scripted gags instead of opening monologues or high-profile guests. The sketches, which took the already deconstructed medium of late night comedy and deconstructed it even further, were the perfect showcase for Richter, who soon proved to be much more than an a typical, nodding sidekick, but a perfect foil and counterpart with razor-sharp timing of his own.
Notable among the show's early gags was an ongoing "staring contest," loosely inspired by the old game show, "Make Me Laugh," where Conan and Richter faced each other and tried to remain stone silent. While Conan had an easy time gazing at Richter, all manner of things were happening behind a seemingly unaware Conan, including an overweight man shaking a can of beer, only to have foam spray his pants. That the gags often happened in complete silence added to the joke, and Richter's frustrated face, finally looking away, was the ultimate payoff. Other ongoing sketches included a bit where Richter and Conan pretended to "drive" his desk, with a deliberately fake background inserted behind them, as well as a recurring satire of then-popular network public service announcements "The More You Know " Also popular early on was a bit called, "In the Year 2000," which featured exaggerated views of the future, based on current events of the day. In the real year 2000, Richter left the show to embark on projects of his own. Unfortunately for both Richter and his loyal fans, his attempts were met with limited success. And "Late Night" viewers had a hard time getting over the loss.
The first and arguably most promising was "Andy Richter Controls the Universe," where he played a consummate daydreamer and lowly technical writer working for a giant, soulless corporation. Debuting as a mid-season replacement, the show was an early departure from the traditional three-camera situation comedy style of "Friends" and "Frasier." Taking advantage of the format, Richter's show ventured into absurd territory, with fantasy sequences and quick cutaways - a show that may have been ahead of its time. One memorable moment had him imagining coming to work dressed in a coat made of playful puppies, to demonstrate to a female co-worker that he is a good guy. But often his daydreams backfired - in another fantasy sequence where a lingerie-clad woman is joined by another man, while Richter groans in disappointment. Despite rave reviews and a devoted fan base, however, the show struggled to find a bigger audience and was cancelled after its second season. Next up for Richter was "Quintuplets" (Fox, 2004-05), a sitcom where Richter and co-star Rebecca Creskoff played nonplussed parents of quintuplets, who have long passed the days of cute infanthood and are now troublesome teenagers. But Richter's stab at a more familiar sitcom proved too formulaic for fans and critics. The series failed to last longer than one season.
Between his major projects, Richter appeared in a number of guest spots, including "The Upright Citizen's Brigade" (Comedy Central, 1998-2000) and "Strangers with Candy" (Comedy Central, 1999-2000), as well as more traditional network fare such as "Just Shoot Me!" (NBC, 1997-2003), "Ed" (NBC, 2000-04), "Will & Grace" (NBC, 1998-2006), and "Malcolm in the Middle" (Fox, 2000-06). He provided voices for characters in the animated feature film, "Madagascar," (2005) and the short-lived primetime animated sitcom, "Father of the Pride" (NBC, 2004), as well as "American Dad" (Fox, 2005- ). Meanwhile, he portrayed a hilarious quintuplet version of himself - named Andy, Chareth, Donnie, Emmet and Rocky Richter-Wang - on the cult comedy "Arrested Development." Richter also took on bit parts in the films "Dr T and the Women" (2000); "Dr. Dolittle 2" (2001); "Scary Movie 2" (2001); "Elf," the first of several Will Ferrell comedies; and - perhaps only because he liked to joke about it - the Olsen twins flop, "New York Minute" (2004). He appeared as the bearded gay lover of Sasha Baron Cohen's character in a brief, but memorable sequence in "Talladega Nights: The Ballad of Ricky Bobby" (2006), and a Mountie in "Blades of Glory" (2007). He also made an appearance on "Jeopardy" (syndicated, 1984- ), where he held a record for the most winnings among celebrity contestants.
Richter tried his had at network comedy yet again, this time with "Andy Barker, P.I.," (NBC, 2006-07), another critically embraced series that failed to find an audience in time to avoid cancellation. Produced by his old pal, O'Brien, the show told the story of an ordinary accountant (Richter) whose life and career changes when he moves into the former office of a private eye. On his first day, a woman stops in, mistaking him for the previous tenant. But rather than turning her away, he gets caught up in her story and takes on her case, followed by many others. The show combined the Venetian blinds and blaring horns of classic film noir with the present day world of strip malls and convenience stores - a classic moment had Richter's straight-laced character failing to lose a pursuer in a car chase because he keeps using his traffic signals. But while critics were enthusiastic, the show never caught on and NBC pulled the plug, airing the final episodes as a batch on a Saturday night.
Only two years later, O'Brien came to Richter's rescue by asking him to join in the shenanigans yet again; this time, on "The Tonight Show." When Jay Leno announced he was stepping down from "Tonight" after 16 years, O'Brien was named his replacement, so Richter not only appeared on the final "Late Night with Conan O'Brien," he also accepted the invite and returned to his place alongside his comedic comrade when the new incarnation premiered to great fanfare months later on June 1, 2009. As a member of the writing staff, as well as an on-camera performer in numerous sketches, Richter was happy to be back on television earning a regular paycheck. By that December, he was back on the couch for celebrity interviews, as he did previously on "Late Night." But the reunion was short lived when in January 2010, NBC pulled the plug on O'Brien in favor of previous host Jay Leno, returning the latter to "The Tonight Show" following his failure to lure viewers with his primetime half-hour disaster, "The Jay Leno Show" (NBC, 2009-2010).
While O'Brien, Leno and NBC brass hashed out their vehement differences over the highly controversial and public move, Richter remained ever loyal to his longtime compatriot. O'Brien's "Tonight Show" aired its last broadcast on Jan. 22, 2010 amidst much fanfare and public support for the host, while the returning Leno earned considerable disdain from both fans and celebrities, including other late night hosts like David Letterman and Jimmy Kimmel. Out of work once again, Richter later joined O'Brien on "The Legally Prohibited from Being Funny on Television Tour," a 32-city live music and comedy tour that came about due to a clause in O'Brien's contract that prohibited him from appearing on television or the Internet. It said nothing about performing for an audience in a concert setting. For his part, Richter performed his usual announcer and sidekick duties. Meanwhile, once O'Brien was contractually able to move on to other projects, Richter joined his old friend to resume his place on the host's new TBS late night talk show, "Conan" (2010- ), which premiered to massive ratings in November 2010. He was also the recipient of a bittersweet Emmy nomination he shared with the other "Tonight Show" writers when O'Brien's show received a nomination for Outstanding Writing for a Variety, Music or Comedy Series instead of the newly reinstated Leno version.
Read more
Latest headlines