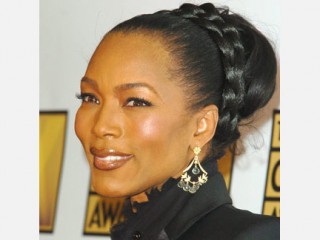 Angela Bassett biography
Date of birth : 1958-08-16
Date of death : -
Birthplace : St. Petersburg, Florida
Nationality : American
Category : Arts and Entertainment
Last modified : 2010-06-16
Credited as : Actress, Tv series Alias,
"It's like Angela's not there anymore," actor Larry Fishburne told Entertainment Weekly, describing actress
Angela Bassett
's capacity to inhabit a character. "She becomes who she's playing." A Yale-trained actress, Bassett began her career on stage in the 1980s, performing on Broadway in such plays as Ma Rainey's Black Bottom and Joe Turner's Come and Gone. At a time when women and African Americans in Hollywood struggled to find interesting, well-written roles, Bassett emerged as a powerful, technically accomplished performer in such highly regarded films as Boyz N the Hood, Malcolm X, Waiting to Exhale, and How Stella Got Her Groove Back. With her portrayal of rock survivor Tina Turner in the biopic What's Love Got to Do with It, she became a star.
Inspired by Theatre
Angela Bassett
is born on August 16, 1958, Bassett grew up in public housing in St. Petersburg, Florida. She was first truly electrified by acting when, in 1974, she went on a field trip to Washington D.C. There she saw the illustrious black thespian James Earl Jones in a Kennedy Center production of the play Of Mice and Men. "I just sat there after the play, boo-hoo crying, weeping," Bassett recalled to Barbara Jones of Premiere. "I couldn't move, and I remember thinking, 'My gosh, if I could make somebody feel the way I feel right now!'" Upon her return home she immersed herself in plays and started "really concentrating." A very good student, she was admitted to Yale, thanks in large part to the encouragement of her mother, Betty, who raised Angela and her sister D'Nette without the help of a spouse: "After [high school] graduation I knew I wanted to act," the actress told Upscale magazine reporter Christie Smith. "I also wanted to play it safe, so I decided that I'd be a business woman. My mother suggested Yale. She even typed my application. Later, I changed my major to acting, and she supported me 100 percent."
It wasn't easy being a Floridian in the Ivy League. Bassett's southern drawl set her apart from most of her East Coast classmates. She told Smith, "I had a lot of regionalism and really needed...training." Fortunately, such training came from a supportive teacher. Lloyd Richards was head of the Yale School of Drama and had seen Bassett acting in some undergraduate productions. He later told Premiere he'd seen in the aspiring actress a "deep passion" and declared, "When she applied for admittance to the drama school, I was very pleased." Bassett spent a total of six years at Yale and earned a master's degree in drama in 1983.
Bassett began working in commercials in the early 1980s soon after graduation; she had a role for a time on the television soap opera The Guiding Light and took parts in some forgettable films, like Critters 4. Yet much of her work was, in the words of Entertainment Weekly's Ty Burr, "high-minded indeed." She made her Broadway debut in the August Wilson play Ma Rainey's Black Bottom, was cast by Lloyd Richards in Wilson's Joe Turner's Come and Gone in 1988, and landed a role in director John Sayles's 1991 urban epic City of Hope.
Earned Successful Leading Roles
But it was her performance in John Singleton's highly successful 1991 film Boyz N the Hood--about a group of African American teens growing to manhood in the midst of urban violence--that brought Bassett some real attention. She played Reva, the sophisticated mother of the film's young protagonist, Tre. Bassett's recollections of her own mother's dedication became a key to approaching the role of Reva, a woman who sends her son to live with his estranged father so that the youth might benefit from a strong male presence in his life. "When the role came up, I knew I wanted it," the actress related to Upscale. "I mean, there's a finite number of one-hour TV dramas you can do. I had been in L.A. for a while, and things weren't up to speed. When I got it, I was appreciative and felt blessed. I identified with [characters like] Doughboy, Tre and the rest of them because when I grew up, the big thing was heroin; now it's crack, guns and everything in between."
Co-star Larry Fishburne, a friend of Bassett's, recommended her to the director, and she felt an immediate bond with the young filmmaker. "I remember looking at John Singleton, thinking how sincere he was," she recalled. "He was only 21, making this massive film. I just had so much enthusiasm and love for what he was trying to do. After the audition, we sat around and talked to each other about great poets, like Langston Hughes. It seemed like we'd known each other before. I really just wanted to go over and hug him. He was just a baby."
Bassett had a supporting role in Sayles's well-regarded 1992 drama Passion Fish, but would garner much more attention that year for her portrayal of Betty Shabazz, the wife of Malcolm X, in Spike Lee's film about the renowned activist's life and tragic death at the hands of assassins. Her audition for the part astonished Lee, who told Premiere's Jones that Bassett "was Betty. Betty Shabazz is the best work she's ever done on film. She makes you feel for this woman." In her interview with Upscale, Bassett noted: "Spike was surprisingly easy to work with. I mean we've all heard the rumors. He gave me a lot of room as an actress." She added that Lee "really respects actors, but he doesn't get credit for that. I found that I could really talk openly with him."
Lee's estimation of her work was confirmed by many viewers. "I watched as Angela Bassett reenacted Betty's reaction to Malcolm's assassination," Joe Wood of Rolling Stone recounted. "Take 1, take 2, take 3, and she wailed, screamed, really, and in that screaming I felt tears." Wood added that "Bassett's voice carried an essential portion of Malcolm, of his spirit." Reviewing the film for the same publication, critic Peter Travers referred to the actress as "the very fine but underused Angela Bassett." Co-star Denzel Washington, who played the film's title role, told Burr of Entertainment Weekly that Bassett is "one of the very few actresses, period, of any color, who are carrying movies of substance." The actress revealed in Upscale that she strove to "bring dignity to [the] performance." In a Premiere piece, she allowed some insight into this process of characterization: "Betty was just so calm, so I was calm. You just got to be about your plan. Be about your race and finish it. Because there're people who're going to applaud it and people who won't be impressed for one moment."
Bassett finally broke through to stardom in her first truly splashy screen role: playing Tina Turner in What's Love Got to Do with It. Time's Richard Zoglin called it "the kind of star-making turn that every actress dreams of--and practically every black actress in Hollywood wanted." Bassett went into serious training for the role of the singer, whose tumultuous relationship with her husband, Ike--according to the film's source, Turner's autobiography I, Tina--included both emotional and physical abuse. "I had a dialect coach, a singing coach, a choreographer and a personal trainer for 30 days before the filming began," Bassett told Deborah Gregory of Essence. "I lifted weights for two hours a day, six days a week, and went on a high-protein, no-sweets diet--egg whites, tuna without mayo, vegetables--to get Tina's incredibly muscular physique. If I had had two months to prepare, I think I would've been able to enter a bodybuilding contest afterward."
Won Praise for Turner Portrayal
Larry Fishburne agreed to accept the role of Ike Turner only after he knew for sure that Bassett would play Tina. "She's a bad motherf--er," Fishburne exclaimed to Premiere. "Angie B. is all that and the Sunday papers. I sat down and thought, 'I could just go and do this movie just 'cause Angie's in it.'" He further commented to Burr of Entertainment Weekly that Bassett "is 100 percent committed" to the projects on which she works. The two actors managed to recreate the scenes of violence between Ike and Tina to a harrowing--and sometimes dangerously real--degree. Bassett suffered a broken hand during shooting and explained to Burr why she endured the physical strain of those scenes over repeated takes: "I'm the type of person who doesn't want to kid it. I have to really go there, or I feel like I'm cheating. It's painful to go there, but, hey, it's painful not to go there."
Best of all, Bassett had one other important figure for support during the making of the film: Turner herself. The singer flew in from Germany to see Bassett's audition. "When I walked into the room," Bassett recalled to Gregory of Essence, "she immediately hugged me and told her manager that she thought I was 'beautiful,' and then she started showing me some of the dance routines from her days with [musical group] the Ikettes." Bassett added: "When I walked out of that room, I was flying on cloud nine and I knew I would give the part everything I had!" The actress told Burr that Turner "did my makeup. She was my biggest fan. Can you imagine?"
Bassett noted in Time that she considered the role of Tina Turner "the biggest challenge of my career." She further described her hopes for the project in an Ebony interview: "I wanted to convey that [Tina] is a bright woman, a survivor and a fighter." Apparently Bassett succeeded in her aim. Los Angeles film critic Rod Lurie predicted that she "is going to be a bigger star than Lady Tina herself." Rolling Stone's Travers, who had serious reservations about the film, nevertheless praised the actress's "fine, sexy strutting portrayal of Tina," calling her "a dazzler; she commendably resists playing Tina as a victim even when the script keeps pushing her down that familiar path." Owen Gleiberman of Entertainment Weekly insisted that Bassett "captures the erotic youthquake that was Tina Turner in the '60s and early '70s." Bassett's work in What's Love Got to Do with It earned her an Oscar nomination in 1993, and in 1994 a Golden Globe award for best actress in a musical or comedy.
Played Strong, Dramatic Women
Following her success in What's Love Got to Do with It, Bassett appeared again as Betty Shabazz in the 1995 film Panther, which detailed the history of the Black Panther Party. She also co-starred opposite Eddie Murphy in the film Vampire in Brooklyn. Bassett played the role of Rita, a police officer who is unaware that she is a vampire. Along with Ralph Fiennes, Bassett co-starred in the 1995 science fiction thriller Strange Days. In the film, she played the role of Lornette "Mace" Mason, a rugged, independent woman who teams with Fiennes's character to rescue his ex-girlfriend from a group of gangsters.
Perhaps Bassett's greatest triumph in 1995 was her work in the film Waiting to Exhale. Directed by Forest Whitaker and based on the novel by Terry McMillan, the film chronicles the lives of four African-American women as they search for lasting romance and love. In the film, Bassett plays the role of Bernadine, a woman whose husband is having an affair with his secretary and abandons her and her two children. Waiting to Exhale, which also co-starred Whitney Houston, Lela Rochon, and Loretta Devine, was a huge commercial success and earned accolades for Bassett. Stephen Holden, writing in the New York Times, remarked that "Bassett's fuming performance is the movie's riskiest and most compelling and gives the movie its dramatic backbone."
In 1997 Bassett played the role of Rachel Constantine, a deputy chief of staff to the president of the United States, in the highly acclaimed science fiction film Contact. The following year, she starred in the box office smash How Stella Got Her Groove Back. Bassett played the role of Stella, a successful stockbroker and single mother. Stella is singularly devoted to raising her son, and has little time for dating and romance. Encouraged by a friend to take a trip to Jamaica, she meets a handsome Jamaican man who is 20 years her junior. The film follows their relationship as it progresses from mere physical attraction to a deeper romantic love. How Stella Got Her Groove Back provided yet another example of Bassett's talents as an actress. Kevin Rodney Sullivan, who directed the film, told Jet magazine "Angela as an artist is all 88 keys. She's a virtuoso, and I'm astounded by her range, depth and ability to bring so many nuances to the role. When I ask her for chartreuse, she gives me chartreuse. When I ask her for lavender with peach highlights, she gives me exactly that." Like Stella, Bassett's life and career were in a wonderful groove. As she remarked to Ebony, "What's being in a groove? It's being self-assured, confident, growing, continually growing. My life is joyful! I think that's pretty groovy."
Adding to the joy she found in her acting career, Bassett wed longtime friend Courtney B. Vance in 1997. The couple had known each other for nearly 14 years before beginning to date seriously in 1996. They recorded their unique journey to finding themselves and each other in a sort of dual autobiography entitled Friends: A Love Story, published in 2007. Happily married, the couple added twins to their family via surrogate mother in 2006.
Meanwhile Bassett maintained a steady schedule of work, landing a wide variety of lead and supporting roles on stage and screen. She returned to the New York stage in 1999, appearing in Macbeth with Alec Baldwin, and appeared in Pasadena, California, in August Wilson's play, Fences, with Laurence Fishburne, in 2006. In the early 2000s, Bassett also tried her hand at producing made-for-television movies with The Rosa Parks Story, the story of the civil rights heroine, and Ruby's Bucket of Blood, a dramatic look at racial tension in the South when a black bar owner hires a white singer to entertain. For both she also gave award-winning performances as the lead character. She gained further critical acclaim for Boesman and Lena, in which she portrayed Lena, a South African woman who, with her husband, finds herself homeless and struggling to make sense of her desperate situation. Bassett offered audiences a fresh side of her strong character, playing a tough sports journalist in Mr. 3000 opposite the comedic actor Bernie Mac. The role may have led to Tyler Perry casting her as his leading lady in Meet the Browns, a film scheduled for release in 2008; the movie is an adaptation of Perry's stage play in which a single mother living in the Midwest takes her children to the funeral of her father in the South, where she meets his family for the first time. No matter her role, Bassett exuded a rare strength of character that consistently appealed to viewers.
PERSONAL INFORMATION
Born on August 16, 1958; raised in St. Petersburg, FL, daughter of Betty; married Courtney B. Vance, 1997; children: son and daughter (twins) Education: Yale University, BA, Afro-American Studies, 1980; Yale University, MFA, drama, 1983.
AWARDS
Stage, film, and television actress, 1982-.
WORKS
* Books
* (With Courtney B. Vance) Friends: A Love Story, Harlequin, 2007.
* Films
* F/X, 1986.
* Boyz N the Hood, 1991.
* City of Hope, 1991.
* Passion Fish, 1992.
* Malcolm X, 1992.
* What's Love Got to Do with It, 1993.
* Panther, 1995.
* Vampire in Brooklyn, 1995.
* Strange Days, 1995.
* Waiting to Exhale, 1995.
* Contact, 1997.
* How Stella Got Her Groove Back, 1998.
* Music of the Heart, 1999.
* Supernova, 2000.
* Boesman and Lena, 2001.
* The Score, 2001.
* Mr. 3000, 2004.
* The Lazarus Child, 2004.
* Akeelah and the Bee, 2006.
* Meet the Robinsons (animated film), 2007.
* Plays
* Ma Rainey's Black Bottom, Broadway, 1985.
* Joe Turner's Come and Gone, Broadway, 1988.
* Macbeth, Joseph Papp Theater, 1999.
* Fences, Pasadena Playhouse, 2006.
* Television
* Doubletake (made-for television movie), 1985.
* The Cosby Show, 1985.
* The Jacksons: An American Dream (miniseries), 1992.
* Ruby's Bucket of Blood, (made-for-television), 2001.
* The Rosa Parks Story (made-for-television), 2002.
* Alias, 2004-.
Read more
Latest headlines