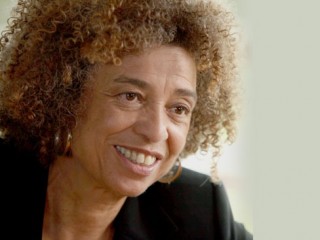 Angela Davis biography
Date of birth : 1944-01-26
Date of death : -
Birthplace : Birmingham, Alabama, U.S.
Nationality : American
Category : Famous Figures
Last modified : 2010-07-16
Credited as : Civil rights activist and revolutionary, college teacher and nurse, scholar and writer
Angela Davis
, also known as:
Angela Yvonne Davis
born January 26, 1944 in Birmingham, Alabama is an American college teacher, activist, Civil rights activist, educator, Government official, nurse, revolutionary, scholar and writer .
"Sidelights"
Long known as a political activist, Angela Davis has committed her life to the eradication of oppression and poverty, especially among blacks. A controversial figure in the American public eye, Davis's political convictions propel her to fight for the rights of minority groups. Through her active involvement in the American Communist Party, she has worked ceaselessly and often militantly to guarantee political freedom for repressed peoples.
Although she didn't formally espouse communism until the age of twenty-four, Davis experienced exposure to multiple socio-economic systems throughout her youth. She participated in civil rights demonstrations and helped from interracial study groups while a Birmingham, Alabama, teenager. Her family had numerous Communist friends; she joined a Communist youth group, Advance, while a scholarship student (from the American Friends Service Committee) at Elizabeth Irwin High School in New York. In addition, while in college, she studied under political philosopher Herbert Marcuse, who considered her the best student he ever taught. At the University of California, San Diego, she participated in several activist organizations, including the San Diego Black Conference and the Student Nonviolent Coordinating Committee; she also helped found the Black Students Council. Elinor Langer of the New York Times Book Review asserts that Davis's later political philosophies reflect her early influences of socialism and communism: "Both the anticapitalist theory she studied and the interracial Communist community to which she was accustomed must have affected her negative analysis of the American black political scene."
Davis believes that blacks have traditionally lacked the same rights fundamentally available to whites in the United States. In If They Come in the Morning: Voices of Resistance, she states, "Needless to say,the history of the United States has been marred from its inception by an enormous quantity of unjust laws, far too many expressly bolstering the oppression of Black people." As a result, she believes, numerous minority members fall prey to the very political and economic conditions that support the upper classes. She explains in If They Come in the Morning: "Prisoners--especially Blacks, Chicanos, and Puerto Ricans--are increasingly advancing the proposition that they are political prisoners. They contend that they are political prisoners in the sense that they are largely the victims of an oppressive politico-economic order, swiftly becoming conscious of the causes underlying their victimization."
Davis further characterizes political prisoners as not merely "victims" but rather actual pioneers in the fight against repression. She argues that these prisoners' actions demonstrate a protest against the "oppressive politico-economic order" of which she speaks. She defines the political prisoner in If They Come in the Morning: "The offense of the political prisoner is his political boldness, his persistent lenging--legally or extra-legally--of fundamental social wrongs fostered and reinforced by the state. He has opposed unjust laws and exploitative, racist social conditions in general, with the ultimate aim of transforming these laws and this society into an order harmonious with the material and spiritual needs and interests of the vast majority of its members."
Davis views her work with political prisoners as an outgrowth of her personal devotion "to defend our embattled humanity," she states in Angela Davis: An Autobiography. She contends that she did not want to write her autobiography, but comments in it: "When I decided to write the book after all, it was because I had come to envision it as a political autobiography that emphasized the people, the events and the forces in my life that propelled me to my present commitment." Her autobiography details how her aims to help oppressed individuals found expression in the political ideals of communism. About her early introduction to communism, she states in her autobiography: "The Communist Manifesto hit me like a bolt of lightning. I read it avidly, finding in it answers to many of the seemingly unanswerable dilemmas which had plagued me. . . . I began to see the problems of Black people within the context of a large working-class movement. My ideas about Black liberation were imprecise, and I could not find the right concepts to articulate them; still, I was acquiring some understanding about how capitalism could be abolished." She continues, explaining the connection between communism and minority liberation, "What struck me so emphatically was the idea that once the emancipation of the proletariat became a reality, the foundation was laid for the emancipation of all oppressed groups in society."
Within the Communist Party, U.S.A., Davis allied herself primarily with the Che-Lumumba Club, a black faction of the Los Angeles Party membership. The black Communists of the Che-Lumumba Club had already declared their goal as the liberation of black peoples in the Los Angeles area through application of Marxist-Leninist philosophies when Davis officially joined the party in July, 1968. Her search for a revolutionary community with which to involve herself did not end with her membership in the Communist Party, however. She actively initiated militant demonstrations and protests designed to focus public attention on the plight of minorities. Her radical views eventually interfered with her career as an educator as well. In 1969, the Board of Regents of the University of California dismissed her from the faculty; a court order reinstated her shortly thereafter. However, the University of California, Los Angeles, did not renew her contract in 1970, despite her rating as an "excellent" and reasonably unbiased teacher by the administration. The American Association of University Professors censured the institution for its decision, and a final attempt by the philosophy department to reinstate her in 1972 failed.
Concurrent with her professional difficulties, Davis's radical beliefs led to her involvement in a 1970 prison break. Political prisoner George Jackson and others attempted to escape from the Marin County, California, courthouse. The situation deteriorated into a shoot-out. In connection with the incident, Angela Davis was charged with kidnapping, conspiracy, and murder. Her subsequent imprisonment and trial aroused international concern and interest; she was ultimately acquitted of all charges.
Davis's controversial behavior has not lessened since her prison and courtroom experiences. She adopts, however, more conventional methods for spreading her ideologies than she perhaps once did. She has immersed herself in the Communist Party, lecturing around the world. Even within the Communist Party, her activities have followed more traditional political avenues to effect change: in the 1980 U.S. Presidential election, Angela Davis was the vice-presidential candidate of the Communist Party.
About If They Come in the Morning: Voices of Resistance, Steven V. Roberts of Commonweal observes, "In essence, . . . this is a book written by revolutionaries, true believers, who can justify anything in the name of their cause." Although he finds that "the book bristles with contradictions," Roberts adds, "The best parts of [the collection] are several essays by Miss Davis."
Angela Davis: An Autobiography "is less an autobiography than a preliminary probe of her own fiber, her humble realization that she is made of stern stuff," according to the New Republic's Ivan Webster. "She is eloquent, tough and stubborn in her moral integrity." Yet, Webster a failing: "It's when she moves away from hard, stark issues that the book falters." Julius Lester of the Progressive comments: "One is left with the impression of a woman who lives as she thinks it necessary to live and not as she would like to, if she allowed herself to have desires. She seems to be a woman of enormous self-discipline and control, who willed herself to a total political identity. Her will is so strong that, at times, it is frightening." Lester continues, "Davis has used her politics to eradicate everything in her which would interfere with her commitment to revolutionary change."
Paula Giddings, in Black World, shares Lester's view of Davis's intensity and autonomous vision: "[After] reading the last page, one's immediate reaction is, but what have we learned about Angela Davis? The answer is a great deal. . . . She has little desire to project as a singularly charismatic figure; . . . the primary purpose of her book is to illuminate the political causes and concerns central to her life." George E. Kent, writing in PHYLON: The Atlanta University Review of Race and Culture, also remarks upon Davis's devotion to her aims, noting, "Despite its single-minded emphasis upon proper ideological response, the passion with which this political autobiography is written enhances its educational objective."
Davis's Women, Race and Class traces and documents the historical development of feminism. Carolly Erickson of the Los Angeles Times Book Review states that the book "is as useful an exposition of the current dilemmas of the women's movement as one could hope for." She adds, "Women, Race and Class offers a view from the underside of 19th-Century feminism, and argues that the profound differences that estranged black and white women in the early days of the women's movement still estrange them today." Ann Jones of the New York Times Book Review explains further, "Against this intricate background of the separate and unequal histories of black and white women, Miss Davis sets in perspective some contemporary women's issues: rape, reproductive freedom, housework and child care." Jones continues: "I wish she had spoken to us here, as she has so movingly in the past, in a voice less tuned at times to the Communist Party, more insistently her own. But she is herself a woman of undeniable courage. She should be heard."
The collection Women, Culture and Politics includes essays based on speeches Davis gave from 1983 to 1987. In them, Davis examines racism and classism in American culture and social movements, while arguing for the ideals of communism. In Belles Lettres Eleanor J. Bader notes that "Davis's commitment is passionate and vigorous" but finds that "Although most of Davis's arguments are supported with irrefutable information and figures, her conclusions are often glib and somewhat weak." Bader continues, "Davis indicts capitalism successfully. . . . Yet the book does not convince us that socialism is, in fact, better suited to meeting human needs." However, in his article for New Statesman &Society, Toks Williams supports Davis's words: "Angela Davis's single-minded dedication and hard-headed idealism provide more than enough positive encouragement for those who may think there is little left to fight for in the civil rights movement." Commenting on the continued controversy surrounding Davis's writings and actions, Michele Wallace in the Village Voice Literary Supplement writes, "Just think of Davis as a latter-day Joan of Arc who didn't perish in the fire."
Angela Davis's political commitments keep her involved in an unending fight against oppression. Her communist beliefs alienate her from many American citizens, yet she continues to lecture and write in support of her philosophies. Although Davis's ideologies garner much opposition in the United States, Jones remarks upon her tenacity, describing Davis as one "who has never shied from impossible tasks."
PERSONAL INFORMATION
Born January 26, 1944, in Birmingham, AL; daughter of B. Frank (a teacher and businessman) and Sally E. (a teacher) Davis. Education: Attended Sorbonne, University of Paris, 1963-64; Brandeis University, B.A. (magna cum laude), 1965; University of Frankfurt, graduate study, 1965-67; University of California, San Diego, M.A., 1968, graduate study, 1968-69. Addresses: Office: c/o Random House, Inc., 201 East 50th St., New York, NY 10022.
AWARDS
Ph.D. (honorary), Lenin University; American Book Award, Before Columbus Foundation, 1998, for Blues Legacies and Black Feminism: Gertrude "Ma" Rainey, Bessie Smith, and Billie Holiday.
CAREER
University of California, Los Angeles, acting assistant professor of philosophy, 1969-70; currently works with National Alliance against Racist and Political Repression. Communist Party candidate for vice-president of the United States, 1980.
WRITINGS:
* (With Ruchell Magee, the Soledad Brothers, and others) If They Come in the Morning: Voices of Resistance, foreword by Julian Bond, Third Press, 1971.
* Angela Davis: An Autobiography, Random House, 1974, revised edition, 1990.
* Women, Race and Class, Random House, 1982.
* Violence Against Women and the Ongoing Challenge to Racism, Kitchen Table, 1985.
* Women, Culture and Politics, Random House, 1989.
* The Angela Y. Davis Reader, edited by Joy James, Blackwell (Cambridge, MA), 1998.
* Blues Legacies and Black Feminism: Gertrude "Ma" Rainey, Bessie Smith, and Billie Holiday, Pantheon Books, 1998.
* Policing the National Body: Sex, Race, and Criminalization, South End Press, 2002.
* Are Prisons Obsolete?, Seven Stories Press, 2003.
* Abolition Democracy: Beyond Empire, Prisons, and Torture, Seven Stories Press, 2005.
* Beyond the Frame: Women of Color and Visual Representations, Palgrave Macmillan, 2005.
Also author of phonodisc, "Angela Davis Speaks," Folkways, 1971. Contributor of articles to Ebony and other periodicals.
Read more
Latest headlines