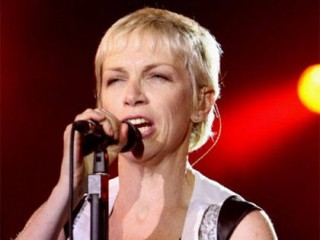 Annie Lennox biography
Date of birth : 1954-12-25
Date of death : -
Birthplace : Aberdeen, Scotland
Nationality : Scottish
Category : Arts and Entertainment
Last modified : 2010-10-05
Credited as : Singer-songwriter, member of Catch and The Tourists, Best Original Song for "Into the West" from "Lord of the Rings: The Return of the King" 2004
Annie Lennox born on December 25, 1954, in Aberdeen, Scotland is a Scottish singer-songwriter; daughter of a shipyard worker and a cook; married Radha Raman, 1984; divorced, 1985; married Uri Fruchtman (a filmmaker), 1987; children: Daniel (deceased), Lola, Tali. Education: Studied flute, piano, and harpsichord at Royal Academy of Music, London, England, for three years.
Member of musical groups Catch and The Tourists, 1977-80; founder and member of musical group the Eurythmics, 1980-90; with the Eurythmics, released In the Garden, 1982; Sweet Dreams, 1983; Touch, 1984; Revenge, 1986; Savage, 1988; We Too Are One, 1989; Peace, 1999; solo performer, 1990–; released solo albums Diva, 1992; Medusa, 1995; Bare, 2003.
Awards:
BRIT Awards, Best British Female Artist, 1984, 1986, 1989, 1990; Grammy Award, Best Rock Performance by a Duo or Group (with the Eurythmics) for "Missionary Man," 1986; Grammy Award, Best Music Video (Long Form) for "Diva," 1992; MTV Music Award, Best Female Video for "Why," 1993; BRIT Awards, Best British Album and Best British Female Artist, 1994; Grammy Award, Best Female Pop Vocal Performance for "No More 'I Love You's,'" 1995; BRIT Award, Best Female Artist, 1996; BRIT Award, Lifetime Achievement for Outstanding Contribution to the the British Music Industry (with the Eurythmics), 1999; Bill board 2002 Billboard Century Award, 2002; Academy Award, Best Original Song for "Into the West" from Lord of the Rings: The Return of the King, 2004.
She has appeared on stage as a blonde glamour queen, a sideburned Elvis imitator, and a dominatrix Minnie Mouse; but unlike some pop stars who hide a lack of talent behind their controversial costuming, Annie Lennox is also a gifted and powerful singer. The Scottish-born, classically trained performer first gained national attention in the duo the Eurythmics, one of the most influential pop acts of the 1980s. Together with partner Dave Stewart, Lennox created an eerie, brooding music that embraced passion and detachment, optimism and despair. After the demise of the Eurythmics, Lennox proved her talent as a solo performer with the platinum-selling albums Diva and Medusa. Although her stage presence is commanding, the often-contradictory Lennox describes herself as a retiring person, whose ultimate goal is to drop out of the public eye. "There's so much I haven't done," Terry Smith quoted her as saying in People. "I'd like to paint. I'd like to study philosophy. I'd like to bake."
Lennox has traveled a long road to fame and fortune. She grew up in the port city of Aberdeen, Scotland, where her family lived in a working-class neighborhood. Her father, a shipyard worker, loved music and was a talented bagpipe player. He encouraged his daughter to study flute and piano, and by the age of 17, she had won a scholarship to the prestigious Royal Academy of Music in London. Her three years there were not happy ones, however. "I hated it," she was quoted as saying in Rolling Stone, and to a Spin contributor, she confided, "All the boys were gay and all the girls thought they were Maria Callas." In her London flat, she worked on her own compositions and singing, and explored new musical territory. She discovered the work of two musicians who would greatly influence her: Joni Mitchell and Stevie Wonder. She told Barbara Pepe in Ms. that she aspired to "that depth of subtlety and profound statement through music" such as that created by Wonder. Lennox also continued to listen to the Scottish folk songs she'd loved since childhood.
Three days before her final exams at the Academy, Lennox suddenly walked out, never to return. For the next few years, she worked a series of odd jobs—mostly waitressing—while singing with numerous groups, none of them well known. By 1977, she was close to abandoning her dreams of making it as a singer-songwriter; instead, she planned to start a career as a music teacher. Just before she made that change, however, a man named Dave Stewart came into the London restaurant where Lennox was working.
Stewart was another struggling musician, whose experience ranged from medieval music to the songs of Bob Dylan. Dedicating himself to music at the age of 15, he had succeeded in working with several moderately successful groups, but his career stalled after problems with drugs and a serious automobile accident. At the time he met Lennox, he and a singer-songwriter named Peet Coombs were trying to find work in London. There was instant chemistry between Lennox and Stewart, and she invited the two men back to her apartment and began to play for them on her wooden harmonium. "She was straight from classical," Stewart recalled to Rolling Stone. "She didn't know anything about pop groups. But I heard her sing and we started celebrating. Then we went out to this club, and from that moment on, Annie and I lived together, and we made music together, for about four years."
With Coombs, Lennox and Stewart started a group called Catch, later renamed the Tourists. The Tourists were fairly successful in some respects, recording three albums and touring all over the world. They made no money, however, and their only big hit was a 1979 remake of Dusty Springfield's "I Only Want to Be with You." Strangely enough, that one hit led to the demise of the Tourists. Critics savaged them, believing that the group had sold out to the oldies market. Disillusioned and embroiled in disputes with their recording label, they disbanded in 1980.
The romantic relationship between Stewart and Lennox was also crumbling, and they took up separate residences at about the same time that the Tourists ceased to exist. They agreed that their musical relationship was as intense as ever, however, and they remained good friends; accordingly, they made a fresh start as a duo. They named themselves the Eurythmics and recorded their first album in a West German studio. Their album titled In the Garden was never released in the United States and failed to do much on the English charts. Stewart had undergone lung surgery at the time of its release and was unable to promote the album.
Unhappy with their management, Lennox and Stewart next decided to create their own recording studio. It was first housed in an attic warehouse, but eventually moved to a sixteenth-century church in London. There, Stewart began experimenting with unusual musical sounds and a wide variety of instruments and synthesizer techniques. One day, after a nasty argument, the pair was working in their studio, not speaking to each other. Stewart began programming a drum rhythm into his synthesizer, and the music he produced caught Lennox's ear. Words came to her and she began to sing, and their first top ten hit was born. "Sweet Dreams (Are Made of This)" became the title track to their second album, released in 1983, and was the song that shot the Eurythmics to international celebrity. The sound bore the mark of New Wave and funk influences, and Lennox's vocals were brooding and piercing. Stewart explained to Stephen Holden in the New York Times, "In our music we like to have the sense of two things battling at once. You have to have something that sounds nice on the surface, but underneath there's an ominous side." "Sweet Dreams" embodied this philosophy.
Touch, released in 1984, yielded more hit singles, including "Here Comes the Rain Again" and "Right by Your Side." That was also the year Lennox shocked many with her appearance at the Grammy Awards. Through videos, she had become known for her short, orange-dyed hair—an onstage look she had adopted after an audience member had snatched a long, black wig from her head at a London nightclub. At the Grammys, she walked onstage to sing "Sweet Dreams" dressed as Elvis Presley, complete with sideburns. Lennox has explained that her transvestitism, often compared to that of David Bowie, is simply a reaction to the tacky, sex-kitten image so frequently exploited by female singers. Although she established herself with a mannish look, she also explored glamorous, more typically feminine presentations, and was named one of the "Ten Most Beautiful Women in the World" by Playboy magazine in 1983.
Lennox had long been troubled by serious bouts of depression. In 1984, she also developed a recurring problem with her vocal cords, forcing her to rest her voice as much as possible. While in Germany on a world tour, she met Radha Raman, a German man attached to the Hare Krishna movement. He and a group of other Krishnas served the Eurythmics a special vegetarian dinner and gave Lennox a homeopathic cure for her throat, then began accompanying the duo through Europe. In New York the following year, Lennox and Raman were married, but the union lasted just 14 months.
Despite her personal problems, Lennox's creativity was at a high point. Known at first for her cold, detached sound, the Eurythmics' music demonstrated more soul with each album they released. Be Yourself Tonight featured Lennox holding her own in a duet with Aretha Franklin in the feminist anthem "Sisters Are Doin' It For Themselves." David Gates, writing in Esquire, named Lennox "one of the great white soul singers: out of Aretha by way of such Seventies disco divas as Donna Summer." Touch and Be Yourself Tonight both went platinum, but although critics continued to laud the Eurythmics' work, their popularity began to decline after 1985.
"Eurythmics was a very changeable beast," Lennox was quoted as saying in a Rolling Stone article by David Sinclair, "and in America, when things change too much, they don't know what to make of it. Because one minute they might get 'Would I Lie to You?'—which they can put in an R&B slot or heavy rock—and then we'd do another song, like 'Beethoven (I Love to Listen To)' [from Savage], which was a lot different, and they didn't quite know how to deal with us." Lennox's partnership with Stewart was also deteriorating, and although the duo never officially disbanded, after their 1990 tour, Lennox "simply went home to her London townhouse, got pregnant [with second husband, film-maker Uri Fruchtman, whom she married in 1987], and began writing songs by herself for the first time since hooking up with Stewart," according to Gates.
Regarding the end of the Eurythmics, Lennox said to Sinclair: "Who cares if a group is together or not? Does it matter? To me, making a big, elaborate statement like 'We have broken up'—we never discussed it. We haven't written it down in blood or ink.… [But] I don't want to go back. I don't want to retread. I was there for ten years. Why should I go back? It would be like an emotional regression." Her first solo album was the 1992 release Diva, described by Gates as "a stylized self-portrait, a moody piece of work that can fasten onto and color a few months of your life." Discussing her work on the album with Gates, Lennox remarked on the difficulties of working without her former partner. Despite the frictions between them, he had always given her a great deal of encouragement and constructive criticism. "I was the one wandering around saying, 'Never, never, never,'" she recalled, "and he'd be going, 'Oh come on, this is great.'"
"Fortunately, she thought positively enough to get the job done," Gates related, "but not so positively as to screw up what could turn out to be one of the canonical soundtracks to the century's end game." A Nation reviewer offered a less enthusiastic assessment of Diva, dismissing it as "pricey radio-ready schlock" even while admitting that the singer's "vocal instrument is still awesome and outsized." Lennox's fans showed what they thought of her solo effort by buying enough copies to make it go platinum, even though she refused to tour to support the album—partly because of her continuing throat problems, but mostly because of her commitment to her daughter Lola, then an infant. "I don't want to have my child trailing around with me," she asserted to Gates. "It's just unfair."
That decision was indicative of the great change that Lennox's second marriage had worked in her life. Once known as moody, rootless, and unhappy, she became increasingly stable, secure, and content, even in the face of such challenges as the stillbirth of her first child, Daniel. "My children are the focus of my life," she declared to Terry Smith in People, but music remained enough of a force for her to put out a second solo album, Medusa, in 1995. It was made up of cover versions of songs by artists as diverse as Neil Young, Bob Marley, and the Temptations.
Numerous reviewers credited Lennox with bringing fresh insights to the tunes. "The fact that she didn't write any of the songs on Medusa will likely be taken as a sign that she has mellowed," predicted a Vanity Fair writer. "Far from it. For although Diva revealed her to be a great songwriter—capable of both melancholy and self-mockery—Medusa shows her finally without guise. It is Annie Lennox stripped down. The only thing you hear is the imprint of her voice on the music of Bob Marley, Joni Mitchell, Paul Simon, Neil Young, and the Temptations. The choices … are alternately surprising and obscure. And her vocal stylings are so distinctive that she transforms the songs into personal statements." "Medusa is more than just diva worthy," concurred Elysa Gardner in Rolling Stone. "It's proof that a great singer doesn't need a pen or a computer to be creative."
With her success as a solo performer well established, Lennox remained vague about her plans for the future. Emphasizing again in Vanity Fair that "having children does really shed a different light on things," she went on to say: "First of all, you have to stop putting yourself as number one, because you're not anymore. Somebody else is for a while. Their needs are more important at three A.M." She concluded, "It could be that after this album [Medusa] I do nothing.… I like that. I don't want to put myself in this category of saying, 'Well, my life depends on being a creative person'."
However, in 1999 Lennox and Stewart reunited for a tour and released the album, Peace. Though the record wasn't poorly received, it didn't quite put the Eurythmics back on the musical map so much as serve as a nostalgia trip for their fans. The tour itself, though, was a great success.
In 2003, Lennox released Bare, her third solo album, and in the record's liner notes stated: "This album contains songs that are deeply personal and emotional. In a sense I have 'exposed' myself through the work to reveal aspects of an inner world that are fragile … broken through experience but not entirely smashed. I am not a young artist in their [sic] twenties. I am a mature woman facing up to the failed expectations of life and facing up to 'core' issues." The record, nominated for the Best Pop Vocal Category at the Grammys that year, signified a new direction for the matured artist. When asked about turning 50 in 2004 by Time magazine, she replied, "It's like having a grit in a shoe that you never quite get rid of. One wouldn't want to have the same dilemmas at 50 as one had at 15. And indeed I don't. I have a very different take on life. And yet I still have the same passion for music-making and for expression."
Undoubtedly, her passion never left. At the 76th Academy Awards, Lennox performed and took home the award for Best Song for her writing and vocal contributions to "Into the West" from Lord of the Rings: The Return of the King.
Famous for her attention-grabbing style, singer-songwriter Annie Lennox uses her four-octave voice to hit all the right notes for her songs and worldwide causes alike. Born in 1954 in Scotland, Lennox very early showed a gift and a passion for singing and the flute. After high school, she attended London's Royal Academy of Music, where she gave up the flute for vocal training and songwriting, all the while working odd jobs to stay afloat. Along with Dave Stewart, she formed the band Eurythmics, which combined smooth synthetic sounds with a distinct soul ring in Lennox's voice into the most successful "New Wave" synthetic pop sound of the 1980s. After 1983 megahit "Sweet Dreams (Are Made of This)," the peripatetic duo produced seven albums over as many years, featuring songs from the haunting "Who's That Girl" to the romantic "Here Comes the Rain Again." As a solo artist she released hit albums Diva and Medusa. When not singing solo or with Stewart, Lennox works for a variety of causes, especially fighting HIV/AIDS and poverty in Africa, and received the 2008 British Red Cross Services to Humanity Award. She has worked with UNICEF, Nelson Mandela's 46664 Foundation, and Witness. Speaking out and singing out, Annie Lennox - buzzed orange hair and all - is anything but traditional.
Selected discography
Solo
Diva, Arista, 1992.
Medusa, Arista, 1995.
Bare, J-Records, 2003.
With the Eurythmics
In the Garden, RCA, 1982.
Sweet Dreams (Are Made of This), RCA, 1983.
Touch, RCA, 1984.
Eurythmics: 1984 (For the Love of Big Brother), RCA, 1984.
Be Yourself Tonight, RCA, 1985.
Revenge, RCA, 1986.
Savage, RCA, 1988.
We Too Are One, Arista, 1989.
Greatest Hits, RCA, 1991.
Peace, Arista, 1999.
Read more
Latest headlines