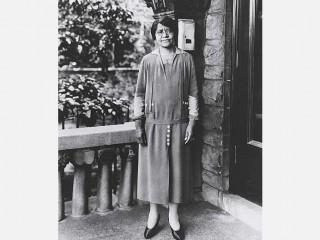 Annie Turnbo Malone biography
Date of birth : 1869-08-09
Date of death : 1957-05-10
Birthplace : Metropolis, Illinois
Nationality : American
Category : Famous Figures
Last modified : 2022-02-17
Credited as : Entrepreneur and philantropist, African American millionaire, mail-order for beauty products
Annie Turnbo Malone was an African American entrepreneur and philanthropist during the early 20th century. She manufactured a line of beauty products for black women and created a unique distribution system that helped thousands of black women gain self respect and economic independence. However, her contributions to African American culture are often overlooked because her business empire collapsed from mismanagement. One of her students, Madame C.J. Walker, created a similar enterprise and is largely credited with originating the black beauty business, a feat that rightly belongs to Malone.
Malone was born Annie Minerva Turnbo born on August 9, 1869, in Metropolis, Illinois. She was the tenth of 11 children of Robert Turnbo, a poor farmer, and Isabella Cook Turnbo. Her parents died when Malone was young and an older sister raised her in nearby Peoria. Although she did attend school, frequent illness caused her to withdraw before completing high school. As a young girl, Malone enjoyed fashioning her own and her sisters' hair. She became aware of differences in hair texture and sought a way to straighten hair.
During the late 19th century, African American women used soap, goose fat, and heavy oils to straighten their hair. Chemical straighteners often damaged the scalp and hair follicles. While living in Lovejoy, Illinois, around the turn of the century, Malone developed a chemical product that straightened African American hair without damage. She claimed to have studied chemistry and to have been influenced by an aunt who was trained as an herbal doctor. She expanded her hair care line to include other beauty products, including her popular Wonderful Hair Grower. Some historians also credit Malone with developing the pressing iron and comb around this time. Malone sold her products locally.
In 1902, Malone moved her business to St. Louis, Missouri, where she hired and trained three assistants. As black women, they were denied access to traditional distribution systems, so they sold the products door-to-door and provided free demonstrations. In 1903, Malone married a Mr.Pope, but she divorced him after a short time because he tried to interfere with her business.
During the 1904 World's Fair, Malone opened a retail outlet. Visitors to St. Louis responded favorably to her products, prompting her to embark on an innovative marketing campaign aimed at distributing the product nationally. In addition to going door-to-door, she and her trained assistants traveled to black churches and community centers, providing free hair and scalp treatments. She held press conferences and advertised in black newspapers. Malone traveled throughout the South at a time of racial discrimination and violence, giving demonstrations in black churches and women's clubs. Everywhere she went, she hired and trained women to serve as local sales agents. They, in turn, recruited others. By 1910, distribution had expanded nationally.
One of her Malone's recruits was Madame C.J. Walker, a former washerwoman who eventually founded her own company with similar beauty products and distribution. She is widely regarded as the most successful black entrepreneur of the early 20th century and founder of the black beauty business in the United States. However, historians credit Malone with having developed her products and distribution system first. Walker sold her own "Wonderful Hair Straightener," which Malone called a fraudulent imitation. As a result, Malone trademarked Poro, a new name for her product and merchandising systems in 1906. (Poro is a West African word for an organization dedicated to disciplining and enhancing the body spiritually and physically.)
In 1914, Malone married Aaron Eugene Malone, an ex-teacher and Bible salesman. Her husband became the company's chief manager and president. The young couple did more than just manufacture beauty products. They also provided a way for African American women to improve themselves on many levels. At a time when few career opportunities were available, Poro offered them a chance at economic independence. Malone believed that if African American women improved their physical appearance, they would gain greater self-respect and achieve success in other areas of their lives.
Malone was committed to community building and social welfare. To that end she built Poro College in 1918, a complex that included her business's office, manufacturing operation, and training center as well as facilities for civic, religious, and social functions. The campus was located in St. Louis's upper-middle-class black neighborhood and served as a gathering place for the city's African Americans, who were denied access to other entertainment and hospitality venues. The complex, which was valued at more than $1 million, included classrooms, barber shops, laboratories, an auditorium, dining facilities, a theater, gymnasium, chapel, and a roof garden. Many local and national organizations, including the National Negro Business League, were housed in the facility or used it for business functions. The training center provided cosmetology and sales training for women interested in joining the Poro agent network. It also taught students how to walk, talk, and behave in social situations. During the early 20th century, race improvement and positive self-image were seen as a way to increase social mobility. By teaching deportment, Malone believed she was helping African American women improve their standing in the community.
By 1926, the college employed 175 people. Franchised outlets in North and South America, Africa, and the Philippines employed some 75,000 women. Malone had become a wealthy woman. It is believed that she was worth $14 million at one point during the 1920s. Her 1924 income tax totaled nearly $40,000. However, despite her wealth, Malone lived conservatively and gave away much of her fortune to help other African Americans. She is one of America's first major black philanthropists. Malone donated large sums to countless charities. At one time, it is believed that she was supporting two full-time students in every black land-grant college in the United States. She gave $25,000 to the Howard University Medical School during the 1920s that, at the time, was the largest gift the school had ever received from an African American. She also contributed to the Tuskegee Institute. Malone was also generous with family and employees. She educated many of her nieces and nephews and bought homes for her brothers and sisters. She awarded employees with lavish gifts for attendance, punctuality, service anniversaries, and as rewards for investing in real estate.
A $25,000 donation from Malone helped build the St. Louis Colored YWCA. She also contributed to several orphanages and donated the site for the St. Louis Colored Orphans' Home. She raised most of the orphanage's construction costs and served on the home's executive board from 1919 to 1943. The home was renamed the Annie Malone Children's Home in 1946. Malone also gave generously of her time in the community. She was president of the Colored Women's Federated Clubs of St. Louis, an executive committee member of the National Negro Business League and the Commission on Interracial Cooperation, an honorary member of Zeta Phi Beta Sorority, a member of the African Methodist Episcopal Church, and a lifelong Republican.
Malone's generosity raised her stature in the community but contributed to the financial decline of her business. While she was spending time on civic affairs and distributing her wealth to various organizations, she left the day-to-day affairs of the business in the hands of managers, including her husband. Some of these managers were inexperienced or dishonest, eventually leading to the dismantling of her business empire.
For the six years leading up to 1927, Annie and Aaron Malone became embroiled in a power struggle over control of the Poro business. The struggle was kept quiet until 1927, when Aaron Malone filed for divorce and demanded half the business. He claimed that Poro's success was due to contacts he brought to the company. He courted black leaders and politicians who sided with him in the highly publicized divorce. Annie Malone's devotion to black women and charitable institutions led Poro workers and church leaders to support her. She also had the support of the press and Mary McLeod Bethune, president of the National Association of Colored Women. Having the support of so powerful a woman helped Annie Malone prevail in the dispute and allowed her to keep her business. She negotiated a settlement of $200,000.
In 1930, Malone moved her business to Chicago, where its location became known as the Poro block. Her financial trouble continued when she became the target of lawsuits, including one by a former employee who claimed credit for her success. When the suit was settled in 1937, she was forced to sell the St. Louis property. Malone's business was further crippled by enormous debt to the government for unpaid real estate and excise taxes. (The federal government required a 20 percent tax on luxuries, including hair-care products during the 1920s.) In 1943, she owed almost $100,000. The government was constantly taking her to court and by 1951, it took control of Poro. Most of the property was sold to pay the taxes.
Malone's business failure tarnished her image. Her former employee, Madame C.J. Walker, often overshadows Malone because Walker's business remained successful and more widely known. Walker is often credited as the originator of the black beauty and cosmetics business and the direct distribution and sales agent system that Malone developed. Many historians believe Malone deserves more credit for her devotion to helping African Americans gain financial independence and her generous donations to educational, civic, and social causes.
Annie Turnbo Malone died of a stroke on May 10, 1957, in Chicago, Illinois. She was 87. By the time of her death, Malone had lost her national visibility and most of her money. Having no children, her estate, valued at $100,000, was left to her nieces and nephews.
Read more
Latest headlines