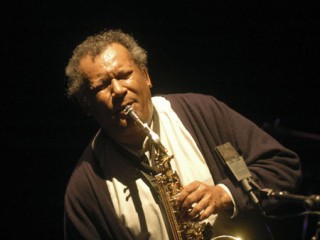 Anthony Braxton biography
Date of birth : 1945-06-04
Date of death : -
Birthplace : Chicago, Illinois,U.S.
Nationality : American
Category : Arts and Entertainment
Last modified : 2011-10-31
Credited as : Singer, Falling River Musics,
Anthony Braxton is an American composer, saxophonist, clarinettist, flautist, pianist, and philosopher. Braxton has released well over 100 albums since the 1960s. Among the array of instruments he plays are the flute; the sopranino, soprano, C-melody, F mezzo-soprano, E-flat alto, baritone, bass, and contrabass saxophones; and the E-flat, B-flat, and contrabass clarinets.
Acknowledged as a gifted artist and composer of "free jazz," Braxton dislikes the name given his genre. "That gives the impression that there's no preparation," he stated in Newsweek. Braxton even considers "jazz" too limiting a term to describe the evolution of his music over the years. "The music that pushed my button was more than a word 'jazz,'" he asserted in Down Beat. "It was individuals who were approaching the music in a certain way, with a certain set of value systems and intentions, a certain honesty and humility."
Titling his compositions with numerical configurations, linear designs, and idiosyncratic arrangements of letters, Braxton developed his own geometrically based notational system as well as philosophical stance about jazz in a cultural context. Though financial reward has proved elusive to Braxton, he disclosed to Rothbart, "If I wasn't able to achieve what I wanted in my life as far as my creativity and my life's growth is concerned, I would feel bad, but not too bad. But I would find it hard to forgive not trying and not giving everything to the struggle."
Born in Chicago, Illinois, on June 4, 1945, Braxton grew up amid the violence and squalor of the city's toughest neighborhoods. His musical and philosophical temperament set him apart from family and friends at an early age. "I came from a poor family--not really impoverished--we had enough food to eat," Braxton related to Michael Ullman in Jazz Lives. "But my reality was the reality of the south side and I couldn't understand what was happening there." He discovered that literature, chess, and music were antidotes to his feelings of alienation.
Initially, Braxton's parents and his brothers were pleased when he began to play an alto saxophone, but their feelings changed as Braxton delved into avant-garde jazz. Braxton dated his separation from his family from the moment he brought home a Cecil Taylor recording in his early teens. Since peers did not share his interest in mathematics, music, and logic, Braxton spent most of his time alone. "You see," he told Ray Townley in Down Beat, "I had a lot of problems as a teenager. I could never venture out to where there were a lot of people in a crowd situation. I used to stay in the house most of the time, and practice ... play music, stuff like that."
Braxton refined his craft in his adolescent years studying with Jack Gell of the Chicago School of Music beginning in the mid-1950s. In the early 1960s Braxton met jazz legend John Coltrane in Chicago, but was too in awe of Coltrane to join him--upon Coltrane's invitation--in a set. When Braxton enrolled briefly at Chicago's Wilson Junior College, he became friends with two budding jazz artists who helped him later in his career, Roscoe Mitchell and Jack DeJohnette.
In 1966 Mitchell urged Braxton to join the renowned Association for the Advancement of Creative Musicians (AACM) after Braxton's Army stint, which began in 1963. Founded in the late sixties in Chicago, the AACM promoted experiments with sound and improvisation that were pivotal to Braxton's career. No longer confined to notes to make music, Braxton and AACM members investigated whistles, shrieks, and percussion made from hubcaps, among other devices, to develop sonic textures. Braxton thrived in the AACM's creative atmosphere; however, he was unable to support himself financially.
One of the AACM's most accomplished instrumentalists, Braxton hustled, playing chess to pay the bills. When he contemplated marriage and family life on his income, he pondered relegating music to a hobby. Studying to become a philosophy teacher at Chicago's Roosevelt University, Braxton reached a career crisis in 1969. "I left Chicago because I was desperate," Braxton confessed to Townley in Down Beat. "I really wanted to play or else I wanted to see what it was like to really make the commitment. I split to Paris with $50.00 in my pocket."
In Paris, Braxton performed with the Creative Construction Company, a group he formed with AACM members violinist Leroy Jenkins and trumpeter Leo Smith in 1967. Braxton released his first recording with the Creative Construction Company, Three Compositions of New Jazz, in 1968. That same year he recorded For Alto, the first album ever made of unaccompanied saxophone, but the release date for the record was not until 1971.
Braxton was not successful in Paris, where his music was labeled "cold." He returned to New York to play with the Italian improvisational group Musica Elettronica Viva in 1970. Reduced to hustling chess games in the park at Washington Square to make ends meet, Braxton was introduced to keyboardist Chick Corea through Jack DeJohnette at the Village Vanguard in 1970. He joined Corea, bassist Dave Holland, and percussionist Barry Altschul to form the short-lived but highly influential quartet Circle from 1970 to 1971.
"The closest thing to it in recent centuries happened back in 1720 when Bach wrote six sonatas for unaccompanied violin and six suites for unaccompanied cello." A delayed success in 1972, the recording prompted invitations for Braxton to perform numerous solo concerts. From 1971 to 1976, he led his own groups, which included Circle alumni Holland and Altschul as well as trumpeter Kenny Wheeler and trombonist George Lewis. Braxton performed in London with avant-garde guitarist Derek Bailey from 1974 to 1977 and received Down Beat magazine's critics' poll best LP for the album Creative Music Orchestra in 1977.
His symphonies for large orchestras, parade marches, and a series of twelve operas called Trillium occupied Braxton in the eighties, but most of his monumental output rarely got published. In 1985, he took a teaching position as professor of music at Mills College in Oakland, California, then later moved to Wesleyan College in Middletown, Connecticut, to head the music department there. Though Braxton drafted 350 compositions and eight volumes of writings that codify his world view--Tri-Axium Writings, 1985, and Composition Notes, Books A-E, 1988--his success in mass marketing has been minimal.
Unyielding in his methodological approach to composition, Braxton confessed to Ullman that his analytical style "turns jazz critics off." In 1976 Down Beat labeled Braxton "overrated and overpublicized," describing the musician in concert as "a studied player" and "great technician" who "is loathe to reveal--and therefore include--his deepest emotions in his playing." The following year Newsweek paid him homage, lauding, "Anthony Braxton is original. His music is unique, and he is the most innovative force in the world of jazz." However, more critics responded to Braxton's play like Gene Santoro in Nation in 1989, who wrote, "His music isn't easy to pick up on: It has neither the glib melodic hooks of 'jazz' radio stars ... nor an easy reliance on canonized traditions like bebop. It can be knotty and passionate, Cageian and Coltranesque, highly structured and deliberately destabliized- -and usually tries to be all those things at once."
By the late 1980s, Braxton's work began receiving more critical attention. Full-length studies on his work were published, such as Forces in Motion, by Graham Lock, and New Musical Figurations, by Ronald Radano. John Corbett in Down Beat suggested, "What's refreshing, if not surprising, is the fact that there's so little redundancy in these studies--a clear testament to the breadth, depth, and richness of Braxton's sound world."
Reviews of Braxton's releases were becoming more laudatory as well. Corbett insisted that Braxton's Willisau (Quartet) 1991, recorded with Marilyn Crispell on piano, Mark Dresser on bass, and Gerry Hemingway on drums, was "a miraculous four-disc set that should become a contemporary jazz landmark."
In addition, Down Beat's Corbett was impressed with Duo (London) 1993, claiming, "Indeed, though he's expressed waning interest in completely open playing of late ... Braxton proves himself to be one of its most skilled practitioners-- sensitive, reactive, relaxed, and full of ideas."
Braxton is a purveyor of provocative, more so than melodic, jazz. His writings document the complexity of a man who regrets none of the hardships brought on by his singular genius. He told Bill Shoemaker in Down Beat, "I was fortunate to discover something that I really love. Not many people are fortunate enough to find something that they can dedicate their lives to. The discipline of music is so wonderful, there's always something new to learn.
In the early 2000s, Braxton created a prodigiously large body of jazz standard recordings, often featuring him as a pianist rather than saxophonist. He had frequently performed such material in the 1970s and 1980s, but only recorded it occasionally. Now he began to release multidisc sets of such material, climaxing in two quadruple-CD sets for Leo Records recorded on tour in 2003.
More recently he has created new series of compositions, such as the Falling River Musics that are documented on 2+2 Compositions (482 Music, 2005). In 2005, Braxton was a guest performer with the noise group Wolf Eyes at the FIMAV Festival. A recording of the concert, Black Vomit, is described by critic François Couture as sympathetic and effective collaboration: "something really clicked between these artists, and it was all in good fun."
One of his children, Tyondai Braxton, is also a professional musician. He was a guitarist, keyboardist and vocalist with American math rock band Battles.
Selective Works:
-Three Compositions of New Jazz, Delmark, 1968.
-For Alto, Delmark, 1968.
-Donna Lee, American, 1972.
-In the Tradition, Inner City, 1974.
-Creative Music Orchestra, Arista, 1976.
-Performance (Quartet) 1979, hat ART, 1979.
-Anthony Braxton With the Robert Schumann String Quartet, Sound Aspects, 1979.
-One in Two, Two in One, 1979.
-Six Compositions: Quartet, Antilles, 1981.
-Four Compositions (Quartet) 1983, Black Saint, 1983.
-Composition 113, Sound Aspects, 1984.
-Four Compositions (Quartet) 1984, Black Saint, 1984.
-Eugene (1989), Black Saint, 1992.
-2 Compositions (Ensemble) 1989/91, hat ART, 1992.
-(With Peter Niklas Wilson) Duets: Hamburg 1991, Music & Arts, 1992.
-Willisau (Quartet) 1991, hat ART, 1992.
-Composition No. 165, New Albion, 1992.
-4 Compositions 1992, Black Saint, 1993.
-Composition 95 tor Two Pianos, Arista.
-Composition 98, hat ART.
-Open Aspects '82, hat ART.
-Seven Standards 1985, Volume 1 & Volume 2, Magenta.
-Five Compositions (Quartet) 1986, Black Saint.
-London, November 1986, Leo.
-Six Monk's Compositions (1987), Black Saint.
-19 (Solo) Compositions, 1988, New Albion.
-Ensemble (Victoriaville) 1988, Victo.
-Eight (+3) Tristano Compositions 1989, hat ART.
-Seven Compositions (Trio) 1989, hat ART.
-Compositions 99, 101, 107 & 139, hat ART.
-Duets Vancouver 1989, Music & Arts.
-The Aggregate, Sound Aspects.
-Kol Nidre, Sound Aspects.
-Victorville 1992, Victo.
-Wesleyan (12 Altosolos) 1992, hat ART.
-Duo (London) 1993.
Read more
Latest headlines