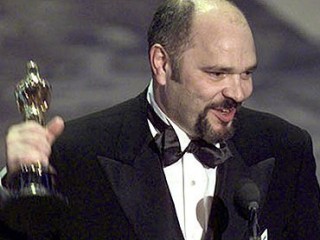 Anthony Minghella biography
Date of birth : 1954-01-06
Date of death : 2008-03-18
Birthplace : Ryde, Isle of Wight, England
Nationality : British
Category : Famous Figures
Last modified : 2011-09-20
Credited as : film director, playwright, British Film Institute
Anthony Minghella
was an English film director, playwright and screenwriter. He was Chairman of the Board of Governors at the British Film Institute between 2003 and 2007.
Anthony Minghella received critical acclaim in 1996 as the screenwriter and director of The English Patient, a movie that garnered nine Academy Awards (it was nominated for 12), including Best Picture and Best Director. Based on the 1992 Michael Ondaatje novel of the same name, it tells of two love affairs played out in the waning days of World War II.
The story of one of the affairs unfolds like a puzzle from the raspy voice of an aristocrat slowly dying from massive burns suffered when the two-seater airplane he piloted was shot down by the Germans over a vast expanse of North African desert. His lover, the woman in the passenger seat, did not survive. As he spins his romantic yarn to the French Canadian nurse who comforts him at his deathbed, flashbacks color in the details of a tragic love triangle that led to the fateful flight. The nurse is accustomed to loss as well. The war has claimed both her lover and her best friend. Tentatively, she begins another affair with an Indian mine sweeper in the employ of the British army. The movie intercuts between the two stories. "Backward into memory, forward into loss and desire," wrote critic Roger Ebert of the Chicago Sun-Times, " The English Patient searches for answers that will answer nothing. This poetic, evocative film circles down through the layers of mystery until all of the puzzles in the story have been solved, and only the great wound of a doomed love remains." That the nearly three-hour movie succeeds as an epic and as intimate psychological drama, as historical pageant and as lyric poem (it received wide critical acclaim and was a commercial success), is a testimony to Minghella's artistry.
Many believed that Ondaatje's Booker Prize-winning novel was unfilmmable because of its difficult narrative structure. In an online Mr. Showbiz interview Minghella said, "The book, can, in a single page, change voice and location and period a dozen times.… The novel is a bit like a notebook, a book of ideas and thoughts and images. Parading through every page are these incredible images which arrest you, but storytelling in film is very significant, and Michael's book is anti-narrative and anti-psychology. The burden for the film was to lasso all these images, or as many as I could collect, and make it into a film that felt coherent and had some psychological density." The Chicago Sun-Times ' Ebert wrote, "The novel is so labyrinthine that it's a miracle it was filmed at all, and the writer-director, Anthony Minghella, has done a creative job of finding visual ways to show how the rich language slowly unveils layers of the past." The achievement is all the more remarkable when one considers that Minghella had directed only two feature films-both enjoying only moderate success-before The English Patient.
Minghella, the son of Italian immigrants (his father is an ice-cream maker), was born in 1954 on the Isle of Wight. "I don't consider myself to be remotely English," Minghella told Kathleen O'Steen of the Washington Post , "and yet when I come to the States, I become the token Englishman. It's very strange." A movie theater stood next door to the Minghella house. The theater's projectionist befriended the young Minghella and he viewed many movies for free. He remembers in particular a Fellini film about boys living in a seaside Italian resort town. Minghella recalled for O'Steen, "The tone and everything about the film was so familiar to me that it was then I truly realized I wasn't English."
Minghella graduated from the University of Hull in England, and subsequently accepted a position as a lecturer there, writing and directing plays on the side. Early on the variety of his dramatic efforts won him praise. Whale Music has an unwanted pregnancy as its subject. A Little Like Drowning shows the destructive effects of adultery on an Italian Catholic family. Two Planks and a Passion is set in fourteenth-century York as its citizens prepare for staging the Mystery Plays for the Feast of Corpus Christi for King Richard II. Made in Bangkok is a comedy about the sexual opportunism of a group of tourists in Thailand. The London Theatre Critics named Minghella the most promising playwright in 1984 and named Made in Bangkok best play of the year in 1986.
Minghella branched out into radio and television productions of his plays in the 1980s. Beginning in 1987 he wrote several episodes for the Emmy-winning NBC anthology series, Jim Henson's The Storyteller. The show recounted folk tales and myths in an entertaining manner and Minghella directed the short film Living with Dinosaurs for The Storyteller. Minghella also wrote episodes for Inspector Morse, a popular British detective series.
Truly, Madly, Deeply, Minghella's first attempt at writing and directing a feature film, met with great success in England, but only moderate success elsewhere. An unconventional comic love story, Truly, Madly, Deeply opens with the main character grieving over the death of her boyfriend. His ghost comes back with a bunch of his friends and they wreak emotional havoc like the dearly departed who haunt Noel Coward's classic play Blithe Spirits. Critic Stanley Kauffmann of the New Republic called the movie "neat, well-acted, and literate," but added that "its story is sentimental slush, and old slush at that." Nation contributor Stuart Klawans stated that "the dialogue is smarter than what you're used to hearing; and Minghella's direction accomplishes what it sets out to do, by letting the events sneak up on you."
Mr. Wonderful, Minghella's first Hollywood directorial effort (he did not write the screenplay), was less successful. In the film, a New York City electrical worker tries to get his ex-wife married off so that he can recoup on the alimony he's been paying and invest it in a bowling alley. Of the "matchmaker" plot, Entertainment Weekly critic Owen Gleiberman wrote, "This low-watt gimmick is like something you'd see in a hack comedy.… What's more, it's obvious that Minghella couldn't care less about it. He's looking for feelings, not farce." On the experience of making a "Hollywood" film like Mr. Wonderful, Minghella told Jonathan Coe of the New Statesman, "Language in an American film is always used as a character device.… Characters always tell you what they're feeling and thinking and what they need, whereas I'd never come across that in my life. I think it's often the failure to speak, the inability to say what we feel, which is intriguing." It is this sentiment that informs so much of his writing in the screenplay of The English Patient.
Minghella spoke of the joys of the writing and directing films to Tomm Carroll of DGA Magazine: "One thing is clear to me-that the writing process in film is a continuous one, and I mean that in a literal and a metaphorical sense, insofar as that not only does the writer need to work throughout the film process and into the cutting room, but also the director is a writer in the film. Essentially, the director is the author. I know that's a contentious remark. I'm a writer first and foremost, but it's quite evident to me that the camera is the second pen at work in the film. So, if you're interested in being a filmmaker, it seems imperative that you continue that writing process with a camera."
The public had to wait three years until Minghella's next film, The Talented Mr. Ripley, was released. Adapted from Patricia Highsmith's 1953 suspense novel, the film is the story of a love triangle between a playboy, his girlfriend, and a fellow tourist that they meet during a trip through Italy; it starred Matt Damon, Jude Law, and Gwyneth Paltrow. Minghella told WWD 's Hilary de Vries, "The film is very concerned with the beguiling surface and the chaos that lurks beneath that.… It's about beauty with thorns." Filled with "enough betrayal and passion to fill a season's worth of soaps," according to Entertainment Weekly 's Rebecca Ascher-Walsh, the film performed well at the box office. Minghella received Academy Award and Golden Globe nominations for his screenplay and a Golden Globe nomination for directing the film.
Minghella's next film, Cold Mountain, almost did not happen. Minghella had first heard of the National Book Award-winning Charles Frazier novel when he received a copy while staying at a friend's cabin. However, since he had no interest in doing another adaptation, he did not read it. However, when he arrived home, he found three more copies, sent by an editor and two film companies. So, he read the book and fell in love with the "collisions of cruelty and generiosity" in the novel, according to Jeff Giles of Newsweek. Minghella's film adaptation of the novel tells the story of a Confederate deserter and the girlfriend he is trying to get home to late in the Civil War. Although the film had a $90 million budget, the director met nothing but hardship. Filmed in Romania (to stand in for North Carolina and Virginia), the cast and crew dealt with "punishing heat and 20-odd consecutive days of rain," Giles explained. While the film was yet another one based on a previously published source, Minghella explained to Bruce Newman of Knight Ridder/Tribune News Service, "I want to think I have a film in me that is not an adaptation, that is not historical. But I know it's likely that I will do another book. The trouble is that I love the canvas of film, love the scale of it." The film was released on December 25, 2003. It earned eight Golden Globe nominations from the Hollywood Foreign Press Association, including best director and best screenplay nods for Minghella.
In 2004, Minghella executive produced The Interpreter, and was working on producing, directing, and writing the script for The Assumption. In February of that year, he announced that he would write and direct an adaptation of the Liz Jensen novel, The Ninth Life of Louis Drax. He also planned to direct a film version of Alexander McCall Smith's The No. 1 Ladies' Detective Agency. Plus, Minghella planned to produce a film called Appearances in 2005. With many projects in the works, it seems certain that he will be in the public eye for a long time.
Selected writings:
Plays:
Mobius the Stripper (adapted from a story by Gabriel Josipovici; also director), produced in Hull, England, 1975.
Child's Play (also director) produced in Hull, England, 1978.
Whale Music (produced in London and Methuen, 1987; also director), S. French (New York, NY), 1983, reprinted, with A Little Like Drowning and Two Planks and a Passion, as Whale Music: Three Plays, 1987.
A Little Like Drowning (produced at Hampstead Theatre, London, England, 1984), published in Whale Music: Three Plays, 1987.
Two Planks and a Passion (produced in Exeter, 1983; London, 1984), published in Whale Music: Three Plays, 1987.
Love Bites, produced in Derby, England, 1984.
Made in Bangkok, produced in Lond, 1986.
Interior: Room, Exterior: City (includes Cigarettes and Chocolate, Hang Up, and What If It's Raining? ), produced in Methuen, 1989.
Plays 1 (includes Made in Bangkok, Whale Music, A Little Like Drowning, and Two Planks and a Passion ), produced in London, 1992.
Living with Dinosaurs and One-Act Plays and Sketches, produced in London, 1995.
Plays 2, produced in London and Methuen, 1997.
Screenplays:
Truly, Madly, Deeply (also director), Heinemann (London), 1991.
The English Patient (also director), Hyperion Miramax (New York, NY), 1996.
The Talented Mr. Ripley (also director; based on the book by Patricia Highsmith), Paramount/Miramax, 1999.
Cold Mountain (also director), Miramax Films, 2003.
Also adapted Made in Bangkok for film.Television plays:
Studio series, 1983.
What If It's Raining, 1986.
Inspector Morse (based on the characters created by Colin Dexter), 1987 and 1990.
"Hans My Hedgehog?" (also known as "The Grovelhog"), "Fearnot," "A Short Story," "The Lucky Child," all for Jim Henson's The Storyteller, NBC, 1987-88.
Signals (opera), 1989.
Radio plays
Hang Up, 1987.
Cigarettes and Chocolate, 1988.
Awards:
- Most promising playwright, London Theatre Critics Awards, for A Little Like Drowning, 1984;
- best play, London Theatre Critics Awards, for Made in Bangkok, 1986;
- best drama, Sony and Giles Cooper Award, for Cigarettes and Chocolate, 1988;
- Prix Italia for Radio Fiction, for Hang Up, 1988;
- best original screenplay, British Academy of Film and Television Arts, for Truly, Madly, Deeply, 1991; - - - Academy Award for best director, Academy of Motion Picture Arts and Sciences, for The English Patient, 1997;
- Academy Award for best picture, Academy of Motion Picture Arts and Sciences, for The English Patient, 1997;
- Directors Guild of America Award for outstanding directorial achievement in motion pictures, for The English Patient, 1997;
- Golden Globe Award for best best director, Hollywood Foreign Press Association, for The English Patient, 1997;
- Golden Globe Award for best screenplay, Hollywood Foreign Press Association, for The English Patient, 1997;
- best film, British Academy of Film and Television Arts, for The English Patient, 1997;
- best adapted screenplay, British Academy of Film and Television Arts, for The English Patient, 1997;
- University of Hull, Yorkshire, D.Litt. (honorary), 1997;
- appointed a CBE (Commander of the British Empire) by the Queen of England, 2001.
Read more
Latest headlines