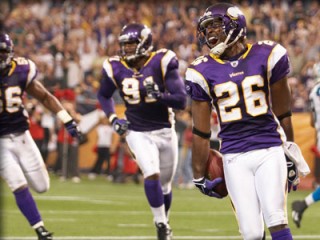 Antoine Winfield biography
Date of birth : 1977-06-24
Date of death : -
Birthplace : Akron, Ohio
Nationality : American
Category : Sports
Last modified : 2011-01-24
Credited as : Football player NFL, cornerback for the Minnesota Vikings, Pro Bowl/NFL Draft player
Antoine Winfield is an American football cornerback for the
Minnesota Vikings
in the NFL.
• Earned Pro Bowl berths in 2008 and 2009, also earned 2nd-Team AP All-Pro honors in 2008, his 10th NFL season.
• Has scored a TD in each of the past 3 seasons, scoring career-best 2 TDs in 2008, 1 by FR and 1 on the 1st blocked FG return in franchise history.
• Has helped Vikings tie for NFL lead since 2006 with 15 defensive TDs (9 INTs, 6 FRs).
OFF THE FIELD
Majored in communications at OSU...Visited Hennepin County Medical Center emergency room nurses in 2006 to recognize their under-appreciated work…Volunteered in the community through the inaugural Vikings Blood Drive at the Mall of America…Donated cars to 3 single mothers in 2005 through the Minneapolis Urban League Employment and Training Program, making life easier for each of the families by taking away the burden of finding transportation every day...Annually hosts the "Camp 26" football camp in his hometown of Akron, OH…He and wife, Erniece, have sons, Antoine Jr., Austin, and Ethan.
HONORS
Selected to Pro Bowl in 2008 and 2009...Named AP 2nd-Team All-Pro in 2008...NFC Defensive Player of the Week at New Orleans (10/6/08)...2006 Vikings Defensive MVP as voted teammates...NFL Defensive Player of the Week at Green Bay (Wild Card Playoffs) 1/9/05...2005 and 2006 USA Today All-Joe Team.
PRO
Overcame adversity to earn Pro Bowl honors in 2009 for the 2nd straight season...Missed time during middle of 2009 season but rebounded to play in final 4 regular season contests and start both playoff games...Earned long-deserved credit in 2008, honored as Pro Bowler and a 2nd-Team Associated Press All-Pro...Has a nose for the ball with 15 regular season and playoff INTs and 7 FRs since joining Minnesota, with the Vikings posting an 10-5 record in games he had a pick…During the 2006-2008 seasons he has helped the Vikings lead the NFL with 15 defensive TDs, 9 INTs and 6 FRs, with Winfield contributing 2 INTs for TDs, a FR for TD to the total, a forced fumble that resulted in a another TD and became the 1st Viking to return a blocked FG for a TD, which counts as a special teams score but doesn't add to the defensive total of 15...Key part of the Vikings ranking #6 in the NFL in total defense in 2008, the highest mark since the 1994 season...His ability in run support from the secondary has been instrumental in the Vikings ranking #1 in the NFL in rushing defense for the past 3 seasons- marking the 1st time since the 1970 AFL-NFL merger a team has led the NFL in rush defense 3 straight years…Has been a part of 5 defenses during his NFL career that were ranked in the top 8 in the League, including the top-ranked unit in Buffalo as a rookie in '99…Reunited with Vikings' LB coach Fred Pagac, who was the Buckeyes' defensive coordinator during his time there…Teammate of DT Pat Williams in Buffalo.
2009
Tabbed for Pro Bowl honors for the 2nd straight season...Fought back from foot injury that cost him 6 games...Returned in fine form, notching 10 tackles vs. Cincinnati (12/13) and a forced fumble to lead the team...Helped lead Vikings defense to #6 ranking in the NFL in total defense for the 2nd straight year, the 1st time since 1993-94 the Vikings had consecutive top-10 rankings...Key part of the smothering defense in the NFC Divisional Round playoff game vs. Dallas (1/17/10) that held the Cowboys to 3 points, a Vikings record for scoring defense in a playoff game...Snared an INT off Packers QB Aaron Rodgers .
2008
Enjoyed best season of his exceptional career, capped by his 1st Pro Bowl berth and being recognized as an Associated Press 2nd-Team All-Pro...Scored career-high 2 TDs- 1 by FR and 1 on a blocked FG return, the 1st scored in Vikings history...Honored as NFC Defensive Player of the Week for performance at New Orleans (10/6) when he had 8 tackles, 4 tackles for loss, a sack, a forced fumble and recovered a fumble for 9 yards along with picking up a Saints FG that was blocked by Kevin Williams and returned for 59 yards for a TD, the 1st blocked FG returned for a TD in team history...Had a sack and forced fumble on QB Jake Delhomme he picked up and returned for a 19-yard TD vs. Carolina (9/21)...Helped Vikings rank #6 in the NFL in total defense, the highest rank since 1994...Part of unprecedented rush defense that led the NFL for the 3rd straight season, a feat not accomplished since the 1970 AFL-NFL merger...Ranked 3rd on team with 96 tackles...Posted double-digit tackles in 3 games.
2007
Snared his 2nd career INT-return TD in the opener vs. Atlanta (9/9) when he took a Joey Harrington pass back 14 yards for a 4th-quarter score, the 2nd INT-return TD of the game, joining Kevin Williams' 54-yarder in the 1st quarter...His INT-return TD helped the Vikings tie a team record with 6 TDs during the season off INTs...Forced a fumble on Cowboys WR Patrick Crayton at Dallas (10/21) that was recovered by Ben Leber and lateralled to Cedric Griffin and returned for a TD...Posted 67 tackles in only 10 games...Was 2nd on team with 13 passes defensed despite missing 6 games...Had season-best 12 tackles at Detroit (9/16).
2006
Posted a career-high 20 passes defensed and tied his career high with 4 interceptions…Finished 5th on the team with 88 tackles and 3rd on the team with 13 special teams tackles…Was an integral part of a defense that finished the season ranked 8th overall, the 1st time the Vikings have had a top-10 defense since 1994…Scored the 1st TD of his career when he picked off Rex Grossman vs. Chicago (9/17) and returned it 7 yards for the score…Added a team-high 11 tackles, a tackle for loss, and 2 passes defensed against the Bears…Led the team with 11 tackles at Buffalo, which was his 1st trip to face his former team…Posted his 2nd INT of the season when he picked off Alex Smith at San Francisco (11/5)…Picked off Joey Harrington at Miami (11/19) and set up a Vikings' field goal….Led the team the following week with 10 tackles and 2 passes defensed vs. Arizona (11/26)…Intercepted Rex Grossman for the 2nd time on the season at Chicago (12/3)…Recorded 6 tackles, a tackle for loss, a fumble recovery, and 4 passes defensed at Green Bay (12/21).
2005
Posted a career-high 4 interceptions and led all DBs with 100 tackles, 3rd-best on the team…Tied for 3rd on the team and led all DBs with 6 tackles for loss…Tied for 2nd on the team with 12 passes defensed…Tied team high with a pair of fumble recoveries on special teams…Posted 9 tackles at Cincinnati (9/18) to lead the DBs…Notched a pair of takeaways when he picked off Aaron Brooks vs. New Orleans (9/25) and recovered an Aaron Stecker fumble on the opening kickoff of the game that turned into the Vikings' 1st TD pass of the season on the following play…Posted season-high 12 tackles to lead the team vs. Detroit (11/6) and grabbed his 2nd INT of the season along with a season-high 3 special teams tackles…Had 9 tackles and a pass defensed at NY Giants (11/13) and added a fumble recovery on the opening kickoff of the game…Recorded 3rd INT of the season vs. Cleveland (11/27) off of Trent Dilfer and a season-high 3 passes defensed, playing against his home state team…Had 9 tackles and picked off Ryan Fitzpatrick vs. St. Louis (12/11) for his career-high 4th INT on the year.
2004
Gave the Vikings an immediate boost in the secondary, leading the team in interceptions and raising the energy of the entire defensive unit with his aggressive style of play…Ranked 4th in the regular season with 99 tackles despite missing parts of 4 games…Led the Vikings during the playoffs with 22 tackles…Named the NFL Defensive Player of the Week for Wild Card Playoff game at Green Bay (1/9/05) where he had an interception and helped disrupt Packers QB Brett Favre into throwing 4 INTs in the game…Earned a vote in Associated Press All-Pro balloting…Started 12 of the 14 games he played in the regular season and both playoff contests…Fought back from ankle sprain that hampered his performance over the final 4 games of the regular season...Led team with 5.0 tackles for loss…Led team with 18 special teams tackles...Led or tied for team lead in tackles in 3 games, vs. Dallas (9/12), at Houston (10/10) and at Indianapolis (11/8)…His 16 tackles at Indianapolis (11/8) were a career-high and tied for the Vikings high for the season…His 3 interceptions were a career-high and led the Vikings…Posted back-to-back interception games for 1st time in his career at New Orleans (10/17) and vs. Tennessee (10/24)…Notched career-long interception return at New Orleans (10/17) off Aaron Brooks, taking back a pass 56 yards to set up a Vikings TD…Had 12 tackles in each of the opening 2 games of the season vs. Dallas (9/12) and at Philadelphia (9/20) on Monday Night Football…Inactive for games vs. Seattle (12/12) and at Detroit (12/19) with sprained ankle…Played in final 2 regular season games in limited role with an ankle brace vs. Green Bay (12/24) and at Washington (1/2/05).
2003
Started all 16 games at LCB…Ranked 3rd on the team in total tackles with 124…Tied with Lawyer Milloy to lead team with 14 passes defensed…Recorded the 1st sack of his career, bringing down QB Peyton Manning vs. Indianapolis (11/23)…Also posted 9 tackles and a pass defensed in the game…Tied for team-high 12 tackles and helped shut down the running game vs. New England (9/7)…Recorded 5 tackles, 3 for a loss, and 2 passes defensed at Jacksonville (9/14)…Tied for team lead with 11 tackles, including 3 for loss, and forced a fumble at Miami (9/21)…Posted 11 tackles, 2 tackles for loss and a pass defensed vs. Philadelphia (9/28)…Led the team with 11 tackles vs. Cincinnati (10/5)…Recorded 7 solo tackles at NY Jets (10/12)…Had 2 QB hurries, 3 passes defensed and 7 tackles vs. Washington (1019)…Led the team with 11 tackles and a QB hurry at Kansas City (10/26)…Recorded a team-leading and season-high 4 passes defensed and made 5 tackles at Dallas (11/9)…Led the secondary with 9 tackles and recorded his only interception of the season, taking Tony Banks' pass and returning it 8 yards vs. Houston (11/16).
2002
Started 13 games at LCB, missing 3 games late in the season due to a knee injury…Finished 2 short of his career-high when he notched 11 tackles in an overtime win at the Metrodome against the Vikings (9/15)…Was 2nd on the team with 9 tackles at Denver (9/22)…Recorded 4 tackles vs. Chicago (9/29), contributing to the Bills' best defensive performance of the season in which they gave up just 52 yards rushing…Suffered knee injury at Houston (10/13) and was inactive due to the injury at Miami (10/20), vs. Detroit (10/27) and vs. New England (11/3)…In his 1st game back, recorded 8 tackles and a pass defensed at Kansas City (11/17)…Had 4 tackles at NY Jets (11/24)…Recorded his 2nd career fumble recovery and it led directly to a TD vs. Miami (12/1)…Finished with 4 tackles and 2 passes defensed after physical game at Green Bay (12/22)…Made a memorable hit on Packer Terry Glenn just before halftime that separated the receiver from his helmet…Had 3 tackles and a pass defensed in season- ending victory vs. Cincinnati (12/29).
2001
Led the team in tackles with a career-high 106 (79 solo) and became the 1st CB in Bills' history to finish #1 in tackles…Added 13 passes defensed as well as the 1st forced fumble and fumble recovery of his career…Started all 16 games for the 1st time in his NFL career…Was the Bills leading tackler in 3 games…Opened the season with 8 solo tackles vs. New Orleans (9/9)…Recorded his 1st career forced fumble as well as his 4th career interception off Peyton Manning at Indianapolis (9/23)…Snared 3 of his opening 4 career interceptions off Manning…Recorded his 5th career interception and his 1st career fumble recovery at New England (11/11)…Had a season-high 9 tackles in 4 straight games – at San Francisco (12/2), vs. Carolina (12/9), vs. New England (12/16) and at Atlanta (12/23).
2000
Started opening 11 games before being placed on injured reserve with a shoulder problem…Intercepted Peyton Manning pass vs. Indianapolis (10/1)…Recorded 8 tackles at Miami (10/8)…Posted 9 tackles and a pass defensed vs. San Diego (10/15)…Tied his season-high with 9 tackles vs. NY Jets (10/29)…Started the game vs. Chicago (11/12), but left with an injured shoulder and did not return…Started at Kansas City (11/19) the following week, but injured his shoulder again and did not return…Placed on injured reserve list on 11/22/00 and missed final 5 games.
1999
Picked off a deflected Peyton Manning pass to notch his 1st career interception at Indianapolis (9/12)…Recorded 5 special teams tackles at Miami (10/4)…Picked off his 2nd interception of the season vs. Miami (11/14) and returned it 10 yards…Replaced injured teammate Ken Irvin at Arizona (12/19) and recorded 3 tackles and 3 QB hurries…Started in Irvin's place for the final 2 games of the regular season as well as the Bills Wild Card playoff game at Tennessee (1/8)…Recorded a career-high 13 solo tackles vs. Indianapolis (1/2)…Finished his rookie season by recording 6 tackles and his 1st postseason interception off a Steve McNair pass at Tennessee (1/8)....Selected with the 23rd pick in 1999 NFL Draft.
COLLEGE
Won the Jim Thorpe Award as the nation's outstanding defensive back following his senior season, becoming the 1st Ohio State player to ever earn the honor…Earned All-America honors following his junior and senior seasons…A 2-time All-Big Ten selection…Finished college career with 278 total tackles (224 solos)…Became the 1st non-LB in OSU school history (only 5th player ever) to top 200 career tackles…Played in all 50 games and started 29 in 4 seasons…Named Ohio State's Defensive Player of the Year as a senior…As a junior, became the 1st Ohio State DB selected as team MVP.
Read more
Latest headlines