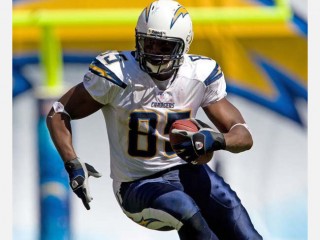 Antonio Gates biography
Date of birth : 1980-06-18
Date of death : -
Birthplace : Detroit, Michigan, United States
Nationality : American
Category : Sports
Last modified : 2010-08-09
Credited as : Football player NFL, currently plays fo theSan Diego Chargers ,
Fate has an interesting way of exerting itself in sports. Take Antonio Gates. On the playgrounds of Detroit and the hardwood of suburban Ohio, he was known as a power forward with all the right moves. He led Kent State to the Elite Eight and handed future NBA stars their lunch on a regular basis. But in the end, the experience he gained on the basketball court would serve him infinitely better on the gridiron. Today, Antonio is just your average NFL All-Pro tight end who never played a down of college football.
GROWING UP
Antonio D. Gates
was born on June 18, 1980 in Detroit, Michigan. His family was extremely close. On his MySpace page, Antonio lists his parents, Antonio and Mattie, as his heroes.
The Gates lived in a hardscrabble Detroit neighborhood. Drugs were everywhere. Antonio's parents helped shield him through sports. As a kid, Antonio was big, strong and fast, and had great coordination for a youngster his size.
Antonio's best friend was a local boy named Dwight Smith, who was a year older. They played football, basketball and video games together right through high school. The mini-basketball battles in Smith's backyard were legendary.
Antonio's father saw the potential in his son. He often brought Antonio to gyms where men twice his age took the hardwood. The teenager was hesitant at times to join the action. His father urged him to give it his best and not let anyone push him around.
Antonio never shied away from contact on the football field. When he and Smith really wanted to mix it up, they wandered over to the University of Detroit, where there was often a pickup football game. For many years, Mattie refused to let Antonio play organized football. She feared that his great size might make him a target and lead to injury. When she finally relented, Antonio and Smith teamed up to wreak havoc on opponents. Antonio lined up as an end on offense and defense. Smith played running back and defensive back.
Antopnio and Smith both made the varsity when they entered Central High School. But their best work came on the basketball court, where they led Central to Michigan's Class-A Final Four in Antonio's junior year. By then, he stood 6' 4" and ruled the inside. Smith, about five inches smaller, was Central's star point guard. Coach Oronde Taliaferro got into the habit of picking them up for school each morning, knowing they were in the habit of not showing up. Antonio and Smith were not exactly stellar students.
This deficiency came back to Smith come recruiting time, when many top schools saw his transcripts and test scores and walked away. He ended up at Akron in 1997, where his football skills soon outshone his basketball prowess. The Tampa Bay Buccaneers wound up drafting him 2001, and he helped them win the Super Bowl a year later.
Antonio, meanwhile, kicked butt in summer ball between his junior and senior years. He played on an AAU team, outdueling the likes of Corey Maggette and Al Harrington in memorable head-to-head battles. At one point, he also attended a football combine. Antonio ran the 40-yard dash in 4.5 seconds, and his vertical leap was 39 inches.
As a senior in high school, Antonio averaged 27 points and 12 rebounds a game, and led Central all the way to the Michigan state championship. Many basketball recruiters were scared off by the thought of a 6-4 power forward, but the football scous though Antonio would make a fine college tight end. Michigan State gave him a full ride, with the understanding that he would also be allowed to play for Tom Izzo's basketball team.
Things did not go well at East Lansing. During Antonio's red-shirt freshman year, coach Nick Saban pressured him to forsake basketball. As Antonio prepared for the football campaign, Saban explained to the teenager that his future as a pro was most likely on the gridiron. Antonio, whose first love was hoops, didn't see it that way.
Then the academic pressure got the better of Antonio. He quickly lost his eligibility, and then transferred to Eastern Michigan. There, he barely got through half a season before he lost his eligibility again. Next, Antonio attended the College of the Sequoias in California. The idea was to improve his grade, before finding to a school where he could continue his basketball career.
That plan led Antonio to a junior college in Detroit. Sadly, this was a route traveled by many inner city kids who were overwhelmed by the academic challenges of college. Antonio was quickly running out of options. Jerry Tarkanian invited him to play at Fresno State, and the University of Miami also pursued him. Neither of these schools seemed like healthy environments. Antonio sensed that he would fall back into old habits.
His best chance came from two former coaches—Stan Heath, an assistant to Izzo who was now at Kent State, and Taliaferro, who had been hiredto work on Heath's staff. The school's administration almost had a heart attack when Heath discussed signing Antonio, but eventually relented. The coaches pointed out that Antonio's only problem was managing his classwork. He had been never violent or mixed up in drugs. In fact, most of the times Antonio was punished, it turned out that he was the guy breaking up fights, not starting them.
ON THE RISE
For Antonio, the situation seemed right. He remembered how Taliaferro had picked him up for school all those mornings, and how comfortable Heath had made him feel during his brief time at Michigan State.
Antonio quickly earned a starting spot on the Kent State basketball team. More importantly, he finally got the hang of things in the classroom. He managed to maintain a B– average at Kent State, while helping the Golden Flashes win a pair of Mid-America Conference titles. Antonio benefitted from the team's strong senior leadership. Eric Thomas, Andrew Mitchell, Trevor Huffman and Demetric Shaw were all student-athletes in the truest sense. Each had exchanged his hoops skills for an education and made the most of the opportunity—all would leave school with degrees and bright futures.
In 2002, Antonio's junior year, Kent State made an amazing run in the NCAA Tournament. The Golden Flashes upset Oklahoma State, Alabama and Pittsburgh to reach the Elite Eight. A loss to Indiana kept the team out of the Final Four, but Antonio was now on the college basketball radar. As a senior, he used his big body, quick first step and feathery shooting touch to average 20.6 points, 4.1 assists and 7.7 rebounds. He earned All-America recognition and finished runner-up in the MAC Player of the Year voting.
Antonio graduated from college having never played a down of football in five years. Only his friends in Detroit remembered that he had originally left town on a gridiron scholarship. The NBA wasn't interested in Antonio because of his size—he was only 6' 5". By contrast, that "only" was intriguing to several NFL clubs, who agreed to let him try out. The Buccaneers were not among those teams, despite urging from Smith.
The San Diego Chargers were one of the clubs that saw real promise in Antonio. They signed him in the spring of 2003. He joined a team that starred do-everything back LaDainian Tomlinson. During the '03 season, LT would become the first player toin history to catch 100 passes and rush for 1,000 yards.
Lost in the hoopla of this incredible performance—and the disappointment of San Diego's league-worst 4-12 record—was Antonio's rise from third string to starter by November. He was learning on the job, but each game he got better and better. He finished the year with 24 catches and 389 yards.
When the 2004 season started, San Diego's opponents were all keyed on stopping Tomlinson. Coach Marty Schottenheimer realized that this would create open space for Antonio. Quarterback Drew Brees called his number again and again, and Antonio answered every time. He caught 81 passes for 964 yards and set a new record for tight ends with 13 TD catches.
The Chargers reversed their record from the previous year and won the AFC West. Unfortunately, Schottenhemier continued his tradition of losing in the playoffs. This time, a miss by kicker Nate Kaeding cost him, as San Diego fell at home to the New York Jets.
MAKING HIS MARK
The following summer, Antonio held out for more money, and some in the media let him have it. Once the controversy subsided, the Chargers locked up Antonio with a six-year deal worth $24 million. Still, he was suspended for the 2005 opener against the Dallas Cowboys. San Diego lost and went on to finish at 10-6, a game out of the playoffs.
Antonio enjoyed another superb season. He grabbed 89 passes for 1,011 yards and 10 touchdowns. For the second year in a row, he voted All-Pro and played in the Pro Bowl. In just three years, Antonio had ascended to the ranks of the NFL's elite tight ends. Not only was he a nightmare matchup for opponents in the passing game, he was also a fierce blocker. Antonio helped San Diego field one of the league's most potent offenses.
The 2006 edition of the Chargers found young quarterback Phillip Rivers at the helm. He picked up where Brees had left off, connecting with Antonio 71 times for 924 yards and nine scores. Antonio—a Pro Bowler and All-Pro for the third straight year—caught a pair of touchdowns in San Diego's December meeting with the Denver Broncos. The Chargers won the game in a blowout, 48-20, to clinch the AFC West.
At 14-2, San Diego also secured homefield advantage in the playoffs. Undefeated at QualComm during the regular season, the Chargers and their fans anticipated a trip to the Super Bowl. The New England Patriots had a different idea. San Diego led 21–13 in the fourth quarter when Marlon McCree intercepted a Tom Brady pass, seemingly slamming the door on the Pats. But Troy Brown stripped McCree of the ball during his run back, New England recovered, and then went on to win 24–21.
The Chargers entered the 2007 campaign determined to reach the Super Bowl. The stars seemed aligned for them. They had a tough eader in Rivers, the NFL's most talented runner in Tomlinson, and an uncoverable receiver in Antonio, who was now roundly hailed as the finest tight end in football.
On defense, San Diego was fast and hard-hitting. Shawne Merriman, Luis Castillo and Shaun Phillips anchored the front seven. Antonio Cromartie was the league's top ballhawk in the secondary.
The Chargers did not exactly dominate on their way to an 11–5 record, but then no one was giving anyone but the Patriots a chance to win the AFC. New England won week after week, finishing the regular season without a loss. The Chargers acquitted themselves well in the playoffs, winning tough games at home against the Tennessee Titans and on the road in Indianapolis over the Colts. San Diego's second postseason victory set up a championship showdown with the Pats.
Antonio—who caught 75 passes for 984 yards and nine touchdowns during the season—would not be much of a factor on this day. He had dislocated a toe on his right foot earlier in th eyar, and the injury had sidelined him for three games. Antonio gutted it out in the playoffs, but he was clearly hobbled. To make matters worse, both Tomlinson and Rivers had leg injuries. Although San Diego battled hard, eventually the team succumbed 21–12. The Chargers moved the ball against New England, but they were unable to convert scoring opportunities into touchdowns, a no-no against the explsoive Pats. After watching the New York Giants upend New England in the Super Bowl, Antonio begged out of the Pro Bowl. His toe was still killing him.
Heading into 2008, the Chargers are a team with a solid core, but some health questions surround several of their stars, including Antonio. There is also the creeping feeling that San Diego is not a team of destiny. For that to change, the Chargers may have to rely even more on Antonio and find new the NFL's ultimate weapon. If nothing else, he has proven fate is sometimes what you make of it.
ANTONIO THE PLAYER
Antonio has great hands, good speed and tremendous strength. On first and second down, he almost always sees single coverage because of Tomlinson, who bears watching on running downs. Antonio is the perfect go-to guy on third down. If the ball is there, he'll catch it, even when he's double-teamed. He adjusts well when the ball is in the air and can reel in passes like an octopus.
Antonio is excellent when it comes to reading defenders. He waits for them to lean one way before breaking free, making it easier to gain the leverage he needs to get open. He is too big for safeties and too quick for linebackers. There have been times when opponents have assigned a cornerback to cover him—which is almost unheard of for a tight end.
Antonio's basketball roots are still evident when he catches passes in traffic. He uses his body to shield the ball as he reaches for it, basically "boxing out" defenders. Antonio also falls back on the same jukes and head fakes he did on the hardwood at Kent State. He has made some of the NFL's slower linebackers look pretty silly, both before and after the catch.
The book on Antonio is to jam him at the line, but he does not always line up in places where this is possible, and sometimes he goes in motion prior to the snap. When brute strength is called for, Antonio can dish it out, too. He has become one of the NFL's better blockers at his position.
EXTRA
* As a kid, Antonio was a big fan of Barry Sanders.
* Antonio was First-Team All-State as a high school senior in football and basketball. He was runner-up for Michigan's Mr. Basketball award.
* Antonio admits that he was a lousy blocker in high school. He likes to joke that he thought a block was the thing between two streets.
* Despite Antonio's pass-catching prowess, Nick Saban recruited him for Michigan State as a defensive end, not a tight end.
* Antonio and childhood friend Dwight Smith met on the football field for the first time in a December 2004 game between the Chargers and Tampa Bay Buccaneers.
* Antonio caught his first NFL touchdown on a four-yard pass from Doug Flutie.
* Antonio was selected to play in the Pro Bowl after his second season. He caught a touchdown pass from Peyton Manning. He was also on the receving end of a 33-yard pass from Drw Brees on a flea-flicker play called online by fans.
* Antonio was First-Team All-Pro in 2004, 2005 and 2006.
* In 2007, Antonio became the third-fastest tight end to reach 4,000 receiving yards, behind Kellen Winslow and Mike Ditka.
* Antonio and Todd Christensen are the only tight ends to gain 1,100 yards receiving and score 10 touchdowns in a single season.
* Antonio is one of a handful of NFL stars who never played a down of college football. Others include Cookie Gilchrist, Cornell Green, Otis Sistrunk, Eric Swann and Big Daddy Lipscomb.
* In 2005, Antonio attended the Final Four to cheer for Michigan State.
* Antonio is as the honorary chairman for the Shoot to Cure HD, a speed free-throw shooting event that raises money for the Huntington's Disease Society of America.
* Antonio loves comedy clubs. He often spends a free night checking out his favorite acts.
Read more
Latest headlines