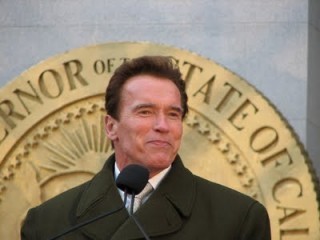 Arnold Schwarzenegger biography
Date of birth : 1947-07-30
Date of death : -
Birthplace : Thal, Styris, Austria
Nationality : Austrian-American
Category : Famous Figures
Last modified : 2010-08-02
Credited as : Actor and bodybuilder, businessman and politician, current governor of California
Arnold Schwarzenegger
, also credited as
Arnold Strong
born on July 30, 1947 in Thal, Styria, Austria is a Austrian-American bodybuilder, actor, model, businessman, and politician, who is currently serving as the 38th Governor of California.
Despite growing up in a small, unheard-of village in Austria, actor and politician Arnold Schwarzenegger set his sights on the seemingly outlandish dreams of becoming not only the most successful bodybuilder ever, but a famous movie star as well. At 15 years old, Schwarzenegger began a rigorous weightlifting regimen that quickly bulked up his muscles and turned him into a world class bodybuilder who went on to win seven Mr. Olympia titles, making good on the first of his long-held ambitions. As he moved to the United States to start an acting career, Schwarzenegger displayed his considerable business acumen, wisely investing his money in real estate which afforded him the ability to turn down roles that might have otherwise undermined his fledgling career. Though technically he made his feature debut in the little-seen
"Hercules in New York" (1970)
, his official entry into Hollywood was a supporting role in the sports drama,
"Stay Hungry" (1976)
. Schwarzenegger earned considerable notoriety for his participation in
"Pumping Iron" (1977)
, a documentary on the lead-up to his eventual sixth-straight victory as Mr. Olympia. Transitioning deftly into acting, he broke the mold for action heroes in the 1980s with movies like
"Conan the Barbarian" (1982)
and
"The Terminator" (1984)
, both highly successful films that established him as the biggest action star in the world.
Schwarzenegger subsequently went on to redefine the genre with
"Predator" (1987)
and
"Total Recall" (1990)
, while managing to appeal to wider audiences with sly comedic roles in
"Twins" (1988)
and
"Kindergarten Cop" (1990)
. Perhaps most significantly, Schwarzenegger married Maria Owings Shriver, daughter of Eunice Kennedy Shriver and niece to fallen president John F. Kennedy. Despite his unabashed Republican affiliation, Schwarzenegger fit in nicely with the country's most prominent Democratic family. Meanwhile, he continued to thrive as the leading action hero in Hollywood, though his critics often lamented the unnecessary amount of violence in his movies, while deriding his wooden performances – an echo of his nickname the Austrian Oak from his bodybuilding days. As he entered the 1990s, Schwarzenegger seemed assured of his stature, especially after his winning performance in "Terminator 2: Judgment Day" (1991), one of the most successful action movies of all time. He also had a fun turn as a spy hiding out as a family man in "True Lies" (1994), but his days as the top-grossing star in Hollywood was on the wane, thanks to such duds as "Batman & Robin" (1997), "End of Days" (1999) and "The 6th Day" (2000). With fortuitous timing, Schwarzenegger was able to avoid becoming a box office has-been by reinventing himself as a politician when he became the Governor of California in 2003. With his film career largely on hold, Schwarzenegger served two terms as governor with some ups and many downs, including several key defeats in special elections. Despite his problems as the "Governator," Schwarzenegger proved by example that all anyone needed to succeed in anything – sports, Hollywood, business, politics – was the drive to realize one's dreams.
Born on July 30, 1947 in the small village of Thal, Austria, Schwarzenegger was raised by his father, Gustav, a former police chief, and his mother, Aurelia. Prior to Schwarzenegger's birth, his father voluntarily applied for membership to the Nazi party in 1938. Several months later, he was a member of the Sturmabteilungen, the notorious paramilitary group known as the brownshirts, at a time when they were utilized to drive Jewish citizens from their homes and into concentration camps, though no records existed that proved his father ever participated in any war crimes. Once the war was in full swing, his father served as a military policeman with German Army units in some of the most brutal battles where atrocities were committed. Apparently wounded at some point, Gustav left the military in 1943, married war widow, Aurelia, who had a son, Meinhard, and resumed his police career in 1947. Schwarzenegger's parents were strict and authoritarian, and often punished both boys with beatings and other forms of physical abuse. But to hear him speak of it later, Schwarzenegger shrugged off such discipline. As an energetic, out-going youth, he was a middle-of-the-road student and above-average sportsman who was steered towards soccer at a young age by his father. But the young Schwarzenegger had bigger dreams in mind.
When he was 15 years old, Schwarzenegger put aside playing sports, much to his parent's dismay, to take up bodybuilding. In just a few short years, the already athletic Schwarzenegger had bulked up to competition level by intensely focusing his energies on lifting weights. In 1965, he won his first title, Junior Mr. Europe, which he followed the next year with an adult Mr. Europe crown. Moving on to competitions outside of Germany, he won several amateur titles before taking up permanent residence in the United States in 1967 and becoming Mr. Universe two years later. In his quest to become the greatest bodybuilder of all time, Schwarzenegger set his sites on winning the Mr. Olympia crown, the highest accolade the sport had to offer. Though he lost to three-time champion, Sergio Oliva in 1969, he returned the next year to win his first Mr. Olympia crown, a feat he repeated for six straight titles. As he helped popularize the sport, Schwarzenegger began taking his first steps into acting, starring in his first feature, "Hercules in New York" (1970), in which he played the titular character who is cast from Mount Olympus by his father, Zeus, and sent to the Big Apple to make it on his own. At the time, he was credited as Arnold Strong – the result of producers being afraid audiences would be unable to pronounce his name – while his thick Austrian accent was overdubbed with another actor's voice. The original audio track was restored when the film was re-released after he became famous.
As he continued his reign as Mr. Olympia, Schwarzenegger kept making strides in acting, appearing as a thug for a gangster (Mark Rydell) in Robert Altman's contemporary ode to film noir, "The Long Goodbye" (1973). Following his fifth straight Mr. Olympia title in 1974, he played a variation of himself in "Stay Hungry" (1976), an offbeat comedy by Bob Rafelson about a rich kid from the South (Jeff Bridges) who becomes fascinated a bunch of weightlifters at a popular gym, including Joe Santo (Schwarzenegger), who is in training for a world-class competition. Though Schwarzenegger had already starred in a feature film, "Stay Hungry" marked his official debut. Meanwhile, he gained his first true notoriety for his participation in the weightlifting documentary, "Pumping Iron" (1977), in which director George Butler followed the training routines of competitors like Schwarzenegger, Lou Ferrigno and Franco Columbu on the road to the 1975 Mr. Olympia competition. Though considerably slimmed down from filming "Stay Hungry," Schwarzenegger's charm and quick wit was on full display, as he was shown playing mind games with his fellow competitors while bulking up for the competition. Memorable for his comparison of weightlifting to having an orgasm, Schwarzenegger also lived on in infamy for admitting on camera that he had taken steroids – when they were still legal – and ending the film following his sixth consecutive victory announcing his retirement, eating fried chicken and cake, and smoking what appeared to be marijuana.
Also in 1977, Schwarzenegger won a Golden Globe Award for New Star of the Year for his performance in "Stay Hungry." But instead of capitalizing on his new fame, he receded a bit into the shadows to finish earning his bachelor's degree in business and international economics at the University of Wisconsin-Superior. By that time, Schwarzenegger was already a successful businessman, having wisely invested his money in real estate. His success in business allowed him the comfort of turning down film and television projects he felt unworthy of his efforts. In his one-and-only television movie, he played Mickey Hargitay in "The Jayne Mansfield Story" (CBS, 1980), the real life bodybuilder and former Mr. Universe who was married to the titular starlet (Loni Anderson). True blockbuster success for the actor was just around the corner. He next starred in the first of several sword-and-sorcery sagas, "Conan the Barbarian" (1982), in which he played a former slave turned into a killing machine who hunts down Thulsa Doom (James Earl Jones), the man who killed his family as a child. Pulpy, violent and occasionally outlandish, "Conan the Barbarian" was a hit for Schwarzenegger and helped propel him into later stardom.
After starring in the less admired sequel, "Conan the Destroyer" (1984), Schwarzenegger's quest for stardom was completed when he starred in the futuristic sci-fi thriller, "The Terminator" (1984). Schwarzenegger played a relentless, nearly indestructible cyborg sent from the year 2029 to terminate a seemingly ordinary waitress (Linda Hamilton) in 1984, who later gives birth to the leader of a resistance movement against machines that have taken over and destroyed much of the world. The combination of his physique, stoic expressions and thick Austrian accent made him the perfect choice to play the futuristic assassin. At no point in the film was that truer than when he tracked down his target to a police station, inquired into her whereabouts with the desk sergeant and uttered the immortal line, "I'll be back." The modestly-budgeted film was a hit and secured his status as an international star, while establishing the careers of director James Cameron and producer Gale Ann Hurd. Most importantly, "The Terminator" set the pace for many of the violent action-adventure, special effects-driven movies that dominated the market in the 1980s, with Schwarzenegger leading the charge as the genre's most popular and profitable star.
Schwarzenegger returned to the sword-and-sorcery world for "Red Sonja" (1985), a best-forgotten action-adventure entry in which he played an ancient warrior who teams with a female sword master (Bridgette Nielsen) to avenge the death of her family – almost an exact replica of "Conan the Barbarian." In "Commando" (1985), he combined goofy one-liners with piled-up bodies as a retired colonel who must save his 10-year-old daughter (Alyssa Milano) from a Latin American dictator before she is killed. He next starred in "Raw Deal" (1986), playing a former FBI agent tasked with tearing down the Mafia from within. Though not without its charms, "Raw Deal" marked the third turkey in a row for the action star – the result of which could be career death for mere mortals. While his career hit a bump in the road, Schwarzenegger's personal life brightened when he married Maria Shriver, an NBC journalist and one of the numerous members of the famed Kennedy family. Despite his Republican politics and his action star status, Schwarzenegger found himself inside the United States' preeminent political family – something childhood friends said he stated as one of three goals in life; all accomplished: to move to America, become a famous movie star, and to marry a Kennedy.
At the time of his marriage, Schwarzenegger was in the middle of filming what many considered to be one of his top action movies, "Predator" (1987), a would-be action thriller that turns on a dime to become a futuristic horror thriller. He played the leader of a crack military unit sent into the jungles of Latin America to rescue two Americans held hostage by local guerillas. But as they make their way back to the rendezvous point, his unit is taken out one-by-one by an invisible otherworldly hunter picking them off for sport. Though critically maligned at the time of its release, "Predator" has aged like a fine wine, earning its way onto numerous lists as being one of the best action movies ever made. The film also spawned a sequel in 1990. Also that year, he starred in the dystopian satire, "The Running Man" (1987), a mediocre-at-best yarn that starred Schwarzenegger as an ex-cop who's put on a sadistic game show where alleged criminals are forced to outrun expert killers on live television.
The following year, Schwarzenegger began to step away from his action hero image when he starred in the affecting comedy, "Twins" (1988), playing the intellectual and spiritual half of fraternal siblings who is reunited with his brother (Danny DeVito), a streetwise, but shady hustler. Though the jokes were largely built around the obvious physical differences between the leads, "Twins" nonetheless proved to be a big hit with audiences, with Schwarzenegger ably handling the straight-man role opposite DeVito. He returned to action-comedy fare with "Red Heat" (1988), playing a Russian cop who goes to Chicago and teams up with a smart-mouthed cop (James Belushi) to track down a Russian drug dealer. Despite his feet being firmly planted in Hollywood, Schwarzenegger never lost his connection to the world of bodybuilding. In 1989, he formed the Arnold Classic, later renamed Arnold Fitness Weekend, an annual bodybuilding competition that featured both male and female contestants. The event was expanded to include a host of other competitive sports, including dance, gymnastics, martial arts, while becoming one of the most prominent stops on the bodybuilding circuit.
Schwarzenegger began the next decade as the biggest action star of the 1980s and managed to maintain that trend for a short while longer with perhaps the most intriguing film of his career, "Total Recall" (1990), a futuristic sci-fi actioner loosely based on a story by Philip K. Dick. Schwarzenegger played a seemingly normal blue-collar worker with a beautiful wife (Sharon Stone) and nice apartment, but who obsesses over going to Mars. His drive to travel to the red planet leads him to implanting a chip in his mind that grants him the memory of having traveled without actually going anywhere. But he soon discovers that the real implanted memory is his domesticated life; he's really a secret agent deemed a threat to the government and sent to Earth with a new identity. Most critics gave the film solid praise while audiences helped make "Total Recall" one of the highest grossing movies of the year. Meanwhile, Schwarzenegger successfully softened his image with "Kindergarten Cop" (1990), playing a police officer working undercover as a kindergarten teacher in order to trap the fugitive father of a student. The mildly affecting comedy proved to be another hit.
His kinder, gentler persona in "Kindergarten Cop" signaled a sea change in Schwarzenegger's career following a decade that saw him rack up an impressive body count onscreen and earn the studios over $1 billion in worldwide box office grosses. He attempted to pull off the feat of being both gentle and badass in the long-awaited sequel, "Terminator 2: Judgment Day" (1991), arguably the high water mark of his caeer. With a budget estimated as high as $95 million, James Cameron's "Terminator 2" was a monster in price, scope and special effect technology compared to the $6.5 million original. Sent back in time to protect John Connor (Edward Furlong) from a new and highly-advanced terminator (Robert Patrick), Schwarzenegger's outdated Terminator becomes something of a father figure to the young boy who will eventually grow up to lead the resistance against the machines. Critically acclaimed from all corners and a huge box office success, "T2" cemented Schwarzenegger's status as one of Hollywood's greatest action heroes of all time while affirming his place as the top box office draw of the last decade – a distinction that suddenly began to diminish after "T2." Meanwhile, he took a brief turn into directing, helming an episode of "Tales from the Crypt" (HBO, 1989-1996) and the made-for-cable movie remake of "Christmas in Connecticut" (TNT, 1992), starring Dyan Cannon, Kris Kristofferson and Tony Curtis.
In 1991, Schwarzenegger entered into a high-profile business venture with fellow action stars Bruce Willis and Sylvester Stallone to open the Planet Hollywood restaurant in New York City. Modeled closely on the Hard Rock Café theme, which resulted in a successful lawsuit by the franchise, Planet Hollywood spread out across the country and the world, opening restaurants in varied places like Miami, Houston, Reno, London, Tokyo and Dubai. Despite the near ubiquitous reach of the chain, Schwarzenegger pulled out in 2000, stating that he felt the franchise failed to match his vision of success. Meanwhile, he made his executive producer debut by starring in the kid-oriented action comedy, "The Last Action Hero" (1993). The most expensive movie of that particular summer, "Last Action Hero" focused on a lonely 11-year-old boy (Austin O'Brien) who gets catapulted into the world of his action hero, Jack Slater (Schwarzenegger), with the help of a magic movie ticket, only to get pulled back into reality when the villains leave the film and enter reality to create havoc. Despite high hopes for the movie's success, "Last Action Hero" was a critical and financial disappointment – one of the first of several to come.
By contrast, his follow-up the next summer, "True Lies" (1994), gained a favorable response from critics and audiences who enjoyed the good humor, astounding action sequences and more suitable use of its star. Schwarzenegger starred as a government spy whose secret identity is revealed to his bookish wife (Jamie Lee Curtis) while he tries to find nuclear warheads that have gone missing from Russia. Written and directed by his longtime friend James Cameron, this domestic epic-cum-Bond spoof successfully expanded the action hero's range and demonstrated that Schwarzenegger was able to play a suave and tuxedo-clad spy dancing a tango with elegant bad girl (Tia Carrere), as well as a credible family man breaking bread in the suburbs with his wife and child. Adding to the entertaining mixture was the surprising chemistry between Schwarzenegger and Curtis. He turned once again to gentler, more farcical material with "Junior" (1994), spoofing his own body image as a man who becomes pregnant. Despite the auspicious reteaming with "Twins" director Ivan Reitman and co-star Danny DeVito, the film proved a critical and commercial failure. Meanwhile, he returned to familiar territory, playing a U.S. marshal with the witness protection program in "Eraser" (1996), a mildly entertaining, but ultimately forgotten entry into the Schwarzenegger action canon.
Trying his hand at comedy once again, Schwarzenegger starred in "Jingle All the Way" (1996), a failed attempt at Yuletide humor in which he played a busy businessman with little time for his wife (Rita Wilson) and family, who tries to make up for his absence by going to great lengths to find his son's most wished-for toy. Having achieved enormous success as a cybernetic assassin, action hero and accomplished straight man in affecting comedies, Schwarzenegger defied all logic when he co-starred in the decaying franchise, "Batman & Robin" (1997), playing the often ridiculous arch-villain Mr. Freeze opposite George Clooney's Caped Crusader. Forced by director Joel Schumacher to utter hideously corny lines like "The iceman cometh" and "My name is Freeze. Learn it well, for it's the chilling sound of your doom," Schwarzenegger earned huge heaps of scorn and ridicule for his ridiculous performance. While many considered the film to be a death knell for the franchise, some also began to see the cracks in Schwarzenegger's armor. In fact, the role marked the beginning of a precipitous box office slide for the once invincible action star.
Both "Jingle All the Way" and "Batman & Robin" were clear signs that Schwarzenegger's box office prowess was on the wane. He next starred in the supernatural thriller, "End of Days" (1999), which cast him as a down-and-out New York City cop who gets a chance at redemption when he rescues a mysterious woman (Robin Tunney) and finds himself trying to save the world from apocalyptic doom from Satan himself (Gabriel Byrne). Violent, bloody and incomprehensible, "The End of Days" featured a groan-inducing ending where Schwarzenegger martyrs himself Christ-like on the sword of the Archangel Michael. In "The 6th Day" (2000), a futuristic sci-fi thriller that tackled the then-in vogue topic of genetic cloning, Schwarzenegger played a helicopter pilot who discovers that someone has cloned him against his will. Derivative and uninspired, the movie marked a creative and financial low point for the action star. He returned to the 1980s-style action thrillers that served him well in the past with "Collateral Damage" (2002), in which he played a Los Angeles firefighter who loses his wife and son in a terrorist bombing so he heads to war-torn Columbia to track down those responsible. Originally, the movie was set to be released in October 2001, but the terrorist attacks on Sept. 11th that year pushed the film back to a Feb. 2002 release. Regardless of the pushback, "Collateral Damage" was Schwarzenegger's third critically derided feature that failed at the box office.
In 2002, after a series of box office bombs, Schwarzenegger announced he was parting ways with the William Morris Agency, his representation since 1997. The following year, Schwarzenegger reprised his role in "Terminator 3: The Rise of the Machines," receiving his biggest paycheck to date – reportedly over $30 million – for a feature film, despite writer-director Cameron and its nominal central character, Linda Hamilton, both opting out of the third installment. In full control of the franchise, Schwarzenegger approved a script by up-and-coming writer-director Jonathan Mostow and played another heroic version of his cybernetic character, who becomes caught in a conflict between a more adult John Connor (Nick Stahl) and the villainous female T-X (Kristana Lokken). Though lacking some of the original spark and intensity of the first two films, "T3" managed to capture some steel-crunching power stunts and the time-bending twists of the original two movies. Despite a heavy promotional push from the star and mostly favorable reviews, the film's box office performance was less-than-stellar, though it made the majority of its profits overseas.
While in the midst of promoting "T3," Schwarzenegger dangled the possibility of becoming the governor of California when state Republicans began the push to recall Governor Gray Davis, a Democrat who allegedly failed to act appropriately during the 2001 electricity crisis that led to rampant rolling blackouts and massive energy costs for consumers. Despite having no experience in elected office, Schwarzenegger had long been associated with politics, going back to his arrival in America and announcing his devotion to the Republican Party after seeing President Richard Nixon denounce socialism and promote free-market ideals, lower taxes and personal responsibility. Though he became part of the premiere Democratic family by marrying Shriver, Schwarzenegger rubbed elbows with the country's most prominent Republicans, including President Ronald Reagan and First Lady Nancy Reagan, for whom he appeared in an anti-drug music video in 1985. He entered presidential politics by throwing his muscle behind then-Vice President George H.W. Bush when he joined the Republican candidate on the campaign trail in 1988. Schwarzenegger was later nominated by President Bush in 1990 to serve as the chairman of the President's Council on Physical Fitness and Sports, a post he held until 1993.
Schwarzenegger served in a similar post for California governor Pete Wilson during his administration, which may have whetted his appetite for a run at the governorship. Speculation for a run for office began as far back as 1999, when he told Talk magazine that he had thought about entering politics – an assertion he quickly put to rest once the idea starting to catch fire. Just four years later, however, he began floating the idea around while he was promoting "T3," saying that he may or may not be interested in becoming a candidate for Governor of California during the craziness of the recall campaign against Gray Davis. Deftly playing a cat-and-mouse game with the media in order to build hype, Schwarzenegger craftily kept mum on any plans for a run, as well as his policy positions, while doing promotion for the film. Perhaps waiting to see if he still had a movie career ahead, the actor was expected to announce that he would not run if a recall proceeded, but stunned everyone by jumping into the race with an announcement on "The Tonight Show with Jay Leno" (NBC, 1992-2009).
Steered by a cadre of top California Republicans and receiving the endorsement of President George W. Bush, Schwarzenegger leapt into the political fray with behind-the-scenes help from his wife, who gathered together top advisors to educate him on the issues and hone his political acumen. He immediately became a favorite to win the race, if only because he had the most recognizable name as well as the backing of the country's most powerful political forces. Most importantly, his candidacy received immediate and widespread media attention, which far eclipsed anyone else in the race, including the existing lieutenant governor, Cruz Bustamante. Both the media and Schwarzenegger drew references from his past cinematic glories. While news outlets called him the Governator and "The Running Man," and dubbed the election "Total Recall," the actor indulged himself and excited crowds by paraphrasing past one-liners, declaring that he was going to "pump up California" and tell Gray Davis "Hasta la vista." Even though he received a dose of criticism for failing to fully define his campaign platform and refusing to participate in several debates, he nonetheless proved to be a popular candidate and gained in polls as his campaign matured.
In short order, Schwarzenegger clearly became the frontrunner. But he was soon dogged by a 1970s-era interview with Oui magazine in which he claimed to have experimented with illegal drugs and group sex. He appeared with Shriver on "The Oprah Winfrey Show" (Syndication, 1986- ) to deny the claims, asserting that he had made them up to sensationalize his background and pump up his then-nascent career. Just a few days before California's recall election, The Los Angeles Times ran a story featuring interviews with several women who alleged on various occasions between the mid-1970s and the year 2000, the actor had either groped them against their will or made crude sexual remarks to them. Despite the sudden shock of the claims, the allegations were not new – many first surfaced in a 2001 article in Premiere magazine, but were flatly denied. Schwarzenegger failed to cop to the latest round of accusations, though he did make a public apology if he had offended anyone. Fortunately for him, the information failed to dissuade the plurality of California voters, who voted to approve the recall of Gray Davis and elected Schwarzenegger to a three-year term as the governor of California with over 48 percent of the vote. He was sworn in as California's 38th governor on Nov. 17, 2003.
Though Schwarzenegger announced that his movie career would be shelved during his tenure as governor, he had one more film in the pipeline that had been filmed before he announced his political intentions. Ironically, his cameo role in the remake of "Around the World in 80 Days" (2004) featured Schwarzenegger as Prince Halpi, a rakish Turkish potentate with many of the boorish characteristics that he himself was criticized for during his campaign: leering, groping, hot-tubbing and making uninvited advances toward the scantily clad women in his presence. The film's producers said Schwarzenegger took an active role in designing his character's appearance, right down to the prince's skin color and hairstyle, resulting in a vain, bejeweled, silk-robed ruler with visible wrinkles, unusual tan and shoulder-length hair. Perhaps as a courtesy to the governor, the film's distributor Disney did not make available any images of Schwarzenegger in character, while his office remained mum on his participation in the film. Meanwhile, Schwarzenegger proved to be a popular and effective governor, maintaining a mid-60s approval rating while he eliminated an unpopular increase in vehicle license fees – a promise kept from his campaign – and refused to accept the $175,000 salary that went along with the job.
In March 2004, Schwarzenegger successfully campaigned for the passage of Propositions 57 and 58, which approved the sale of $15 billion in bonds to cover budget deficits and mandated balanced budgets. The following month, while on vacation in Hawaii, he had the opportunity to become a hero in real life when he spotted a swimmer in distress off the coast of Maui. Schwarzenegger swam out to the man and brought him 100 yards back to safety. Despite the positive press early in his tenure, he eventually hit a few bumps in the road, as all politicians suffer once the honeymoon is over. He was heavily criticized for ignoring a promise to answer to the allegations of sexual harassment that hounded him before the election. Schwarzenegger was also pounded for accepting campaign contributions from special interest groups, something he criticized Gray Davis for during the recall election. Putting his foot squarely in mouth, he received national attention for calling the legislators in Sacramento "girlie-men" for their refusal to balance California's out-of-control budget. Though he was lambasted from all corners for the comment, mainly because some mistook the phrase as a pejorative for homosexuals, it was clear to level-headed observers that the remark was a reference to the old "Pumping Up With Hans and Franz" sketch on "Saturday Night Live" (NBC, 1975- ) in which he was famously skewered. He continued using the phrase, including at the Republican National Convention in 2004.
Despite his pledge to say away from making movies, Schwarzenegger secretly slipped away from Sacramento in 2004 to film sequences for "The Kid and I" (2005), written by his friend Tom Arnold. The film featured the governor and Jamie Lee Curtis reprising their "True Lies" roles of Harry and Helen Tasker for a cameo fantasy sequence in the story about a boy (Eric Gores) with cerebral palsy who is obsessed with the 1994 film. Though Schwarzenegger had a somewhat rocky first term as governor, often stoking the ire of his more liberal Hollywood colleagues, he did enforce legislation aimed at helping celebrities. He signed a law which enforced new penalties against paparazzi who committed assaults in order to shoot potentially high-paying celebrity "money shots" after dangerous incidents involving such famous names as Reese Witherspoon, Lindsey Lohan and Scarlett Johannson. Meanwhile, he returned to state business by calling for a special election in November 2005 to pass four propositions aimed at reforming California's government, including extending probationary periods for new teachers, limiting union dues for political contributions, enacting spending limits on the state budget and redistricting.
But by the time the special election rolled around, nurses and unions had rolled out a massive ad campaign to defeat the propositions, while the governor remained ineffective in selling his ideas, thanks in part to an approval rating that fell below 40 percent. Schwarzenegger was dealt a staggering defeat in the special election, as all the propositions he supported her roundly voted down. Reeling from the loss, the Governator ate a healthy piece of humble pie and declared that he had learned his lesson. Meanwhile, he earned more national attention for his refusal to grant clemency and a four-week stay of execution to quadruple-murderer Stanley Tookie Williams, a former gang leader of the notorious Crips who turned into an avid anti-gang activist while on death row. Schwarzenegger stated that Williams had not fully indicated remorse by apologizing for the murders. Williams was executed by lethal injection on Dec. 13, 2005. With his special election defeat still fresh in his mind, Schwarzenegger sought to find a political middle ground by moving to the center and hiring former Democratic strategists to help reshape his image. As he tried to win over members of the opposition party, he began to lose members of his own, particularly over a bond plan designed to fix the state's budget problems, which required two-thirds of the legislature to pass. The bill failed, leaving Schwarzenegger staggering once again.
As the political winds were blowing in the Democrats' favor during 2006, Schwarzenegger made several astute moves that endeared him to liberal voters in the run-up to his re-election campaign that fall. He proposed a Climate Action Board designed to curb global warming, a cause he had considerable passion for despite his party's opposition. Schwarzenegger further defied Republicans when he allocated $150 million to stem cell research after President George W. Bush vetoed a bill that would have allowed for federal funding. Angering conservatives even more, he worked with Democratic legislators to increase the minimum wage from $6.75 to $8.50 over two years. He next signed the most sweeping climate control bill in the country, the Global Warming Solutions Act of 2006, which sought to decrease greenhouse gas emissions by 25 percent over 20 years. Meanwhile, Schwarzenegger handily won re-election over his Democratic challenger, California State Treasurer Phil Angelides in 2006. Toward the end of the year, he made more weird news when he broke his femur while skiing in Sun Valley while vacationing with his family. Despite being an expert skier, he somehow tripped over his ski pole while making his way down the bunny slope. Though he spent his Christmas holiday in the hospital, he managed to take his second oath of office on Jan. 5, 2007.
No stranger to accidents, Schwarzenegger had crashed his Harley Davidson in Los Angeles in Jan. 2006 with his son Patrick riding in the sidecar. He also broke six ribs and spent four days in the hospital after a previous motorcycle crash in 2001. Back to his duties as governor, he enjoyed a fleeting moment of renewed popularity during 2007, which he used in early 2008 to throw his weight behind Republican presidential candidate John McCain. Days later, Shriver made public her endorsement of Democratic presidential hopeful Barack Obama, the eventual winner of the 2008 election. Meanwhile, Schwarzenegger saw his ratings decline amidst a rapidly deteriorating budget crisis that attracted national attention. With a looming debt of $42 billion for the state, Schwarzenegger sought to enact some tough, even draconian measures to bridge the cap. After signing a budget that included income and sales tax increases, as well work furloughs for state employees, Schwarzenegger briefly faced the possibility of recall himself when a grassroots tax group served him notice. Schwarzenegger took more political hits in 2009 after another special election defeat, in which propositions to raise taxes more, limit budget deficits and create a rainy day fund were soundly rejected by voters. Later in the year, Schwarzenegger and Shriver were in the news when both Eunice Kennedy Shriver and Edward Kennedy died in August just two weeks apart. Both were the last remaining giants of the political family that had suffered tragic loss over the decades and Schwarzenegger was greatly fond of both his mother-in-law, who, he said, had inspired him to public service, as well as his wife's Liberal Lion uncle Teddy.
Read more
Latest headlines