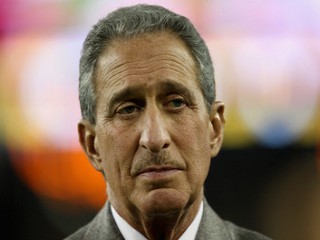 Arthur Blank biography
Date of birth : 1942-09-27
Date of death : -
Birthplace : Sunnyside, New York
Nationality : American
Category : Sports
Last modified : 2010-11-15
Credited as : Football manager NFL, owner and CEo of Atlanta Falcons,
When the stadium scoreboard clock expired at Raymond James Stadium in Tampa, Florida, on January 3, 2010, the city of Atlanta and the Falcons organization breathed a collective sigh of relief.
The Falcons entered the final game of the 2009 season needing to defeat NFC South Division rival Tampa Bay to record back-to-back winning seasons for the fi rst time in franchise history.
Atlanta employed a stingy defense, which limited the Buccaneers to just 40 yards rushing while ramping up its own punishing run game powered by backup tailback Jason Snelling's 147-yard effort en route to defeating Tampa Bay 20-10.
A milestone – one that had eluded the franchise for 44 years – had finally come to fruition, and no one was more happy about this development than Falcons Owner & CEO Arthur Blank.
"The way our coaches and players finished the season, with three straight wins, says a lot about the character and resolve of our team," Blank said. "With our playoff hopes already dashed, this team fought hard to prove it is a strong contender in the NFL. It was a great moment for our franchise and our fans, and we're looking forward to many more exciting moments in the coming years."
This major accomplishment was but a small step in the larger picture for Blank, the passionate, highprofi le owner who has not wavered from his goal and vision for the Atlanta Falcons since acquiring the club in 2002: a Super Bowl championship for the city of Atlanta.
Blank, who has continued to raise the bar and level of expectations for the Falcons, has constructed a talented and creative team to lead his club both on and off the field.
General Manager Thomas Dimitroff is the personnel point man for an organization whose roster is filled with future Pro Bowl players deliberately hand-picked by Dimitroff and his staff. Those players are then led by third year Head Coach Mike Smith, the fiery former defensive coordinator who has turned the Dome into a house of horrors for the visiting team by posting an intimidating 13-3 home record during his tenure.
Dimitroff, the 2008 Sporting News Executive of the Year, and Smith, the 2008 Associated Press Coach of the Year, are equally committed to making the Falcons perennial playoff contenders.
"Thomas and Mike work closely and very well together," Blank said. "The Falcons are fortunate in that regard; these two men may not always have the same views, but they share a common vision of success for our club. Combined with team President Rich McKay, who provides strong support to Thomas and Smitty, and leads our front office operations, we have a very strong leadership team that is second to none in the league."
Over the past two seasons, Blank has watched his Falcons compile a collective 20-12 record and a berth in the NFC playoffs, and the prospects for the future are bright, partly based on the fact that every starter rom both sides of the ball in 2009 returns for the 2010 season. Those statistics are solid and in step with elements of Blank's three point commitment he made to Falcons fans at the start of his tenure – and maintains today – as the leader of the franchise. The first point is to put a perennially-winning product on the field. The second is to provide a great game day experience. And the third is to have a winning team off he field and in the community.
COMMITMENT TO FANS
Whether it's The Home Depot – the company Blank co-founded and led until his retirement as co-chairman in 2001 – or the Atlanta Falcons, Blank has always subscribed to one simple theory: Listening is what matters most. Customers, fans, players, coaches or associates – Blank listens, understands and esponds to all of them and expects his associates to do the same.
"In today's challenging economy, we need to find creative ways to improve the total game-day experience for our fans," said Blank. "All of our associates understand that the competition for limited entertainment dollars has become more fi erce. Coupled with increasing competition with home technology, amenities and comforts, it's critical that we provide value and offer everything our fans need from the time they leave their driveway to the time they arrive in ours."
Following a three-year, $53 million investment in enhancements inside and outside the Georgia Dome, which was funded by the Falcons and Georgia World Congress Center Authority, Falcons fans are enjoying new amenities that improve the game day experience.
Located at each end of the fi eld, new video boards offer sharper images, enhanced graphics, game viewing options and replay capabilities. From suite and club seat renovations, to the addition of super suites, LED ribbon boards, high-definition video boards double the size of the old boards and exterior paint and interior seating in red and black, the Georgia Dome now has the look and feel of the "home of the Falcons."
"It's important to maintain the Georgia Dome to NFL standards for our fans," Blank said. "Atlanta is a world-class city with world-class NFL fans who deserve the best the NFL has to offer." Led by McKay, the Falcons are also looking to the future and the prospects of an iconic NFL stadium for the long-term benefit of the city.
"The termination of our lease at the Dome is a few years in front of us, but we believe it's prudent to begin the process of exploring new options now," Blank said. "The Georgia World Congress Center Authority has been and continues to be a strong partner in this regard."
COMMITMENT TO COMMUNITY
One of the hallmarks of Blank's philosophy is giving back to the community. During his tenure with The Home Depot, the company donated more than $113 million to the communities it served. In addition, associates provided hundreds of thousands of hours of personal volunteer time.
Given his philanthropic history, it came as no surprise that the fi nal phase of Blank's threepoint plan for the Falcons was a program that would see the Falcons' organization lending its support all over the state of Georgia. One vehicle of the Falcons' community outreach efforts is the Atlanta Falcons Youth Foundation (AFYF), the largest team-funded foundation in the NFL. The AFYF gives back to the community by promoting the healthy development of youth. It does so by supporting physical fi tness and sports in communities across Georgia through grantmaking, strategic partnerships and signature programs.
Since 2002, the foundation has awarded more than $16 million in grants to more than 700 non-profit organizations. The centerpiece of the foundation's work is the Falcons Fitness Zones signature program, in which Blank has invested more than $8 million since the program's inception in 2005, in a focused effort to shape the lives of Georgia youth through outdoor activities and fitness.
Through a matching gift fund initiated by Blank, Falcons players, coaches, staff and all other associates in the Blank Family of Businesses are also involved in the community at unprecedented levels. Together, they have raised more than $4 million for more than 500 charitable organizations during the last eight years.
In addition, Atlanta Falcons players, coaches, cheerleaders and associates remain among the most ctive community citizens in the NFL, contributing an average of 3,000 hours of their collective personal time each season. Much of this time is spent participating in Atlanta Falcons community relations programs and initiatives, which support a variety of issues and activities, including health and fi tness, breast cancer awareness, combating hunger, the development of youth football, and outreach in underserved communities.
Blank is also dedicated to his personal giving back. In addition to serving as Owner & CEO of the Falcons, Blank is Chairman, President & CEO of AMB Group, LLC and Chairman of The Arthur M. Blank Family Foundation. Both organizations are part of The Arthur M. Blank Family Offi ce, with the common purpose of giving back to society through fi nancial contributions and personal involvement. Through his generosity, The Arthur M. Blank Family Foundation, along with his and his wife Stephanie's personal giving, has granted and committed more than $260 million to numerous non-profi t organizations. In addition, his other businesses, including Atlanta Falcons Physical Therapy Centers, PGA Tour Superstores and Mountain Sky Guest Ranch in Montana, support the communities surrounding their locations through non-profi t grants and community outreach.
HOW IT ALL STARTED
A native of Flushing, N.Y., Blank attended Stuyvesant High School in Manhattan, where he competed on the football, baseball and track teams. He received a B.S. Degree in Business Administration with Distinction from Babson College, where he was active in a wide variety of extracurricular activities. He co-founded The Home Depot in 1978 and retired from the company as Co-Chairman in 2001. At the time of his retirement, The Home Depot was a component of the Dow Jones Industrial Average and one of Fortune magazine's "Global Most Admired Companies." During Blank's last year as CEO of the company, The Home Depot ranked fi rst in social responsibility in an annual survey conducted by Harris Interactive, Inc.
Blank is recognized throughout the country for his personal and professional achievements. In 2010, Blank was recognized by the Council for Quality Growth for his philanthropic endeavors as well as his significant contributions to economic development and quality of life, and by the PAGE Foundation, along with Stephanie, for demonstrating commitment to improving public education in Georgia. In 2008, he received an honorary Doctorate of Humane Letters from the University of South Carolina-Bluffton. In 2006, Blank was named a Distinguished American by the Walter Camp Football Foundation, which every year recognizes an individual who has utilized his or her talents to attain great success in business, private life or public service.
Also in 2006, Blank was inducted into the Junior Achievement U.S. Business Hall of Fame, and was awarded an honorary degree of Doctor of Humanities from Furman University. In 2005, he was named National Entrepreneur of the Year by Ernst & Young. In 2003, for the second time in three years, Blank was named Georgia's Most Respected CEO by Georgia Trend magazine, and in 2002 he was inducted into Georgia State University's Business Hall of Fame. Among other previous honors, Babson College inducted Blank into its Academy of Distinguished Entrepreneurs in 1995 and conferred on him an honorary degree of Doctor of Laws in 1998.
Blank serves on a number of boards including: Outward Bound USA; the Board of Trustees of The Carter Center, Inc.; the Board of Trustees of Emory University; the Board of Trustees of The Cooper Institute; and the boards of Cox Enterprises, Inc., and Staples, Inc. In September 2001, Blank joined the faculty of Emory University's Goizueta Business School as its fi rst Distinguished Executive in Residence. He now serves as a Goizueta Executive Fellow.
Blank also served as the 2003 Chairman of the Metro Atlanta Chamber of Commerce. Blank has six children and three grandchildren. He and Stephanie and their three youngest children live in Atlanta. A strong believer in work-life balance, Blank still makes time daily for working out and spending time with his family.
Read more
Latest headlines