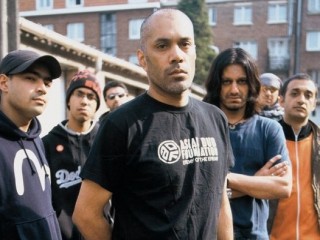 Asian Dub Foundation biography
Date of birth : -
Date of death : -
Birthplace : London, England
Nationality : English
Category : Arts and Entertainment
Last modified : 2012-04-06
Credited as : electronica band, Rafi's Revenge album, A New London Eye
Asian Dub Foundation are a British electronica band that plays a mix of rapcore, dub, dancehall and ragga, also using rock instruments, acknowledging a punk influence. Their distinctive sound also combines indo-dub basslines, searing sitar-inspired guitars and 'traditional' sounds, shot through with fast-chat conscious lyrics.
Asian Dub Foundation create a distinctive sound that mixes elements of drum 'n' bass, dub, reggae, full-force punk rock, hip-hop, searing sitar-inspired guitars, and the more traditional sounds culled from their parents' record collections. However, Asian Dub Foundation, whose members are of Indian and Pakistani descent, not only produce masses of sounds bent on raw energy, but also use their music to voice their political beliefs with an unwavering sense of urgency and commitment. The most stridently insurgent issue-based band in Great Britain since the mid-1990s, Asian Dub Foundation lyrically discuss racism and the experiences of Asians--as Indians and Pakistanis are commonly referred to as in the United Kingdom-- as well as wider issues of social justice.
The band's involvement in such causes isn't just a lot of talk and posturing; Asian Dub Foundation take their political and social stances seriously, contributing money to the causes they talk about and promoting them at their shows and on their website. The group stays informed through continued involvement in campaigns and educational groups. Through their work, Asian Dub Foundation intends to encourage others to uncover their own artistic creativity and musical talents.
Whereas many political bands in the past have succeeded in communicating their message to "already converted" audiences, they nevertheless failed to expose their agendas to others outside of their fanbase. In comparison, Asian Dub Foundation attract a wider spectrum of fans--audiences that would otherwise remain unaware of their social agenda. "It's always been important for us to play the entire spectrum," rapper Master D stated in an interview posted on the group's official website, "otherwise there's no hope of change, of people changing their attitudes or being exposed to different points of view. However, while we're not into 'preaching to the converted,' it's still good for people to hear a band echoing what they feel and for peoples' spirits to be lifted in this way--we should know--we're still music fans ourselves. The feeling of solidarity at a gig can really help people in their own struggles."
The members of Asian Dub Foundation came together in Farringdon, near London, at the Community Music House, an organization/music laboratory for established and aspiring musicians to experiment, create, and discover. During the summer of 1993, the Arts Council visited the London-based facility to film Identical Beat, a documentary that followed the progress of a series of workshops teaching Asian youths the basics of music technology.
At the Community Music House, bassist Aniruddha Das, called Dr. Das, was the tutor in charge of the workshops, while civil rights/youth worker and DJ John Pandit, known as Pandit G, helped Dr. Das run the classes. One of their students was a then 15-year-old Bengali rapper named Deedar Zaman, who would adopt the name Master D. A few months after the documentary was filmed, the three formed Asian Dub Foundation as a sound system to play at anti-racist gigs. The group then evolved into a fuller band with the arrival of guitarist Steve Chandra Savale in 1994. His habit of tuning his guitar strings to one note--like those of a sitar--and cranking up the distortion and playing his instrument with a knife, soon earned him the nickname Chandrasonic.
The members of Asian Dub Foundation all grew up listening to both Asian and Western music. Chandrasonic, a member of the dub/noise band Headspace and co-founder of the Higher Intelligence Agency prior to joining ADF, developed a playing style influenced by years of listening to the classical Indian sitar music his father would play at home. Later in his childhood, he picked up on punk music, diversifying his interests to include dub, reggae, P-funk, techno and ambient music. His favorite players included Jamaican musician Ernest Ranglin and PiL's first guitarist Keith Levine.
Chandrasonic was first drawn to political activism while attending Essex University in Colchester where he studied politics and history. He was already politically aware before college, resulting from his father's position as a shop steward in the electrician's union, as well as his own disciplined process of self-education. While at the university, however, Chandrasonic found the student politics of the 1980s too insular and driven by esoteric idealism. "There were too many ego-trips going on, too much careerism," he told Daniel Booth of Melody Maker. "They had lost touch with the very people they were meant to be representing." Eventually, he decided to move on to larger, more national issues such as the Poll Tax struggle. London, more inviting socially and politically, served as his new political home, as well as his escape from Colchester every weekend.
Dr. Das began playing tabla (a small hand drum of India) and harmonium (an organ-like keyboard instrument) as a child, learning Bengali folk songs from an aunt. Playing these instruments enabled him to develop a sense of rhythm and melody. Later on, he shifted to bass by listening to reggae records and falling in love with the cyclical bass melodies of dub. He, too, became interested in politics while studying fine art at Trent Polytechnic. Like his bandmate, Dr. Das also grew disillusioned with student activism and instead immersed himself in his studies.
Still in his teens when Asian Dub Foundation convened, Master D started rapping at the age of nine. His greatest musical inspirations were the junglist MCs, especially Navigator, as well as dub poets Mutabaruka and Linton Kwesi Johnson. Joining the more socially aware State of Bengal, Master D became one of the Asian community's most popular junglist DJs. As a whole, Asian Dub Foundation acknowledge groups and soloists like the Beastie Boys, Cornershop, reggae artist Sizzla, and the late Pakistani singer Nusrat Feteh Ali Khan as important influences.
Soon after forming Asian Dub Foundation, the foursome found a welcoming fan base in the anti-fascist movement. They addressed the issue of racism and its effect on Britain's ethnic minorities, adopting the catchphrase "Massive not passive," a reaction to the stereotypical notion of Asians as doormats. Their emergence on the rock scene also coincided with the extreme right-wing British National Party (BNP) winning its first victory in East London, along with rising violent incidents against Asians throughout the United Kingdom. The arrival of a band such as Asian Dub Foundation could not have been better timed.
In the summer of 1994, an Asian Dub Foundation demo tape caught the attention of Nation Records, which issued the band's critically acclaimed Conscious EP that same year. By the end of 1994, Asian Dub Foundation had played numerous benefit shows and supported Trans-Global Underground for several London dates. On stage, the group's punk ethic came alive, complete with a slide show. Early in 1995, another DJ named Sun-J, who did live technology and "radical movements," joined the Asian Dub Foundation lineup. Soon thereafter, Asian Dub Foundation released a single called "Rebel Warrior" which earned considerable press attention.
Also in 1995, Asian Dub Foundation released their debut album, Facts and Fictions, featuring "Rebel Warrior" and re-recorded tracks from the first EP. "Prepare to have your perception of 'Asian music' completely restructured as Master D's rapid-fire raps, drum 'n' bass, sitars, tablas and guitars all meet in a Molotov cocktail of noise and attitude," wrote Rock: The Rough Guide contributor George Luke. But while the record received favorable reviews, it went largely overlooked in the United Kingdom, where at the time retro-guitar pop was at its height in popularity. Nonetheless, the group continued to tour extensively, and their new "Asian" sound was met with enthusiasm throughout the rest of Europe, particularly in France, where their second album entitled R.A.F.I. was released by Virgin France in 1997. In fact, the group's celebrated 1998 Rafi's Revenge album was essentially a re-recorded, recharged version of the French release.
Asian Dub Foundation finally came to the attention of the British music press through the support of Primal Scream, with whom Asian Dub Foundation had toured during the summer of 1997 after signing to a new label, London Records. ADF then collaborated with Primal Scream for the single "Free Satpal Ram." Released in early-1998, the hip-hop/rock song drew much attention to the situation of an Asian man who both groups believed was unjustly imprisoned for murder after receiving an unfair trial. Satpal Ram, serving a life sentence since the mid-1980s, was said to have been defending himself against a group of white racists when one of his attackers received two stab wounds and died. According to Asian Dub Foundation, when Ram was up for parole in 1997, the judges only took evidence from the group that attacked him. Ultimately, his request for parole was denied.
In addition to speaking out for the release of Ram and championing other causes, Asian Dub Foundation spent most of 1998 touring to promote Rafi's Revenge, performing at major festivals throughout the United Kingdom and Europe, as well as at Fuji Rock in Japan. That fall, a support tour with the Beastie Boys introduced Asian Dub Foundation to American audiences, who, to their surprise, received the British politico-rockers with a warm welcome. Rafi's Revenge went on to critical acclaim in both the United Kingdom and abroad and was short-listed for the 1998 Mercury Music Prize, but lost the contest to an album by Gomez. Nonetheless, the success of Rafi's Revenge introduced Asian Dub Foundation to a wider audience, enabling the group to express their social concerns to a larger and more diverse group of people. Moreover, the success of Asian Dub Foundation helped to dismantle many stereotypes regarding Asian musicians, and, in turn, Asian people in general. The band's work in this area earned acknowledgement in December of 1998 with the BBC (British Broadcasting Company) Asian Award for Music.
Another important result of Asian Dub Foundation's higher profile came in the form of funding from the London Arts Board. With the board's support, Asian Dub Foundation were able to establish ADF Education (ADFED), a project designed to promote the teaching of music and technology to young people. ADFED later became an independent organization running various workshops around London.
In 1999, Asian Dub Foundation made their first headlining tour of the United States and Canada, with the majority of dates selling out. Their Rafi's Revenge album received regular rotation on the independent and college radio circuits, showing up on various top ten radio play charts. In March of 2000, Asian Dub Foundation released another album entitled Community Music in the United Kingdom and the rest of the world. An American release was expected to follow later in the year, and the group hoped to tour the United States in support of Community Music with Rage Against the Machine. Produced by Asian Dub Foundation, the album--named for the music laboratory where the band members met--includes 14 new songs. One song, the only track not written by the band, was a live favorite called "Taa Deem," a tribute to and featuring the late Nusrat Fateh Ali Khan.
Between 2004 and 2007, when Aktarv8r was not a member of the group, he played live on stage with the London band Oojami who perform Middle Eastern belly dance music. On the album "Boom Shinga Ling" released late in 2006, Aktarv8r plays on a couple of songs and is credited on the album under his own name Aktar Ahmed.
In August 2007, Asian Dub Foundation started playing with two new vocalists, Al Rumjen (previously with King Prawn) and Aktarv8r returned after MC Spex was asked to leave the band. In November and December 2007, Asian Dub Foundation recorded a new album, Punkara, with The Go! Team producer, Gareth Parton. It was released in spring 2008 and followed by an extensive tour of Europe and Japan.
In 2009, Asian Dub Foundation contributed to the Indigenous Resistance project after having met up with the Atenco resistance movement in Mexico. Asian Dub Foundation are at present working on their new album provisionally entitled "A New London Eye" which will feature Ministry of Dhol, Nathan "Flutebox" Lee, Chi 2 and Skrein.
Asian Dub Foundation:
-Facts and Fictions (1995)
-R.A.F.I. (1997) (originally only released in France)
-Rafi's Revenge (1998)
-Conscious Party (1998) (originally only released in France)
-Community Music (2000)
-Frontline 1993-1997: rarities and remixes (2001)
-Enemy of the Enemy (2003)
-Live: Keep Bangin' on the Walls (2003) live at Ancienne Belgique
-Tank (2005)
-Time Freeze: The Best of Asian Dub Foundation (2007)
-Punkara (2008)
-A History of Now (2011)
Read more
Asian Dub Foundation Picture Gallery
Latest headlines