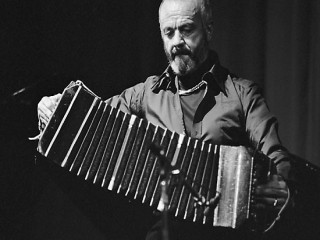 Astor Piazzola biography
Date of birth : 1921-03-11
Date of death : 1992-07-04
Birthplace : Mar del Plata, Argentina
Nationality : Argentine
Category : Famous Figures
Last modified : 2012-01-10
Credited as : Tango composer, bandoneon player, Actor
Ástor Pantaleón Piazzolla was an Argentine tango composer and bandoneón player. His work revolutionized the traditional tango into a new style termed nuevo tango, incorporating elements from jazz and classical music. A virtuoso bandoneónist, he regularly performed his own compositions with different ensembles.
Although the tango had been a way of life as well as an expressive form of music and dance for a number of years before his birth, the legendary Argentinean bandoneon master Astor Piazzolla took the romantic, dangerous, and sultry traditional tango, added a healthy mix of jazz and classical styles, infused his own ideas, and created the nuevo tango. When Piazzolla was born in 1921 in Mar de Plata, Argentina, the tango was starting its meandering journey from bordellos and back streets to respectability all around the world. Nowhere was it more revered and worshiped than its birthplace--Buenos Aires. Soon after their only son's birth, Vincent Piazzolla and wife Asunta Menetti moved the small family to New York City's Little Italy. Attempting to maintain their cultural roots, Astor's father gave his son a bandoneon, a version of the accordion with buttons and a deeper sound. By the age of nine, Astor had mastered the bandoneon and began to perform in public. Early musical influences included jazz masters Cab Calloway and Duke Ellington, with a hearty infusion of Bach, Mozart, and Chopin. Many classical piano compositions were rearranged by a neighbor so the young musician could play them on the bandoneon.
At age 13, Piazzolla got his big break when Carlos Gardel, a famous Argentinean singer and actor, came to the United States to make a movie and records. Astor's father presented his son to the celebrity, and Gardel was so impressed by the boy's bandoneon talents that he invited him to accompany him on his current world tour. Because of his tender age, Astor was not allowed to go on the tour, but he did mak his first recording with Gardel and the NBC Symphony. Piazzolla ultimately benefited from passing on the offer- -Gardel's plane crashed a year later and the great musician perished.
Before he turned 20, Astor and his family returned to Argentina for good. The young man made a meager living by playing his bandoneon in tango clubs, but what he really wanted to do was create and perform his own compositions. After boldly introducing himself to the famed Arthur Rubinstein, the pianist introduced Astor to musical maestro and composer Alberto Ginastera. Astor studied with Ginastera for six years, during which time the composer not only taught Piazzolla the fundamentals of music and composition, but the importance of intertwining all of the various arts.
In between studying, Piazzolla spent time with his children, Diana and Daniel, and their mother, painter Dede Baralis. Around this time, the bandoneon player had also begun playing with the best tango orchestra in Buenos Aires, Anibal Troilo's Orquesta Tipica. He played second bandoneon to Troilo for eight years.
By 1944 Piazzolla was ready to act upon the musical instincts that had been simmering in him for years. He broke off with Anibal Troilo and focused more of his time on composing. Still deeply interested in classical music, Piazzolla took courses on conducting. Many of his earlier pieces are decidedly influenced by Bach, Stravinsky, and other classical composers. His music began to take on a sound of its own as Piazzolla began to incorporate unusual elements into traditional tangos. In 1946 Piazzolla formed the band Orquesta del 46 so that he could perform his nuevo tango. Although he didn't receive much support from tango traditionalists, he did garner interest from outsiders like American composer Aaron Copland. One of his first pieces, Sinfonia Buenos Aires--which received a first place award in the international Fabien Sevitsky Competition in Indianapolis--was met with boos and insults elsewhere. The people of Argentina were not yet ready for the sounds of the new tango.
In 1954 Astor took his family and musical talents to Paris, where he received a warm welcome. The French government offered Piazzolla and his wife fellowships specifically because of his prize winning Sinfonia. Astor began studying under the direction of composer Nadia Boulanger, who had worked with such impressive composers as Bernstein and Copland. While she marveled at his intricate compositions, Boulanger encouraged Piazzolla to search for himself in his music and to reach for his Argentinean roots.
According to legend, Boulanger one day persuaded Piazzolla to perform one of his tangos on the piano and promptly proclaimed, "This is Piazzolla, not that. Throw the rest away!" After doing so, Piazzolla found peace for himself and his music. "I promised myself I'd write a tango a day and that's what I did," the musician was quoted in Americas.
Although he was gaining respect and popularity around the world, the artist was still not accepted in his native country. Returning to Buenos Aires in 1955, Piazzolla received death threats and mistreatment from tango extremists. At one point, a gun was pointed at his head by a disgruntled Argentinean who didn't appreciate his use of jazz and non-traditional instruments. Undaunted, Piazzolla returned to the United States, where he spent an unproductive three years. "Colleagues in the United States urged him to compromise by writing 'marketable' stuff, especially for the movie industry, but he resisted and finally withdrew," noted Caleb Bach in Americas.
After returning to Argentina, Piazzolla made his homeland breakthrough with Tango-operita in 1968. The folk opera was directly influenced by the works of George Gershwin, whom Piazzolla had admired for many years. Prior to this success, Piazzolla formed a new Quinteto Nuevo Tango that performed at his club, Jamaica. Many musicians, eager to work with the composer, often stopped by for a jam session.
During the 1970s Piazzolla's music began to experience critical acclaim in his beloved Argentina. Early in the decade his hard work, extravagant lifestyle, jet setting and chain smoking gave Piazzolla a massive heart attack. The 54-year-old musician attempted to quiet his habits, but his resolutions lasted only a year before he was traveling around Europe, writing compositions feverishly. It was also during that decade Piazzolla's mentor, Anibal Troilo, of the Anibal Troilo Orchestra, died.
Not one to stop working, Piazzolla began taking his musical efforts to the film stage and beyond. Some claim this final period of Piazzolla's musical career was his finest. Music for the Roman Polanski film Frantic was scored by Piazzolla, along with Armagedon, Henri IV, and many others. In 1986 his compositions were featured in Tango Argentina, a Broadway musical. Even while concentrating on commissions for other artists, like the Kronos Quartet, Piazzolla never forgot his first love--the bandoneon. Piazzolla's favorite bandoneon was inherited from Troilo. He used the instrument on Five Tango Sensations, a series of moody pieces for bandoneon and string quartet, played by the Kronos Quartet. His own tour of North America began in 1989 but was cut short on account of his deteriorating health. He was able, however, to see Placido Domingo play the leading role in his tango-opera Gardel.
Following many serious health ailments, including a debilitating stroke, Astor Piazzolla died a national hero in his beloved Argentina in 1992. No longer shunned by his countrymen and tango traditionalists, Piazzolla was revered as the man who brought life to the tango. He uncovered a new experience for the tango through his compositions. "For me," he is often quoted as saying, "tango was always for the ear rather than the feet."
Discography:
-Two Argentinians in Paris (with Lalo Schifrin, 1955)
-Sinfonía de Tango (Orquesta de Cuerdas, 1955)
-Adiós Nonino (1960)
-Piazzolla Interpreta A Piazzolla (Quinteto, 1961)
-Piazzolla … O No? (canta Nelly Vazquez, Quinteto, 1961)
-Nuestro Tiempo (canta Hector de Rosas, Quinteto, 1962)
-Tango Contemporáneo (Nuevo Octeto, 1963)
-Tango Para Una Cuidad (canta Héctor De Rosas, Quinteto, 1963)
-Concierto en el Philharmonic Hall de New York (Quinteto, 1965)
-El Tango. Jorge Luis Borges – Ástor Piazzolla (Orquesta and Quinteto, 1965)
-La Guardia Vieja (1966)
-La Historia del Tango. La Guardia Vieja (Orquesta, 1967)
-La Historia del Tango. Época Romántica (Orquesta, 1967)
-ION Studios (1968)
-María de Buenos Aires (Orquesta, 1968)
-Piazzolla En El Regina (Quinteto, 1970)
-Original Tangos from Argentina Vol. 1 & 2 (solo bandeneon, 1970)
-Pulsación (Orquesta, 1970)
-Piazzolla-Troilo (Dúo de Bandoneones, 1970)
-Concerto Para Quinteto (Quinteto, 1971)
-La Bicicleta Blanca, (Amelita Baltar y Orquesta, 1971)
-En Persona (recita Horacio Ferrer, Ástor Piazzolla, 1971)
-Música Popular Contemporánea de la Ciudad de Buenos Aires. Vol.1 & 2 (Conjunto 9, 1972)
-Roma (Conjunto 9, 1972)
-Libertango (Orquesta, 1974)
-Piazzolla and Amelita Baltar (1974)
-Summit (Reunión Cumbre) with Gerry Mulligan (Orquesta, 1974)
-Suite Troileana-Lumiere (Orquesta, 1975)
-Buenos Aires (1976)
-Il Pleut Sur Santiago (Orquesta, 1976)
-Piazzolla & El Conjunto Electrónico (Conjunto Electrónico, 1976)
-Piazzolla en el Olimpia de Paris (Conjunto Electrónico, 1977)
-Lo Que Vendrá (Orquesta de Cuerdas and Quinteto Nuevo Tiempo, 1979)
-Piazzolla-Goyeneche En Vivo, Teatro Regina (Quinteto Tango Nuevo, 1982)
-Oblivion (Orquesta, 1982)
-Suite Punta Del Este (Quinteto, 1982)
-Live in Lugano (Quinteto, 1983)
-SWF Rundfunkorchester (1983)
-Concierto de Nácar – Piazzolla en el Teatro Colón (Conjunto 9 y Orquesta Filarmónica del Teatro Colón, 1983)
-Live in Colonia (Quinteto Tango Nuevo, 1984)
-Montreal Jazz Festival (Quinteto Tango Nuevo, 1984)
-Live in Wien Vol.1 (Quinteto Tango Nuevo, 1984)
-Enrico IV (sound track of film Enrico IV (film)Enrico IV, 1984)
-Green Studio (1984)
-Teatro Nazionale di Milano (1984)
-El Nuevo Tango. Piazzolla y Gary Burton (Quinteto, 1986)
-El Exilio de Gardel (soundtrack of film El Exilio de Gardel, Quinteto, 1986)
-Tango: Zero Hour (Quinteto Tango Nuevo, 1986)
-Central Park Concert (Quinteto, 1987)
-Concierto para Bandoneón – Tres Tangos with the Orchestra of St. Luke's, Lalo Schifrin (conductor), -Princeton University (1987)
-Sur (soundtrack of film Sur, Quinteto, 1988)
-Luna. Live in Amsterdam (Quinteto Tango Nuevo, 1989)
-Lausanne Concert (Sexteto, 1989)
-Live at the BBC (1989)
-La Camorra (Quinteto Tango Nuevo, 1989)
-Hommage a Liege: Concierto para bandoneón y guitarra/Historia del Tango (1988) with Liège -Philharmonic Orchestra conducted by Leo Brouwer. The concerto was performed by Piazzolla with Cacho Tirao, the Historia by Guy Lukowski and Marc Grawels.
-Bandoneón Sinfónico (1990)
-The Rough Dancer and the Cyclical Night (Tango apasionado) (1991)
-Five Tango Sensations (Ástor Piazzolla and Kronos Quartet, 1991)
-Original Tangos from Argentina (1992)
-Lausanne Concert (Sexteto, 1993)
-Central Park Concert 1987 (Quinteto, 1994)
-El Nuevo Tango de Buenos Aires (Quinteto, 1995)
-57 Minutos con la Realidad (Sexteto, 1996)
-Tres Minutos con la Realidad (Sexteto, 1997)
Read more
Latest headlines