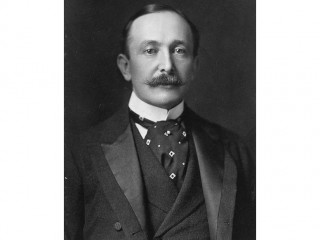 August Belmont biography
Date of birth : 1816-12-08
Date of death : 1890-11-24
Birthplace : Alzey, Hesse, Germany
Nationality : German
Category : Famous Figures
Last modified : 2010-12-28
Credited as : Financier, Racehorse owner/breeder,
August Belmont, for whom the prestigious Belmont Stakes thoroughbred racing cup is named, was one of the influential bankers who helped define America's Gilded Age. In addition to heading a Wall Street firm that bore his name, Belmont served various Democratic administrations as a diplomat, amassed an impressive art collection, and was a key figure in establishing thoroughbred racing as a sport in the United States. Known for his penchant toward lavish entertaining, Belmont was said to have been the inspiration for a character in Edith Wharton's 1920 novel, The Age of Innocence.
Belmont's Jewish family had roots in Alzei, a town in Germany's Rhenish Palatinate. He was born there on December 8, 1816, to Simon and Frederika (Elsaas) Belmont. His father owned land in the area. Because of the family's relative affluence, young Belmont was able to choose his career freely. After attending a commercial school, at the age of 14 Belmont became an assistant at the offices of the House of Rothschild. The Rothschilds ran Europe's most important bank, and had made their fortune by financing various royal follies over the years; they were perhaps most appreciated for loaning the necessary funds to help turn back Napoleon's armies just before the year of Belmont's birth. To work for their House was considered to be a great honor for a young man, and Belmont's mother had secured this appointment for him through an acquaintance of hers, who had married into the family.
One of Belmont's duties as a lowly assistant was to sweep the floors at the Rothschilds' Frankfurt-am-Main headquarters. However, he proved himself a quick study, and was promoted after three years. He was sent to Naples, Italy in order to negotiate financial contracts with emissaries of the Papal Court. His time there was spent wandering through the city's art museums and galleries. This instilled in him an appreciation for art that would fuel a collecting mania later in life.
In 1837, the House of Rothschild posted Belmont to Havana, Cuba, to look after the firm's interests there. At the time, the island was a possession of the Spanish empire, and an ongoing civil war in Spain gave reason to believe that its monarch, Queen Christina, was extracting large sums from the island in order to finance her side against the Carlist claimants to her throne. On his sea journey there, however, a financial panic erupted in the United States. Belmont transacted his business in Havana hurriedly and then went on to New York. Having learned that the American banking firm which had handled all the Rothschilds' business in the U.S. had failed, Belmont offered to set up his own firm to fill the void; it was said that August Belmont and Company was founded with almost no capital, save for its principal's ties to the famed Rothschild name.
Belmont and Company had an office on Wall Street, and primarily handled foreign exchange transactions. In a few years the firm was thriving. However, the currency business did not offer the chance for large profit margins. "Had he been as bold in business as he was outside it … he might have been the richest banker in America," Belmont's obituary in the New York Herald later noted. From his earliest days in New York, however, Belmont also enjoyed a reputation as somewhat of a bon vivant. He frequented a popular nightspot called Niblo's Garden Theater, where in the summer of 1841 he became involved in a quarrel with one William Hayward of South Carolina, reportedly over a woman. A duel between the two to resolve the matter resulted in a groin injury that left Belmont with a permanent limp. He was also fond of gambling, and allegedly lost $60,000 one night in a game of baccarat. In conservative New York, he seemed to enjoy defying social conventions. However, his established business reputation gave him a certain gravitas, and the raconteur stories that circulated about him only added to his allure.
Belmont became an American citizen and joined the Democratic Party to further establish himself. In 1844 he was named the U.S. consul general for Austria in New York City. Five years later, he married Caroline Slidell Perry, the niece of Oliver Hazard Perry, the War of 1812 naval hero whose fleet defeated the British on Lake Erie. She was also the daughter of Commodore Matthew Calbraith Perry, another famed naval officer. Four years after the marriage, in 1853, Belmont's father-in-law would sail to Japan and persuade its feudal rulers to allow Western ships in their harbor after a 250-year ban.
Such a union added immeasurably to Belmont's status. The newlyweds lived in one of the first residences built on Fifth Avenue, below 14th Street. They later acquired a mansion at 109 Fifth Avenue, where he lived the remainder of his life. He served as the consul general for Austria until 1850, resigning in protest after a newly-formed Hungarian republic was overthrown by Austrian and Russian troops. In 1853, President Franklin Pierce appointed Belmont minister to the Netherlands, and Belmont spent four years in The Hague. His time overseas allowed him to add to his growing private collection of European paintings; when he returned to New York in 1857 he was said to be the owner of over a hundred works of art. The collection even necessitated the renovation of his home to create a gallery space for them.
In addition to his duties in running the Wall Street firm that bore his name, Belmont also spent a dozen years as the Democratic Party's national chairperson. He rose to the post after the contentious split with the Southern Democrats just before the American Civil War in 1860. At the Charleston convention that year, the delegates were bitterly divided over the issue of slavery, though Belmont had made a rousing speech urging party unity. Belmont was opposed to slavery on principal, but did not believe in abolishing the institution altogether. He was not a supporter of Republican president Abraham Lincoln, but feared the breakup of the Union more. According to a Dictionary of American Biography profile, Belmont harbored deeply patriotic feelings for his adopted country. "I prefer," Belmont wrote to John Forsyth of Mobile, Alabama, in 1860, "to leave to my children, instead of the gilded prospects of New York merchant princes, the more enviable title of American citizens, and as long as God spares my life I shall not falter in my efforts to procure them that heritage."
During the Civil War, Belmont was integral in raising and equipping the first German regiment of the Union Army from New York City. He also worked behind the scenes to assure the Rothschilds and other influential names in Europe that the North would prevail, and cautioned them against providing financial support to the secessionist Confederacy. After the war, Belmont continued his activism inside Democratic Party circles, but fell out with some over the nomination of controversial war General George McClellan to oppose Lincoln in the 1864 presidential race.
During what became known as the Gilded Age, Belmont and his wife were counted among New York City's social elite, along with such prominent names as the Astors and the Rhinelanders. When the New York Stock Exchange closed at 4 p.m., he and several other scions of American finance enjoyed riding their carriages through Central Park in a daily promenade. The New York Sun reported in 1877 on the Belmonts' stature: "It is no exaggeration to say that on the whole of this continent there is not another house of which the appointments are as perfect as those of Mr. Belmont's. He is not a mere gastronome, a collector of works of art, or a blind follower of fashion. He is an artist in his household." The paper also commented favorably on Belmont's wine cellar, which it called perhaps the finest in America at the time. There were rumors that Belmont's wine bills sometimes exceeded $20,000 in a single month, and he was occasionally criticized for asking his esteemed, but then elderly father-in-law, Commodore Perry, to fetch a vintage from the cellar.
Belmont's connoisseurship was not without its detractors. His love of French painting was slyly mocked in The Age of Innocence, a novel of Old New York which won Edith Wharton the 1921 Pulitzer Prize for fiction. The wealthy Beaufort character was allegedly based on Belmont; Newland Archer, another character, dislikes the nattily-dressed banker and raconteur. In one exchange that takes place at the home of the Countess Olenska, the two men vie for her attention. "'Painters? Are there painters in New York?' asked Beaufort, in a tone implying that there could be none since he did not buy their pictures," Wharton's novel reads. Archer is secretly elated when Olenska dismisses Beaufort a moment later.
Belmont had a summer home in the elite enclave of Newport, Rhode Island, and acquired a Long Island property when he became more deeply involved in thorough-bred racing after the Civil War. A friend of his, publisher and financier Leonard W. Jerome, organized the American Jockey Club and established Jerome Park, the first genuinely modern track in the United States. Belmont served as the Club's president for many years. In 1867 the first running of the Belmont Stakes occurred at Jerome Park. The Stakes became the first of the Triple Crown contests in American thoroughbred racing, with the Kentucky Derby and the Preakness following. Belmont's thousand acres near Babylon, in Long Island's Suffolk County, was home to a number of prize horses, some of them considered the best in the country at various times in their career. Belmont, true to form, also constructed an opulent home there. The Spirit of the Times reported in 1870 that "All the sports and recreations which render a sojourn at a fine country house so agreeable have been provided for at the Nursery. Riding, shooting, fishing, rowing, billiards, and croquet, to say nothing of the more business-like walks, talks and inspections of the thoroughbred horses, the Alderney cattle, the Chester hogs, the deer, etc." But Belmont eventually moved his thoroughbred stable to a farm near Lexington, Kentucky in the 1880s, believing that the climate there was better for breeding and training winning horses. In 1889, his thoroughbreds took $125,000 in prize purses.
Belmont's life was marked by some personal tragedies. One of his two daughters died at a young age, and a son committed suicide. In his later years the banker suffered from dyspepsia, and was known to become cantankerous at times. In November of 1890, he presided over a horse show at Madison Square Garden. The chill in the drafty hall sent him home with a cold. It turned to pneumonia, and he died on November 24. He is buried in the Belmont Circle at Island Cemetery in Newport. At the time of his death, Belmont was worth an estimated five to ten million dollars. When St. Blaise, one of his stallions, was sold at auction the following year, it became the first thoroughbred in America to fetch $100,000. His son August Jr., a Harvard graduate, took over Belmont and Co., and eventually became one of the main investors in the construction of New York City's subway system.
Bowmar, Dan M. III, Giants of the Turf: The Alexanders, the Belmonts, James R. Keene, and the Whitneys, Blood-Horse, 1960.
Dictionary of American Biography Base Set, American Council of Learned Societies, 1928-1936.
Read more
Latest headlines